Details

Created on Wednesday, 26 October 2016 14:34
Written by Gordon Prentice
Background: To the Small Claims Court in Newmarket for the latest episode in the Matilde Di Muccio  (aka "Maddie") soap opera. She is suing Regional Councillor John Taylor for defamation. In March 2016 she amended her libel claim to include:
"misfeasance and malfeasance in public office during a March 2nd 2015 Town of Newmarket Council meeting, abuse of power, intentional infliction of mental suffering and injurious falsehoods, targeted malice, breach of confidence and breach of privacy; and, in doing so committed a legal tort in the eyes of the law."
Days ago she sought to amend her claim yet again to remove her charge of libel against Taylor. But to do this she first had to seek the permission of the Court by way of a "notice of motion". (Di Muccio wants to drop the action for libel because she believes it is "out-of-time" and would not succeed.)
The trial (Di Muccio v Taylor) is scheduled for 10am on Friday 28 October 2016 at the Small Claims Court in Eagle Street, Newmarket.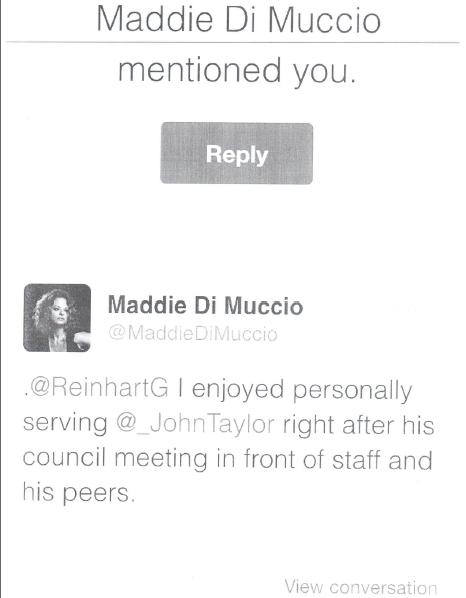 No death stare
I am already at the Court when Maddie Di Muccio arrives with her well-padded husband in tow. There are only three seats for the public and I am determined to bag one of them. She is stoney-faced (nothing new there) and doesn't acknowledge my presence. Our eyes do not meet and I am spared the death stare this morning.  
John Taylor is looking relaxed insofar as one can be in these peculiar circumstances.
We file into the tiny court room and I see in front of me Deputy Judge Paul Gollum who looks the part with his silver hair and black robe with the splendid red sash. He has a learned expression on his face and quickly shows himself to be on top of things. I breathe a sigh of relief.
Really minor
Now Di Muccio is explaining to the judge that she is not allowed to make any amendments to her claim without the Court's permission and she wants to make a "really minor" change. She tells the Judge she is not arguing about the alleged libel – without saying why she is dropping it. The charge of defamation stands.
Now Judge Gollum is walking us through Friday's trial (which Di Muccio asserts will last two days). He tells us the presiding judge will ask "What are the real issues?"
Looking at Di Muccio, he says the Judge will ask: "What actually are you claiming for? What do you believe the claim is all about?" He will want to narrow down the issues and, once everything is clear, we could hear him say:
"Here we are. Let's go!"
I am warming to Deputy Judge Gollum who is clear, precise and even tempered – unlike some of his brothers-in-law.
"off the table"
Now the Judge strikes out paragraph 29 of Di Muccio's claim and libel disappears from the charge sheet. Just like that! Puff!
"Libel and slander are now off the table."
An exasperated Taylor says this is his 6th time in Court and he confesses it is difficult to know what he is actually being accused of.
Di Muccio flares her nostrils in the way she does and snorts. He has known for months what my amended claim says!
The Judge is now looking at Taylor. He says the plaintiff (Di Muccio) is alleging defamation and misfeasance in office. Besmirching someone's reputation can be done verbally or in writing – that would ordinarily be libel. The burden is on the plaintiff to establish this.
What am I being accused of?
He advises Taylor to explain to the trial Judge that, in order to defend himself, he needs to know exactly what he is being accused of and what the elements are.
So far so good. I am keeping up with this without difficulty.
But now the Judge warns:
"This is a complicated area of the law. When you come here you are expected to know the law - even if you are self represented." (And both are.)
He says both sides can cite cases if they believe it will help the Court.
In my mind's eye, I can see Di Muccio marching into a legal quagmire.
I learn Di Muccio will bring one other witness (other than herself) and will, of course, present her evidence first.
If it doesn't hold water, the trial Judge can say at that point it has not been pled.
Or we could be entertained for two whole days.
This email address is being protected from spambots. You need JavaScript enabled to view it.
You can read Di Muccio's claim and Taylor's defence here.
---
Details

Created on Monday, 24 October 2016 16:59
Written by Gordon Prentice
Tonight Newmarket Council will be debating a motion proposed by John Taylor on the governance of York Regional Council.
At Newmarket's Committee of the Whole on 18 October 2016, Taylor proposed a motion arguing for no change to the Region's governing structure pending the direct election of the Regional Chair in 2018. He told councillors that the 2018 election campaign would give candidates for chair the opportunity to set out their stall and consult the public and any changes would follow.
Tom Hempen and Christina Bisanz appeared a bit hesitant about some of this and Taylor withdrew his motion, promising to re-table it this evening.
Taylor told his colleagues:
"It appears and it is the strong belief of the Chair of York Region, Wayne Emmerson, and the staff of the Region, that news articles and other information coming from the Government (suggest) that while it isn't enacted at this point they will shortly be moving forwards (to) an elected Chair position, elected at large, not just in York region but across all the remaining regions."
Earlier this year, when I gave evidence to the Bill Committee at Queen's Park on Bill 42 (Chris Ballard's Bill on the election of the Regional Chair) I mentioned in passing that the population of York Region is now bigger than PEI, Newfoundland, Labrador, New Brunswick, Nova Scotia, Saskatchewan, and it is rapidly closing on Manitoba.
So the way in which the Region is governed matters. At the moment, the person who leads York region, Wayne Emmerson, is indirectly elected by 20 people.
Election-at-large is on the cards
But, as Taylor says, that is likely to change. There are indications that the Provincial Government is going to introduce legislation to mandate the election-at-large of the Council Chairs in Niagara, Peel and York where the position is currently in the gift of the Council itself - with all the nefarious backroom deals that go with indirect election.
When he voted against the direct election of the Chair of York Region (and against the clear wish of his own Newmarket Council) Van Bynen called for a comprehensive review of governance. Well, we now have a paper from York region staff setting out some of the options and it would be good to hear the great man's views in detail.
At Newmarket's Committee of the Whole meeting on 18 October he mumbled something about Regional meetings now being held on Thursdays and this makes it easier for those municipalities with only one representative on the Regional Council (Aurora, East Gwillimbury, King and Whitchurch-Stouffville) to get to meetings.
And that was it.
Sometimes he can be such a disappointment. In addition to his Mayoral salary in Newmarket he gets a $54,337 top-up for being a member of York Region plus benefits amounting to 18% of base salary. For that, he should at least let us into his thinking on how regional governance can be improved.
A quiet and comfortable berth on York Region
As a retired banker, he may be active on the Region's Audit Committee. He may be up to something on the Broadband Committee (which he chairs) but in the Regional Council and its Committee of the Whole he is, for the most part, quietly somnolent.
Let's hope that if Van Trappist is silent tonight he will stir himself when the governance issue is debated at York Region's Committee of the whole on 10 November 2016.
But, perhaps, as with OMB reform, he doesn't have any great insights to share.
Fair enough.
This email address is being protected from spambots. You need JavaScript enabled to view it.
Regional Councillor John Taylor moved the following motion at Newmarket's Committee of the Whole on 18 October 2016. It was seconded by Tom Vegh and, after debate, withdrawn.
"The Council of the Town of Newmarket take the position that no changes be made to the current governance structure of York Region at this time and Newmarket Council encourage the fullest open debate of any potential governance changes during the elected chair process in 2018, regardless of if that process does or does not occur, any and all changes be considered immediately following the 2018 election."
You can see the discussion on the Committee video here. It starts 2 hours and 15 minutes in.
Update on 25 October 2016: At last night's Council meeting, John Taylor moved the following motion which was carried with one against (Tom Hempen):
THAT the Council of the Town of Newmarket takes the position that no changes be considered to the governance structure of York Region until after the 2018 municipal election with the exception of Council's recorded position in supporting an elected Chair.
The 10 minute debate can be viewed here at 1 hour and 1 minute in to the video.
---
Details

Created on Monday, 24 October 2016 15:09
Written by Gordon Prentice
The tormented former Newmarket councillor, Maddie Di Muccio, has dropped her libel action against Regional Councillor John Taylor.
But her husband, John Blommesteyn, on her behalf, served a new amended claim on Taylor on 21 October. In it she mysteriously cites new "SLAPP" legislation which she believes is relevant. It is yet another lunacy.  (SLAPP stands for Strategic Litigation Against Public Participation.)
Di Muccio's amended claim will be considered in the Newmarket Small Claims Court in Eagle Street at 9.30am on Wednesday 26 October 2016. It is likely that the matter will be heard by Judge Vincent Stabile or Judge Alessandro Di Cecco. She must seek the Court's permission to amend her claim and, this time, I promise to eat my hat if she succeeds.
If she appears before the ill-tempered Judge, Vincent "Growly Bear" Stabile, she has no chance whatsoever. She is toast. I suspect he will tell her she is wasting Court time with her endless, pointless vendettas.
out-of-time
Di Muccio has known for months that her libel action was likely to be "out of time". Indeed I blogged about this over a year ago. This is manifestly an abuse of process in that she decided to abandon her libel action a mere eight days before it was due to be heard in Court. (The original trial date was Friday 28 October 2016.)
Instead of a libel action, we are now getting a new phoney, manufactured, unspecified and very opaque charge against Taylor where Di Muccio cites the Protection of Public Participation Act (2015)
"which prohibits an elected official from using litigation to discourage public participation."
Excuse me, M'Lud
At no point did Taylor threaten Di Muccio with litigation.
It was Di Muccio who brought a libel action against Taylor, not the other way around.
And what precisely is she now alleging?
I am not a fancy-dancing Ontario lawyer but it seems like commonsense to me that if the libel claim is withdrawn then everything else attached to it also falls away.
Anyway…  It is still not clear to me what relevance the Protection of Public Participation Act has to the matter in hand.
But we shall all find out on Wednesday.
This email address is being protected from spambots. You need JavaScript enabled to view it.
In her amended claim, Di Muccio writes:
"At (the) settlement conference, Plaintiff (Di Muccio) was advised that (a) Judge must approve any request to amend her complaint. Plaintiff wishes to amend plaintiff's complaint by removing reference to libel. Plaintiff wishes to reference Protection of Public Participation Act (2015) and Morris v Johnson et al 10-CV-412021."
In her affidavit which is attached to the amended claim, Di Muccio amplifies her reasons:
"1. Since filing the original plaintiff's complaint, the Legislature of the Province of Ontario has passed the Protection of Public Participation Act (2015) which prohibits an elected official from using litigation to discourage public participation."
"2. I also wish to amend the plaintiff's complaint to remove references to libel. Even though I assert that the Defendant's comments published in the Newmarket Era were libelous, I do not believe my complaint would be successful due to the Limitations Act."
"3. I believe that the Master Thomas Hawkins decision in Morris v Johnston et al is relevant to the Plaintiff's complaint as it provides definition of what is considered SLAPP litigation."
You can read extracts from the Court paperwork here. Go to bottom of page and open Extracts from Di Muccio's Amended Claim.
---