Details

Created on Saturday, 22 July 2017 10:28
Written by Gordon Prentice
217 Park Avenue is the latest lot to be threatened with severance - squeezing two homes on to the land currently occupied by one bungalow.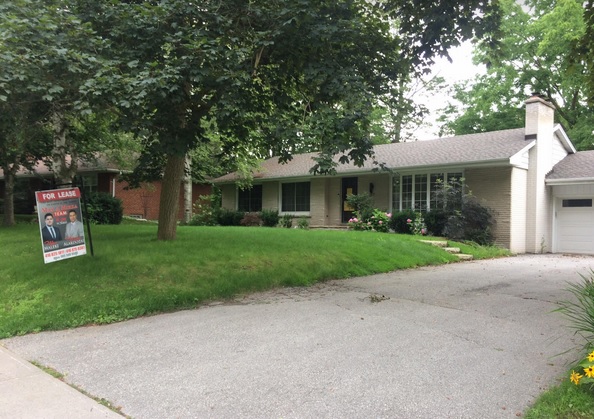 It is a pleasant area of Town full of mature trees with attractive older houses sitting on generous lots.
People who live there understandably resist developments which are designed to change the face of their tranquil neighbourhood.
Change by Stealth

Yet change is happening by stealth. The Town's infinitely elastic Zoning By-laws are regularly amended to allow monster homes to be shoehorned on to severed lots.
If the Town wants to intensify development in stable residential neighbourhoods it should say so, be up front about it, and warn people in advance of what they can expect.
But no. That's not the way the system works. We have these phoney zoning by-laws, offering spurious protection against inappropriate development, that can be changed at the drop of a hat.

Two parcels
The owner of 217 Park Avenue, Nafisek Yaraghi, wants to sever the lot into two parcels, each one the home to a new two storey single detached dwelling.
Problem number one is this. The lot is big but not big enough to carry two homes. My spies, who at all times carry measuring tapes with them, tell me the entire frontage is 25.9 metres wide (or 85 feet) and the by-law specifies a minimum frontage of 15 metres (49' 2") for each of the two severed lots.  That's 30 metres in total.
Problem number two is the lot coverage. In this leafy neighbourhood full of single detached homes the by-law specifies a maximum lot coverage of 25%. More space for trees and greenery. But the owner needs 30%. 
Set backs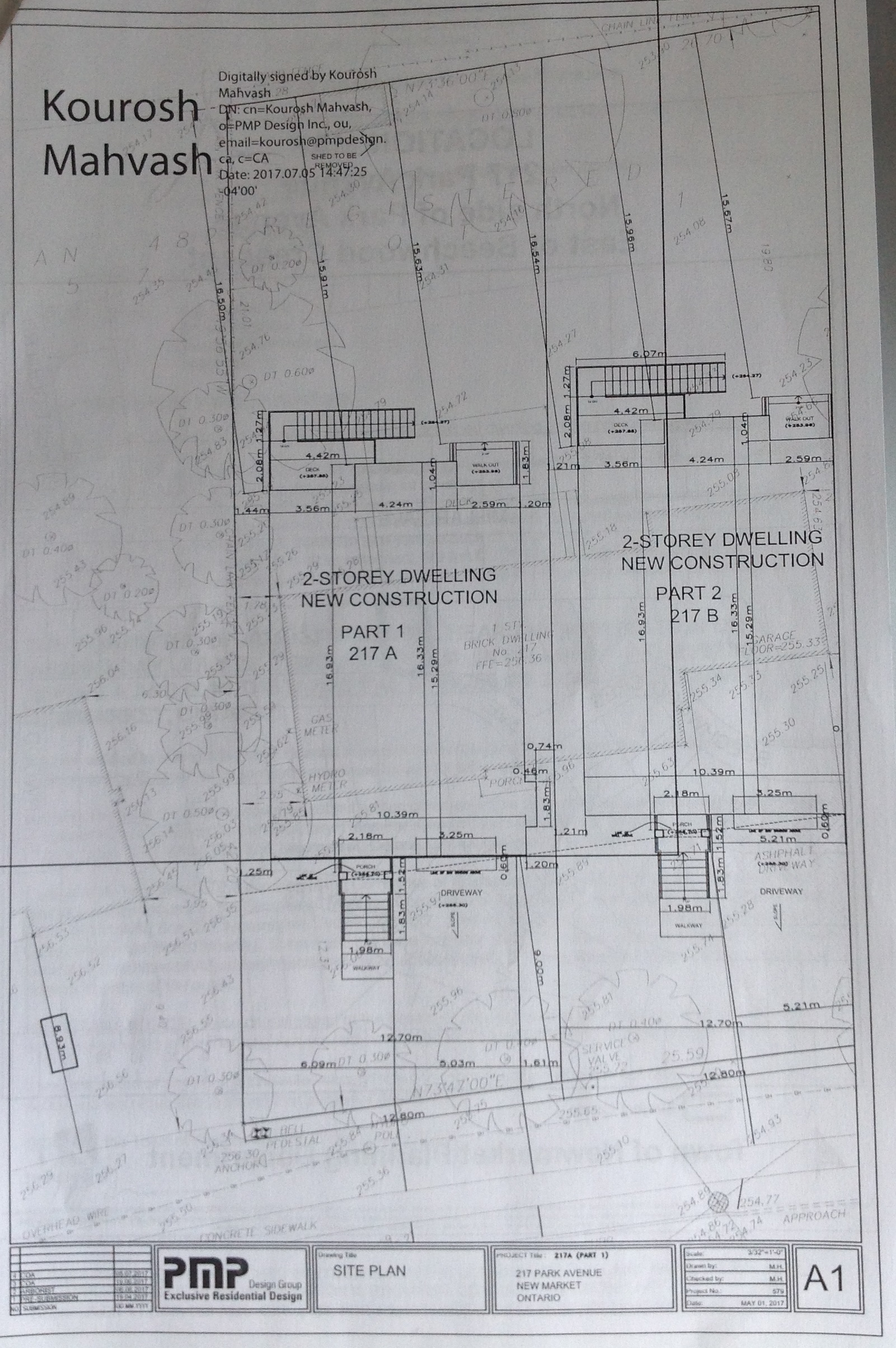 Problem number three is the required set-backs. The zoning standards specify minimum set backs from the front and sides of the lot to stop people building right up to their property line.
The by-law stipulates a minimum side yard setback of 1.8 metres (or 5' 11') and the owner wants 1.25 metres (4' 1") on one side and 0.74 metres (2' 5") on the other.
Solution

The solution for the owner is to persuade the Town's Committee of Adjustment at its meeting next Wednesday to agree these changes as so-called "minor variances" and Bob's your uncle. He's home and dry. Or, more accurately, two homes and dry.
If this goes ahead, the streetscape will inevitably change.  The buzzing chainsaws will be back at work again with trees falling like nine pins.
I hope people turn up at next Wednesday's meeting and say no. The meeting is open to the public and people can have their say. Trees can't speak for themselves. It falls to us do it for them.
217 is currently empty but is offered on lease for $2,600 a month. It has five bedrooms and three bathrooms.
The Committee of Adjustment meets at 9.30am on Wednesday 26 July 2017 in the William Cane meeting room at the Municipal Offices, 395 Mulock Drive, Newmarket.
The Monster Home at 1011 Elgin Street

In another part of the forest things are stirring...
The Monster Home at 1011 Elgin Street is coming along nicely. The shingles are on the roof. The enormous windows are in. Soon the curtains will be up and the SUVs will be in the drive.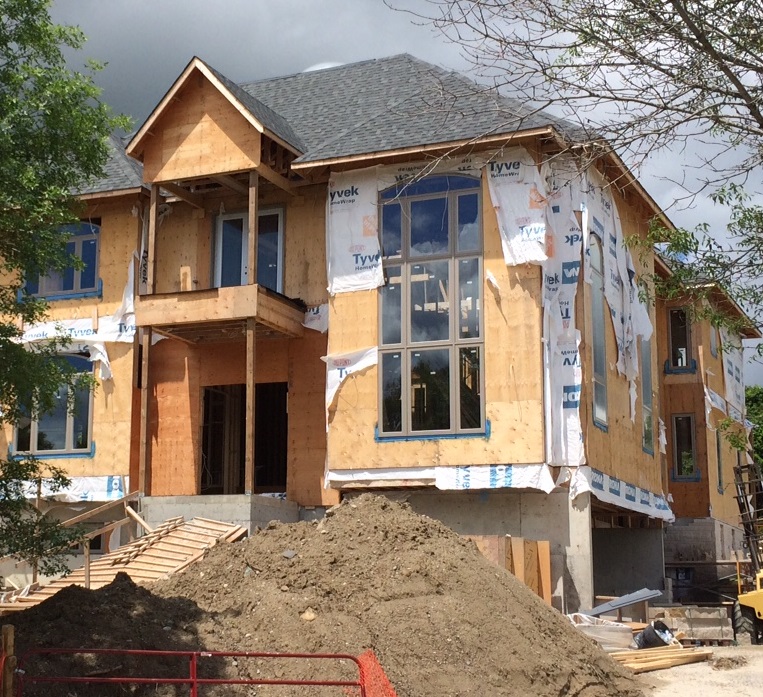 It looms over the adjacent bungalows, dominating the street.
Monster occupies less than one third of the lot

According to the owner, the giant house occupies just 31.3% of the lot, well under the maximum 35% allowed. In March this year, the Town asked the owner for sight of the survey confirming the lot coverage (at my instigation) but, so far as I know, the Planning Department has heard nothing. The owner is maintaining radio silence while the monster home moves ever closer to completion.
Astonishingly, it is not up to the Council to ensure compliance with its own by-laws. If you think the house is too big for the lot, then it's up to you to take action.

The local Ward councillor, Jane Twinney, called for a debate on infill developments on 27 March 2017. But what difference will that make? Should we burst into a tumultuous round of applause? Or is she just going through the motions?

Planning staff were asked to prepare a report reviewing Zoning By-law 2013-40
"to address best practices related to infill development standards across the Town as a whole." 
It is scheduled to come back to the Committee of the Whole sometime later this year -  December at the latest. But why does everything take so long?  

Master of the Universe

If I were Master of the Universe I would inject some sense of urgency into the exercise. We could be waiting another six months for this promised report when - as I have repeatedly pointed out - much of the spadework has already been done. 

The chainsaw massacre at 182 Beechwood Crescent
The owner of 182 Beechwood Crescent, Norm "Chainsaw" Stapley, has been granted permission to subdivide his lot into two parcels, each to have a single detached two storey house. A further five trees will have to be chopped down to accommodate the new houses.
Norm told the Committee of Adjustment in May that each dwelling would have a footprint of 2000-2500 sq ft.  But with two floors that could mean 5000 sq ft.
That's around double the size of the existing houses on Beechwood. 

Norm's spokeswoman, Brandi Clement of the Jones Consulting Group, clarifies. She tells the Committee the 5000 sq ft indicated on the site plan
 "is more of a construction envelope, not the footprint of the proposed dwellings". 
But she concedes the new houses will be two storeys at 2000-2500 sq ft per floor.
She says there are newer builds in the area that are similar in size.
So... These giant homes set a precedent.
Which takes us back to where we started from.

This email address is being protected from spambots. You need JavaScript enabled to view it.
---
Details

Created on Sunday, 16 July 2017 11:34
Written by Gordon Prentice
Last week's revelation that foreign buyers bought 9.1% of all homes sold in York Region between 24 April and 26 May 2017 is, at least to me, unsettling. That's 1 in 11 homes going to people who are neither Canadian citizens nor permanent residents and who have no obvious connection with this country.  
Who are these buyers? Where do they come from? And why are they buying homes here?
Some of the answers are self evident.
Safe Haven
Foreign buyers see Canada as a very safe haven to protect chunks of their wealth. Canada is a stable, mature democracy unlike, say, China where the private ownership of land is prohibited. (Everyone leases from the State.)
Like Canada, the UK has traditionally been seen as a safe berth, attracting the super rich - from Saudi princes to Russian oligarchs and everything in between. This arresting video clip from 2014 shows what happened to Bishops Avenue in Hampstead, London, when the billionaires bought mansions but then left them empty.
Justin's Choice

For reasons best known to himself, Justin Beiber last year rented a mansion in Bishops Avenue for C$178,000 a month. At 22 he is old enough to know what to do with his money.
The entry of super-rich (or just very rich) absentee foreign buyers distorts the housing market at the top end. But I suspect the ripples are felt further down the food chain in the prices being asked for more modest properties.
Newmarket's housing bubble

Figures from the Toronto Real Estate Board in the June 2017 Home Price Index for Newmarket are truly startling. The figures were published on 6 July. (The index starts at 100 in 2006. The benchmark price refers to what can be expected for a standard property in its class - single detached, semi, townhouse or apartment.)
A detached home goes for $955,900 - a year over year increase of 24.4%
A single family attached goes for $659,700 - up 20.9%
A townhouse goes for $559,800 - up a staggering 37.9%
An apartment sells for $463,900 - up 27.5%
The Toronto Real Estate Board says its index doesn't predict the future. Just as well.
We don't know how many foreign buyers are active in Newmarket but, whatever it is, something is going on. The figures released last week do not go down below the Regional level to the municipalities.
Foreign Buyers Tax

The Globe and Mail story quotes Markham councillor Karen Rea who pushed for a foreign buyers tax after getting lots of complaints about homes being left empty. She also wants figures that reflect what is happening in the municipalities.
The Globe and Mail points out:
"The new Provincial form requiring home buyers to declare their citizenship did not become mandatory until May 6, meaning the Government's figures may understate the extent of international investors' purchases."
Why do we allow foreign nationals to buy houses as an investment and then leave them empty?
What's in it for the rest of us?
Apart, that is, from runaway housing inflation.
We need a foreign buyers tax set at a level that bites and empty property taxes that send a signal to those who believe houses are not to be lived in, but are, rather, a store of value to be cashed in when the time is right.
This email address is being protected from spambots. You need JavaScript enabled to view it.
---
Details

Created on Wednesday, 12 July 2017 12:20
Written by Gordon Prentice
Clock Tower developer Bob Forrest paid $4.1M for the Clock Tower building and for the properties at 184-194 Main Street South. We know because he told us. This is shown on the slide (right) which was presented to councillors in May 2016.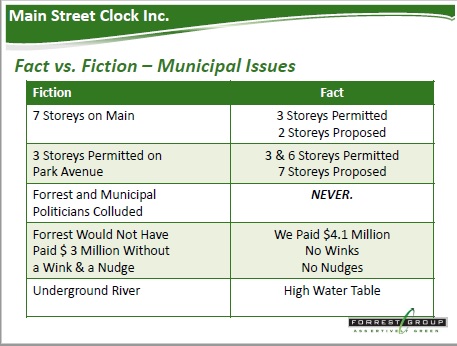 Bob snapped up the old Post Office building for $2,340,000 in March 2011. It was an astute move. It had been on the market for $3,275,000.
As long ago as June 2011 he was briefing councillors on his "Clock Tower concept".
Later, he bought the buildings to the south of the Clock Tower (184-194 Main Street South) for $1,760,000 from Michael Bryan.
Winks and Nudges

Bob says there is no truth in the rumour that he was encouraged to press ahead with his Clock Tower development because he was given winks and nudges.
The Mayor, Tony Van Trappist, was incandescent at the very suggestion that winks and nudges might have played a part in getting us to where we are now. Preposterous!

On 3 May 2017, Ira Kagan, Forrest's lawyer and consiglieri, told the first OMB pre-hearing there was a "tacit agreement" between Bob and the Town which, I suppose, is lawyer-speak for a nod and a wink. Anyway, it never came to anything.
At the OMB witnesses are under oath to tell the truth so if anything turns on this so-called tacit agreement it will all come out in the wash.
Bob has invested a huge amount of time on this project and it seems he can't let go.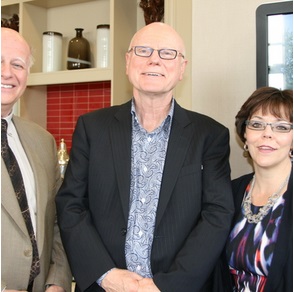 Bob's Tax Burden

Keeping the Main Street properties empty is costing him an arm and a leg. Bob evicted his business tenants on the pretext of redevelopment and, instead of getting a steady stream of rental income, he has been shelling out money to the Town in property taxes ever since. Some tenants shut up shop in May 2014. The last tenant left in September 2014.
The property taxes (Town, regional and school board) on the Clock Tower building were $21,370.53 in 2016. As a residential property it is ineligible for a vacancy rebate. The other buildings in Bob's ownership (184-194 Main Street South) are deemed mixed use residential and commercial and the tax levied last year was $21,185.13. I do not know what was paid to the Town because this is regarded as private and confidential. I also don't know if Bob applied for an empty property rebate.
In any event, all this constitutes a drain on Bob's resources. The mortgage repayments - if he still has a mortgage - must be colossal. I know Bob took out a mortgage on the Clock Tower property for $3,000,000 on 9 September 2013 with PACE Savings and Credit Union but I don't know where things currently stand. I haven't paid the obligatory $30 to check with the Land Registry recently.
Stuck in the Superior Court

The future is, of course, uncertain. Bob now has to budget for the action brought by the Town in the Superior Court which is being heard on 20 October 2017. My lawyer friends who know about such things tell me the application and any subsequent trial could be stuck in the Court for, perhaps, well over a year. Think of the expense!
On 23 October 2012, Bob sent the Town's Chief Administrative Officer Bob Shelton an email threatening to pull out of any understanding reached on the redevelopment of the Clock Tower:
"We are spending money to work out the issues with Heritage and BIA. The cost of preparing a complete application for zoning is too onerous for us to undertake without having (redacted). Given that we have spent over $100,000 on reports and design in the last 30 days if the above is not going to fly we prefer to withdraw right now."
Bob probably feels a deep sense of grievance. He has been working on his Clock Tower project for over six years.
And it has all turned to dust.
Bob needs a friend to tell him it is time to throw in the towel.

This email address is being protected from spambots. You need JavaScript enabled to view it.
---
Details

Created on Saturday, 08 July 2017 15:01
Written by Gordon Prentice
Bob Forrest - the developer who wants to dump a seven storey condo into the heart of Newmarket's downtown Heritage Conservation District - has presented a single defining issue to the forthcoming OMB Appeal which has its second pre-hearing on 11 August 2017.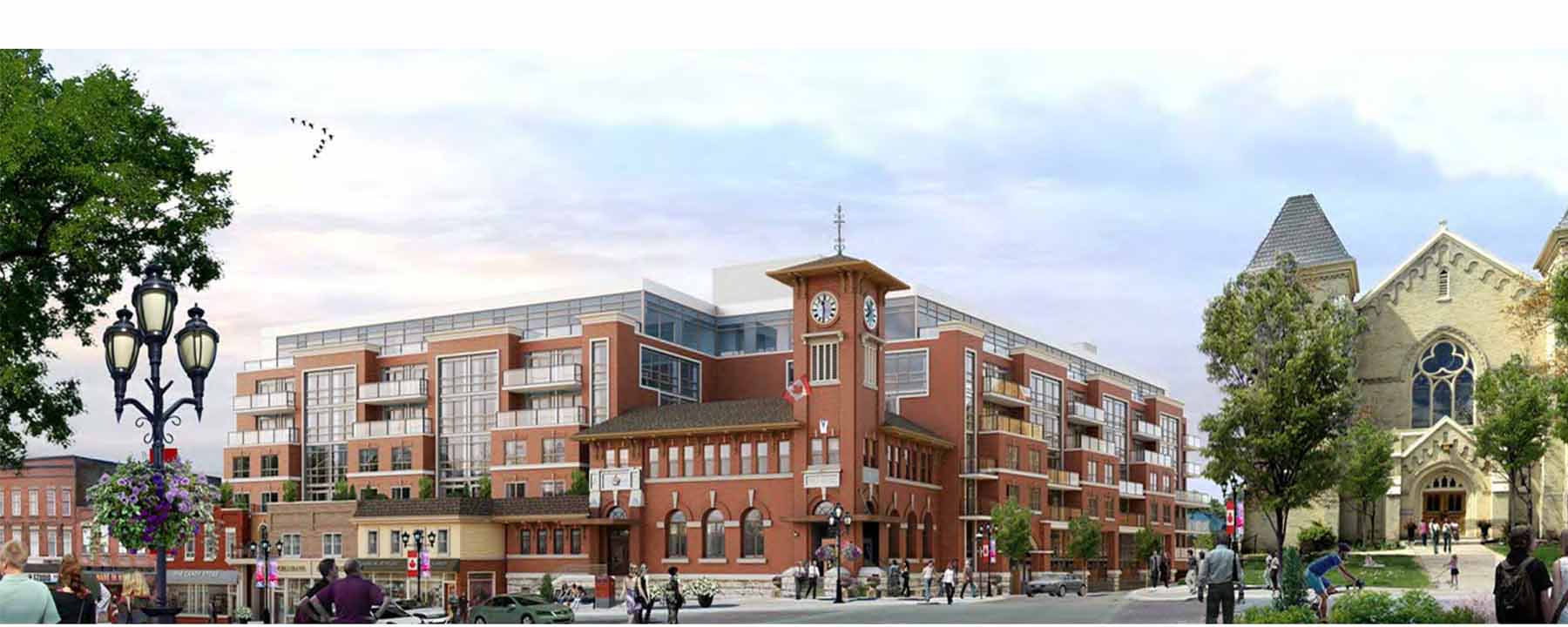 Bob wants to know what amendments are "warranted" to the Heritage Conservation District Plan which would allow the construction of his Option B "and to achieve good heritage conservation planning".
I shall deconstruct this is a moment but, first, a little background.
Identifying the key issues

All the Parties to the Clock Tower OMB Appeal had until yesterday (7 July 2017) to hand over their "issues lists" to Bob Forrest's lawyer, Ira Kagan, who had to incorporate them all into a draft Procedural Order to be presented to the OMB and considered at the next pre-hearing on 11 August.
The OMB tells us the pre-hearing:
"identifies the issues, parties and participants; organises complicated matters; decides what documents should be exchanged and determines procedures before and during the hearing."
In contrast to Bob and his single issue, the Town of Newmarket has identified 21 issues worthy of consideration and Trinity United Church has come up with 12. The Heart of Newmarket Citizens' Group has heroically identified 42 issues with the Architectural Conservancy of Ontario (a putative Party) concentrating on its 17 core issues.
Spanner in the works

However, the Town of Newmarket has thrown a spanner in the procedural works by going to the Superior Court to enforce a land swap agreement it entered into in 2003 with Michael Bryan, a property owner on Main Street who subsequently sold his lands on to Bob. This has a direct bearing on the OMB Appeal. The case will be heard in Newmarket on 20 October 2017.  
The Town's issue number 20 asks:
"Is any approval of the development, as proposed to be revised, premature pending a determination of legal ownership of portions of the subject land?"
It is difficult to imagine the OMB - which is an administrative tribunal - cocking a snook at the Superior Court. My guess is the OMB adjudicator will put things on hold until after the Court has pronounced. When I asked the OMB what its practice was in these circumstances I was told it was a matter for the pre-hearing.  
We have a further complication. Bob has now withdrawn the original application and is going with his  Option B which was unveiled for the first time on 3 May 2017 to the first OMB pre-hearing.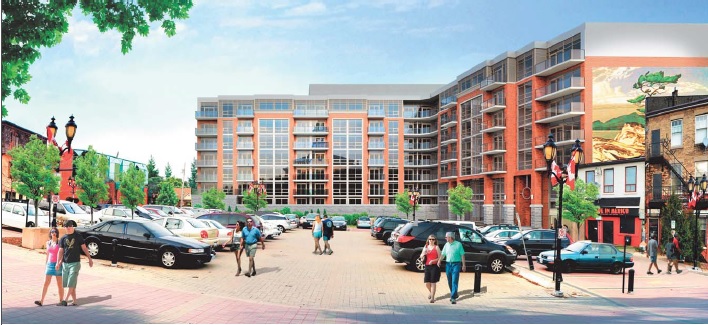 It is incomplete. There are no supporting studies that directly address Option B. This is what I told Bob's lawyer, Ira Kagan, when I emailed the ACO's issues list to him on Thursday 6 July:
As a layperson, it seems to me that Option B is not in a fit state to go before the Board. The Market Square elevation is unavailable and the supporting studies all relate to the original application which has now been abandoned. This puts me in a difficult position.
For some studies or parts of studies there will undoubtedly be a straight read-across from the original submission to Option B. But there are aspects of Option B where very significant revisions will be required. In some cases - I am thinking, for example, of the five level underground garage - new studies will be required.
Option B appears to rely - as did the original application - on easements from the Town. There is absolutely no indication from the Town that these will be forthcoming. Indeed, all the information I have points in the opposite direction. Mr Longo told us yesterday that
"the Town is not interested in having any of its lands utilized by the developer for that unwanted project." (ie the original application)
Insofar as your client views Option B as a variation of the original application there are no grounds for assuming the Town will consent for its lands to be used in any way to facilitate Option B when it has already denied the original application. To believe otherwise offends common sense.
In all the circumstances, I believe Option B should be withdrawn as it is manifestly incomplete and that your client should submit it, when complete, to the municipality where it can be given proper consideration.
What does Bob mean by "warranted"?
Now, I must return to Bob's single issue. Bob wants to know what amendments are "warranted" to the Town's Heritage Conservation District Plan to allow the construction of a seven storey apartment block with 143 rental units, 5 commercial retail units and 5 levels of underground parking containing spaces for 177 vehicles. It has a Floor Space Index of 4.19.
What does Bob mean by "warranted"? Does he mean amendments that can, in some way, be justified or is there a special legal meaning going beyond ordinary English usage?
Personally, I am quite happy with the Town's Heritage Conservation District Plan as it currently stands. There is a height cap of three storeys and an FSI of 1.0 which seems entirely appropriate for the area and nothing I see warrants a departure from the Plan.
Side-show to the main event

Others take a different view. When the Council rejected Bob's original application on 5  December 2016, John Taylor called on staff to bring forward a site specific Zoning By-law amendment to restrict the height of development fronting Main Street South and Park Avenue to three storeys  but with the possibility of a fourth storey if set back by a minimum of 15 feet. Of course, no-one has been consulted about this yet. It may not be wanted. Anyway, this is a side show to the main event.
Bob wants to know how the Heritage Conservation District Plan can be changed to accommodate his inchoate Option B rather than the other way around.
Just to put the matter in this way is to underline the essential silliness of Bob's position.
Planning lawyers may see Bob's single issue in an entirely different light.
It may make perfect sense to them, if not to me.
This email address is being protected from spambots. You need JavaScript enabled to view it.
---