York Region Transportation Master Plan (TMP). updated every 5 years, guides development across the region over the next 30 years.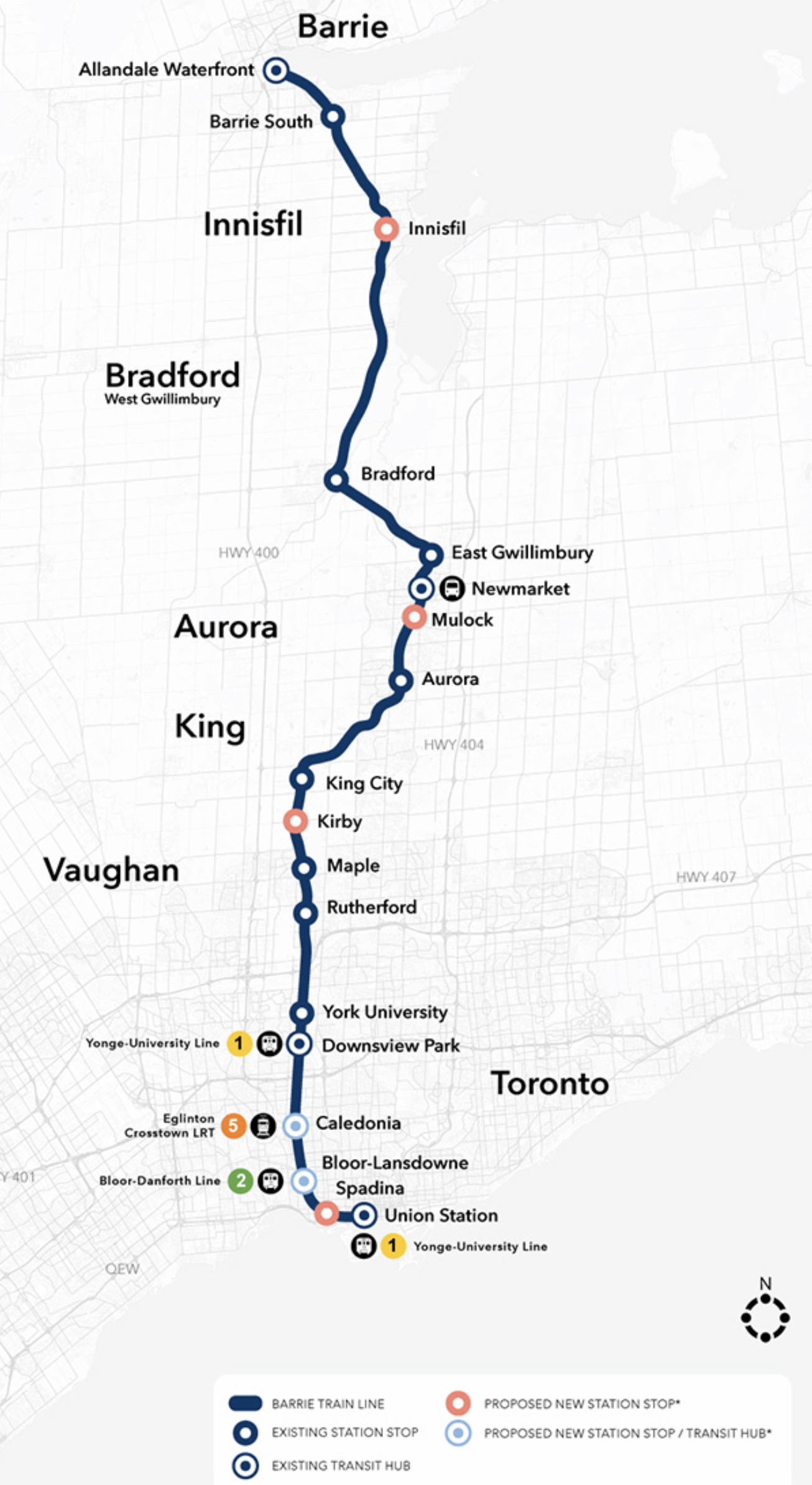 Although it has just been published and agreed "in principle" (with comments invited from the public by 8 August 2022) it is already out of date.
Just when they were finalising their Transportation Master Plan the very same Regional Council members were making 11th hour amendments to the Regional Official Plan opening up huge areas of Whitebelt land for development. East Gwillimbury to the north of us is going to see more explosive road-based growth in the near to medium term.
Imbalanced
The TMP doesn't say nearly enough about rail transit but says plenty about new roads and highways. The Plan is seriously imbalanced.
Boxes are ticked. Plans are "aligned" but there is no analysis of the future complementarity of road and rail and how they should mesh together.
Instead, York Region's transport planners are content to leave rail network policy to Metrolinx when the two of them should be working together, hand in hand.
The end result is that key decisons on road/rail grade separations in Newmarket and points north are, yet again, put off to another day and are "subject to further study".
Who is going to do the studying? When will they report? Who are they talking to? How much will it all cost? Who will pick up the tab? What are the timelines? We are not told.
A 15-minute service to Bradford: but on what assumptions?
I sent this to York Region's Director of Transportation and Infrastructure Planning, Brian Titherington, on 27 June 2022:
"I watched with interest the debate on the Regional Transportation Master Plan on 16 June 2022 but was disappointed by the lack of emphasis on rail transit.
You told Regional Councillor Jones that the TMP's rapid transit map reflects the GO expansion program and that your plan aligns with Metrolinx's 2041 Regional Transportation Plan for the Greater Toronto and Hamilton Area which was published in May 2018.
That 2041 plan shows an all-day two-way 15-minute service running north from Aurora to Green Lane but things have moved on since the Metrolinx plan was published.
On 22 September 2020 East Gwillimbury Council called on Metrolinx to accelerate the timetable for bringing the 15-minute service north to Green Lane and on 14 August 2021 Metrolinx confirmed that it would be extending the service to Bradford. The agency explained it could do this:
"thanks to further study and optimisation of service plans"
The TMP which was agreed in principle a fortnight ago makes no mention of this.
The original commitment to East Gwillimbury Council, repeated since in Metrolinx statements and press releases, is open-ended with no date being given for implementation but surely it is significant enough to be worthy of a reference.
You told Regional Councillor Jones you had a presentation from Metrolinx in January, and I am assuming the matter was discussed.
Clearly, the Metrolinx commitment to run a 15-minute service to Bradford is contingent on other things happening – electrification, twin tracking, grade separation and so on.
Would it be possible for you to tell me what assumptions Metrolinx made when it told us the Bradford service was possible thanks to further study and optimisation of service plans?
As you know, East Gwillimbury is the fastest growing municipality in Canada and the Region's Official Plan (approved at the same 16 June meeting) released a further 1,730 acres (or 2.7 square miles) of Whitebelt in East Gwillimbury for development.
In the light of this, it seems to me the Region should be making the case for bringing forward the 15-minute Bradford service, aligning itself with East Gwillimbury Council.
I am copying this to Regional Councillor Jim Jones and to Newmarket Mayor John Taylor.
I look forward to hearing from you."
Comments by 8 August 2022
The 2022 Transportation Master Plan is now open for public comment for a 30-day review period – until Monday, August 8, 2022. Comments can be emailed to Transportation Operations, Public Works at This email address is being protected from spambots. You need JavaScript enabled to view it.
This email address is being protected from spambots. You need JavaScript enabled to view it.