This morning's Globe and Mail editorial reminds us how the Conservatives choose their leader.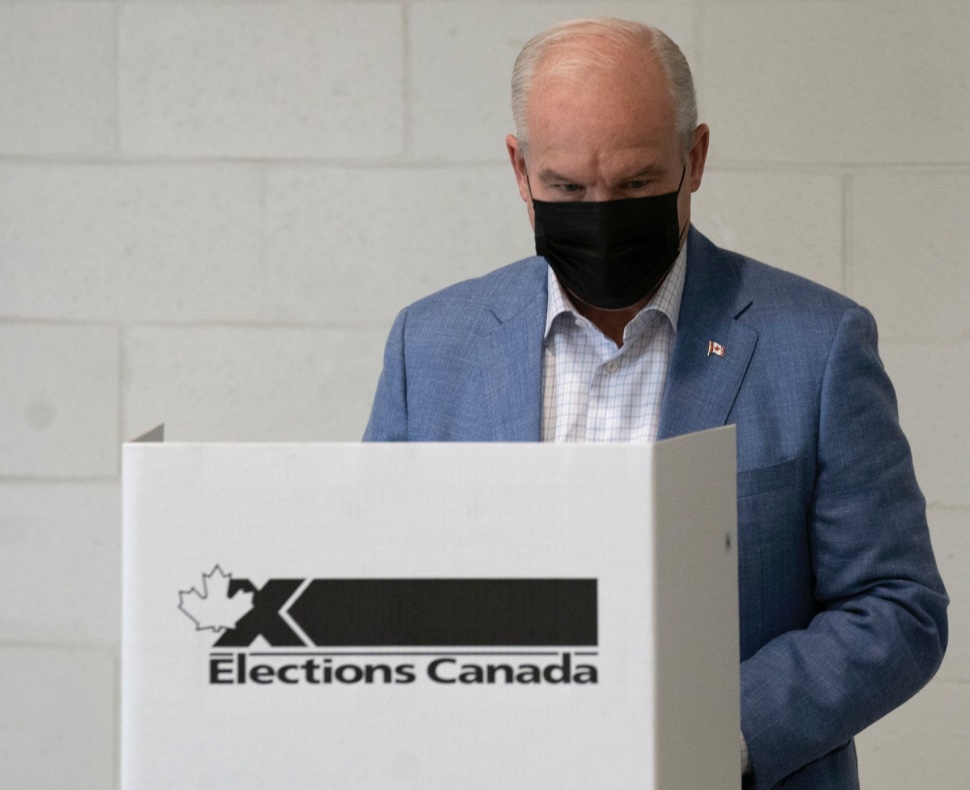 Leadership hopefuls have to appeal to a tiny unrepresentative base to stand a chance of winning. And then, to win a Federal Election, they have to dump the commitments made during the leadership contest and appeal to the wider electorate. It is a Sisyphean task.
And yet the knives are out. The Conservative caucus meets on 5 October 2021 and MPs will decide whether they want Erin O'Toole to stay or go. (Right: O'Toole voting on 20 September)
The Globe and Mail sums it up this way:
"Whatever happens, both sides of the debate need to acknowledge two things: (A) yes, in a sense Mr O'Toole did betray the Party's most fervent supporters; and (B) if he wanted to win the election, he had no choice - thanks to the way the party chooses its leader."
O'Toole v Mackay
The Federal Conservative leadership vote is decided using a points system which gives ridings equal weight regardless of the number of members casting a vote. O'Toole targeted Quebec ridings with tiny memberships, playing to their passions and prejudices.
A riding-by-riding analysis by the CBC tells us there were as few as 1,210 votes between O'Toole and Peter Mackay, not the official margin of 27,000. And if Mackay had gotten his act together - targetting riding associations with miniscule memberships and telling them what they wanted to hear - he could have won.
No prizes
In politics there are no prizes for coming second.
Mackay should have had a quiet word with the master of political manipulation and skulduggery, Ontario's former Progressive Conservative leader, Patrick Brown.
Brown's modus operandi is set out for all to see in his vengeful autobiography: "Takedown: the attempted political assassination of Patrick Brown".
It is a classic guide on how to climb to the top of the conservative greasy poll when ethics don't matter.
Brown v Elliott
Brown courted the votes of New Canadians by taking up their concerns. Any concern would do. He explains how he defeated Christine Elliott, now Newmarket-Aurora's MPP, in her own backyard of Oshawa. He boasts about signing up 10,000 Tamil members.
"It was thanks to the support I had in the Indian, Tamil and Filipino communities. They won the riding and the leadership contest for me."
"These communities supported me because I had supported them."
Christine Elliott subsequently ran for the PC leadership against Doug Ford but lost (again) even though she had more votes from individual members.
Sleight of hand
Leadership contests shouldn't be conducted by sleight of hand.
We need full transparency to help us understand how our political leaders get to the top - and what they said and did to get there.
This email address is being protected from spambots. You need JavaScript enabled to view it.
Note: Justin Trudeau won the 2013 Liberal leadership contest getting 81,389 votes out of 104,552 ballots cast during the week-long vote.
The voting system gave Canada's (then) 308 ridings equal weight in the final tally. Each riding was given 100 points, and a candidate got the number of points equal to the percentage of votes they won in that riding.
The NDP does it differently.
'The Greens have their own problems.