Details

Written by

Gordon Prentice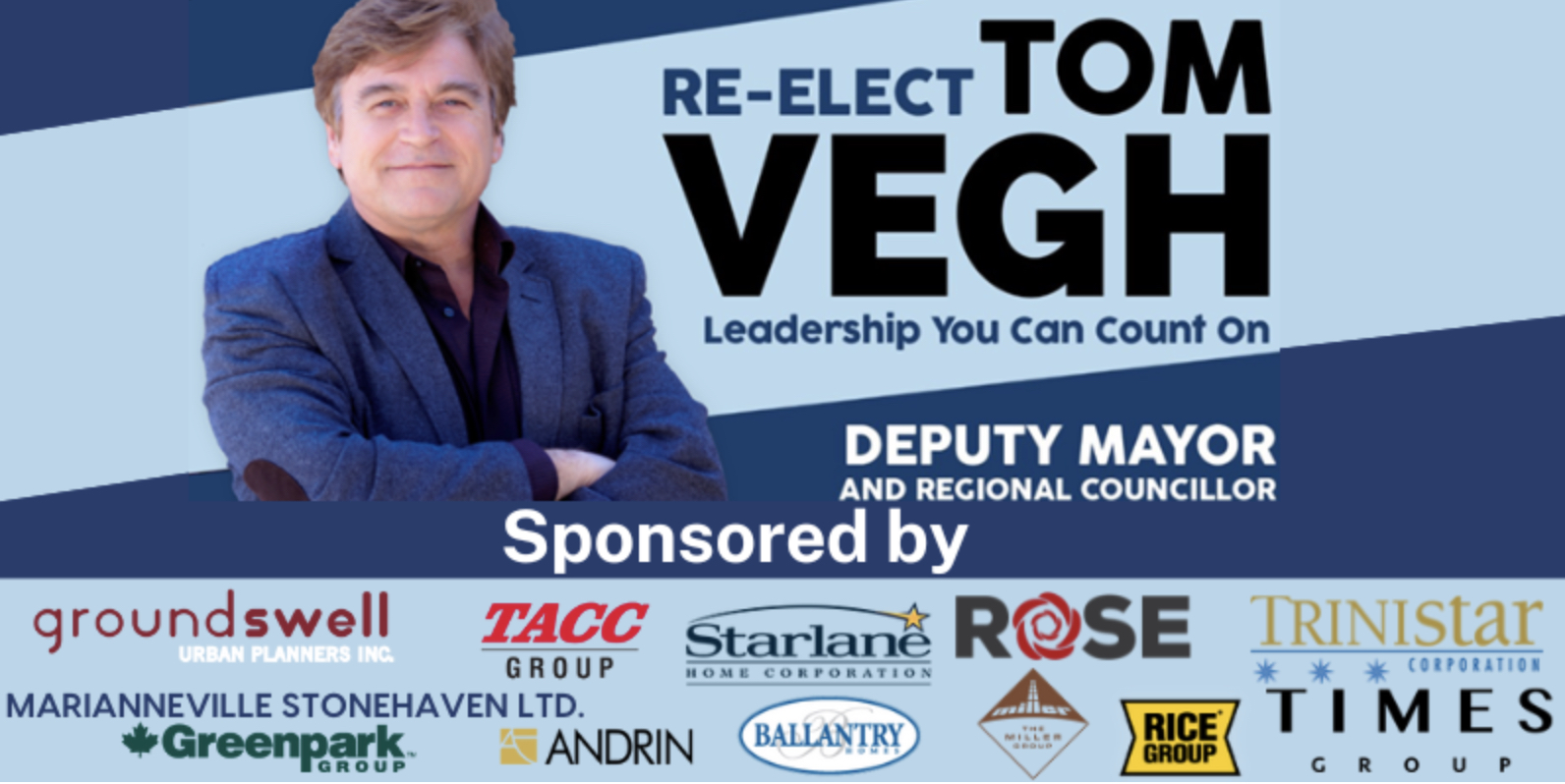 Running for election shouldn't be an arms race with the prize going to the candidate who spends the most.
The provisional campaign expense limit for the office of Regional Councillor, calculated by the Town Clerk taking into account the number of electors, is an eye-watering $52,166.50.
I learn I can spend up to $16,098 of my own money.
I have no intention of spending anything close to these stratospheric amounts. My campaign will be light and nimble and frugal. And honest.
The cost of each Vegh vote
I expect to spend a fraction of Tom Vegh's campaign budget which will be padded out by fat cheques from developers.
In 2018 Vegh's campaign income totalled $49,489.
His expenses came in at $45,846.
And he got 8,570 votes.
Each vote cost him $5.34
Measles
Vegh spent $8,590 on advertising; $25,358 on brochures and flyers and $11,472 on signs which were absolutely everywhere. The Town looked as if it had measles.
But, interestingly, he spent nothing on hosting meetings. No surprises there. Tom Vegh is a man of few words.
In 2018 the voter turnout was a less than stellar 34.7%.
Here is the result last time:
Tom Vegh: 8,570
Chris Emanuel: 7,952
Joan Stonehocker: 2,688
This email address is being protected from spambots. You need JavaScript enabled to view it.
Details

Written by

Gordon Prentice
After last month's debate on social media at York Regional Council, I contacted my MP, Tony Van Bynen, on 11 July 2022 asking him to lift the block on his Twitter account which prevents me from reading his Tweets and posting comments.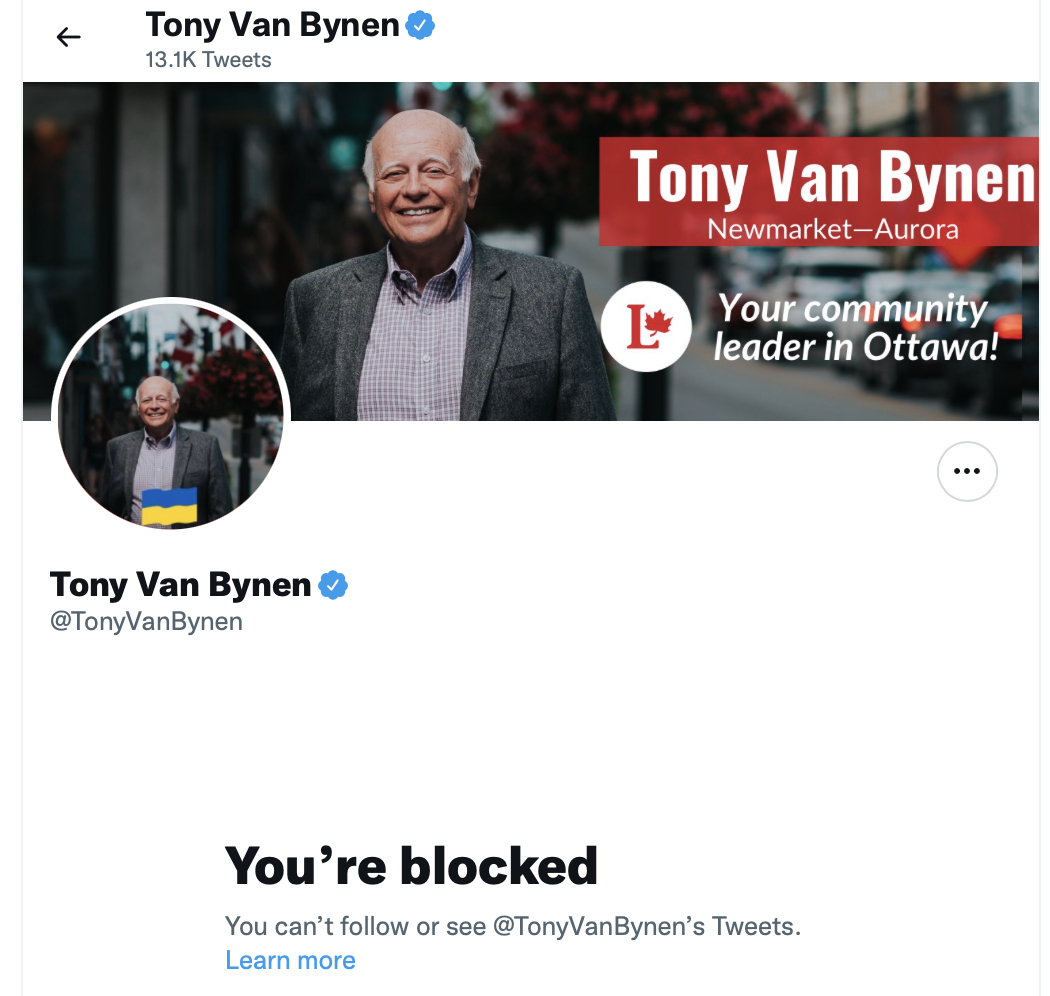 I sent him the background materials prepared by the Regional Clerk which recommended that blocking should be a last resort and that members of the Regional Council should be prepared to give reasons for blocking someone. In the event, the recommendation was lost by 13 votes to 8.
This morning Van Bynen gets back to me:
"I have given your request much thought and to be quite honest I do not see any reason that I would change my mind. Your decision to run for municipal politics does not influence that decision. I hope you will find the experience of participating in a municipal election rewarding and insightful."
and I reply:
"I am very disappointed.
You are my MP and I value your views even though I may not always agree with you.
Can I ask how many constituents you block and for what reasons?"
I find it deeply disappointing that my Member of Parliament freezes me out without giving reasons.
I don't bite.
This email address is being protected from spambots. You need JavaScript enabled to view it.
Click "Read More" to see my email to Mr Tony Van Bynen MP of 11 July 2022
Read more: MP vows to continue blocking me on Twitter but won't say why
Details

Written by

Gordon Prentice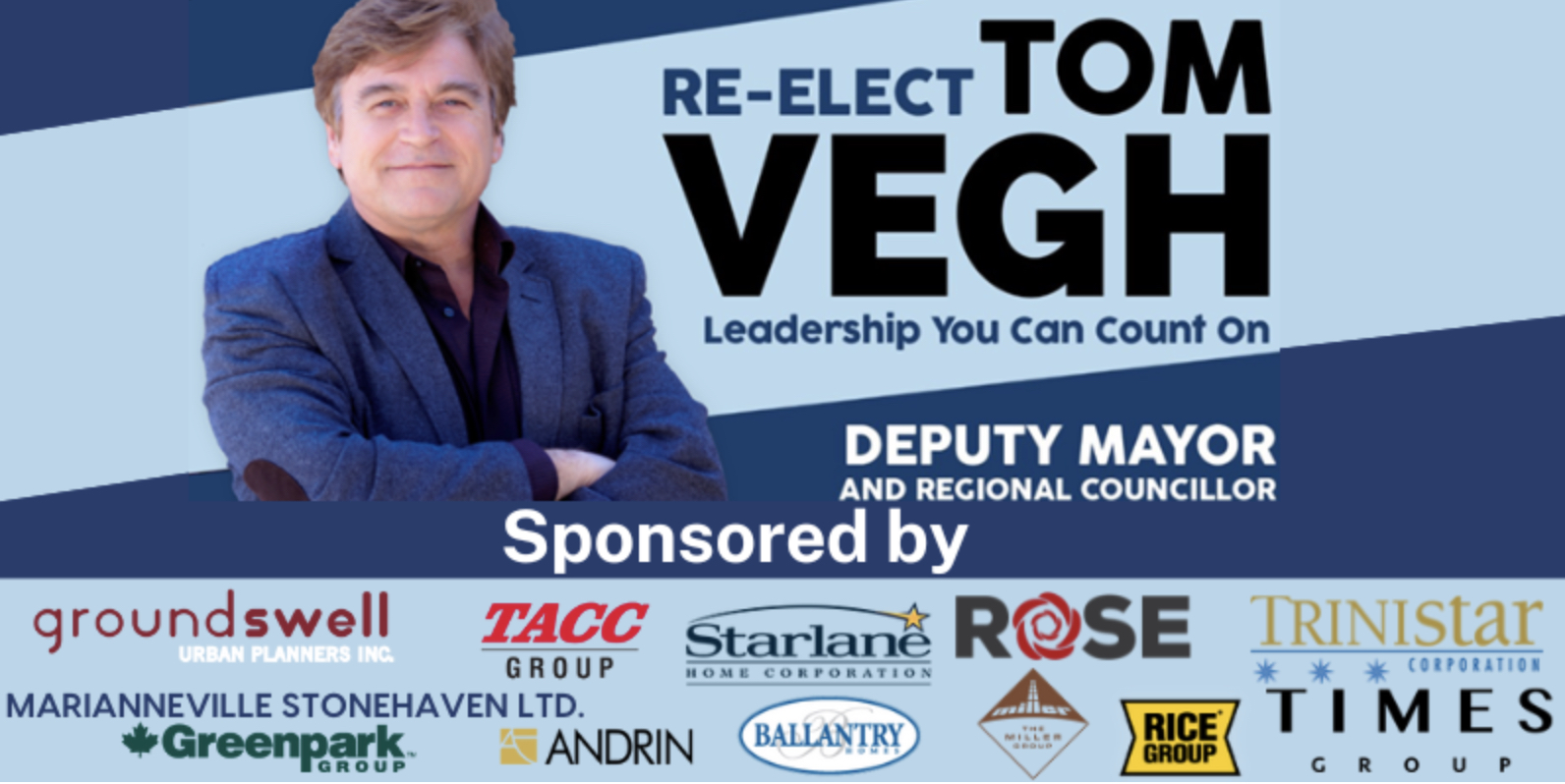 Money for Nothing. Money for Something.
In 2018 when Tom Vegh first ran for York Regional Council representing Newmarket he took barrowloads of cash from developers to fund his campaign.
That was wrong.
It is tainted money. And he shouldn't touch it with a barge pole.
In October's election Tom Vegh should leave the development industry and their enablers well alone.
But it got me wondering, how does it all work? Does Vegh approach individual developers asking for money? Does he plead poverty? Are there emails or letters? Or does the supplicant rely on word of mouth? Or do the developers take the initiative, approaching candidates who may be sympathetic to their interests? I genuinely don't know how it all works. But Vegh does.
Yesterday, after filing my nomination papers with the Town, I emailed Tom Vegh:
Campaign contributions from persons known to be associated with the development industry
Good afternoon Tom
I hope you are well.
Earlier this afternoon I filed my nomination papers with the Town. I am running for Deputy Mayor/Regional Councillor.
I shall not be soliciting campaign donations from people known to be associated with the development industry nor from the planners and consultants who support them. Neither shall I accept campaign donations from these people even though the money comes from them as individuals and not from their corporations. As you know, corporate donations are now prohibited by law.
In 2018 you accepted campaign contributions from development industry people. But, this time round, I hope you will have second thoughts and join me in rejecting developer donations.
It is clearly inappropriate for members of the Regional Council, whose bread and butter work involves planning policy, to place themselves under any obligation to those who could materially benefit from the decisions they take as elected members.
I look forward to hearing from you. I am copying this to the press.
Best wishes
Gordon
I shall post his response as soon as I receive it.
This email address is being protected from spambots. You need JavaScript enabled to view it.
Details

Written by

Gordon Prentice
Tom Vegh is running for a second term as Newmarket's Deputy Mayor and Regional Councillor. But does he deserve to be re-elected?

Tom Vegh is bankrolled by developers. And he dances to their tune.
He spent $50,000 getting elected in 2018. A huge slab of cash came from builders and developers and their professional enablers, the planning and consultancy firms.
When the election gets under way, Tom Vegh will carpet bomb the Town with his election signs, much of it paid for with developers' cash.
Vegh v Taylor
On York Regional Council Vegh regularly votes for the developers.
On 27 June 2019 Vegh voted to bring the so-called Rizmi lands in the Oak Ridges Moraine in Vaughan into the urban settlement area. Taylor voted against.
On 28 October 2021 in a vote on ROPA7 (Regional Official Plan Amendment 7) Vegh voted to allow the redesignation of the Protected Countryside portions of the Greenbelt in Vaughan from Prime Agricultural to rural against the advice of the Region's Chief Planner. This would allow the land to be used for golf courses, soccer pitches and the like. John Taylor and Aurora's Mayor Tom Mrakas voted against.
On 25 November 2021 Vegh voted to allow development on land in the Oak Ridges Moraine in Whitchurch-Stouffville. This was a first – allowing development outside a pre-existing settlement area (such as a Town). Taylor and Mrakas voted against.
On 26 May 2022 proposals to convert employment land to housing in Vaughan were backed by Vegh and opposed by Taylor.
Ambushes and Amendments
On 30 June 2022 Vegh voted in favor of the York Region Official Plan which had been the subject of a series of last-minute amendments and ambushes by councillors pushing the developers' agenda. Taylor voted against.
As a result, the amended Regional Official Plan will open-up for immediate development 7,785 acres or about 12 square miles of so-called Whitebelt land. (The Whitebelt lies between the edge of the urban area and the Greenbelt and is so called because it is shown white on Growth Plan maps.)
For comparison, the Town of Newmarket is about 14.8 square miles.
Vegh also voted for the release of 1,730 acres (or 2.7 square miles) of open land in East Gwillimbury for development.
Leadership you can count on
Vegh has been on Newmarket Council for over 20 years, latterly describing himself as a leader you can count on. The record says otherwise.
Tom Vegh over promises and under delivers.
At the last election in 2018 Vegh promised a new Library. He said the time for talking was over. (Above right: 2018 Tweet and, below, election flyer 2018)
In one sense this was true. As soon as the election was over he stopped talking about the new Library. And he hasn't mentioned it since.
Vegh has only one vote on the Town's nine-member Council and one vote on the 21 member Region. So he can't move mountains alone. The problem with Vegh is that he doesn't even try. He is a passenger.
Advocacy
If he wants to set the agenda he must argue his case and persuade his colleagues and win them over. But advocacy is not Vegh's strong point. He says very little.
In four years as a member of York Regional Council he has not authored and tabled a single motion for debate. By contrast, John Taylor brings motions forward frequently.
In 40 Council meetings, the best he could do was to second a motion brought forward by Taylor on the Deerfield Housing development on Davis Drive in Newmarket. For Vegh that was a high-water mark.
Being on York Regional Council gives Vegh a platform. But he doesn't use it.
The Tom Vegh I know is more at home in the shadows, quietly supporting the developers with his votes and saying as little as possible.
This email address is being protected from spambots. You need JavaScript enabled to view it.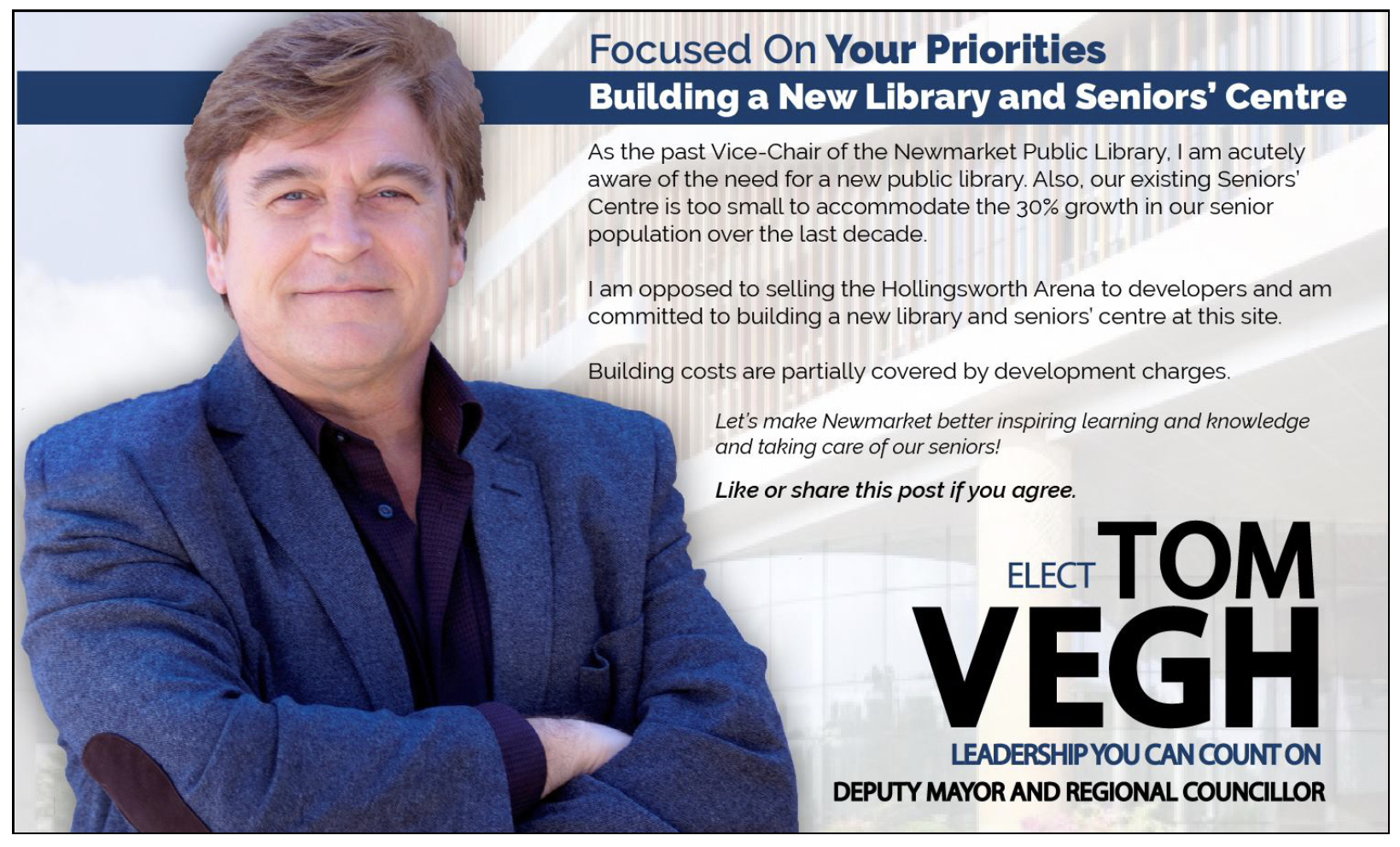 Details

Written by

Gordon Prentice
How many people in Newmarket have had Covid-19 – or have it now?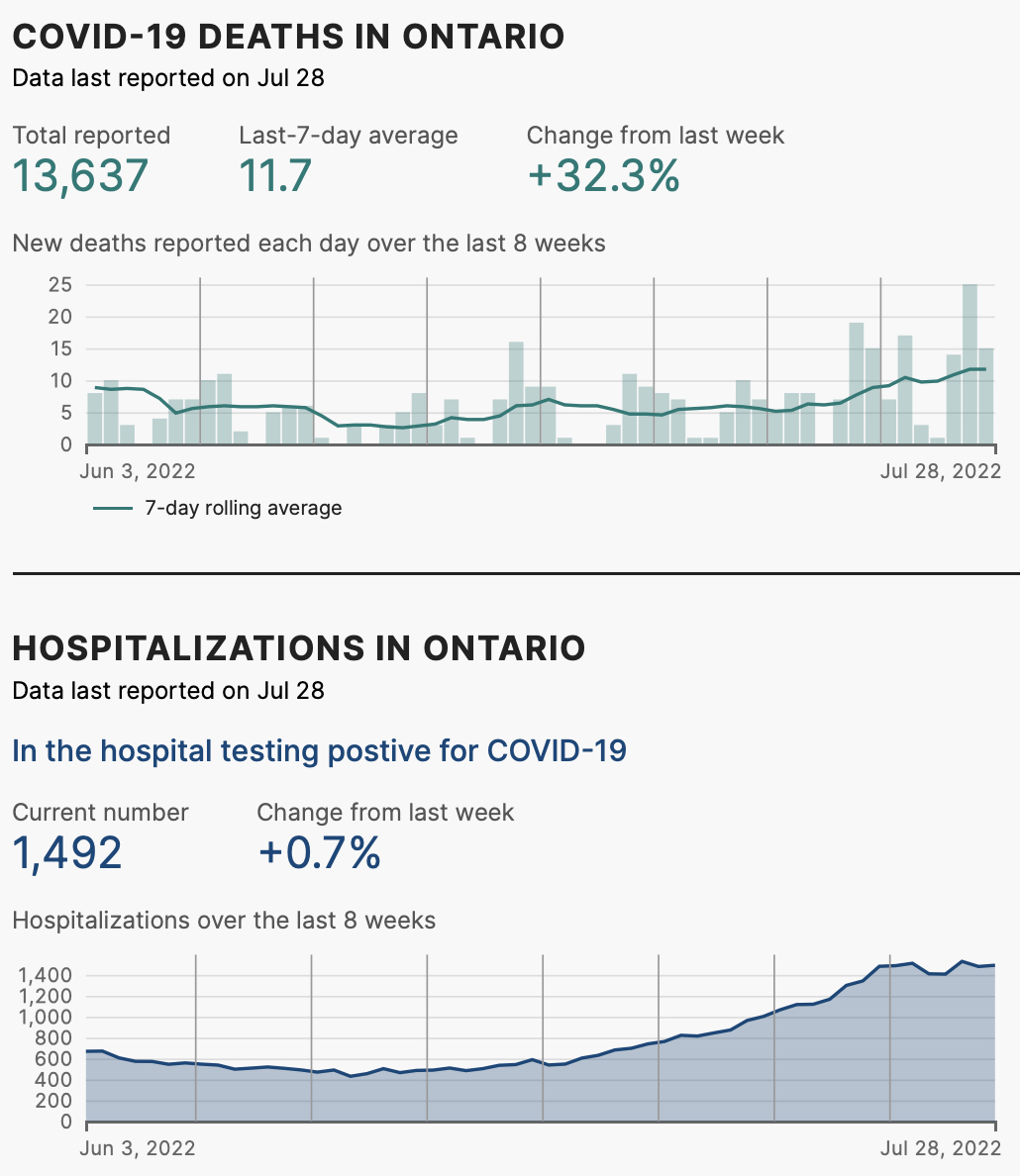 I'm sorry. I haven't a clue.
But, then again, no-one else knows either.
Historic data
York Region's Covid webpage gives the results for PCR testing (polymerase chain reaction) which the Province transitioned away from on 31 December 2021. The data is historic.
The official statistics do not pick up the vast majority of Covid cases. People who self-test using the widely available Rapid Antigen kit are not picked up.
The two key metrics
Instead, the Region uses two key metrics: (a) hospitalizations which is a measure of the severity of the illness and (b) wastewater analysis which purportedly measures prevalence.
I say "purportedly" in the light of this observation from Public Health Ontario:
"Wastewater surveillance for COVID-19, when combined with corresponding clinical testing and epidemiology data, may have potential for tracking or anticipating COVID-19 disease trends but is not yet recommended as a means to estimate prevalence. It is a rapidly evolving area of research and operationalization, and as an adjunct to clinical testing for assessing infection rates in a community". (My underlining)
The Region's website tells us that wastewater analysis comes from two catchment areas which, together, do not cover the entire Region. We are not told the size of the catchment area.
However, I must assume it is possible to extrapolate the findings across the region. Otherwise, what's the point?
How widespread is the virus?
The Toronto Star pulls together the latest data on Covid deaths, hospitalizations and vaccinations with the following caveat:
"On June 16, the Ontario Government halted daily COVID-19 data reporting, moving to weekly reports… Case counts are not included here. Reduced testing this year means that the number of cases shown is no longer an accurate reflection of how widespread the virus is."
That hits the nail on the head.
There is probably a lot more Covid out there than we care to admit.
This email address is being protected from spambots. You need JavaScript enabled to view it.
See also Newmarket Today, 30 July 2022
Update on 1 August 2022: from Nature: How long is Covid infectious?
Update on 2 August 2022: The Globe & Mail editorial: The pandemic isn't over but now we are navigating it in the dark