Background: Events put on and promoted by Richmond Hill councillors have to follow guidelines set by the City Council. These state quite explicitly that the cost of the events must not fall on taxpayers. The guidelines require councillors to pay for these events through sponsorship or in other ways which do not require public money.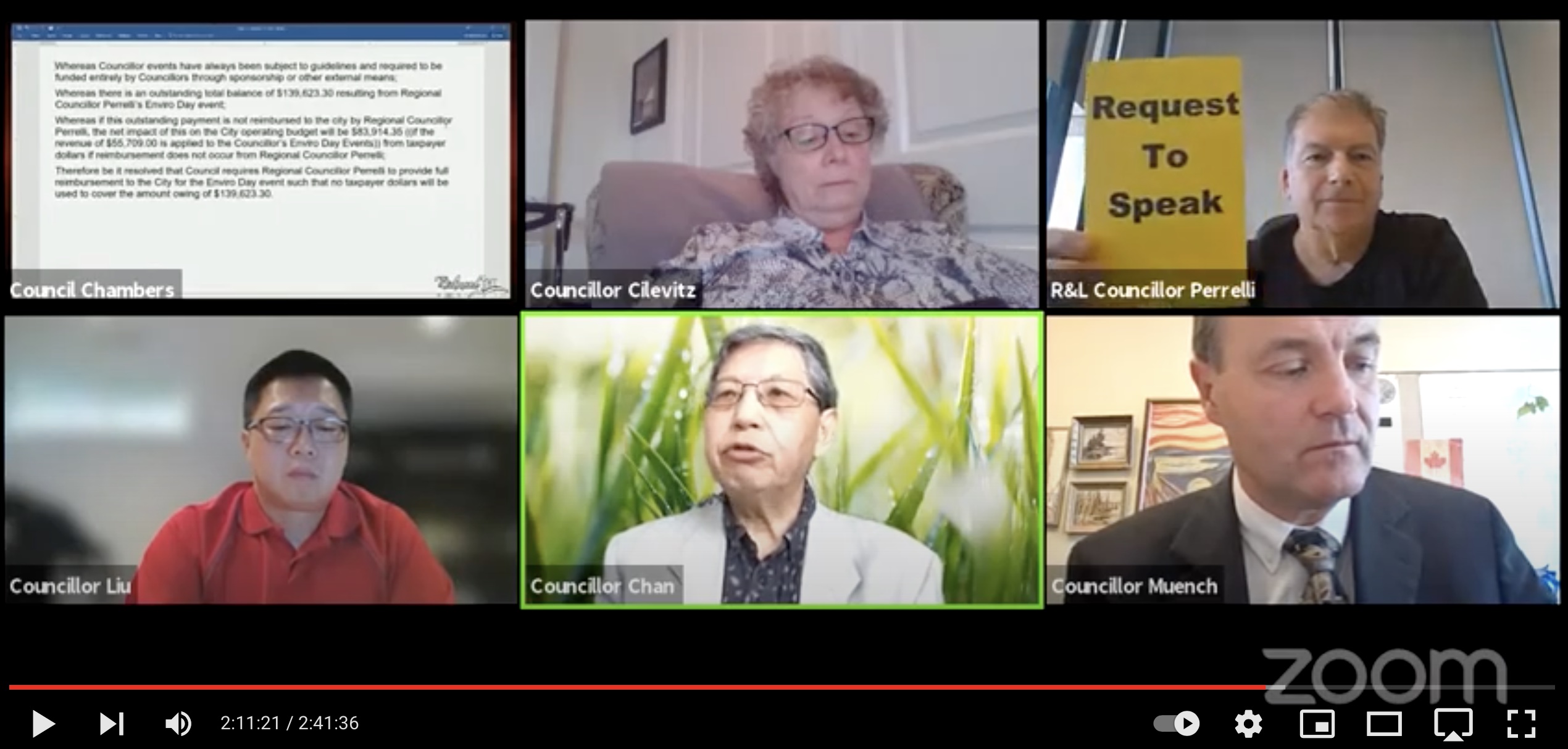 A report from the City Manager tells councillors that Regional Councillor Perrelli ran an "Enviro Day Event" over four days in June which
"included free distribution of recycling and compost bins, and incurred a cost of $139,623.30 despite only collecting $55,709.00 in sponsorship funds (inclusive of $6,508.95 carried forward from 2020). In addition, this event incurred over $17,800 of equivalent staff time for helping to conduct the events."
"No tax dollars will be spent for this event"
Perrelli, full of his characteristic bluster, insists he doesn't owe the City a cent.
Deputations before Council today showed emails from Perrelli to Richmond Hill residents boasting that his event would not cost taxpayers anything.
But the City Manager says the event falls squarely within the Council Events Guidelines and Perrelli must cover the costs.
Full reimbursement
In a 6-2 vote his colleagues side with the City Manager, passing a resolution which
"requires Regional Councillor Perrelli to provide full reimbursement to the City for the Enviro Day event such that no taxpayers dollars will be used to cover the amount owing of $139,623-30."
Perrelli is a car crash in slow motion.
Ordinarily I would feel sorry for someone in his predicament.
But since he brought this calamity on himself, bad mouths the staff, treats his Council colleagues as fools and continues to argue that black is white, I don't.
This email address is being protected from spambots. You need JavaScript enabled to view it.
The resolution reads:
Whereas Councillor events have always been subject to guidelines and required to be funded entirely by Councillors through sponsorship or other external means;
Whereas there is an outstanding total balance of $139,623-30 resulting from Regional Councillor Perrelli's Enviro Day event;
Whereas if this outstanding payment is not reimbursed to the City by Regional Councillor Perrelli the net impact of this on the City operating budget will be $83,914-35 (if the revenue of $55,709-00 is applied to the Councillor's Enviro Day event) from taxpayer dollars if reimbursement does not occur from Regional Councillor Perrelli;
Therefore be it resolved that Council requires Regional Councillor Perrelli to provide full reimbursement to the City for the Enviro Day event such that no taxpayer dollars will be used to cover the amount owing of $139,623-30
Moved by Councillor West
Seconded by Acting Mayor DiPaola
For: Councillor David West; Acting Mayor Joe DiPaola; Councilllor Godwin Chan; Councillor Karen Cilevitz; Councillor Tom Muench; Councillor Castro Lui
Against: Regional Councillor Carmine Perrelli; Councillor Greg Beros
Update on 15 October 2021: from the Toronto Star: Council orders Perrelli to repay $140,000
Update on 16 October 2021: From the Toronto Star: Bin Exchange proves costly in Richmond Hill
Below: from a deputant's presentation to Council