On Thursday (30 June) York Regional Council will formally approve "in principle" a Regional Transportation Master Plan (TMP) that is too timid for words.

Markham's Regional Councillor Jim Jones told the Region's top transportation planner, Brian Titherington, at a meeting earlier this month which considered the final draft:
"This presentation is heavy on roads. What about rail? What's the strategy there?"
Lowering expectations
The Transportation Master Plan deliberately sets out to lower expectations on when we can expect to see an all-day two-way 15-minute fast rail service in Newmarket and East Gwillimbury.
East Gwillimbury's population increased by a staggering 44.4% between 2016 and 2020 making it the fastest growing municipality in Canada. And this explosive growth is set to continue.
Only a fortnight ago, the Regional Council approved the release in East Gwillimbury of 1,730 acres (or 2.7 square miles) of so-called "Whitebelt" land for development.
Beat gridlock: build more highways
For the Ford Government the answer to gridlock is to build new highways and widen others. The Bradford bypass looks like a done deal but Highway 413 is subject to further review under the Federal Impact Assessment Act.
Billions are earmarked for highways that will fill up with traffic as soon as they are completed.
Yet decisions on road/rail grade separations - vital for an express train network - are left to the distant future.
Whether we get those grade separations - and the supporting analysis - is left to another day.
Road/rail grade separations
Last October the Acting Director of Transportation Services told members the draft TMP reduced:
"the number of road-rail grade separations to reflect the significant capital and operational costs"
But these road/rail separations are necessary if we are going to get a fast two way 15-minute service. Metrolinx says:
"Eliminating level crossings (where train tracks cross roads) will make the network better, faster and the region easier to travel in. There are two options when building a grade separation, tracks can either go under or over the road. By separating the road from the rails, vehicles can pass under (or over) a railway, without having to stop and wait for trains. Multiple grade separations are taking place across the network. Rail to rail grade separations are also needed, for much the same reason – to reduce traffic conflicts where train lines intersect."
Silent on the 15 minute trains to Bradford
The TMP claims to be a long-term plan which identifies the infrastructure and initiatives that are needed to support population and employment growth to 2051 yet it is silent on key commitments made by Metrolinx last August to run an all-day two-way 15-minute service to Bradford, north of Newmarket.
If Bradford gets a 15-minute service then so do we in Newmarket.
Instead, the Region's Director of Transportation, Infrastructure Planning and Public Works, Brian Titherington, limply says the new TMP "aligns" with the Province's transportation plan published in March this year and with the Metrolinx 2018 Plan which shows an all-day two-way 15-minute service running north from Aurora to Green Lane in 2041.
We can't wait until 2041.
Assumptions
The 15-minute commitment given by Metrolinx to East Gwillimbury Council ten months ago and repeated in numerous public statements since doesn't rate a mention in the Transportation Master Plan.
We don't know what assumptions Metrolinx made when they told East Gwillimbury Council on 12 August 2021 that they could run a 15-minute service to Bradford:
"thanks to further study and optimisation of service plans"
Why hasn't the Region's Director of Transportation asked Metrolinx to provide more details for inclusion in York Region's TMP?
Subject to further study
The draft TMP presented to members of the Regional Council on 11 November 2021 didn't even show a grade separation at Davis Drive in 2051.
Newmarket Mayor, John Taylor, picked up on this and asked for a re-think. The TMP was revised to meet his concerns and the latest version shows possible road/rail grade separations at Mulock Drive, Davis Drive and Green Lane but these are "subject to further study".
The Region and Metrolinx have been dancing around this issue for years. I've heard it all before.
A presentation on the future of the GO Rail station at the Tannery in Davis Drive in 2017 concluded that further studies were needed.
And here we are in 2022 and we are told yet again that further studies are needed. The can is always being kicked down the road, buying time.
Aligned with Province and Metrolinx
Titherington says the TMP is "aligned" with the plans put forward by the Province and Metrolinx
"while advocating for what York Region needs to support planned growth into the future from a transportation perspective".
Don't believe it.
We have been consulted to death on this Transportation Master Plan and yet, mysteriously, despite this, it down plays the importance of rail transit.
All for the sake of "alignment".
The TMP will now be circulated to the Region's constituent municipalities and comes back to Regional Council in September for final approval and adoption.
This email address is being protected from spambots. You need JavaScript enabled to view it.
Click "Read more" below the map to read Jim Jones's exchange with Brian Titherington.
Below: From the Metrolinx 2018 Plan showing the netwok in 2041: A fifteen minute service to Green Lane in East Gwillimbury.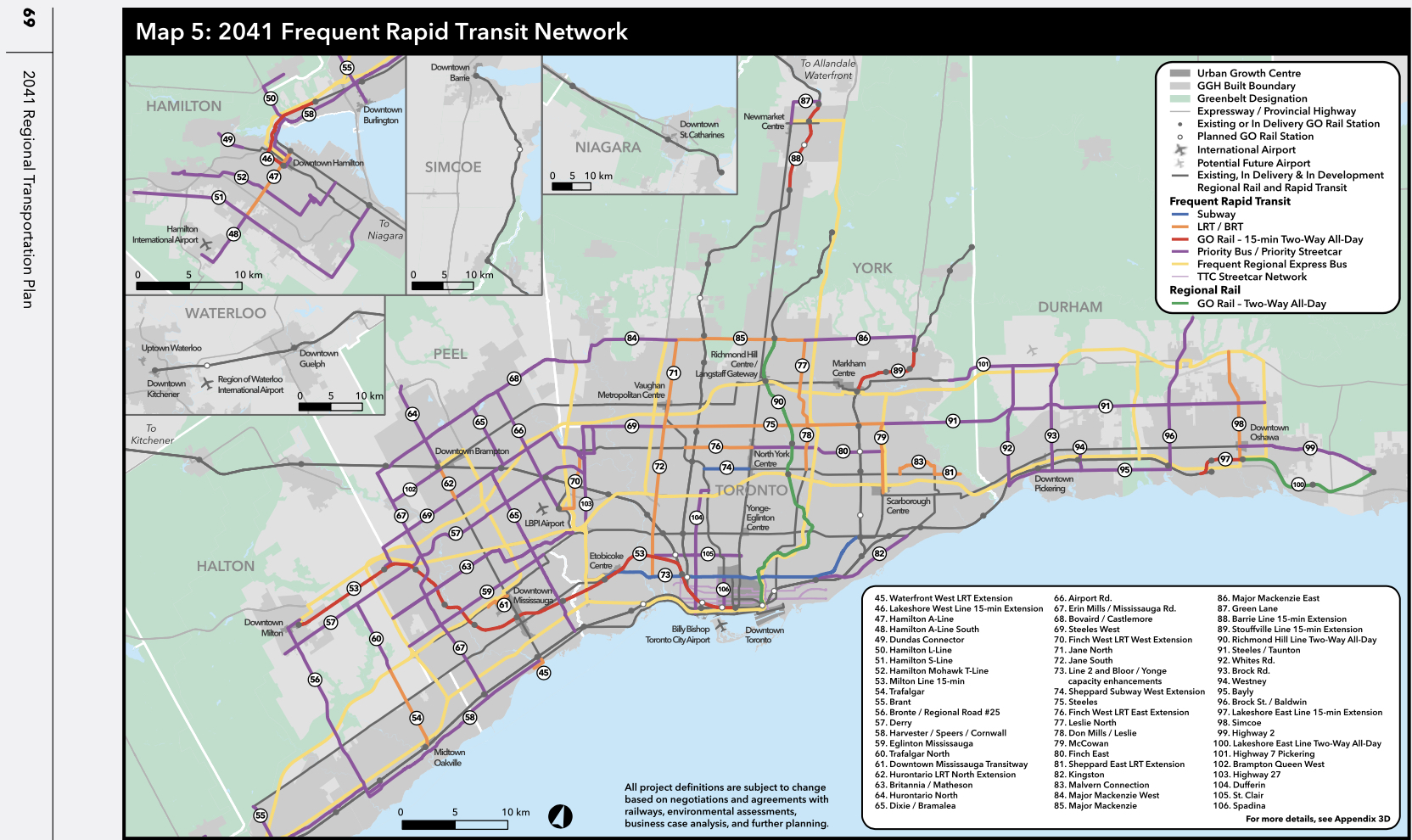 Regional Councillor Jim Jones to Director of Transportation, Brian Titherington at the Committee of the Whole on 16 June 2022:
Jim Jones: This presentation is heavy on roads. What about rail? What's the strategy there? You guys don't involve that or do we get Metrolink in for a presentation (on) where it's all going?
Brian Titherington: Good question Councillor Jones. Our rapid transit map does reflect the GO expansion program. We did get a presentation from Metrolinx in January on... and that certainly is a huge benefit to the Region as the Province increases the service on the Barrie, Richmond Hill and Stouffville lines. We are not the initiators of that process but we are certainly very involved and I think our map on grade separations (shows we) are involved as well. As council may remember Metrolinx will be initiating a consultation process both at the political and staff levels as we work to the various elements that come through the double tracking, electrification and grade plans that come with the GO expansion program.
And then of course the Yonge North Subway extension – that I don't need to tell this Council about - is in the plan as well as potential extensions to both the Spadina and Yonge lines as part of the 2051 plan. So we don't talk about it a lot but if you look at the map rail is certainly a big part of our plans. It is certainly something we plan to advocate with the Province over the next years going forward.
Jim Jones: Brian I drive around Markham and other municipalities. But in Markham our roads are clogged most of the day and building more roads or highways is not necessarily going to solve the problem. I look at the GO network as tremendously underutilized and I think we gotta get a rail transit network strategy and I hope that we develop that in conjunction with Metrolinx.
Regional Chair Wayne Emerson: Good point.
CHECK AGAINST DELIVERY