Last week Markham Regional Councillor Joe Li failed in his brave attempt to become Chair of York Regional Council.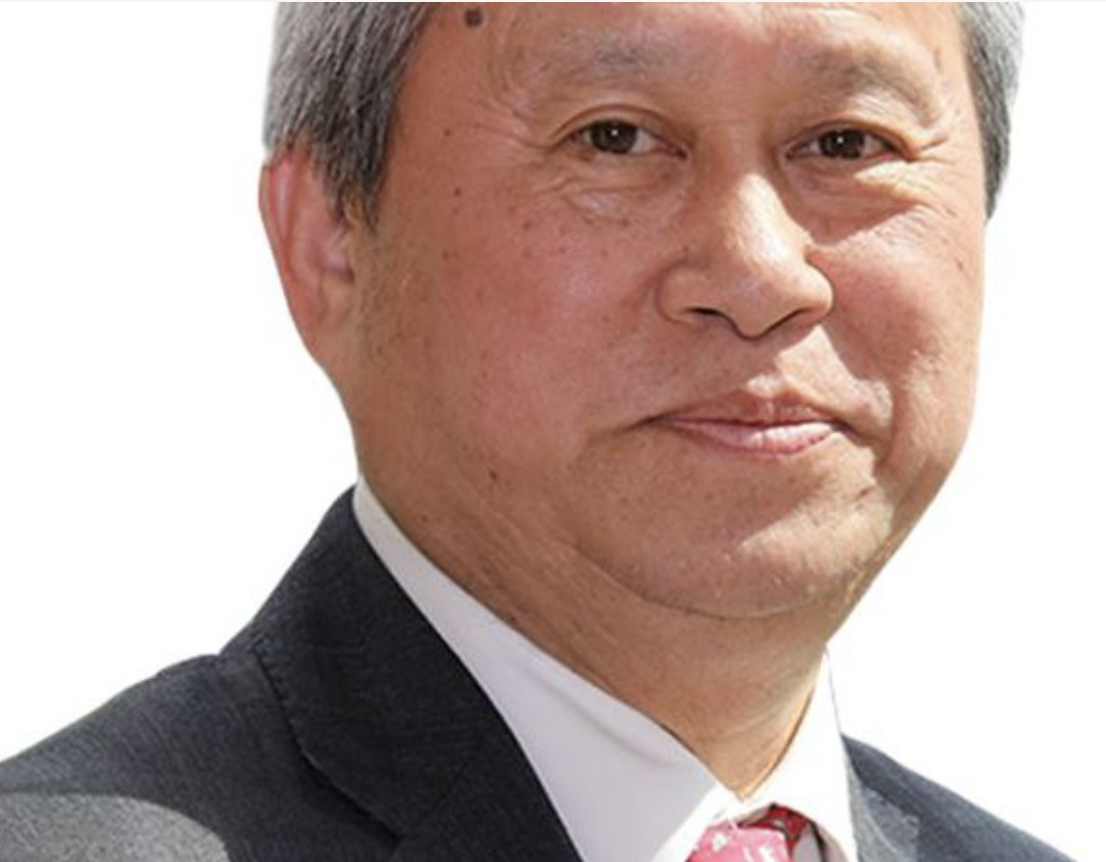 I say "brave" because it was never really on the cards.
But it was important Wayne Emmerson was challenged.
Personally, I've had enough of acclamations.
Elected members in the smaller northern municipalities of York Region believe a Regional Chair from any of the big southern ones would disadvantage them. I don't know if that is necessarily true but it was certainly a factor in deciding how the votes were cast.
Who voted for whom
7 Votes for Joe Li: Michael Chan (Markham); Jim Jones (Markham); Frank Scarpitti (Mayor of Markham); Alan Ho (Markham); Mario Racco (Vaughan); Godwin Chan (Richmond Hill) and Joe Li (Markham).
14 Votes for Wayne Emmerson: Tom Vegh (Newmarket); Steven Del Duca (Mayor of Vaughan); Gino Rosati (Vaughan); Margaret Quirk (Mayor of Georgina); Iain Lovatt (Mayor of Whitchurch Stouffville); Joe DiPaola (Richmond Hill); Naomi Davison (Georgina); Virginia Hackson (Mayor of East Gwillimbury); David West (Mayor of Richmond Hill); Mario Ferri (Vaughan); Tom Mrakas (Mayor of Aurora); Linda Jackson (Vaughan); John Taylor (Mayor of Newmarket); and Steve Pellegrini (Mayor of King).
Until the votes were cast, Emmerson was not a member of the Regional Council and had no vote. Now, after his election Emmerson's vote is of equal weight to all the other members. And he will use it, as he has done over the past eight years, not just to break ties.
Unknown quantity
For most people Joe Li was an unknown quantity though he had been on the Regional Council for 12 years. In last week's inaugural meeting of the new Council, Li was allowed five minutes to set out his stall.

I discover he speaks six languages. He left India decades ago to seek his fortune and ended up as a dishwasher in a restaurant in Sweden. Within ten years he was running four restaurants of his own. He then made the move to Canada.
Had there been an election at large – decided by the people rather than the 21 voting members of the Regional Council – I dare say we would know a lot more about Joe Li and, possibly, about Steven Del Duca too. After losing his own riding in the Provincial election in 2018 Del Duca decided to run for York Regional Chair in the election later that year.
Direct elections cancelled by Ford
The Wynne Government had legislated for direct elections in those regions that didn't have them and candidates had already thrown their hats into the ring – and had raised money and were incurring campaign expenses – when Ford made his bombshell decision.
On 27 July 2018, Doug Ford introduced legislation (Bill 5: The Better Local Government Act) to slash the size of Toronto City Council and to cancel the first direct election ever in York Region – and in Niagara, Muskoka and Peel.
New Regional Council members Steven Del Duca, now Mayor of Vaughan, spent $67,191 on his abortive campaign and Mario Racco, Vaughan Regional Councillor, spent $54,534 which included $15,149 on legal fees in appealing unsuccessfully against Bill 5.

$607,503
The General Spending Limit for candidates running for Regional Chair was set (on a per voter formula) at an eyewatering $607,503.
Bill 5, cancelling the elections, became law on 14 August 2018. Emmerson, having said he wasn't going to stand again, changed his mind.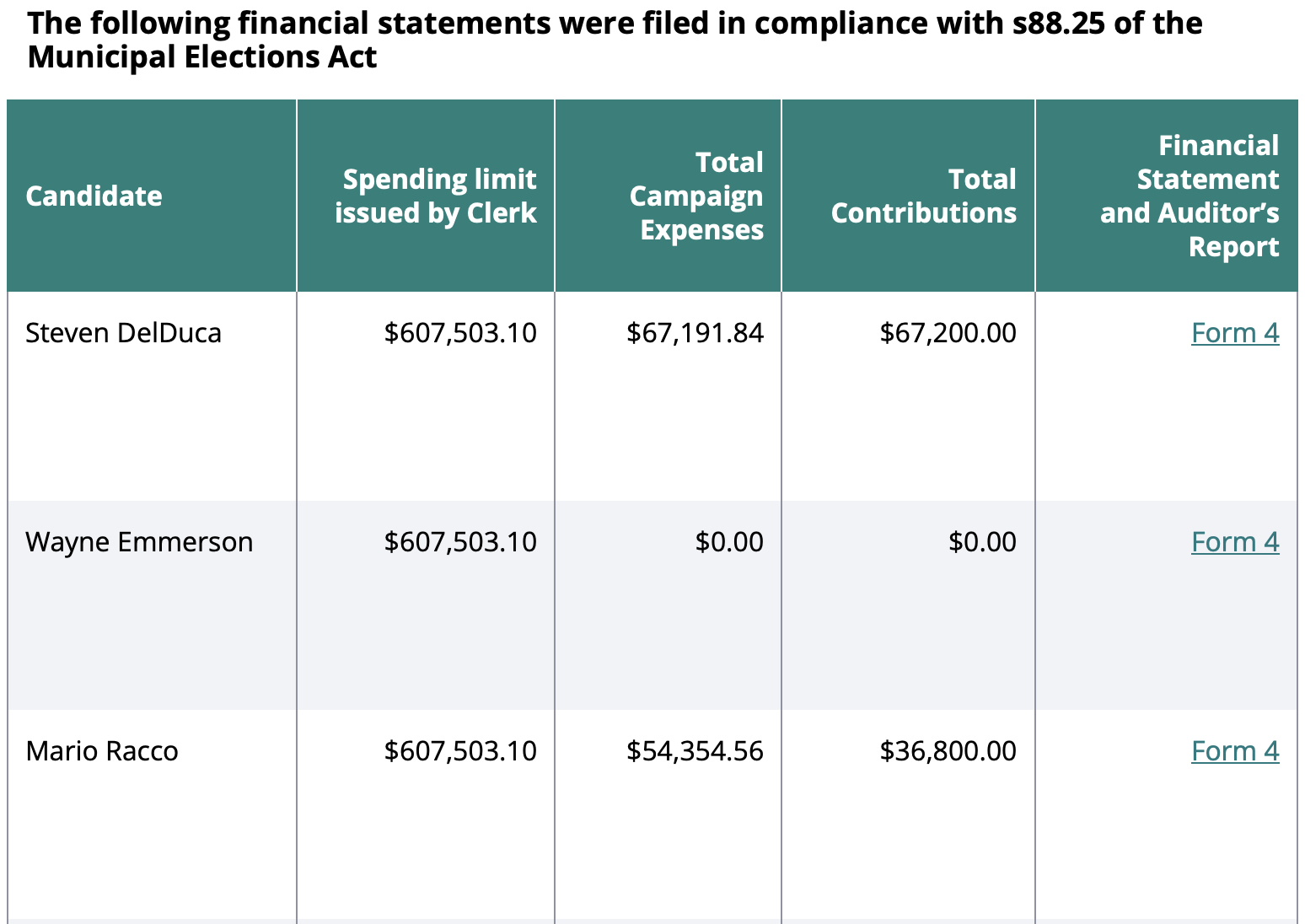 In his 27 August 2018 filing, required by Statute, Wayne Emmerson, indicated:
"I did not accept any contributions or incur any expenses."
We can safely assume candidates for the new directly elected Regional Chair would have campaigned on a raft of policies, perhaps even including pledges to protect the Greenbelt. Had they done so, they would have had a stronger mandate than Ford's Progressive Conservatives who said nothing about the Greenbelt during this year's Provincial election. People who take politicians' promises at face value would have concluded the Greenbelt was safe.
Shameless
The Housing and Municipal Affairs Minister, Steven Clark, the most shameless dissembler of the lot, said this in February 2021:
"I want to be clear: We will not in any way entertain any proposals that will move lands in the Greenbelt, or open the Greenbelt lands to any kind of development."
Now more than ever we need Regional Councils elected on a popular mandate. But is it even remotely realistic to expect individuals, running as "independents", to raise the hundreds of thousands of dollars needed to run for Regional Chair?
I don't think so.
Political Parties, for all their well-publicised faults, are familiar and recognisable to the public. They drive up turnout (if only at the margins) and should be permitted to organise at the municipal level if they so wish.
New Kids on the Block
And new municipal parties should be allowed if like-minded individuals want to share expenses and campaign on a common platform.
Until this happens Doug Ford will be allowed to get away with blue murder.
Gordon Prentice 20 November 2022
Update on 21 November 2022: The Globe and Mail editorial: Doug Ford is bad for democracy