Steve Hinder was due to start giving evidence today (Tuesday 27 November) but the Court rose early because of the weather and he was not called. Hinder takes the stand at 10am tomorrow in Courtroom 402 at the Courthouse in Eagle Street, Newmarket.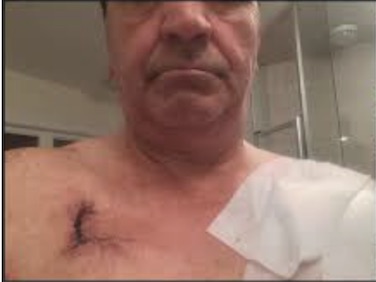 Today we hear from Fred Rankel who is a longstanding resident of Aurora with a background in construction and engineering. He says he is not political. He has known both Hinder and Pullano for about 15 years. He gives evidence on oath.
WOP is a derogatory term for Italians and people of Italian heritage.
Punch or handshake?
It is 20 March 2014 and we are back at the Mansion Banqueting Hall in Aurora. Fred Rankel goes to Jane Twinney's acclamation with a friend and when Pullano comes in they shake hands.
"I pretty much stayed at the back of the room close to the exit… Mr Hinder entered the hall and rapidly approached Anthony Pullano. There was a quick interaction. Mr Hinder's right hand went up and Anthony took a step back (as if he) lost his balance…
"Mr Hinder had his hand up (indicating to shoulder level).
Pullano's lawyer, William Reid, asks if it looked like a handshake
"It could have been."
After the interaction
"Anthony looked shaken and (was) sweating… He looked uncomfortable like he was going to have a heart attack."
Fred Rankel tells the Court he signed his affidavit in 2015 in Pullano's office.
Does Hinder refer to people of Italian Heritage as WOPs?
Now Pullano's lawyer asks Rankel how Hinder described the former Mayor of Aurora Phyllis Morris.
"Syphilis Morris" he replies
Whoa! The Judge intervenes and asks Pullano's lawyer, William Reid, how this is relevant. The jury (and Fred Rankel) are asked to leave the Courtroom while the Judge and Counsel lock horns on the admissibility of this evidence.
Reid reminds the Court that Hinder launched a counter-claim for defamation earlier this year, citing Pullano's attacks on him in social media. Reid says Hinder has a disposition for repeated verbal bullying and the jury should be made aware of this fact.
Reid tells the Judge that on 10 June 2014 Hinder says in the presence of Mr Rankel:
"If these WOPs get elected we will have to roll up our tents and leave town."
I learn that conversation was between Hinder and Tim Jones, the former Mayor of Aurora, who has been sitting in front of me in the public gallery throughout the trial.
Hinder's Counter-claim for defamation
Reid tells the Judge these statements by Hinder are crucial to the defence and to (rebutting) the counter-claim on defamation. He says that Hinder attended a meeting for municipal election candidates organised by the Chamber of Commerce in 2014 and when Hinder saw Pullano he (Hinder) mouthed the word "WOP".
Reid, now sounding exasperated, tells the Judge that to exclude this evidence "doesn't do justice". He says Tim Jones could be called to the stand. But the Judge rules this out immediately on the grounds that Jones cannot give evidence as he has been sitting through the entire trial. Reid says that when Hinder comes to give evidence he may even admit what he said. Personally, I doubt it.
The Judge rules that Hinder's alleged remarks about Syphilis Morris and WOPs cannot be put to the jury on the grounds that this would be highly prejudicial to the defence.
Seriously upset
By now the Judge is getting seriously upset. He says:
"The prejudicial effect would outweigh the probative value."
I consult my on-line legal dictionary. The probative value of evidence refers to whether it is, or is not, sufficiently useful to prove something important in a trial.
However, probative value of proposed evidence must be weighed by the trial judge against prejudicing in the minds of jurors towards the opposing party.
He orders Reid to steer clear of asking Fred Rankel about Phyllis Morris and how Hinder allegedly referred to her.
Now Hinder's lawyer is on her feet asking a series of questions designed to demonstrate that Rankel didn't really see or hear what happened in the interaction between Hinder and Pullano. I hear lots of questions about who is seated where and whether views are blocked by people wandering about.
Rankel is asked about his recollection of Hinder's arm being about shoulder height and why that wasn't in his affidavit.
"The affidavit was a quick summary not the detail we are getting today."
Rankel says he was about 20 – 25 feet away from the interaction between Hinder and Pullano. He says Pullano jumped backwards.
Hinder's lawyer says the affidavit mentions a "sudden step backwards".
"That was a jump."
"I didn't interpret that he got hit when he took a step backwards… but I don't see how he lost his footing."
"I am not guessing at what I saw."
Pullano, described by Rankel as flushed and sweating, said Hinder hit him and it hurt.
Hinder is in the witness box tomorrow at 10am.
On oath.
This email address is being protected from spambots. You need JavaScript enabled to view it.