I see from Dawn's latest "Community Update" that she is planning a re-run of last year's wonderful and hugely successful "Free" BBQ and Corn Roast.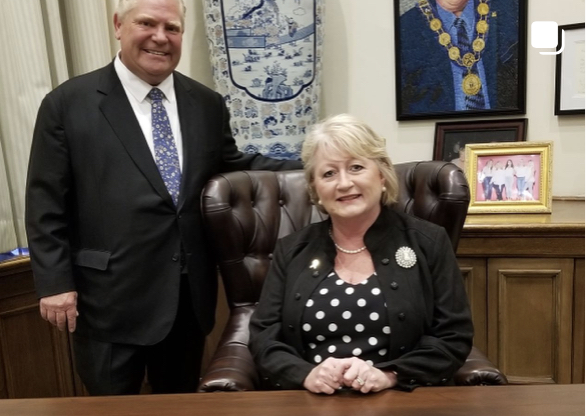 Maybe this year Doug Ford can put in an appearance – fresh from his run of magnificent Ford-Fests. I hope so! All across Ontario, from Windsor to Scarborough to Kitchener, Doug has been treating the great people of FordNation to free hot dogs, free burgers, free veggie-burgers, free pop, free T shirts. And free rides for the kids!
Remember, in FordNation everything is absolutely FREE! Everyone is welcome. No-one will be turned away!
FordFanNatic!
Personally, I think Doug owes Dawn a favour.
Our Ford appointee MPP is a "FordFanNatic!". Dawn is wonderfully obedient and never strays off-message. Here is what Dawn told her many thousands of wonderful readers:
Save the Date – MPP Gallagher Murphy's 2nd Annual Community BBQ
You're invited to our 2nd Annual Community BBQ. Autumn will be here soon and it's great to get outdoors and spend time with my community meeting all the wonderful constituents.
Since the last BBQ we have been busy working on behalf of everyone in the community, I hope we will see lots (of) my Newmarket-Aurora friends for a fun day of food, music and children's activities. I am inviting you all to my free BBQ on Sunday October 22nd between 2:00 & 4:00 pm at Newmarket Riverwalk Commons. Hope to see you there!
Wonderful
Last year's wonderful free BBQ cost the taxpayers a paltry $11,160.
Who amongst us would begrudge spending this trifling sum to stage such a spectacular event?
The Free BBQ and Corn Roast feeds the hungry, entertains our lovely neighbours and promotes our splendidly talented MPP - all in one go!
Dawn is such a treasure.
Doug is lucky to have her - and others like her - in his caucus.
This email address is being protected from spambots. You need JavaScript enabled to view it.
Update on 10 September 2023: Doug Ford promises homes under $500,000 at Kitchener Ford Fest.