On Thursday (14 September) York Region's Committee of the Whole will be considering a report from the Chief Administrative Officer, Bruce Macgregor, on the Provincial review of regional government.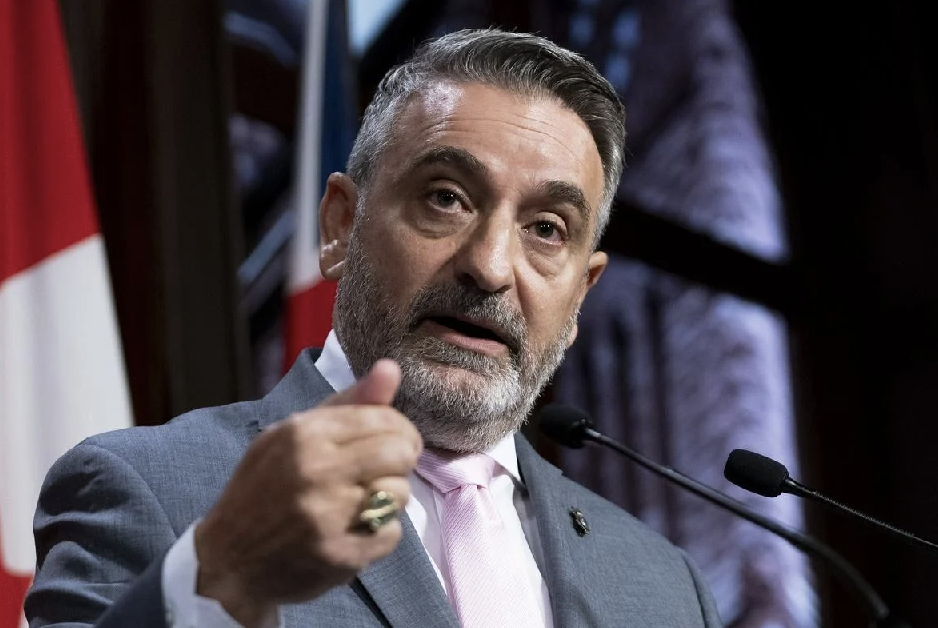 It tells us that on May 18, 2023, the Province committed to assessing the upper-tier municipalities of Durham, Halton, Niagara, Simcoe, Waterloo and York by appointing Provincial "facilitators".
The Province should have announced the name of a facilitator by today – but it hasn't.
Instead, the new Municipal Affairs and Housing Minister, Paul Calandra, is having second thoughts about a revamp of two-tier government in York, Halton, Durham and other regions. (photo right)
Ford's 2019 review of regional government went nowhere. The reports of that abortive exercise still haven't been published.
And here we are again.
Back where we started.
This email address is being protected from spambots. You need JavaScript enabled to view it.
Click "Read more" below for the Toronto Star report. The Globe and Mail quotes Markham's Mayor Frank Scarpitti:
"The fact is, the status quo is not an option. If in fact they want to see, and they do, more housing built in the next decade, reform is needed."
Scarpitti has zero support on York Regional Council for his proposal to abolish all nine lower tier municipalities and create a new megacity. Former Ontario Liberal Leader and now Mayor of Vaughan, Steven Del Duca, wants a full scale municipal reorganisation. Del Duca favours a "single tier" Vaughan taking over many services currently provided by York Region. It's all very broad brush - and not thought through.
Update on 12 September 2023: From Global News: Ford's mandate letters
Update on 13 September 2023: From Global News: Ontario Regional Government review to move ahead without facilitators. And from the CBC. Calandra's request to the Legislature's Heritage, Infrastructure and Cultural Policy Committee was posted on Twitter.
Update on 14 September 2023: From Newmarket Today: York Region loses $34.9M in development charges thanks to Housing Bill
Amid housing crunch, Ford Government rethinking assessments of regional government
In an unexpected move, Housing Minister Paul Calandra is having second thoughts about a revamp of two-tier government in York, Halton, Durham and other regions.
By Rob Ferguson Queen's Park Bureau
Monday, September 11, 2023
In an unexpected move, new Municipal Affairs and Housing Minister Paul Calandra is having second thoughts about a revamp of two-tier government in York, Halton, Durham and other fast-growing regions over concerns it could slow the building of more housing.
The rethink comes just three weeks after his predecessor Steve Clark — who resigned a week ago over the $8.3-billion Greenbelt land swap scandal — announced "facilitators" would be appointed by now to determine whether the regional tiers would be dismantled to make government more "efficient, effective and accountable."
Peel Region is already being disbanded by Jan. 1, 2025 in an effort to streamline local government in that area, where municipal responsibilities were split between the region and Mississauga, Brampton and Caledon.
Calandra took to social media Monday to say he will make a final decision on the revamp of other regions by the end of September, prompting Green Leader Mike Schreiner to predict a "flip-flop" is in the works as the government struggles amid fallout from its Greenbelt debacle.
"Our government is working hard to ensure municipalities are properly equipped to meet their housing targets and get shovels in the ground," Calandra wrote.
"As such, I will be reviewing the previously stated intention to appoint facilitators to assess regional governments in Durham, Halton, Niagara, Simcoe County, Waterloo and York to ensure the province's approach supports our goal of getting more homes built in these fast-growing regions," he added.
"We're making sure we get this right."
Clark set a Sept. 11 deadline to appoint facilitators for each of the six areas while in London on Aug. 22 at the annual Association of Municipalities of Ontario conference — the same day his chief of staff, Ryan Amato, quit over the Greenbelt debacle.
"We know our communities must have the proper tools in place to support growth," Clark said at the conference attended by 2,000 municipal politicians from across the province, citing the government's target of building 1.5-million new homes by 2031 to meet a supply "crisis" that has send prices soaring.
New Democrat MPP Jeff Burch (Niagara Centre) said the government appears "incapable of prioritizing the crisis at hand and keeps moving the targets for Ontario's municipalities."
"This is just more fumbling and bumbling from a government that is desperate to change the channel from their housing failures and ongoing corruption crisis," he added.
"It's clear the Conservatives have no real plan to tackle the housing crisis and are making it up as they go along," said Interim Liberal leader John Fraser.
For the Greens, Schreiner said "this back-of-the napkin 'review' is yet another sign of a government in total disarray," calling it "another flip-flop that makes it harder for municipalities to care for their residents and plan for the road ahead."
Under Clark's plan, facilitators were to be sent into the six regions to begin "reviewing the structures of local governance … to ensure they are up to the job of delivering efficient, effective and accountable government."
In fast-growing regions, there had been concerns about bureaucratic duplication and inefficiency as cities and towns grow into each other, with two layers of government — the regional and the local municipalities — potentially delaying the building of housing and public transit.
Clark quit on Labour Day, posting his resignation on social media, as calls for his ouster grew following two damning reports on the scandal.
Auditor general Bonnie Lysyk found Clark's chief of staff picked 14 of 15 properties to be removed from the Greenbelt, bypassing input from politically neutral civil servants, in a flawed process that "favoured certain developers."
Integrity commissioner J. David Wake ruled that "madcap" method violated ethics legislation for MPPs and said Clark had his "head in the sand."
Rob Ferguson is a Toronto-based reporter covering Ontario politics for the Star. Follow him on Twitter: @robferguson1.