Details

Written by

Gordon Prentice
John Blommesteyn, the wannabe councillor for Ward 7, has been parading his virtues in front of a sceptical public.
Blommesteyn, who is married to the mercurial Maddie Di Muccio, tells us it takes integrity to campaign on the issues.
Try as I might, integrity is not something I associate with him.
Over two years ago, a duplicitous Blommesteyn bought a large number of Tom Vegh domain names to squat them and game the search engines to direct traffic to his wife's website.
He says he kept Maddie in the dark about it all:
"I purchased the domain name tomvegh.ca unbeknownst to my wife… She had no idea I had done that because she would never have approved."
Then, as now, I thought Blommesteyn's actions thoroughly reprehensible and unethical.
Fast forward to Newmarket Theatre on 7 October 2014. I find Blommesteyn alone at his candidate's stall surrounded by piles of election literature. When I challenge him to explain why he had bought up a huge number of Tom Vegh domain names he laughs it off, telling me it was simply to encourage Vegh to have a more active on-line presence.
Bizarre? I think so.
Then, on 9 October, in the Newmarket Era on-line debate, he tells us:
I personally don't like the mudslinging and procedural roadblocks (such as "points of privilege" and integrity commissioners) that were showcased this last term on council. These tactics only serve to lower public engagement and encourage apathy.
On the contrary, he dishes out the dirt with relish.
His appearance before Newmarket's Committee of the Whole last December was an absolute disgrace. Councillor Di Muccio had just been given a rap on the knuckles by the Integrity Commissioner for branding the Mayor a 'mysogynist". But Blommesteyn absurdly claimed his wife hadn't been given a fair hearing. This was manifestly untrue. The Commissioner had approached Maddie Di Muccio on three separate occasions to get her side of the story and was at first rebuffed and then ignored.
As I wrote at the time, he was angry, argumentative and belligerent, demanding special treatment.
Ten months on, a re-invented Blommesteyn, listening and considerate, says that if he is elected councillor for Ward 7 he will drop everything to provide a round-the-clock service.
I own my business and I have the luxury to step away without having to get "the boss's" permission.  So I can assure you that I will have the time (to) address residents' concerns no matter what time of day they may occur.  
Too bad that didn't apply during the Glenway OMB Hearing where he was conspicuously absent.
Clearly, he was busy on more important things.
7 days to go.
---
Details

Written by

Gordon Prentice
Over two years ago, Regional Councillor John Taylor told a meeting at Newmarket Public Library that he would bring forward a motion to Newmarket Council to ban corporate funding of election candidates. I am not entirely sure what happened to this noble intention. Probably got lost in the undergrowth somewhere.
And earlier this year Taylor said he would not accept campaign donations from developers. His challenger, Darryl Wolk, has no such scruples.
That's unfortunate. Cash from developers is tainted. The sums may be modest but every donation comes at a high price.
In the last election in 2010, both Van Bynen and Taylor took money from the Slessors (or rather Dwight Slessor Holdings) and they didn't declare an interest before voting on the Slessor planning application. The law did not require them to.
But now, when everyone including the Mayor, is banging on about transparency it is probably good politics to fess up.
So why don't Newmarket candidates list their financial backers now, not afterwards when it is too late to make a difference?
They could follow the example of Toronto's Mayoral hopefuls who are releasing details before the October 27 election. The law currently requires disclosure – but only five months after the election.
---
Broadband in Newmarket
Super-fast broadband is a good thing. No doubt about it.
So when Mayor Tony Van Bynen tells us he plans to bring high-speed Internet to Newmarket it is worth a round of applause.
The Town would benefit hugely if we all had lightning fast internet access.
It sounds like a fresh new idea – with Van Bynen claiming authorship – but, in fact, the York Region Broadband Strategy has been knocking around for years and involves all nine of the Region's municipalities. The latest update was considered by John Taylor's Planning and Economic Development Committee earlier this year and was approved by the Regional Council in May.
Mayoral hopefuls Chris Campbell and Dorian Baxter give the Mayor's broadband strategy the thumbs down fearing it would be too expensive and roads would have to be dug up again. Their reactions disappoint me.
Ron Pickett, a technology and business innovation consultant, writing in Ottawa Life says broadband has become an election issue here in Newmarket. He estimates the cost of wiring the Town is around $30m. He says Town staff will be presenting a report to the new Council after the election.
Picket takes a swipe at Regional Councillor wannabe, Darryl Wolk, who has criticized the broadband strategy. Wolk points to Chattanooga, Tennessee, where a similar initiative reportedly cost $330m and generated only 1,000 jobs.
Comparing Chattanooga with Newmarket is I think wide of the mark. Picket writes:
Chattanooga has a population of 170,000, twice that of Newmarket. Chattanooga is over four times the geographic size covering 370 sq km compared to Newmarket's 38 sq km. In addition, the Chattanooga service footprint covers five times the city area, which is just less than 1,000 sq km. That is over 26 times the geographic size of Newmarket.
It seems to me if the private sector wants to roll out high-speed broadband across York Region then let them get on with it.
But if, as seems likely, the internet providers cherry pick by post-code, going for the fattest profits with the least effort, leaving slow-speed pockets and dial-up deserts, then this is an issue for all of us.
Super-fast broadband increases productivity, promotes growth and generates jobs.
How curious that Darryl Wolk - one of the most wired-up politicians on the face of the planet – can't make that connection.
8 days to go.
---
Details

Written by

Gordon Prentice
The Mayor's latest glossy election leaflet arrived today. But why isn't there a flattering photograph of the great man himself with a mop of hair on top of his head?
Answer: He doesn't look like that now.
So why is he still using an out-of-date artist's impression of Davis Drive where the hydro poles have been air-brushed out in a manner worthy of the old Soviet Union?
The fact is the hydro poles and the cat's cradle of cables will be there long after construction ends. They give Davis Drive a frontier town look. We are left with an eyesore after spending an eye-watering $143 million.
Curiously, the buildings seem to be on a human scale. But after the changes made to the Secondary Plan in June this year, this, too, is another artful deception.
(Go to schedule 4 on page 128 of the final version of Newmarket's Secondary Plan - June 2014 -  to see the changes on height and density recommended by officials at York Region and accepted by our councillors.)
The hydro poles have been talked about for ages.
So why does the Mayor continue to recycle a vision of Davis Drive that is simply inaccurate? 
Is it just laziness? Or can't he find anyone with a sharp pencil to update the earlier artist's impression?
Does any of this matter?
In the wider scheme of things, probably not.
However, my eye is drawn to the Mayor's claim that Newmarket is an effective council "with a culture of transparency and accountability".
Now that is inaccurate. And it takes a certain chutzpah to say it.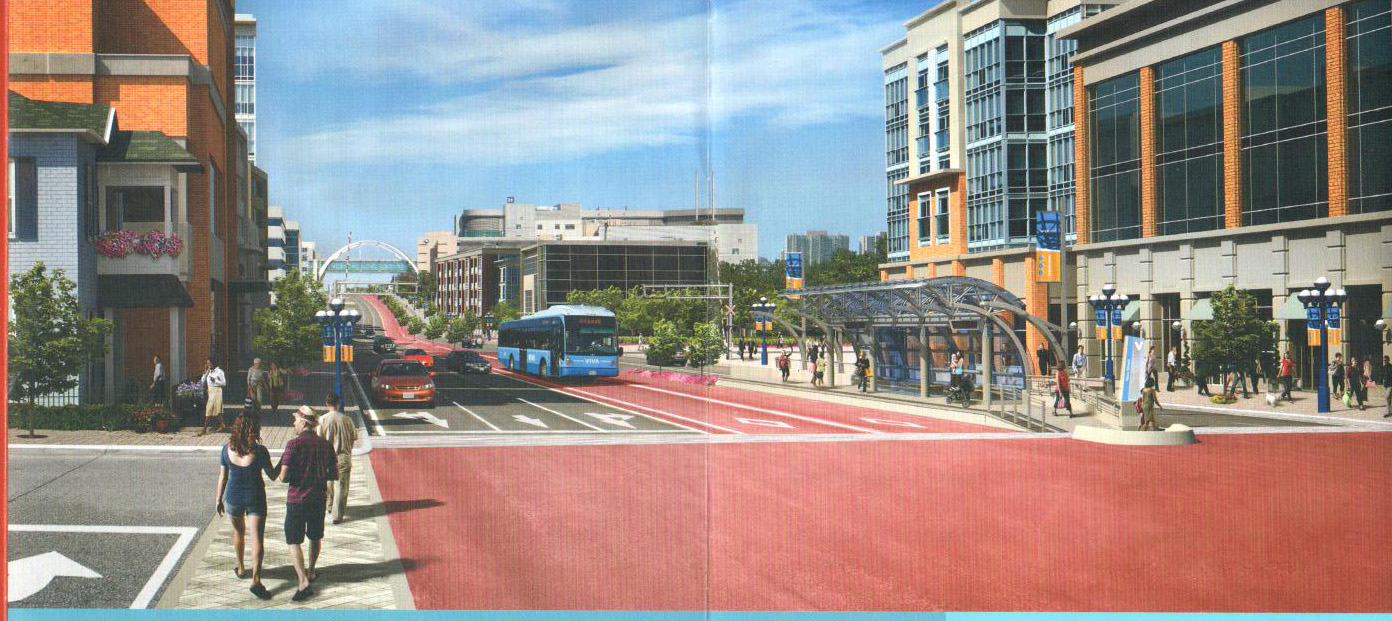 Details

Written by

Gordon Prentice
My Freedom of Information request for documents relating to the Town's position on Glenway has been turned down by Town Officials (see letter below). The material is to be kept under lock and key.
However, I am told I can make a deputation to Council to ask for this decision to be set aside and I fully intend to do this.
For us to understand what really happened on Glenway we need access to key documents. The OMB adjudicator has already ruled in favour of the developer, Marianneville, though we await her written decision and reasoning.
Until we get the OMB's written decision there is little point in holding the "lessons learned" meeting that was promised by the outgoing Council in April 2014. In this context, it would be totally weird if reports, minutes and documents, explaining the thinking of councillors and their advisers, were kept secret.
What lessons could be learned in these circumstances?
I hope all those running for election will support my FoI request. But, if not, I'd like them to explain why.
---------------------------------------------------
Town Officials refuse FoI Request
October 8, 2014
Dear: Mr. Prentice
RE: Request for Information A17-14-54
Municipal Freedom of Information and Protection of Privacy Act
This letter is in response to your request under the Municipal Freedom of Information and Protection of Privacy Act for access to the confidential memorandums listed as a) b), c), that were presented to the Special Council meeting on 7 April 2014, and to examine d) the minutes of the Committee of the Whole (Closed Session) meeting on 7 April 2014.
Access to these memorandums and minutes is being denied based on Section 6(1) (b) of the Municipal Freedom of Information and Protection of Privacy Act. This section states: that "[a] head may refuse to disclose a record, that reveals the substance of deliberations of a meeting of a council, board, commission or other body or a committee of one of them if a statute authorizes holding that meeting in the absence of the public".
These meetings were held in Closed Session under the authorization of Section 239(2) (a) of the Municipal Act. This section authorizes holding a meeting in closed session if the subject matter being discussed is "the security of the property of the municipality or local board" and the confidential memorandums were discussed in closed session under Section 239(2) (e) of the Municipal Act. This section authorizes holding a meeting in closed session if the subject matter being discussed is "litigation or potential litigation, including matters before administrative tribunals, affecting the municipality or local board".
The decision to disclose a record related to a closed meeting is made by Council (i.e., Clerk does not have such authority). You have the option to make this request in writing to Council, or by making the request yourself by making a deputation to Council at a Committee of the Whole or Council meeting.
(The letter goers on to tell me I can ask for this decision to be reviewed by the Information and Privacy Commissioner.)
And what I am asking for:
(1) the confidential memorandum dated 3 April 2014 from Ruth Victor, Ruth Victor Associates, regarding Application for Official Plan Amendment and Draft Plan of Subdivision Approval, Marianneville Developments Limited (Glenway)
(2) the confidential memorandum dated 3 April 2014 from Mary Bull and Johanna Shapira, Wood Bull LLP regarding Marianneville Developments - Phase 2
(3) the confidential memorandum dated 4 April 2014 from the Assistant Director of Planning regarding Marianneville Developments Limited
(4) the minutes of the Committee of the Whole (Closed Session) on 7 April 2014.
---
Details

Written by

Gordon Prentice
To the Newmarket Theatre where, at long last, it is time for the candidates for Mayor and Regional Councillor to debate and strut their stuff on stage. The result is a terrific, entertaining evening full of drama and laughter. And all free.
With a straight face and with as much solemnity as he can muster, the Mayor, Tony Van Bynen, tells us:
"This time next year Davis Drive will be finished!"
Mayoral wannabe, Chris Campbell, dismisses this as a complete "fantasy".
Archbishop Dorian Baxter, reminds us of our biblical life span of three score years and ten, before revealing he is 64.
"I am praying I see the completion of Davis Drive!"
Gales of laughter bring the house down. What a delightfully witty Mayor he would be!
Davis Drive: Taylor feels the pain
For the many vocal critics of Tony Van Bynen and John Taylor, Davis Drive has become a metaphor for Newmarket Council under their stewardship. There is endless delay, disruption and mismanagement (with more to come when work on the Yonge Street rapidway gets underway next year). Throw into this deadly mix business closures and we have all the conditions for a perfect storm. There is no end in sight.
Earlier, Taylor tells us people in his office have been in tears about Davis Drive. He feels their pain.
Wolk says work on Davis Drive is too far down the road to cancel but vows there is "no way we are going to rip up 2.6 km of Yonge Street between Davis and Mulock".
Decisive, bold but probably impossible.
Wolk wants more all-day two-way GO trains (who doesn't) but this is something not in his gift.
For two years Darryl Wolk has been poking John Taylor in the ribs with a long, pointy stick, trying to get a reaction.  There are the accusations of cronyism and the Old Boys Club. That it is in Taylor's genes to play both sides. That he moralises about the importance of confidentiality while giving information to people on condition they don't reveal where it came from.  I suppose you could call it municipal insider trading.
Political Cross-dressing
Wolk says Taylor's support for PC candidate Jane Twinney at the recent Provincial Election is proof positive that he was backing Hudak's plan to axe 100,000 public sector jobs. How absurd!  Taylor, a former Liberal candidate supports his friend Jane Twinney, a born again conservative. But Wolk, a conservative, backed Ballard, the Liberal candidate, in the very same election. Conclusion: there is a lot of political cross-dressing going on.
Taylor has been playing the long game, refusing to rise to the bait. But now he stands and trades blows with his tormentor.
Taylor slams Wolk for his "mis-facts". The 80% of meetings on Davis Drive that Taylor allegedly missed "is a lie".
Dipping into his book of famous quotations, he tells Wolk:
"Darryl, you are entitled to your own opinions; not your own facts."
The temperature is beginning to rise.
Taylor dismisses outright Wolk's plan to expand Newmarket's boundaries into neighbouring municipalities to provide more land for business. "I do not support annexing neighbours."
Taylor calls for high speed broadband (a good idea). Wolk blasts this as a foolish $330m experiment.
Wolk says he will cut industrial and commercial taxes to lure business from Markham and other places. Taylor predicts residential property taxes will go up if this happens.
The Soccer Club loan
Now the grudge match is descending into a bare-knuckle fight. Someone from the audience asks about the controversial loan to the Newmarket Soccer Club. Taylor, who is not taking prisoners, says the question comes from a person with links to the Wolk Campaign Team! Taylor reels off a list of statistics showing the Town and the Club both benefitted. Wolk counters with: "There is a shady deal here" but the wind has gone out of his sails.
Now Taylor is talking about Wolk supporting 40-50 storey buildings in Newmarket. He is exaggerating for effect (something I do myself) but Taylor draws attention to the fact that Wolk would do the developers bidding. Taylor, on the other hand, is the man behind the height cap (true).
Taylor accuses Wolk of having a hundred uncosted priorities plucked out of thin air. (Opening the Library on Mondays, is one example) If these were ever implemented, the cost would be crippling. When Wolk protests Taylor accuses him of "throwing darts again".
Wolk is argumentative, focussed and well briefed. He stands his ground. But he needs a knock out punch to win. And he doesn't land one.
It was a good, fast-moving debate and well done the Chamber of Commerce for organising it.
But perhaps we could have another debate organised by, say, York Region Poverty Alliance? There were big policy areas such as affordable housing that didn't even rate a mention.
Someone took to the microphone last night to remind us that we are taxpayers, yes, but we are citizens first.
19 days to go.
---