Details

Written by

Gordon Prentice
Newmarket-Aurora's new MP, Tony Van Bynen, yesterday made his first speech in the House of Commons.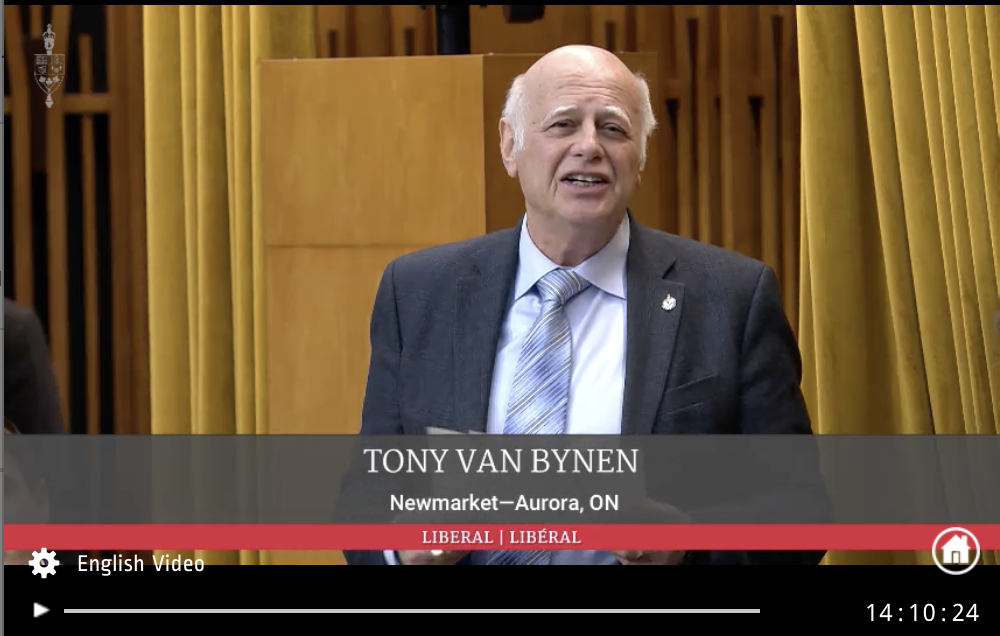 The self-styled "Voice for Fiscal Prudence" told fellow MPs that climate change, affordable housing, infrastructure funding, health care and a need for a long-term fiscal plan would be his priorities. But he stressed the fiscal plan
"would not be at the expense of creating a social deficit".
Van Bynen told CTV News before the election that his priorities for the riding would also include preserving local heritage.
I emailed Tony three weeks ago to congratulate him on his stunning election victory and to ask for his views on the unlawful demolition of 184-186 Main Street South in the heart of the old downtown. I am waiting to hear from him.
I am also pressing Tony to stop blocking me from reading his Tweets where these concern his activities as my Member of Parliament.
This email address is being protected from spambots. You need JavaScript enabled to view it.
Details

Written by

Gordon Prentice
Tomorrow's General Election in the UK must deliver a majority Conservative Government if Boris Johnson is going to "get Brexit done".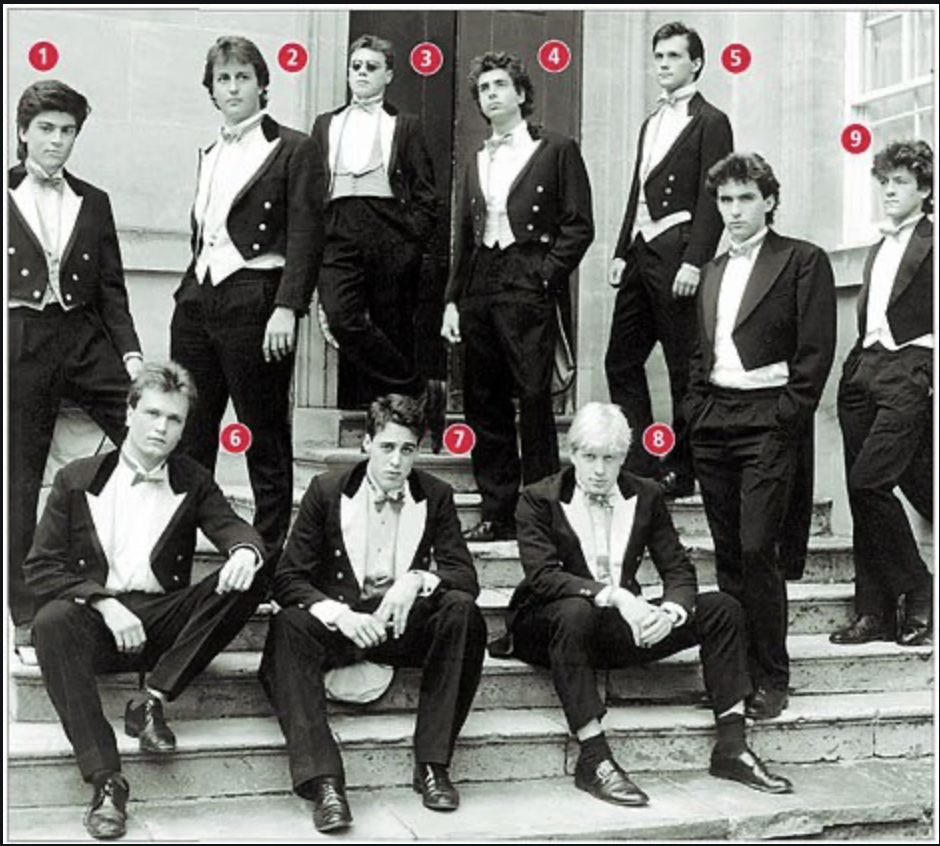 The polls, though narrowing, still point to a Conservative victory. Personally, I think it will be a lot closer than the experts predict.
I am hoping for a hung Parliament.
People in Britain are fed up to the back teeth hearing about Brexit. It has totally dominated the national conversation ever since David Cameron's ill-fated decision to hold a referendum in 2016 as a way of managing his fractious Party, split for decades between leavers and remainers. No-one else was crying out for a referendum.
Split down the middle
Then as now, the country was split down the middle with 52% voting leave and 48% voting to stay.
I am a remainer and always have been.
When the referendum was lost, Cameron resigned. Theresa May followed and when she couldn't get her negotiated deal through the House of Commons she, too, resigned.
Boris Johnson, having positioned himself for this moment, took over as Conservative leader (winning a majority of the Party's shrivelled 159,320 membership) and automatically became Prime Minister.
Leaving is not plain sailing.
The European Union is the UK's largest trading partner taking 45% of all UK exports.
53% of UK imports come from EU countries. (The UK is by far Canada's most important commercial partner in Europe and our fifth largest globally.)
If the UK were to crash out of the EU without a deal this week's Economist magazine forecasts income per head would be 8% lower after ten years than otherwise.
It follows that people who vote for Brexit are acting against their own economic self interest.
The UK currently is the world's fifth largest economy but, outside the EU, it will shrink over time as businesses relocate to be inside the single market, free of tariff barriers.
Britain will, of course, survive outside the EU but life will be different.
Boris Johnson, a charlatan "utterly unfit" to be Prime Minister
Its politics will change irrevocably if people, with their eyes wide open, vote for the Conservatives led by a charlatan.
The well-known Conservative commentator, Peter Oborne, says in today's Guardian that under Johnson the Party has turned into a "revolutionary sect".
Of course, Johnson has his supporters including our very own convicted felon and fraudster, Conrad Black. But people who know Johnson best are those who are most critical of him.
His former boss at the Daily Telegraph, Max Hastings, tells us Johnson is "utterly unfit to be Prime Minister".
And in his recent autobiography (courtesy of Newmarket Public Library) David Cameron variously decribes Johnson as paranoid, jealous and a careerist who didn't believe in Brexit until it was convenient to do so.
Here is the BBC guide on what to look out for as the results come in. You can see it all unfold tomorrow on BBC World News.
This email address is being protected from spambots. You need JavaScript enabled to view it.
Above right. The infamous photograph of the (Eton educated) Boris Johnson (8) and (Eton educated) David Cameron (2) who were members of the all male Bullingdon "Dining" Club while at Oxford. It oozes entitlement.
In his autobiography Cameron writes:
"The stories of excessive drunkenness, restaurant trashing... all these things are exaggerated. I was never arrested. I was never completely insensible from drink."
Update on 12 December 2019: Exit Poll at 10pm UK time, after the Polling Stations have closed, points to a huge Conservative majority in the House of Commons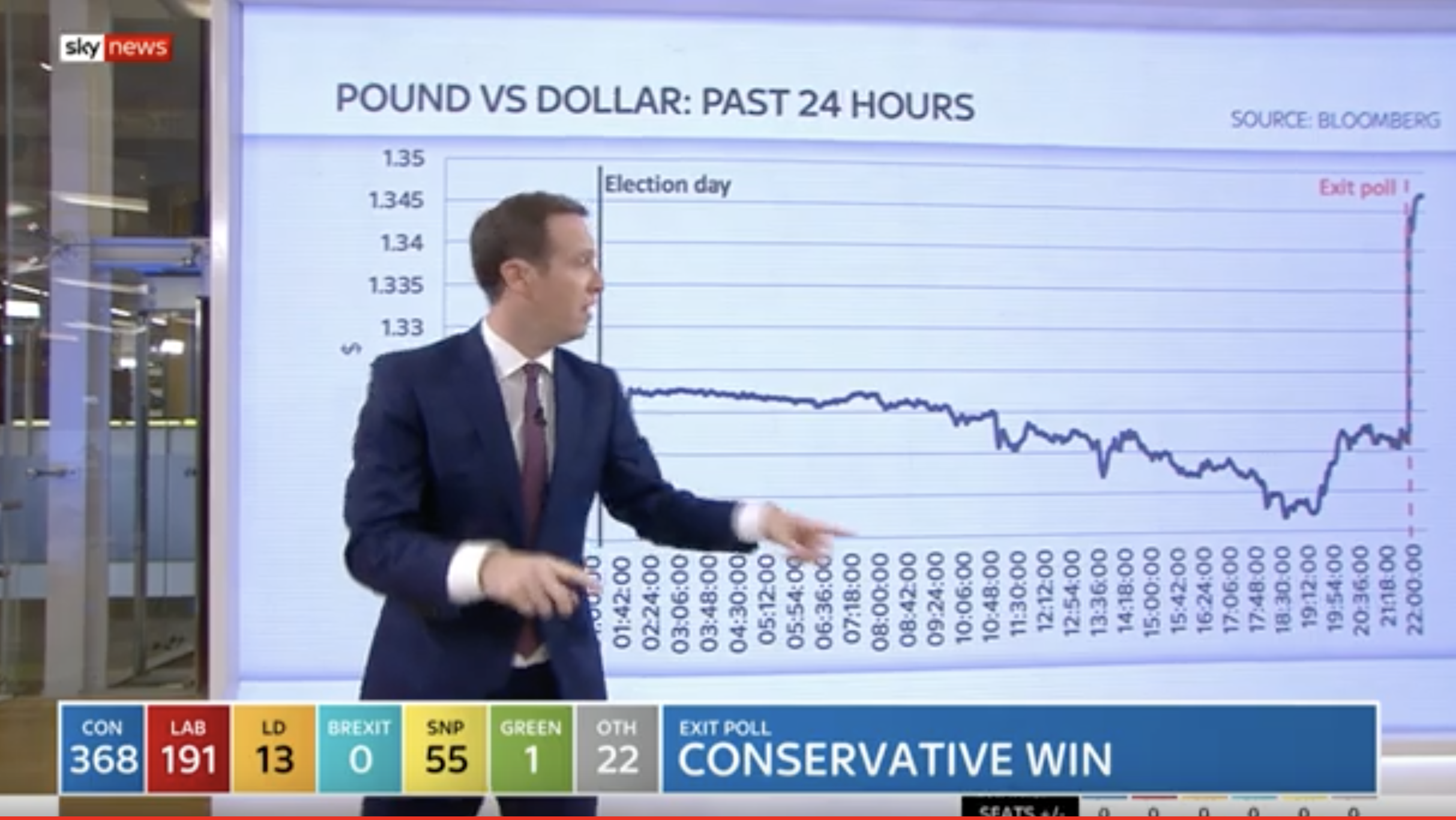 Sky TV: A screenshot at 5.55pm (10.55pm UK time) before any actual results have been declared.
Details

Written by

Gordon Prentice
To read the CLOCK TOWER CHRONOLOGY click on the "Read more" link at the bottom of this blog.
On Wednesday 9 October 2019 a designated heritage building on Main Street South dating from the 1840s, in the heart of Newmarket's only Heritage Conservation District, was demolished on the orders of the owner, Bob Forrest. By the following morning all traces of the building which once housed the apothecary of the first female pharmacist in Ontario, Anne Mary Simpson, had vanished.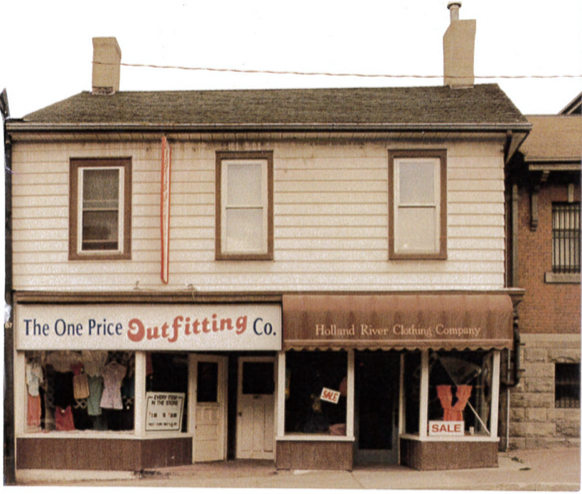 No demolition permit was issued by the Town. What happened was clearly unlawful.
This is what the Ontario Heritage Act says:
Erection, demolition, etc.
42 (1) No owner of property situated in a heritage conservation district that has been designated by a municipality under this Part shall do any of the following, unless the owner obtains a permit from the municipality to do so:
1. Alter, or permit the alteration of, any part of the property, other than the interior of any structure or building on the property.
2. Erect, demolish or remove any building or structure on the property or permit the erection, demolition or removal of such a building or structure.
In addition the Building Code Act says this:
Building permits
8 (1) No person shall construct or demolish a building or cause a building to be constructed or demolished unless a permit has been issued therefor by the chief building official.
Mayor wants "full rebuild"
The Mayor, John Taylor, says he wants to see a full re-build of the demolished heritage building and insists there must be consequences. But what exactly does he have in mind?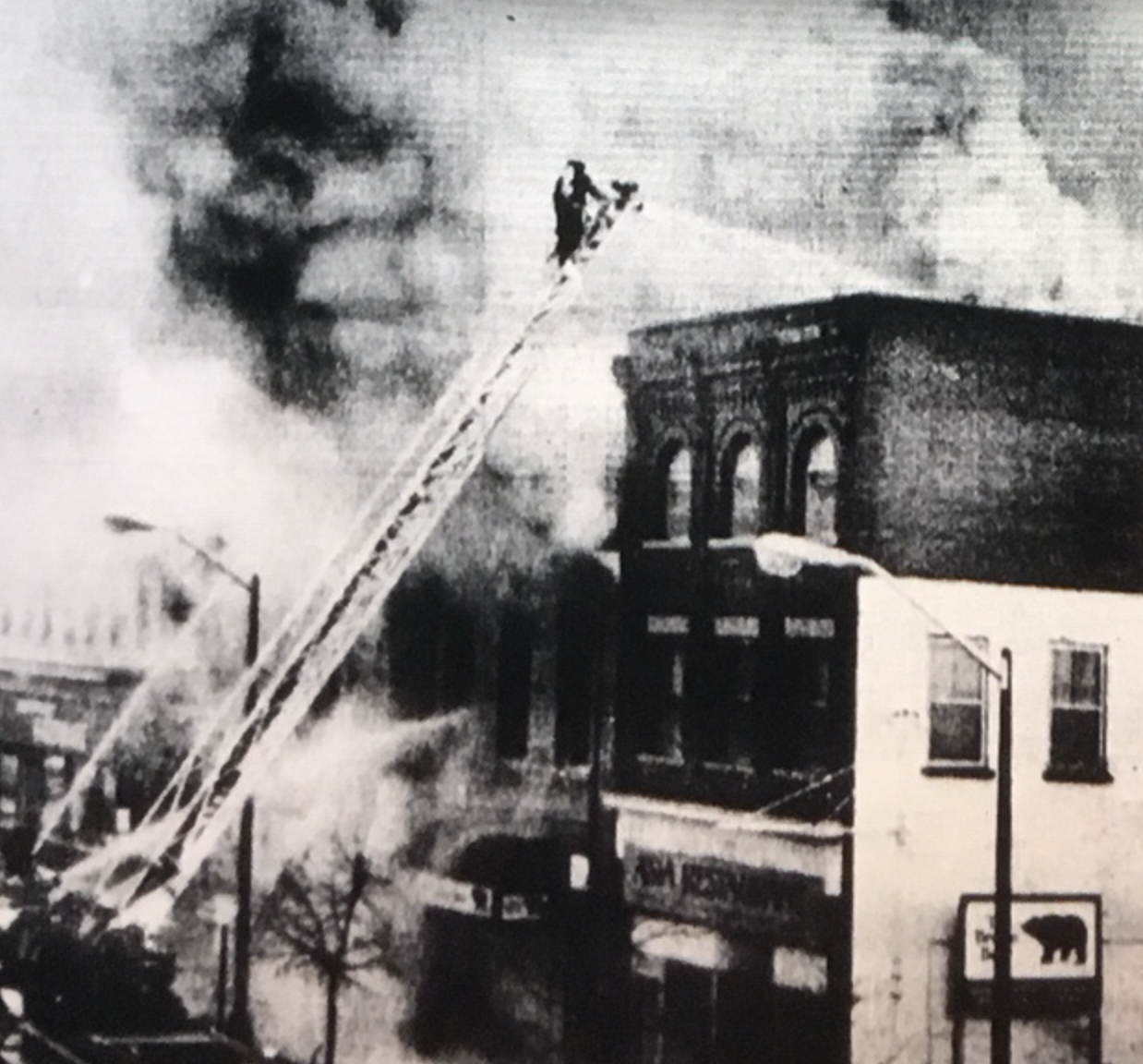 The Town has been investigating the circumstances of the demolition for two months now but remains tight-lipped. Peter Noehammer, the Town's Commissioner for Development and Infrastructure, is leading the investigation but we don't know anything about its modalities, who he has spoken to, what his report will say and when he will report.
What is undeniable is that the demolition of a designated heritage property within a Heritage Conservation District without prior approval from the Municipality is a very big deal – and it is very, very rare. There are 134 Heritage Conservation Districts in Ontario and this is, I believe, the first unauthorised demolition of a designated heritage building within a Heritage Conservation District in Ontario.
I can find no cases reporting a prosecution under section 42(1)2 of the Ontario Heritage Act. That's not to say they don't exist but no-one – including the City of Toronto - can yet point me to one.
The Kingston demolition.
Heritage experts often cite the historic Royal Block in Princess Street, Kingston, which was purchased by a Toronto real estate developer, Richard Christie, in February 1987.
It lies just outside Kingston's Market Square Heritage Conservation District so it is not an exact parallel.
Christie wanted to knock the old buildings down and build a two-storey strip mall, a proposal resisted by Kingston's heritage community. There was a devastating fire on 7 January 1988 but some parts of the edifice remained standing. The Council ordered their retention while it considered what to do next - to see what, if anything, could be saved and restored - but the owner went ahead and demolished what was left anyway.
The sentencing Judge, Mr Justice Paul Megginson, said Christie was the "guiding mind" of his Corporation and the "directing force" behind the decision to demolish what was left of the fire-ravaged heritage buildings on 2 June 1988. Christie was fined $48,000. ($91,000 in today's dollars).
Fast forward 31 years. We know from the record that Bob Forrest knew all about the heritage value of his properties on Main Street South. He had commissioned Heritage Impact Assessments. He knew his way around the Ontario Heritage Act. As a developer of long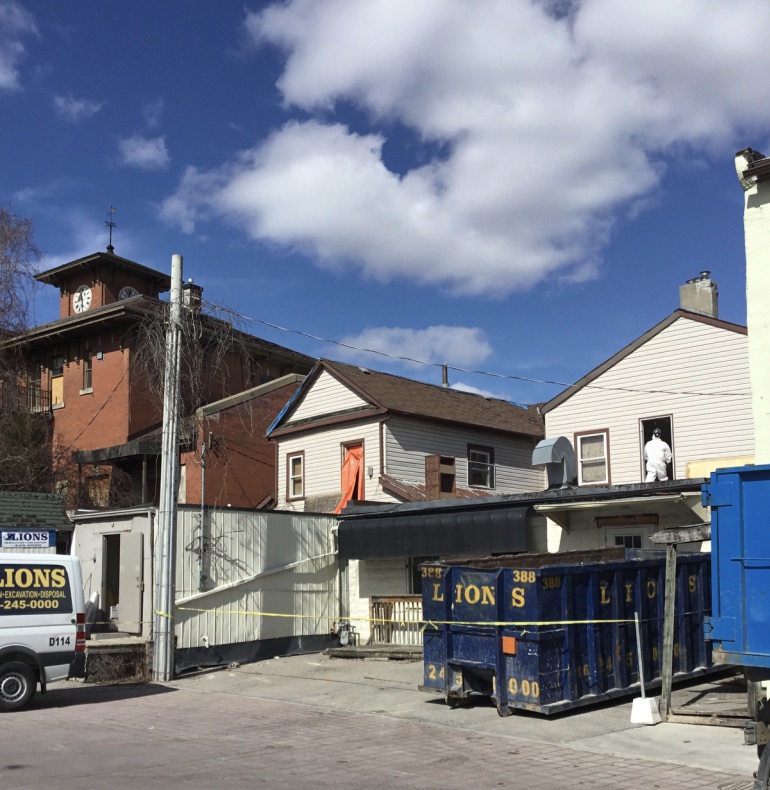 standing, he would know of the Building Code Act and that he could not lawfully knock down a building without a demolition permit. But he went ahead anyway, perhaps calculating that the worst that could happen would be a fine and he could write that off as the cost of doing business.
However, Bob Forrest may not know that the Ontario Heritage Act provides for fines of up to $1,000,000 and imprisonment for the unlawful demolition of designated heritage structures in a Heritage Conservation District.
So, how did we get here?
Forrest expressed an interest in acquiring the Clock Tower as far back as 2011. He was in touch with councillors and senior Town staff to see if he could develop the site in the heart of old Newmarket for a condo. He calculated, if approved, this could bring in a clear profit of $10M. There were three versions of his condo put before councillors and senior staff – the largest nine storeys.
The Town had long wrestled with the problem of inadequate parking in the old downtown and senior staff perhaps thought the condo plan might kill two birds with one stone. It would bring more people into the old downtown – a policy objective – and it would possibly increase the supply of public parking.
Forrest's modus operandi was to sound out politicians and staff, getting his ducks in a row, before formally submitting a planning application. He says he gets results:
"by leveraging our strong reputation and existing relationships with municipal staff and politicians".
But Forrest needed Town owned land to make it all happen and this was the fly in the ointment. He claimed at the OMB he received tacit agreement for a "land swap" on Market Square which would allow his condo to be built. The Town denies there was an agreement. The report and minutes of the meeting where this was allegedly discussed remain sealed. Multiple Freedom of Information requests for sight of these reports and minutes have been rejected by the Town.
After endless discussions, negotiations and meetings stretching over many years, Forrest finally submitted a formal planning application which was turned down by the Town in December 2016.
Mayor Van Bynen, on his own, out on a limb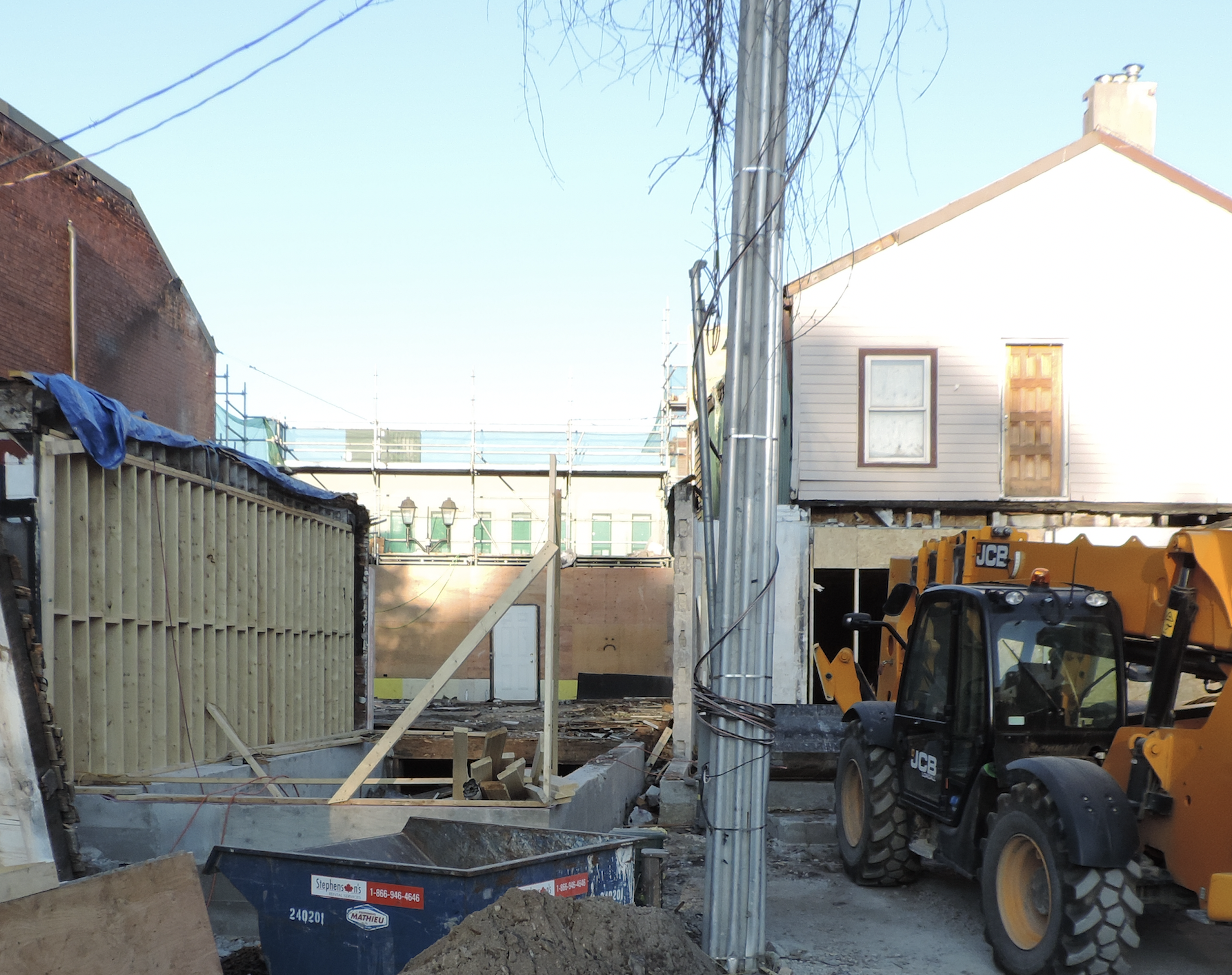 The then Mayor, Tony Van Bynen, now the MP for Newmarket-Aurora, was Forrest's sole supporter on the Council but his arguments cut no ice with his colleagues. He declared that Forrest's condo, entailing the demolition of the heritage commercial buildings on Main (but with the retention of their facades), was:
"a great example of the intensification we need".
After his condo plan was rejected Forrest appealed to the OMB and then had second thoughts. Instead, he cut a deal with the Town in 2018 agreeing to restore and bring back into use the heritage buildings he owned. The settlement allowed Forrest to knock down specifically delineated later additions at the rear of the Main Street buildings to make space for parking. But other than that, no demolitions were permitted.
The Simpson building was demolished on 9 October 2019 – without a demolition permit.
Looking at the totality of the record, it is clear Forrest saw no value in the historic commercial buildings he owned on Main Street South. They stood in his way, preventing him from developing the site in a way that would maximise profits.
Take it down!
Shortly after the demolition, the contractor on-site, Jacques Carrier, told me (and others) he was concerned about the structural integrity of the Simpson building and that it would take $100,000 to make it safe so the owner said (in Carrier's words)
"take it down".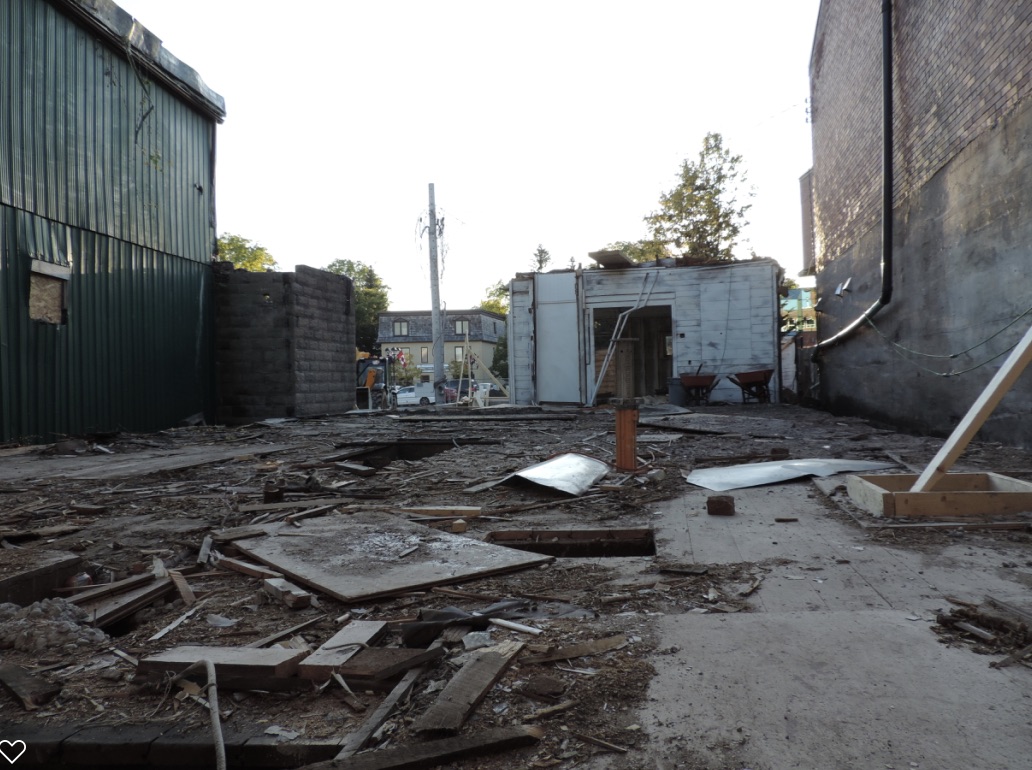 There is a compelling case for prosecuting Forrest.
The Mayor John Taylor has said there must be consequences but, on the other hand, he doesn't want to see empty buildings on Main Street South for another three years while the matter is litigated. In the Kingston case the developer responsible for the unlawful demolition pleaded guilty and the matter was disposed of by the Courts in next to no time.
The Town may have reasons for not prosecuting. I don't know. Perhaps there are skeletons – real or imagined – in the municipal cupboard.
The roofs leak and the floors sag
Undoubtedly, the Town's inspection regime was way too lax. The properties had been empty for years after Forrest evicted his business tenants and were becoming increasingly dilapidated. In his own words Forrest acknowledged
"the roofs leak and the floors sag"
but he did nothing to fix things. Just temporary patching up, here and there.
The Town may feel embarrassed about a lackadaisical approach to inspection. After all, another important heritage building dating from 1811, Bogart House, had been allowed to fall into a ruinous state.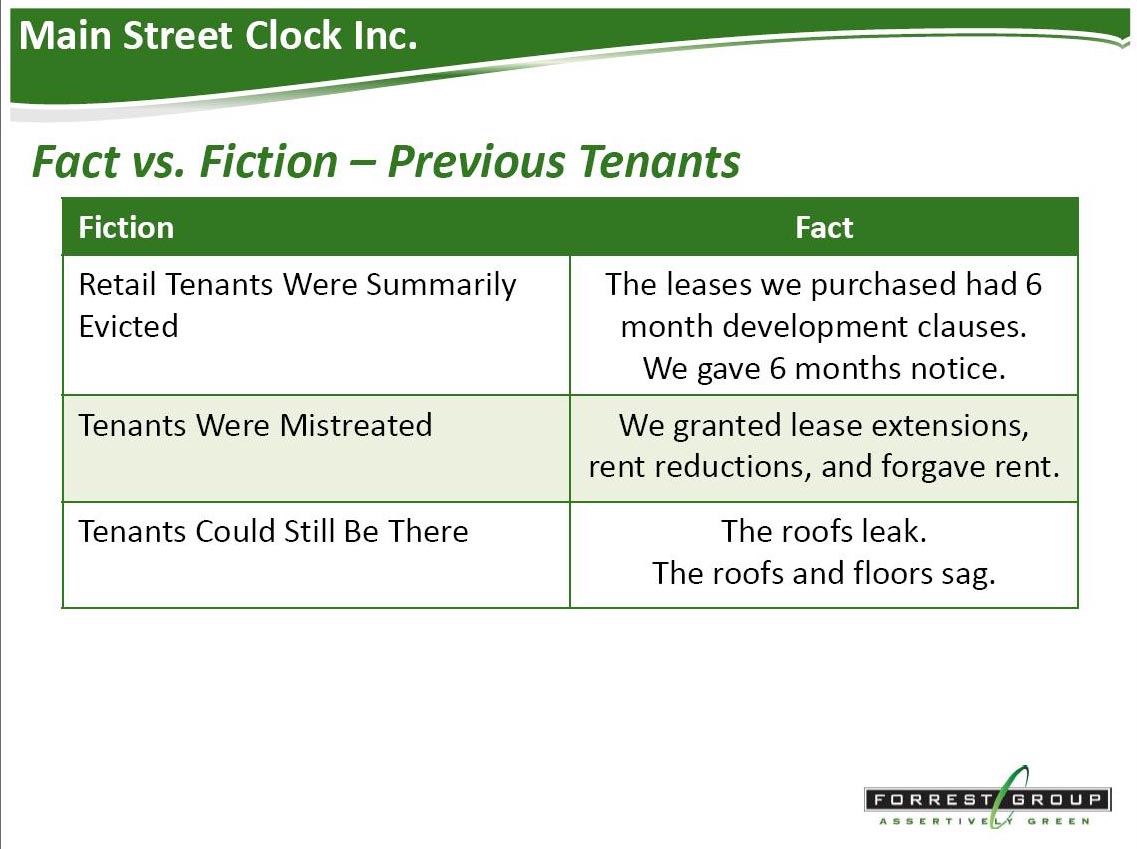 And then there is the "tacit agreement" allegedly contained in the June 2013 closed session records of the Committee of the Whole. I was told the minutes are to be kept under lock and key until their release "would no longer have any impact".
Personally, I don't see what the fuss is all about. We know senior staff and some councillors were looking for a downtown parking solution and "more intensification". If there was a tacit agreement to make Town land available but this was conditional on the Town approving the project as a whole then what's the big deal?
The Town has insisted there was no tacit agreement. Does it fear a prosecution would mean everything coming out in the wash?
If it does, so what?
What is worse? The Town pressing ahead with a prosecution and risking some fleeting embarrassment that it once, perhaps, countenanced the possibility of an out-of-place condo in the heart of the old downtown.
Or deciding not to prosecute Bob Forrest - the developer responsible for ordering the demolition of the storied Simpson building which was steeped in the history of our town.
That would be the greatest injustice of all.
This email address is being protected from spambots. You need JavaScript enabled to view it.
Details

Written by

Gordon Prentice
PACE Credit Union has been good to former MPP, Frank Klees, who represented Newmarket-Aurora in the Provincial Parliament for 19 years from 1995 – 2014.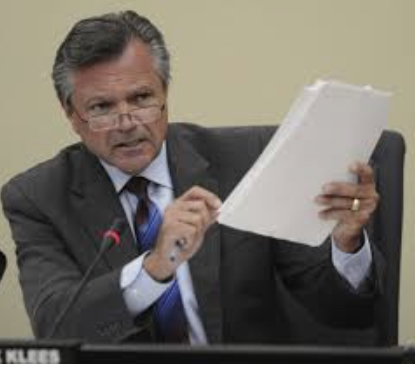 On 19 March 2014, just six weeks before stepping down as an MPP, he welcomed important visitors to Queen's Park, giving in his own words "special recognition" to
"Mr. Larry Smith, who is the CEO of Pace Credit Union, as well as the CFO of that great organization, Mr. Phillip Smith."
A detailed investigation of the two Smiths in the Globe and Mail on 23 November 2019 paints a less benign picture of the father and son duo who allegedly committed civil fraud with years of secret payments. The father, Larry, had been running the show as Chief Executive for 28 years and his son, Phillip, succeeded him in 2015. Clearly, PACE, based in Vaughan, was a family affair.
The Deposit Insurance Corporation of Ontario started investigating last year and fired the Smiths.
Financial journalist James Bradshaw writes:
"Larry Smith…arranged loans and business deals, as was his job. But Mr. Smith and a number of his family members and associates – including one former provincial cabinet minister – also pocketed millions in "consulting fees" and other benefits in connection with those deals, according to an extraordinary set of allegations levied by a financial regulator."
Millions in commissions
The cabinet minister in question is, of course, Frank Klees who, as a hired hand, took millions in commissions before joining the PACE Board in May 2018.
The Globe and Mail tells us Klees was a long-time friend of the Smith family.
"In 2013, before Mr. Klees left politics, he signed a consulting contract with PACE, approved by Larry Smith. It paid Mr. Klees a $5,000 monthly retainer in its first year and promised him a percentage commission on loans or joint ventures that he helped arrange for the credit union."
But after Klees retired from politics his income (presumably) ballooned:
"Between 2015 and 2018, Mr. Klees collected nearly $2.8-million in payments for consulting work on two joint ventures between PACE and Geranium, according to court filings. Some of the payments were made by PACE, as shown in invoices he submitted, for amounts ranging from $169,500 to $678,000. Mr. Klees also invoiced JLG Consulting, Mr. Giampietri's company, for $339,000 for consulting services."
When Klees joined the PACE board of directors he was getting around $12,500 a month for his work. But the regulator raised a red flag, pointing to a possible conflict of interest with his primary duty as a Board member - looking after the interests of the depositors.
Sourcing and facilitating
What is not in doubt is that Klees was raking in the cash, big style.
"As a consultant, my role was to source and facilitate real estate development projects between Pace, land owners and developers/builders… For those services, the parties with whom I had agreements were invoiced by my company for fees commensurate with the services delivered."
I am left wondering how many real estate development projects Klees facilitated here in Newmarket, if any. I'd love to know.
But I suppose it is none of my business.
I am just endlessly fascinated by the millions of dollars people make by "facilitating" things.
PACE was, of course, heavily involved with the Slessors and with Bob Forrest when he took out a mortgage on his Clock Tower property but I've no idea if Klees was involved in any way.
This email address is being protected from spambots. You need JavaScript enabled to view it.
Update on 26 November 2019: Today's Globe and Mail takes the story further. Regulator adds former PACE credit union directors to lawsuit alleging negligence in "secret" payments
Update on 1 December 2019: Frank Klees and Places to Grow. My exchange with Frank in 2012.
Update on 27 May 2020: From the Globe and Mail. Ontario issues special orders to approve developers' plans and quash opposition.
"The developers, represented by lobbyist and former PC cabinet minister Frank Klees, have offered to create larger, enhanced wetlands nearby, with the blessing of the Toronto and Region Conservation Authority. But they say the province's Ministry of Natural Resources and Forestry, which also supports the plan, does not have the power to lift the existing protections quickly."
Update on 23 November 2020: From the Globe and Mail: Regulator takes over PACE after board resignations.
Details

Written by

Gordon Prentice
Yesterday I emailed my new MP – Newmarket-Aurora's Tony Van Bynen – to congratulate him again on his stunning victory in last month's Federal Election.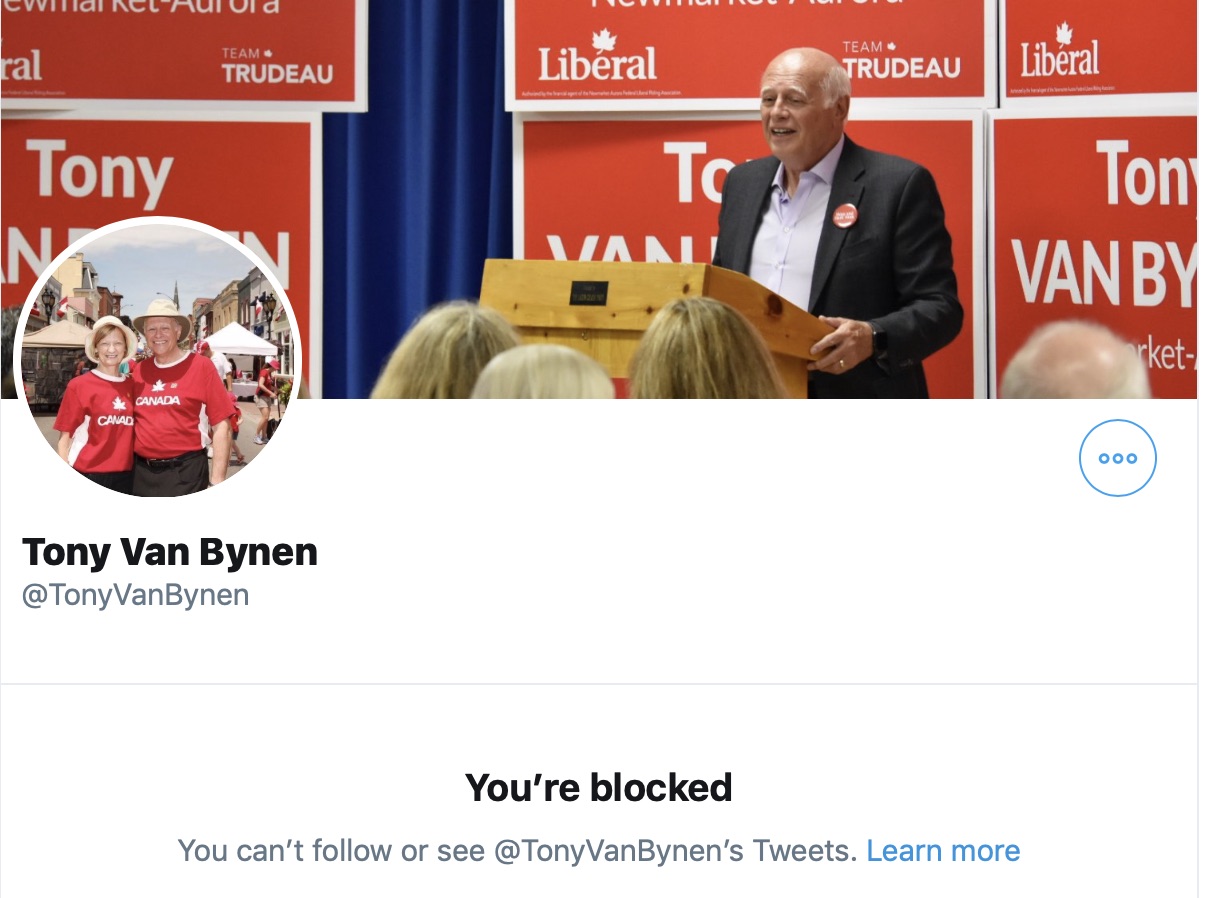 I wanted to try out his new official email address:
This email address is being protected from spambots. You need JavaScript enabled to view it.
but I could have written to him postage-free at the House of Commons or visited his constituency office in Bayview Avenue which, like the hermit crab, he took over from the previous occupant, Kyle Peterson, who had moved out.
In my email I tell Tony his election victory was a huge achievement for someone who had only been a member of the Liberal Party for a few months.
At 69, Tony is the second oldest rookie in this intake of 91 first-time MPs. Perhaps the oldest, I'm not sure.
MPs and how they spend their days
The Parliament of Canada website allows constituents to follow their MPs and see what they get up to. We will be able to track Tony's speeches and interventions in the Chamber of the House of Commons and in Committee – once we know which ones he is on. It is still a bit up-in-the-air but things will soon settle down. Other websites also track MPs so there is no excuse for being in the dark.
The Parliament of Canada website is still being updated with details and photos of the new Members and I expect Tony's Twitter account will soon be up there so I can follow him at last.
When Tony was Mayor of Newmarket he blocked me (and many others) from seeing his Tweets and this bizarre behaviour continued even after he collected his retirement pay-outs and was again running for public office. Now that he is our MP - and on the public payroll - we are all paying his salary again.
Anyway... the election is behind us and I am excited for Tony in this challenging new phase of his career.
For myself, I shall be keen to learn more about his politics.
After all those years as Newmarket's Mayor, I still don't really know him.
This email address is being protected from spambots. You need JavaScript enabled to view it.
Thursday 5 December 2019 is the first sitting day of the new Parliament.

Update at 16.00 on 24 November 2019: One of my readers sends me this pinned Tweet. This is the kinda thing some of us are blocked from seeing.