Details

Written by

Gordon Prentice
Tom Vegh has a casual relationship with the truth.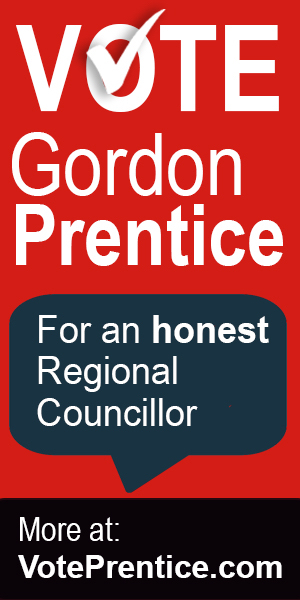 The two of them barely know each other.
I have to fact check everything he says.
He peddles misinformation on an industrial scale.
When I call him out he squeals that he's never been the target of such nasty attacks during his years in municipal politics.
Non-existent Task Force
I wrote to Vegh yesterday about a claim he makes on his election website.
He says he is a sitting member of the Newmarket Facilities Needs Task Force which was
"created in 2019 to look at the Town's needs for a new Library and other municipal facilities."
He tells the voters it was put on hold because of COVID even though the virus arrived in Canada on 25 January 2020.
I ask Vegh:
"Did the Task Force ever meet in 2019? And are you on it?"
I can find no reference to the Task Force on the Town's website:
Nor can I find any minutes of any meetings.
I ask Vegh:
"Have you invented this Task Force to embellish further your long list of achievements in office?"
I wait to hear from him.
Respecting your tax dollars
Elsewhere on his election website Vegh tells us he respects your tax dollars:
"Newmarket taxes continue to be 10% below the GTA average. Tom has consistently supported limiting tax increases to 1.99% at or below the cost of living."
Here are the tax increases in Newmarket since 2019 together with the annual increases in the Consumer Price Index as reported by Statistics Canada. The percentage increase is for the Town portion of the tax, excluding the Region's tax take.
The table shows that in two of the past three years the Town's percentage tax increase has been higher than the Consumer Price Index.
The CPI is one of the most widely used measures of inflation. It measures the average change in retail prices encountered by all consumers in Canada but it is important to note it is not strictly a cost of living index which measures price changes experienced by consumers in maintaining a constant standard of living.
I am not entirely sure what Tom was thinking about when he told us he respects our tax dollars – or where he got his information from.
Gordon Prentice 13 October 2022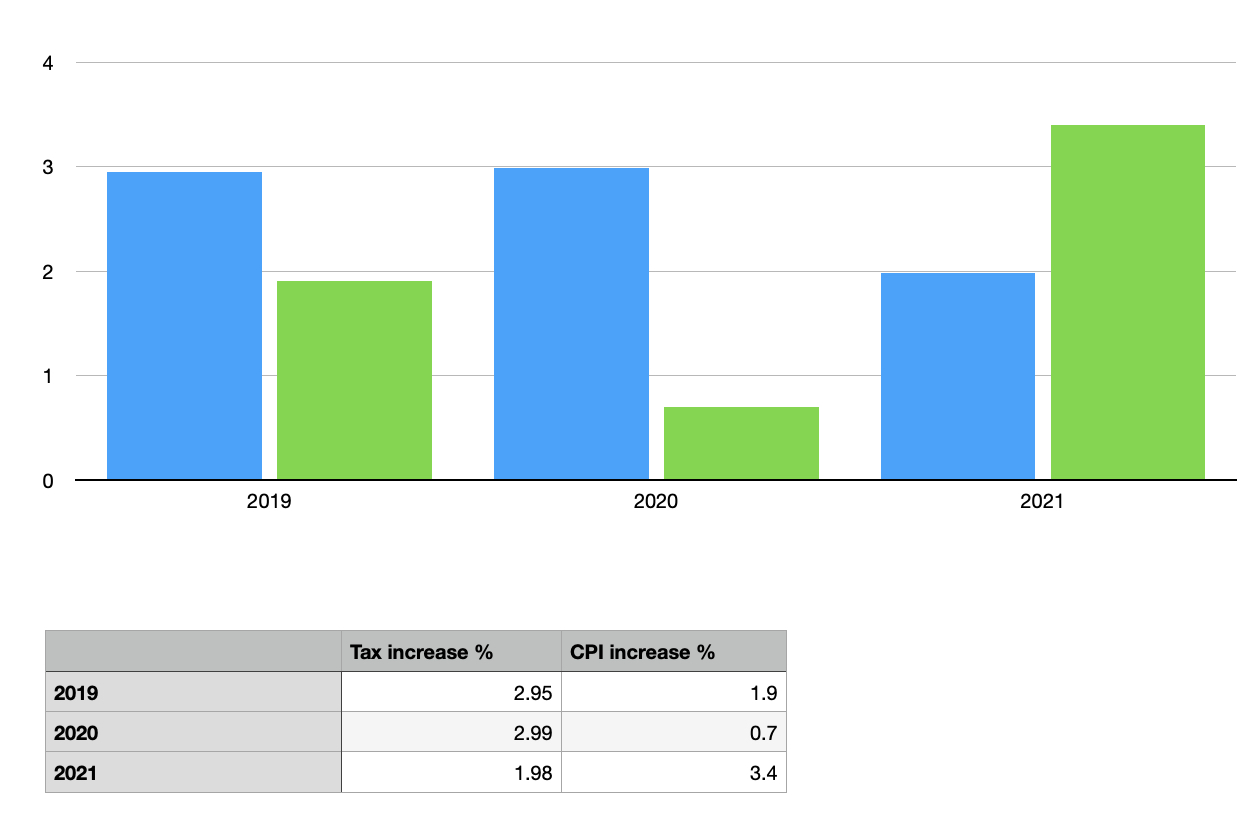 Details

Written by

Gordon Prentice
My copy of the Newmarket ERA arrives on my drive earlier today with a thud.
It goes to every household in Town. But mostly it is old news wrapped in a huge bundle of flyers.
There is a piece profiling me and my opponent Tom Vegh which has been slowly maturing for 53 days.
The ERA wants to know why candidates are running for office.
I say:
The incumbent, Tom Vegh, accepts campaign donations from people intimately connected with the development industry and votes in line with their interests. I deplore this. He over-promises and under-delivers, promising a new library and seniors' centre in 2018 and walking away from his clearly stated and unambiguous commitment. (50 words)
I send in my completed questionnaire in August.
Ted McFadden, the Managing Editor of York Region Metroland, gets in touch to say I've got to re-write my reasons for running or it won't be published. (Photo right)
He says I've got to omit any reference to my opponent Tom Vegh.
I tell McFadden:
"But he's the reason I'm running."
He warns me again that without a re-write it won't be published.
I refuse to change one word.
I ask him to explain in a little panel where my "reasons for running" should appear, his own reasons for refusing to publish.
And, Ted McFadden, true to his word, publishes my profile, a few days before voting begins, excluding my reasons for running.
I fear this could torpedo my chances.
We all know everyone in Newmarket relies on the ERA for their news.
Gordon Prentice 12 October 2022
You can read the email chain. Click "read more" below and scroll down.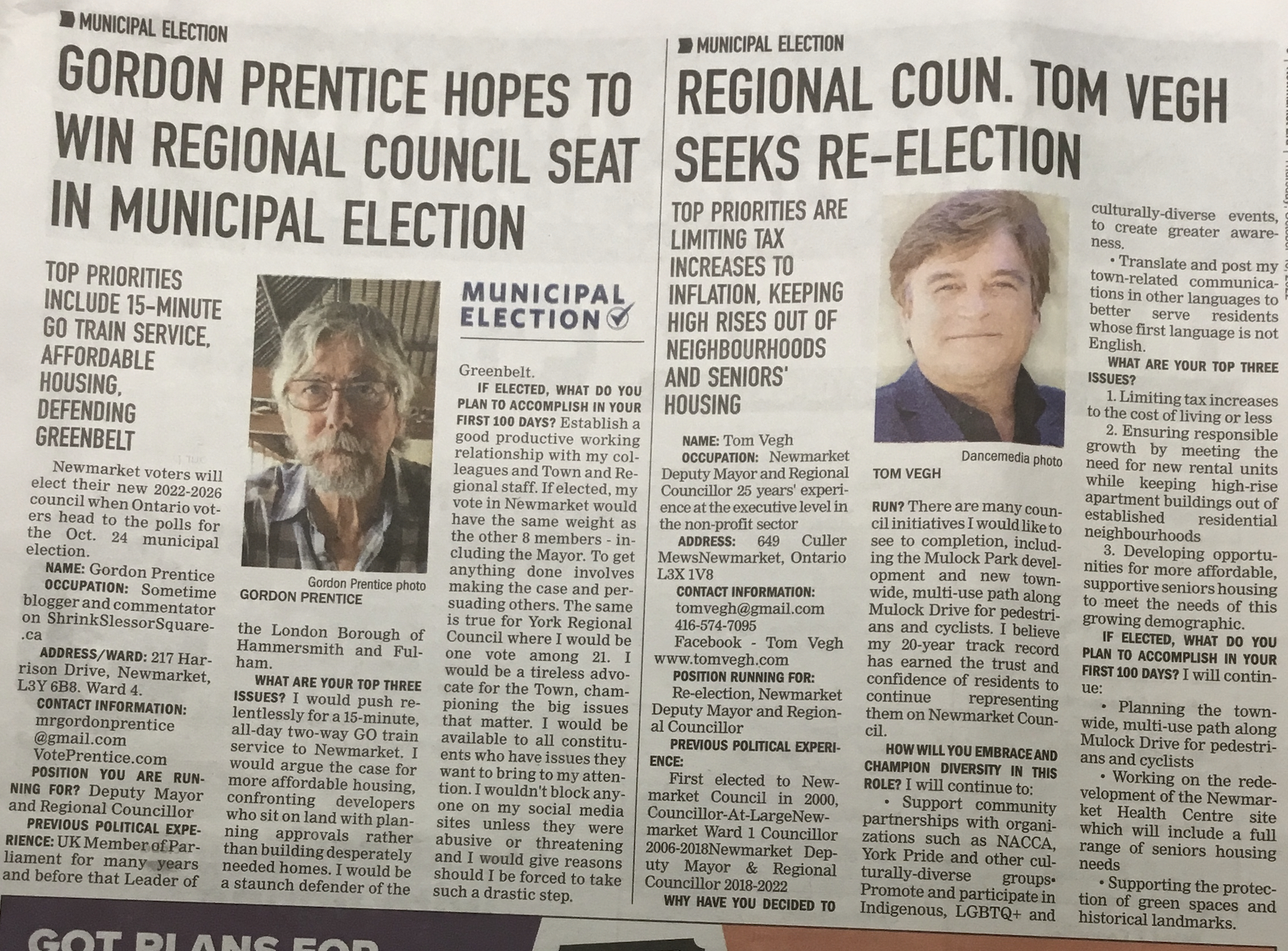 Read more: ERA readers miss out on my reasons for running against Tom Vegh
Details

Written by

Gordon Prentice
The election debate at Newmarket Public Library went ahead last night in the absence of a key participant, Tom Vegh.

I learned at 6.30pm that evening that he would not be turning up. I was told he would be making a presentation on behalf of the Lake Simcoe Conservation Authority at the Old Town Hall just minutes away across Market Square.
I now know he was handing out awards to local environmental champions.
Vegh's duplicity is breathtaking.
Here is a man who voted to open up over 12 square miles of open countryside across York Region for development. For comparison, the Town of Newmarket covers about 14 square miles.
(Photo right: agricultural land in East Gwillimbury which, to the horizon, Vegh opened up for development.)
Prime Agricultural Land
At York Regional Council he voted to change the land use designation of prime agricultural land allowing it to be used for other purposes.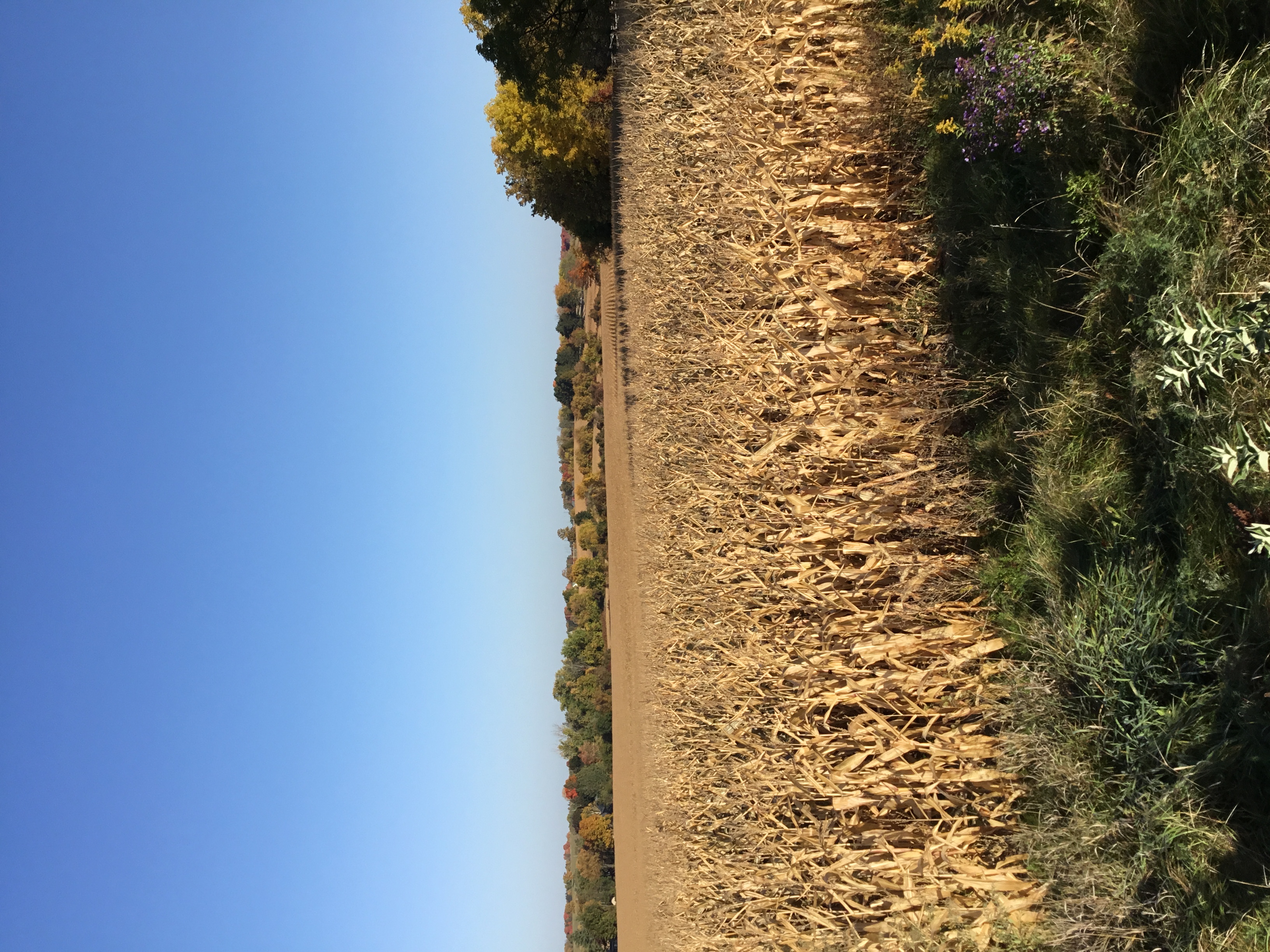 Last night I spoke to a genial, attentive and very well-informed audience.
But they would have liked to see the two of us debate the issues and Vegh's record in office.
I was ready to publicly eviscerate Vegh by exposing his shameless lies and evasions. He would have had the opportunity to respond. That is the dialectic.
Vegh given notice of debate
His post to the Facebook Groups Newmarket Votes site suggests the debate was something sprung on him:
"??? I have never confirmed my attendance at my opponent's campaign event. In fact, this is the first time I've seen this poster…"
It probably was the first time he'd seen the poster – it went up on my websites on Monday 10 October 2022.
But I have been pressing Vegh for a public debate since 18 August 2022 with no success.
He treated me as an inconvenience.
I am posting below my emails to Vegh together with his only response, also on 18 August 2022.
It's Vegh's call
I remain ready and willing to debate with Tom Vegh on any date, place and time of his own choosing, with his choice of moderator in the chair..
This is the first time ever that I have run in an election and had no opportunity to debate in public with my opponent.
It leaves me feeling deeply uncomfortable.
I think the voters have been short-changed.
You can read the email chain by clicking "read more" below and scrolling down.
Gordon Prentice 12 October 2022
Read more: Tom Vegh Makes Excuses for Dodging Election Debate
Details

Written by

Gordon Prentice
There will be an election debate tomorrow evening, Tuesday 11 October, from 7pm-8pm at Newmarket Public Library.
Everyone is welcome.
I'd particularly like to see supporters of my opponent Tom Vegh.
And, of course, the great man himself. Our Deputy Mayor and Regional Councillor.
I wrote to Vegh one month ago giving him three choices of dates. He could pick the one that suited him best and he could choose the moderator or Chair to host the meeting.
He chose not to reply.
This year the Chamber of Commerce and the local media decided, for their own reasons, that a debate wasn't needed.
And so I've organised my own.
I hope we get a good turnout but who knows? There could be a press boycott of the event.
They could label it a stunt.
I see it as a chance for the voters to get the measure of us both on the same public platform.
Gordon Prentice 10 October 2022
Details

Written by

Gordon Prentice
What personal qualities do you associate with Tom Vegh?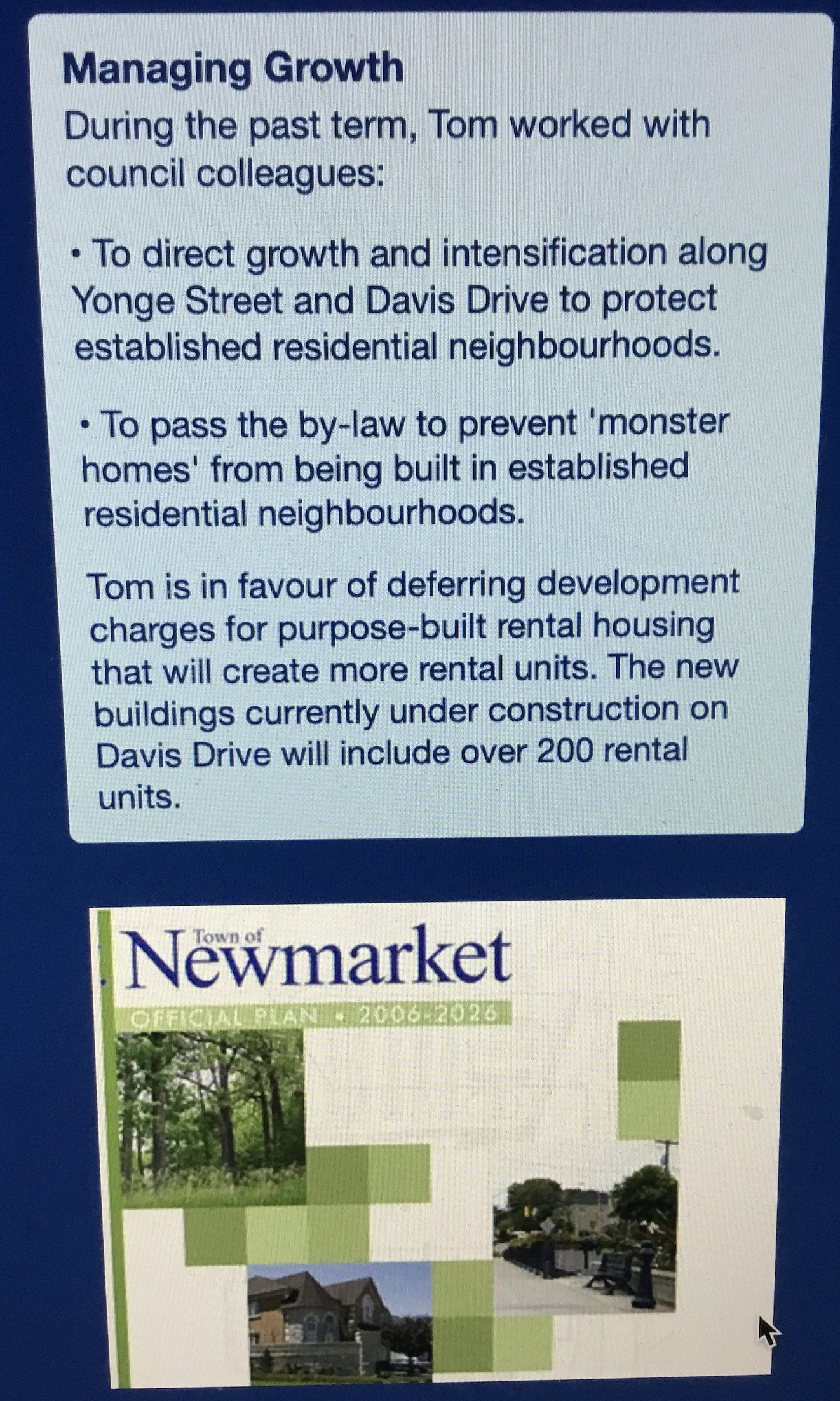 Personally, I think he is devious, reckless, dishonest and manipulative.
But I may be misjudging the man. I am only going on his record.
I am waiting with keen anticipation for the publication by Newmarket Today of his "candidate's questionnaire". After all, advance voting begins in six days time.
I returned mine some time ago.
Top four qualities
The paper asks:
What are the top four qualities required to be an effective municipal representative?
And they want to know if candidates will accept money from developers.
That's a tricky one for Tom given he was bankrolled by them in 2018.
Vegh has yet to return the questionnaire but there is no deadline. The paper asks only for a completed response prior to the October 24 election:
"which would be published in order when received."
The same formulation was used by the Toronto Society of Architects and Vegh found no difficulty in returning his questionnaire with boilerplate answers.
Visit TomVegh.com
I recommend all voters visit Tom Vegh's website. It tells you everything you need to know about our Deputy Mayor and Regional Councillor.
The website is impressive. It's well designed and probably cost a fortune. It reaches out and grabs your attention. Here is a man comfortable speaking to crowds. A man of action. Leading. Directing. Pointing. Charting the way forward.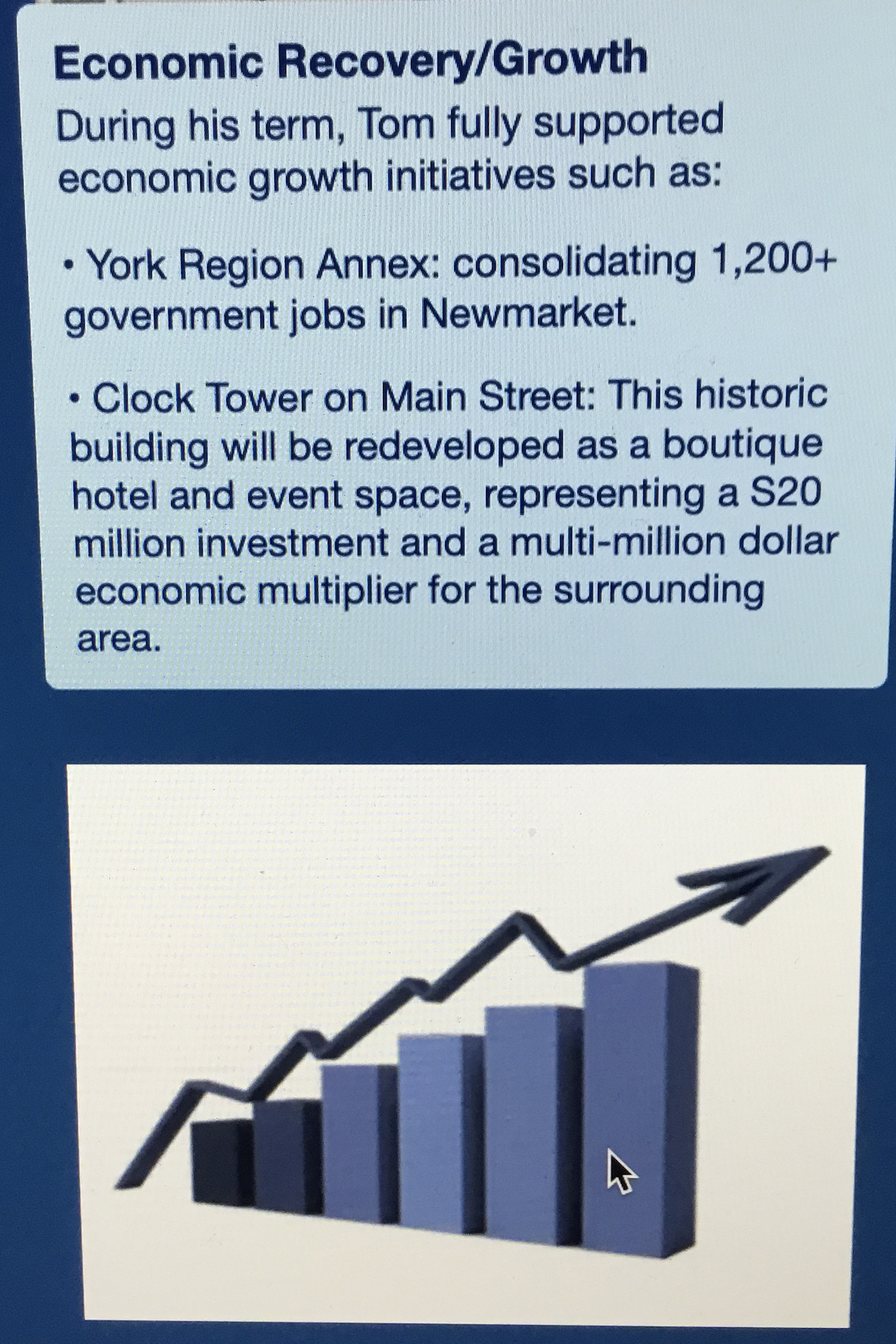 "Leadership you can count on."
What hokum!
But dig a little deeper. Have a look at the section: "Working for you"
Click on the tab "Managing Growth" and there is nothing at all about his votes at York Region to pave over the countryside. Nothing about his votes to convert prime agricultural land to other uses.
He says he passed the by-law to prevent "monster homes" from being built in established stable residential neighbourhoods. I pressed the council to act on the issue (he said modestly). And I was grateful they picked up the ball and ran with it.
Claiming Credit
Now click on the tab: Economic Recovery/Growth
He claims credit for the Clock Tower on Main Street and bringing the Postmark Hotel into the historic downtown:
"This historic building will be redeveloped as a boutique hotel and event space, representing a $20 million investment and multi-million dollar economic multiplier for the surrounding area."
What was Vegh's role in getting the Postmark Hotel into Town? Was he instrumental? Was he the deal-maker? I want to know.
I could write a book about the battle to save our historic downtown from developers and Tom Vegh wouldn't rate a mention.
He was a spectator throughout.
Tom! Just stop talking about the Library!
Now click on the tab: New Library.
"Tom Vegh is a sitting member of the Newmarket Facilities Needs Task Force, created in 2019, to look at the Town's needs for a new library and other municipal facilities. However, like many other projects, it was put on hold in order to manage the COVID-19 public health crisis, this task force will re-start in the 2022-2026 Council Term and Tom will resume working with his colleagues on this project."
Complete tripe. Work on the library was put on the backburner after the 2018 election and Vegh was content to leave it there.
Covid came to Canada on 25 January 2020.
I discover that Vegh is asking for donations and the money will be picked up! How quaint.
"Your Donation Can Help. Donate to the Tom Vegh Re-election Campaign by using the form below to make arrangements for your donation to be picked up."
Maybe that's how he got the money from his developer friends in 2018. By picking it up in brown paper envelopes in wads of $50 bills.
I discover another delicious irony.
His website tells us Tom Vegh is Vice Chair of the Town's Audit Committee.
You really couldn't make it up.
Gordon Prentice 9 October 2022
Below. Retrieved on Sunday 9 October 2022