Details

Written by

Gordon Prentice
Next Wednesday, 26 January 2022, the Town's Committee of Adjustment is expected to approve plans to transform the empty Clock Tower building on Main Street into a boutique hotel with 55 guest rooms, a restaurant and a rooftop event space.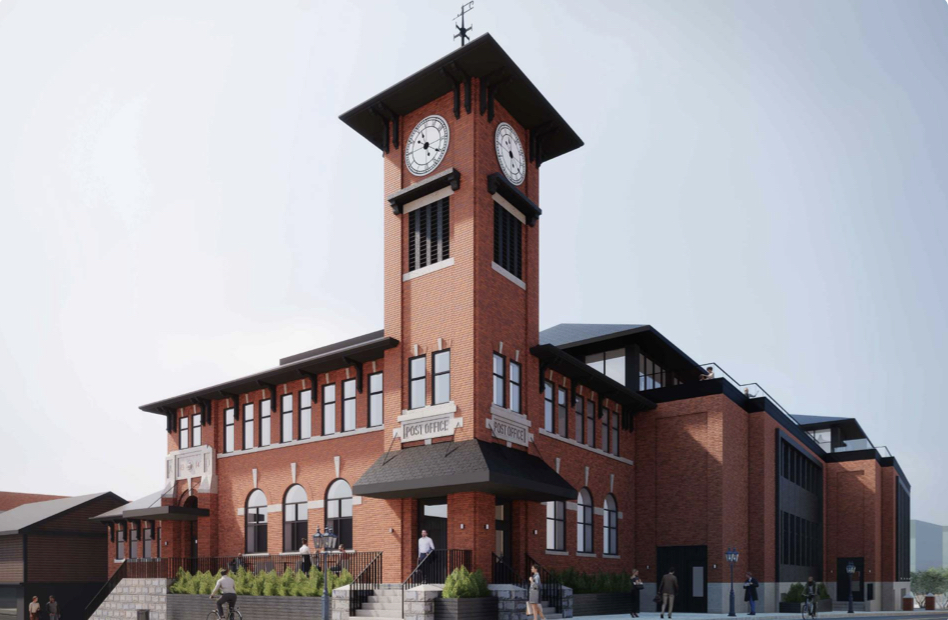 The Town is backing the plan.
It will mark the end of a decade long debate on the future of one of Newmarket's most iconic buildings.
The Committee of Adjustment considers planned changes to a property which are
"not in conformity with the zoning by-law, but follows its general intent"
and can approve so-called minor variances.
Support
The plans have been widely welcomed. Trinity United Church, directly opposite on Park Avenue, and the Newmarket Co-operative Nursery School both support the development.
The building height is increased but the rooftop structure is stepped back, lessening the visual impact. And all the parking will be at grade.
It has been eleven years almost to the day when the previous owner, Bob Forrest, had a discussion with the then Ward 5 councillor, Joe Sponga, about his plans for the building that he had just purchased. A boutique hotel was mentioned as a possibility but then it all went pear-shaped as Forrest, greedy for profit, pursued a development that would have wrecked the Town's historic Main Street. (Click "Read More" below)
The old Clock Tower building has been crying out for a new use for far too long and this imaginative proposal deserves a round of applause.
This email address is being protected from spambots. You need JavaScript enabled to view it.
Comments from the Town's Engineering Department are here. Planning considerations are here. The Planning Rationale is here. The Architectural Drawings are here. The Parking justification letter is here. The Heritage Impact Brief is here
And other material is here.
Update on 28 January 2022: The Committee of Adjustment approved the application subject to further consideration being given to parking issues at Site Plan stage.
Read more: Newmarket's iconic Clock Tower gets a new lease on life
Details

Written by

Gordon Prentice
Tomorrow, voting begins in Richmond Hill for a new Mayor to replace Dave Barrow who resigned on 15 September last year after a six month absence on medical leave.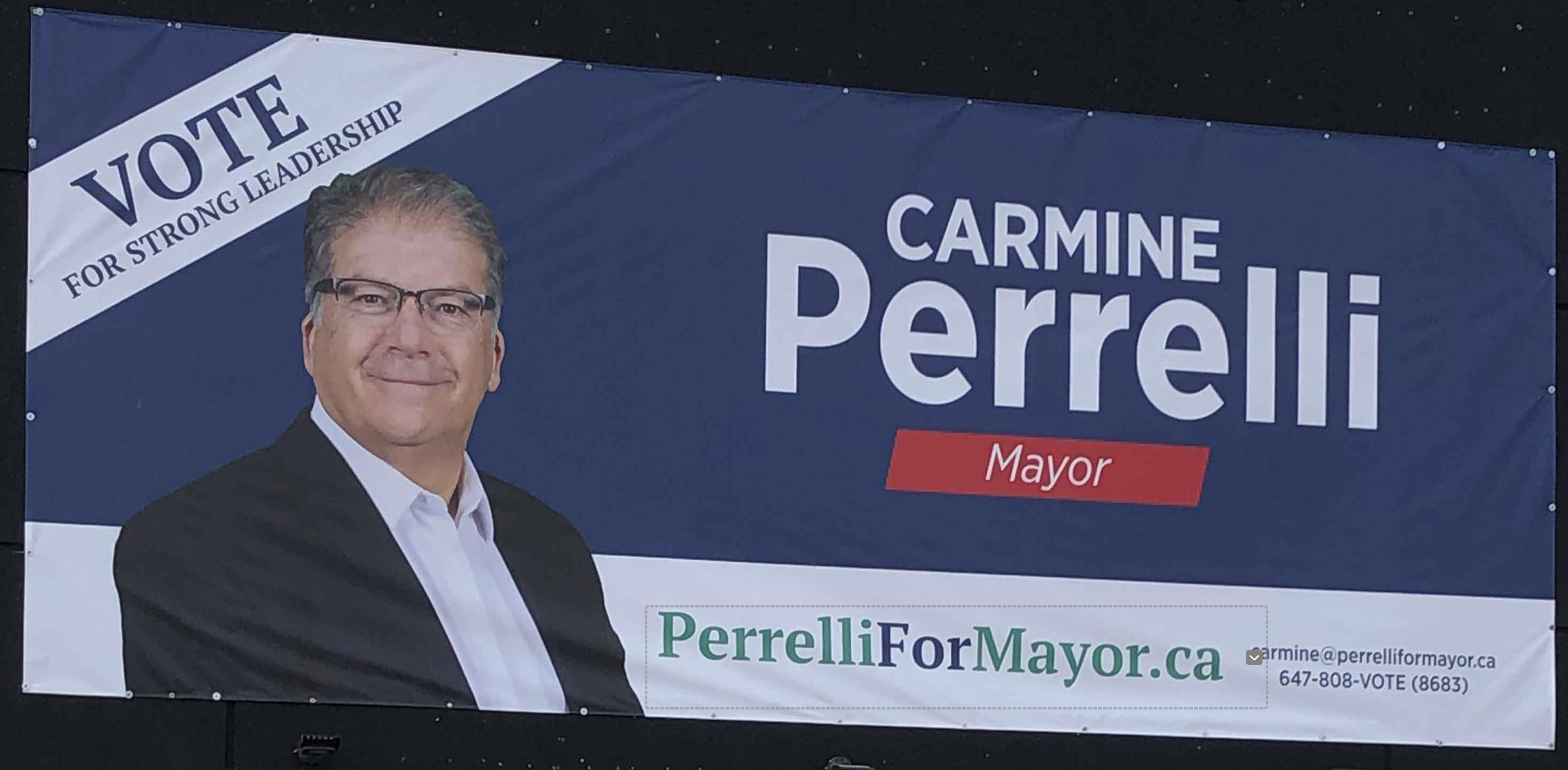 A week earlier, on 8 September 2021, Barrow persuaded his colleagues at a special council meeting to eliminate one of the two deputy mayors. Carmine Perrelli lost out to his arch-rival, Joe Di Paola, who has now been Acting Mayor for almost 11 months.
At the last election in 2018 for the two Richmond Hill Regional Councillor positions, Joe DiPaola was elected with 11,758 votes (22.35%) just pipping Perrelli who trailed with 11,418 votes (21.7%).
The two are now locked in a fierce battle for the Mayoralty with seven other candidates also on the ballot paper.
Carmine Perrelli is an unsympathetic character who deserves to lose.
Strong Leadership
His campaign literature parades his "strong leadership".
Archie Brown, in his 2016 book "The Myth of the Strong Leader", writes:
No-one ever says, "What we need is a weak leader". Strength is to be admired, weakness to be deplored or pitied. Yet the facile weak-strong dichotomy is a very limited and unhelpful way of assessing individual leaders.
There are many qualities desirable in a political leader… These include integrity, intelligence, articulateness, collegiality, shrewd judgement, a questioning mind, willingness to seek disparate views, ability to absorb information, flexibility, good memory, courage, vision, empathy and boundless energy. Although incomplete, that is already a formidable list…
Carmine Perrelli just doesn't cut the mustard. He is loud, belligerent, argumentative, boorish and self-important.

Intimidation and fear
He is also thin-skinned. And to cap it all, he blocks people he doesn't like from his Twitter feed.
Last April, Perrelli was the subject of a Code of Conduct complaint brought to York Regional Council by a Richmond Hill lawyer, Jason Cherniak, who objected to being blocked.
Joe DiPaola waded into the debate. He told members of York Regional Council that Perrelli was not afraid: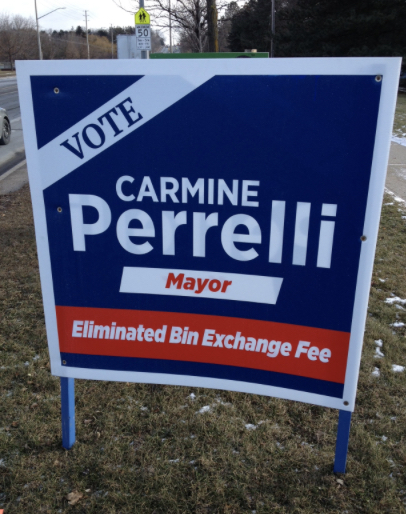 "To use his position to intimidate and cause fear"
He went on to brand Perrelli as
"an extremely problematic elected official"
Who needs a Code of Conduct?
York Regional Council only recently adopted a Code of Conduct. It had been delayed for years by endless foot-dragging with some members, including Perrelli, questioning whether a Code of Conduct was needed at all.
He told the Regional Council that Canada's Criminal Code, an observant press and media and elections every four years was enough to keep councillors honest and diligent. He says the Code of Conduct is:
"a weapon for political adversaries to use against you."
Clearly, he believes people are out to get him.
Garbage
Perrelli boasts in his campaign literature that he "Eliminated the Bin Exchange Fee" where residents could trade in their old, damaged garbage bin and get a new one for free.
Except that Perrelli did not have the authority to do that. And Richmond Hill Council, on the advice of its Director of Financial Services and Treasurer, is seeking to recover $139,623 from him.
How this will play out if Perrelli becomes Mayor is uncertain.
The Council website reminds us that the Mayor's role is defined by the Municipal Act 2001 s225 which says the Mayor, besides being the Chief Executive Officer of the Municipality, must also ensure that Council decisions are implemented.
So, if he is elected Mayor, what happens to the $139,623 he owes the Town of Richmond Hill?
A Strong Leader wouldn't be afraid to tell us.
This email address is being protected from spambots. You need JavaScript enabled to view it.
Update on 25 January 2022: From the Toronto Star: David West - backed by former Mayor Dave Barrow - wins by-election and is Richmond Hill's new Mayor.
Details

Written by

Gordon Prentice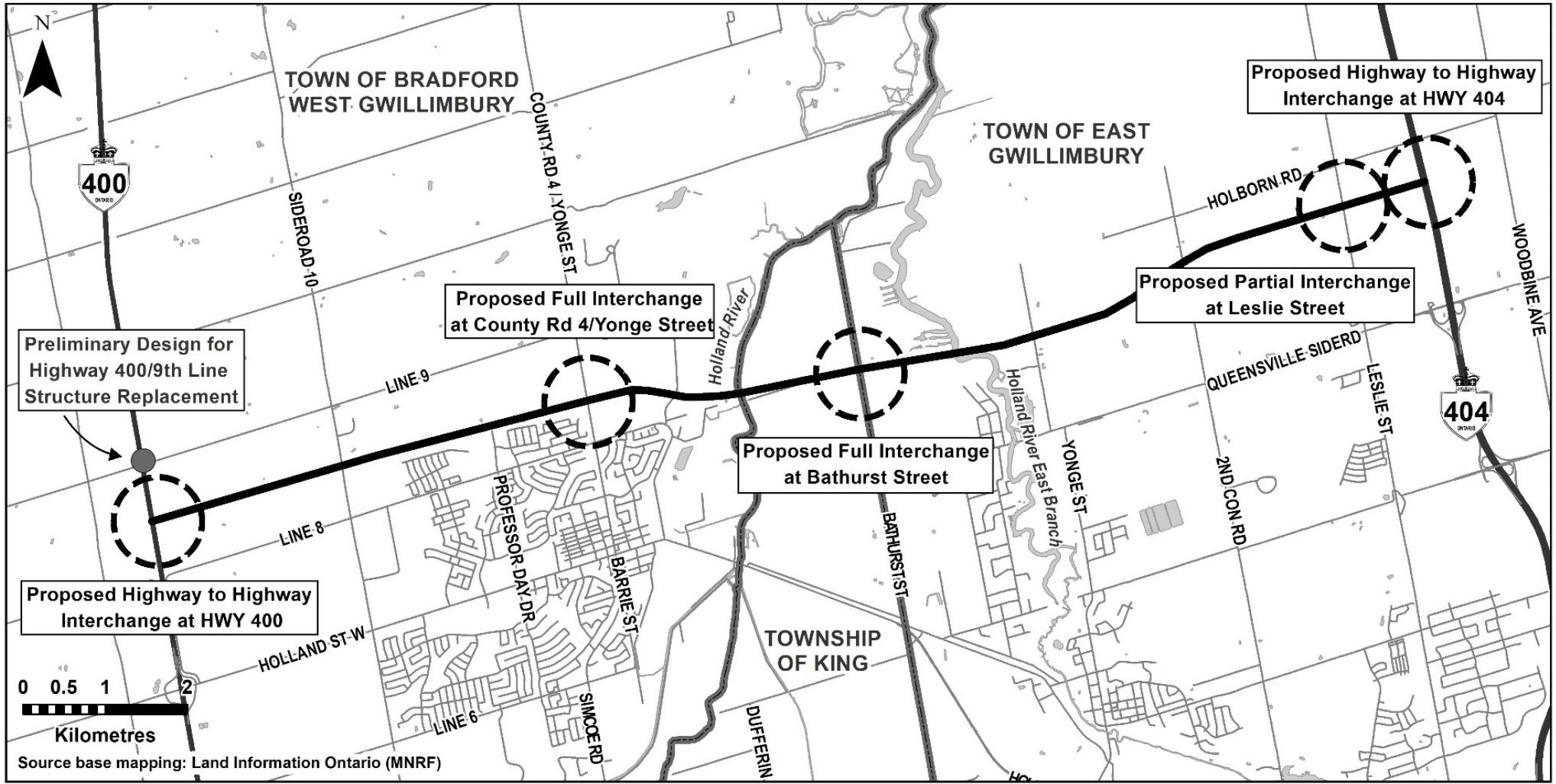 Doug Ford and Caroline Mulroney are determined to press ahead with the Bradford Bypass – a controversial scheme which opponents say will cause environmental damage to Lake Simcoe's delicate eco-system and to prime Grade 1 agricultural lands in Holland Marsh.
Last September, the Ford Government exempted the Bradford Bypass from key requirements of the Environmental Assessment Act 1990. They said that:
"By eliminating duplication and streamlining processes, we are shortening timelines, reducing delays, and focusing the province's resources on projects that matter most to Ontario communities."
Special Treatment
Regulation 697/21 applies only to the Bradford Bypass.
"We have exempted the Bradford Bypass project from duplicative requirements of the Environmental Assessment Act by way of regulation. The regulation sets conditions for the assessment process going forward and for continued environmental protection and consultations. No other Ministry of Transportation projects have been exempted from the Environmental Assessment Act as part of this regulation."
Since then, the Ford Government has made a commitment to fully fund the Bypass which they say will "relieve gridlock".
They are also carrying out early construction works in advance of all the necessary environmental studies being completed. On 26 November the Province issued a "Request for Proposals" to build a bridge crossing for the Bradford Bypass.
In its comments on the (then) draft regulation, the Ontario Public Health Association "strongly urged" the Government to reconsider exempting the Bradford Bypass from the requirements of the Environmental Assessment Act.
"The Bradford Bypass project which received individual EA approval in 2002 with conditions, but has not yet been implemented, would no longer have to meet some of those conditions. The conditions included a requirement to prepare a Transportation Environmental Study Report (TESR) and a Design and Construction Report (DCR). The TESR would have outlined: potential environmental impacts, measures to mitigate impacts, and consultation.
It is still not immediately obvious (at least to me) what environmental reports and studies are mandated and the extent to which the public will be consulted – and who decides whether or not to consult. And if that decision can be challenged.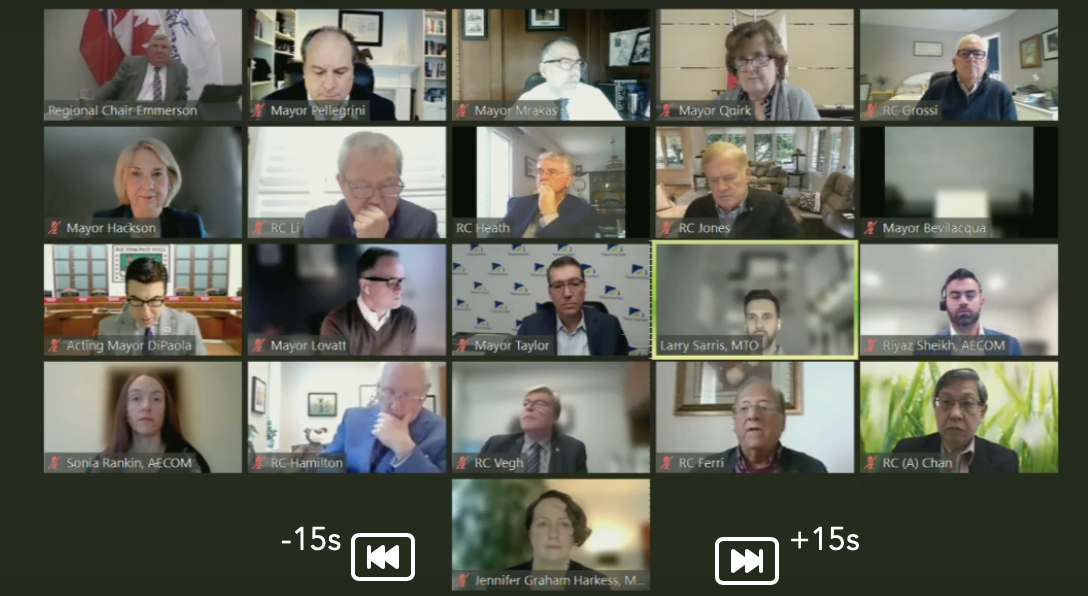 Last week officials from the Ministry of Transportation did their best to square the circle in a presentation to members of York Regional Council. But they fell short, obfuscating as much as they clarified.
How much will the Bypass cost?
Markham Regional Councillor Jack Heath innocently asks how much the project would cost – give or take half a billion dollars. But the officials refuse to give a figure on the grounds that it's early days and much could change. An exasperated Heath fumes:
"It astonishes me that somebody at the Ministry can't do that (give a rough estimate)… We should have invited someone who could at least give us a general idea what this is going to cost. If the staff can't do it then the politicians can do it and maybe we should have invited one of them."
Georgina Mayor, Margaret Quirk, tells us that her Council is "supportive of the project" but they worry about the impact on Lake Simcoe as
"the health of the lake is of great importance to us."
Her Council wants to involve the Lake Simcoe Region Conservation Authority but doesn't see any need to press the Federal Government to get involved.
"The Federal Government has made it clear in responses last year that they were not going to be doing that. So instead of knocking on that door again…"
Since then, of course, we have had a Federal Election and we have a new Minister of the Environment and Climate Change – but that is all lost on Georgina's Mayor.
Hard to believe
She tells us about a letter from the Ministry sent to her Council which says
"the Bradford bypass will be located South of Lake Simcoe and will not directly impact Lake Simcoe…"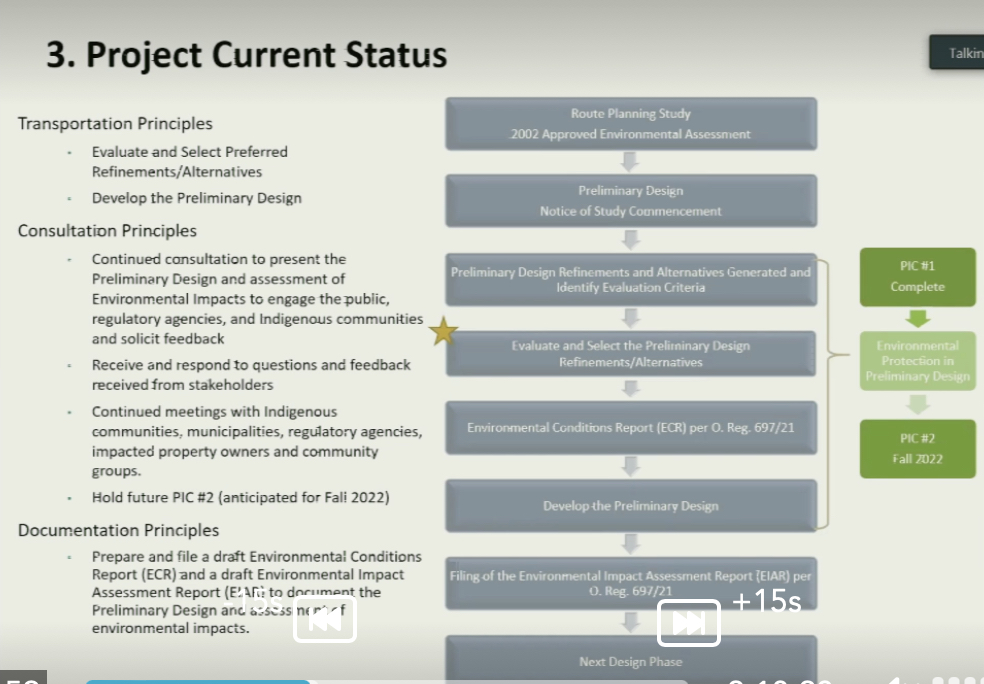 She says that's really hard to believe.
"It will (impact). We know that. It's not rocket science. But how the Province will mitigate that is what we want to know."
Now we hear from East Gwillimbury Mayor, Virginia Hackson, who also supports the proposed bypass believing it will
"move traffic off our local roads and on to one provincial road"
But, like Margaret Quirk, she wants to see the Lake Simcoe Region Conservation Authority have a role.
Quirk and Hackson give every impression of being supplicants, begging the Ministry to listen to the conservation authority and others while restating their own support for the bypass.
Taylor demands clarity
Now Newmarket Mayor, John Taylor, steps forward, seeking clarity in all the obfuscations and circumlocutions from the Ministry. Newmarket has already called for a Provincial Environmental Assessment and, if that's not forthcoming, a Federal Impact Assessment.
But the Province is now moving ahead under a regulation – specific to the Bradford Bypass – which exempts it (the Province) from key requirements of the Environmental Assessment Act 1990.
Taylor wants to know what they don't have to do now (under regulation 697/21) that they would have had to do before. He wants the Ministry to give him a table showing the differences. And what if changes are made to the project? Will there be consultations on these?
He also wants to know why the Ford Government insisted on a review of the North York Wastewater Treatment plant in East Gwillimbury after an environmental assessment process that lasted six years. And why is the very same Government taking the Bradford Bypass project out of the established EA process and fast-tracking it?
We get a torrent of explanations from the Man from the Ministry leaving us none the wiser.
Like everyone else, I wait to see the table promised by the Ministry. All will then be revealed.
Or not.
This email address is being protected from spambots. You need JavaScript enabled to view it.
See also report in Newmarket Today on 13 January 2022.
Update on 22 January 2022: From Newmarket Today: Letter to the Editor: Time to put the brakes on Ford Government's dismantling of environmental protections
Click the link below to see transcript of Thursday's presentation and debate.
Update on 10 February 2022: Federal Government will not intervene
Read more: The Bradford Bypass and its impact on the environment
Details

Written by

Gordon Prentice
At 1.12pm on Thursday 6 January 2022 Newmarket Today posted a story telling us that members of the Newmarket-Aurora Provincial Liberal Party would be choosing their next standard bearer for the Provincial election in June in a members' vote on 12 February 2022.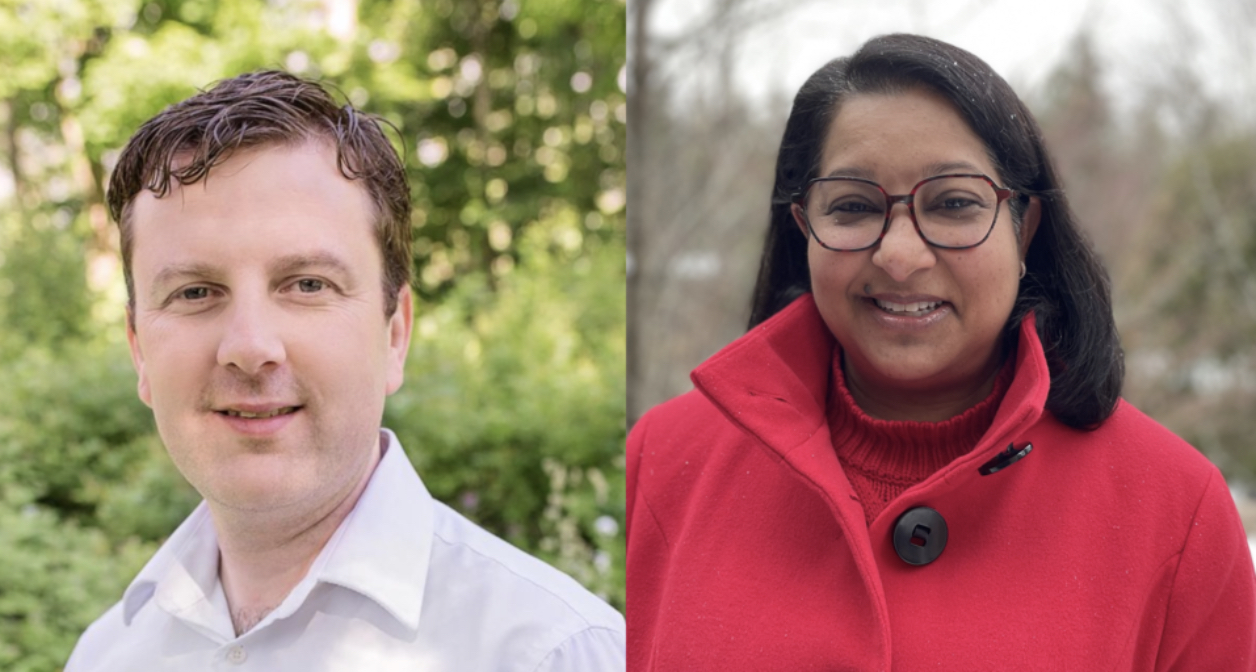 We were also told that readers who wanted to cast a vote could join the Liberal Party free of charge provided they signed up by 5pm that very same day. (Photo from Newmarket Today)
The former MPP, Chris Ballard, decided not to run again leaving the field open to two wannabe MPPs, Dr Sylvain Roy, a psychologist and Shameela Shakeel, a psychometrist. (The Canadian Oxford dictionary tells me psychometrics is the science of measuring mental capacities and processes.)
"Feels connected"
Although he doesn't live in the riding, Roy tells us he has worked on homelessness issues in York Region and feels connected to Newmarket-Aurora. He says he was encouraged to run by Ballard, a colleague and friend. He tells us:
"Our former MPP Chris Ballard has both endorsed my candidacy and agreed to chair my campaign. I am grateful for Chris' support and with his help and your help I am confident we can win back Newmarket-Aurora."
Acclamation preferred
Shakeel tells Newmarket Today she would have preferred acclamation after spending some months as the only prospective candidate. This is proof positive that she is not your typical politician. If she were, she would have enthusiastically welcomed a contest while privately spitting feathers that one was necessary.
It looks as if her opponent, Dr Sylvain Roy, threw his hat into the ring at the last moment, tweeting on New Year's day that he had decided to seek the Liberal nomination.
This gave him five days to sign up supporters. A Herculean task given that his opponent had been dug in for months if not years.
To get the party's nomination you've got to get the support of the members and what better way than to recruit them yourself!

State Secret
Leading Liberals in Newmarket-Aurora are tight lipped about membership figures. They treat it as a State secret. But we know that in some ridings Liberal membership levels are stratospheric. Getting selected there means getting elected.
I don't know when the Newmarket-Aurora contest was called but in the 32 Liberal Party nomination contests in the period 2017 – 2021, and reported to Elections Ontario, the average time between the call of the contest and the members' vote was 96 days. The longest contest was in York Centre which kicked off on 12 September 2017 and concluded on 8 April 2018, a leisurely 208 days. There were two contestants.
The shortest – a breathless 14 days – was in Humber River-Black Creek where, at the end of the day, there was only one contestant.
In fact, of the 32 Nomination Contests reported, eleven ended up with one contestant.
Sitting MPPs are generally acclaimed.
Costs of a contest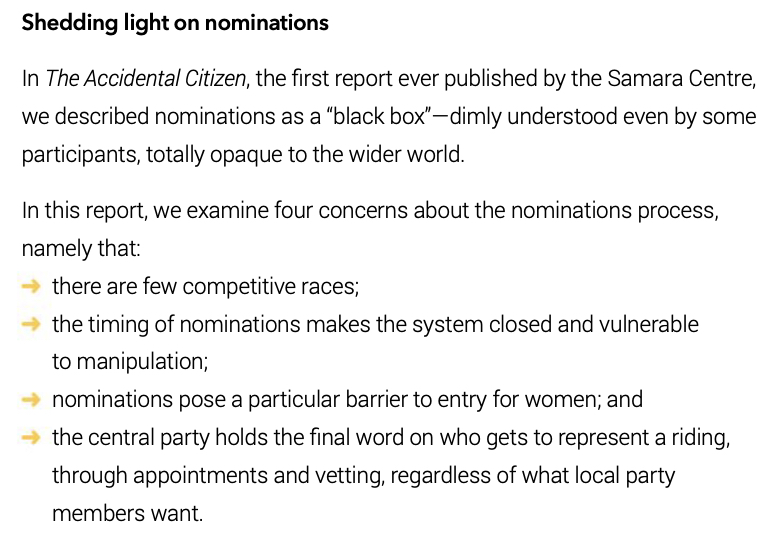 Of course, it costs money to run in a contested nomination. In Newmarket-Aurora there is a $23,159.76 spending limit for each person seeking the Party's nomination. There is also a non-refundable "processing fee" payable to the Liberal Party of $2,500 – or $1,250
"if the person is a woman"
or $500 if the person is under 30. I am left wondering why this hefty fee couldn't be income related (although I think I understand the reasoning behind the differentials).
For the Liberals – and, indeed, for most of the other parties - acclamations are pretty much the rule. Samara, the non-partisan democracy think-tank, studied almost 3,900 nomination races held by federal political parties between 2003 and 2015 and over 70% had a single contestant.
Join the Party today and be an MP tomorrow
Here in Newmarket-Aurora, former Mayor, Tony Van Bynen, then 69, was the only candidate for the nomination in 2019, despite joining the Party earlier that year. His predecessor, Kyle Peterson, was also acclaimed. In fact you have to go back to 2008 for a contested nomination on the Federal side and that was when former Aurora Mayor, Tim Jones, defeated Gus Khouri.
On the Provincial side, Chris Ballard, was acclaimed in 2014 when he was first selected as the Liberal candidate for Queen's Park. And as the sitting MPP he was again acclaimed as the nominee in 2018. Ward 7 councillor Christina Bisanz ran in 2007 and again in 2011 against the then PC MPP Frank Klees. I don't know if she was acclaimed but it wouldn't surprise me if she had been.
So, selecting candidates by acclamation is nothing new here. Despite all the talk about casting the net more widely.
Bad Practice
Personally, I think acclamation is bad practice. Nomination contests, at their best, force the candidates to open up and reveal their politics. Can they think on their feet? Are they articulate? Can they persuade? Do they have a position on the major issues of the day which is thought-through? Or are they content to read a script written by others, keeping their head below the parapet, rarely staking out a public position and defending it.
Roy and Shakeel will be giving an on-line presentation to members of the Newmarket-Aurora Provincial Liberal Party on 10 February 2022. For an hour.
The winner won't necessarily be the best on the night.
But the one who has secured most votes.
Signed-up by 5pm on Thursday 6 January 2022.
This email address is being protected from spambots. You need JavaScript enabled to view it.
Updated on 12 January 2022 to remove description of Roy and Shakeel as both being psychologists. Only Roy is registered with the College of Psychologists of Ontario.
Update on 15 January 2022: From Newmarket Today: "This is why people who look like me and think like me don't run": Newmarket-Aurora Liberal candidate speaks out against "smear campaign"
Update on 22 January 2022: From Newmarket Today. Letters to the Editor: "Smear effort"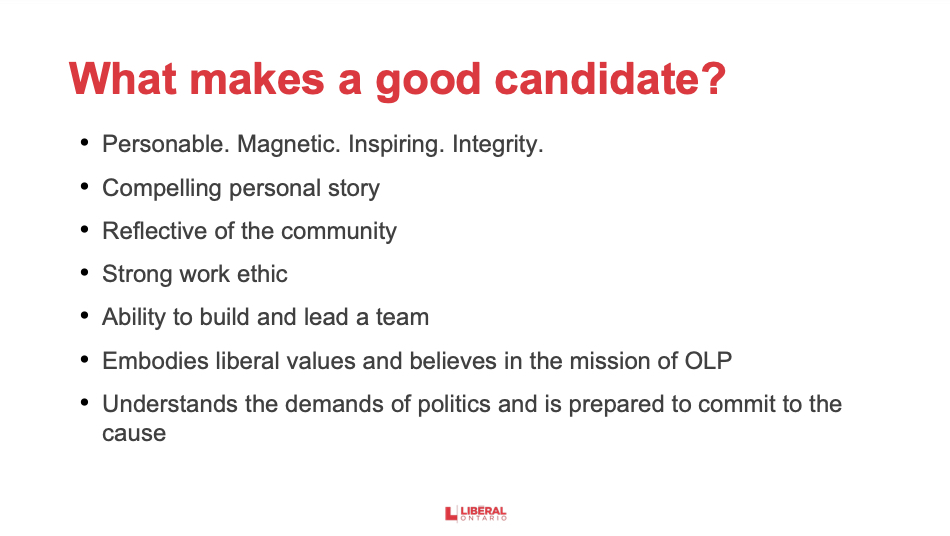 Details

Written by

Gordon Prentice
A petition objecting to the proposed Bradford Bypass is now on the House of Commons website and is open for signatures.
You can sign it by clicking on this link.
The process is outlined in the graphic below.
The petition calls upon the Minister of the Environment and Climate Change to designate the Bradford Bypass project for a full federal impact assessment through the Impact Assessment Agency of Canada.
The petition closes on 6 February 2022.
Aurora-Oak Ridges-Richmond Hill MP, Leah Taylor Roy, has come out strongly against the Bradford Bypass. On 6 December 2021 Newmarket councillors unanimously passed a resolution calling on the Province to carry out an environmental assessment before any work begins. In its absence Newmarket councillors want a Federal Impact Assessment.
Newmarket-Aurora MP, Tony Van Bynen, has not said if he supports the position taken by Newmarket Council.
This email address is being protected from spambots. You need JavaScript enabled to view it.
Update on 10 January 2022: On Thursday 13 January 2022 at 9am, York Region's Committee of the Whole will be getting an update from the Ministry of Transportation Project Team on Highway 413 and the Bradford Bypass.