Details

Written by

Gordon Prentice
Tony may block me from reading his tweets but I still get to know what's happening.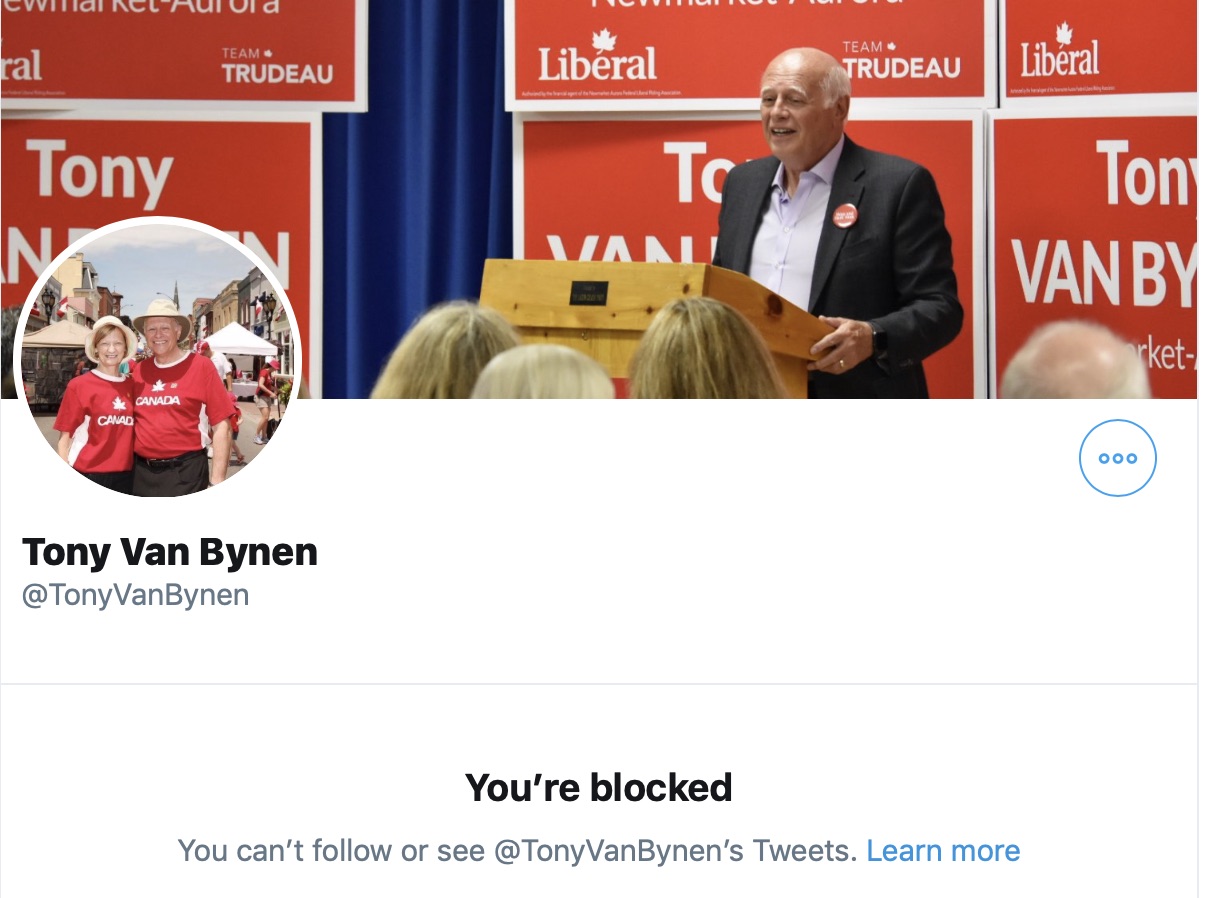 I asked the Liberal Party if it is OK for one of their candidates to block people from reading his tweets. They haven't got back to me yet but I am ever hopeful. There is a principle at stake.
Anyway… here is Tony's canvassing schedule for those who believe in #hopeandhardwork
Meet at the Campaign Office 12 St John Side Road, Aurora (N/E corner of Yonge and St John) on the following dates:
Monday August 26th 6.30-8.30pm
Tuesday August 27th 6.30-8.30pm
Wednesday August 28th 6.30-8.30pm
Thursday August 29th 6.30-8.30pm
Saturday August 31st 10am-12.30pm
Saturday August 31st 1.30pm-4pm
and Sunday September 1st 1.30pm-4pm
I hope Tony's canvassers are being fully briefed on all the issues that may come up on the doorstep. Our wannabe MP should not be keeping things to himself that should be out in the public domain.
As we know, the old banker has always been economical with the actualité.
So is there anything he is not telling us that we should know before election day?
Something that may be difficult for his canvassers to explain away?
If not. No worries.
This email address is being protected from spambots. You need JavaScript enabled to view it.
In the United States (a very, very different country) a federal appeals court recently upheld a lower court ruling that President Donald Trump's habit of blocking Twitter users he disagrees with violates the First Amendment.
And here is a blog from five years ago which looks at how our future MP dealt with the two totemic issues of his last Mayoral term - Glenway and the Clock Tower.
Details

Written by

Gordon Prentice
The phone rings this morning as I am reading the business section of the Globe and Mail.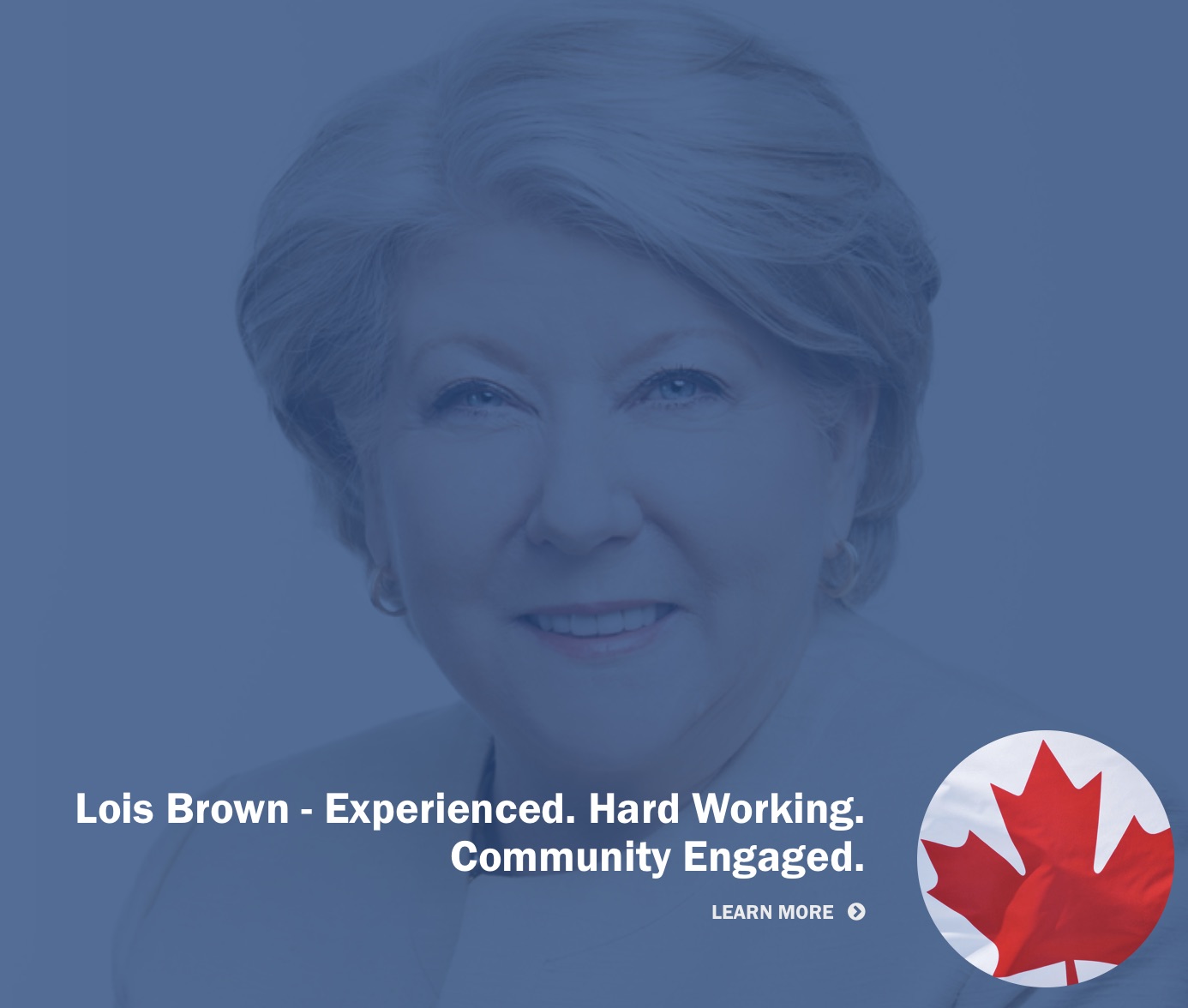 It is none other than the 73 year old Matt Buist who introduces himself as the Vice President of the Conservative Party's Newmarket-Aurora riding association. He is the Volunteer Director and he wants me to know he takes issue with my description of the 64 year old Lois as "listless and invisible".
He says he had never heard of me before Todd Roberts, the Association President, passed on a copy of my recent blog. Mr Buist is indignant at the words I chose to describe Lois.
He tells me my description of the former MP as "listless and invisible" had Mr Roberts re-evaluating the credibility of my blogs. If I could describe Lois in this patently inaccurate way what else do I get wrong?
Meeting the voters in sub zero temperatures
Mr Buist tells me they have between 150 and 200 volunteers working round the clock to get Lois elected. These Stakhanovite workers have been out and about in the constituency since mid-February, in temperatures as low as -18° (-0.4°F) and as high as 42° (107.6°F).
They go out three times a day and have contacted 12,500 households.
Out of how many?
40,000 he says without pausing to think.
Goodness me! Where does Lois get these people from? Can I borrow one to mow my lawn?
The Association has identified over 7,000 supporters and is getting positive results from 60% of those contacted. Phew!
Mr Buist is on a roll. The facts and figures and plans are pouring out in a stream of consciousness. "Listless and invisible! Indeed!"
He doesn't miss a beat when I tell him I am writing all this down.
High heels
He tells me Lois is a whirlwind of energy, doing all this canvassing in high heels and he is running behind her in flats!
Now I am told the Conservative Campaign Office will be opening on Saturday 7 September 2019 at 120 Harry Walker Parkway. He says he is calling me from there. The nerve centre. They are putting in five phone lines and high-speed internet.
"We are working our tails off!"
The campaign office opening will apparently dwarf the Liberal effort which is dismissed in a sentence.
"Our humble competition got 15 people (to their campaign office opening)."
He says breathlessly, we got 140 people at our annual BBQ and picnic!
I learn there will be a Cocktail Reception at Madsen's Greenhouses on 4 September 2019. Another fundraising event.
I innocently ask how much they've raised so far.
Election War Chest
Mr Buist, with disarming candour, tells me they are approaching $150,000. Certainly between $135,000 and $150,000.
I gulp! That's more than Tony Van Bynen's severance pay.
As I am congratulating Mr Buist on these Herculean fundraising efforts he tells me he has personally donated $1,000 so far this year. He is a member of the Blue Ribbon Club. Well done, I say.
I thank Mr Buist for calling me. It has been a real eye-opener.
I tell him I will now post another blog that will forever erase any suggestion that Lois Brown is listless and invisible.
She is experienced, hard-working and community engaged.
This email address is being protected from spambots. You need JavaScript enabled to view it.
Details

Written by

Gordon Prentice
Wannabe Federal Liberal MP Tony Van Bynen is neck and neck with his Conservative rival, the listless and invisible Lois Brown.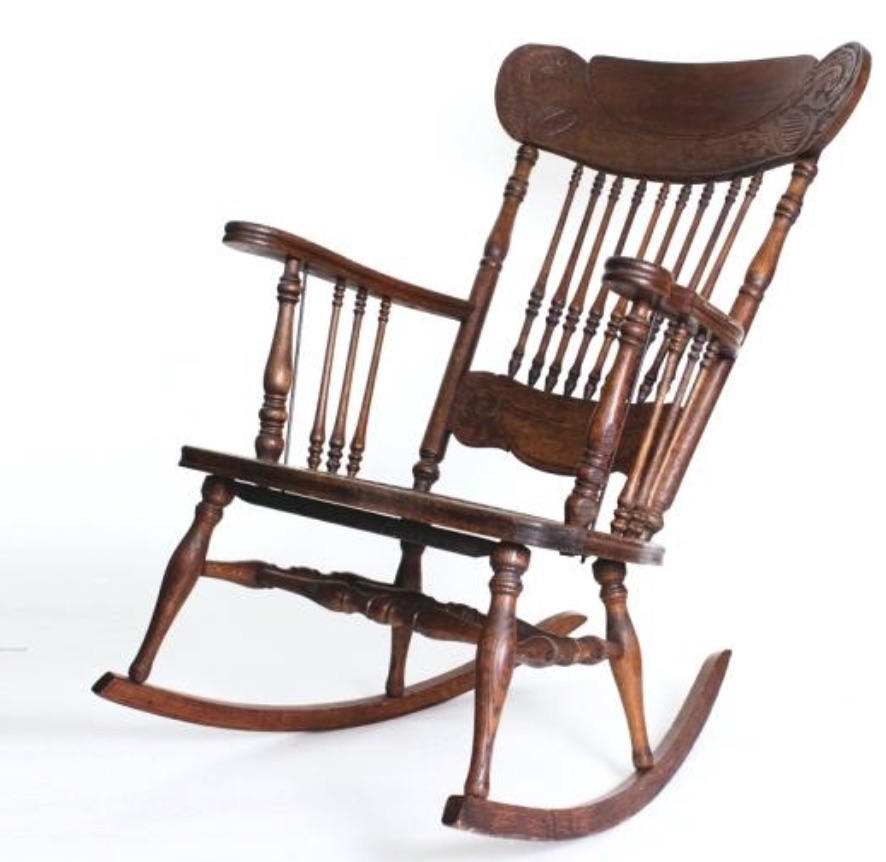 In its latest prediction (18 August 2019) the election website 338canada.com says it's a toss-up between the 69 year old retired banker and the former MP for Newmarket-Aurora, Lois Brown.
Popular Vote too close to call
338canada.com forecasts the popular vote giving 39.5% to the Conservatives and 38.4% to the Liberals. The projections include a very wide margin of error of 7% either way. (As you look at the graphs check out the methodology here.)
The CBC nationwide poll tracker is here.
The old banker emailed supporters last Thursday inviting them to a "day of action" with food and celebrations to mark the opening of his campaign office. He tells them he has been working hard
"speaking to members of our community"
and the response has been:
"overwhelmingly positive."
That's terrific news. I know what it is like to knock on doors. But what has he been speaking to them about? His pensions?
Sizzling contributions
With this latest election projection, Tony will now be thinking about Ottawa from the comfort of his rocking chair, dreaming about the sizzling contributions he will soon be making to the national debate.
Newmarket – Aurora is a wealthy riding with median household incomes (mid-way between the highest and lowest incomes) far above the figures for Ontario and Canada as a whole.
If income is a major determinant of voting behaviour then the Conservatives should have this riding in the bag. But, of course, other factors come into play. Getting out the vote is just one.
Tony's track record will inevitably be scrutinised. There are one or two downsides but nothing insurmountable. But he will have to get his answers ready for the big election debates.
We have it on the authority of Dave Kerwin, the longest serving councillor in Canada (until he retired from Newmarket Council last October) that Tony never shows any leadership.
Tony sees merit in "followership".
Demolition in Main Street.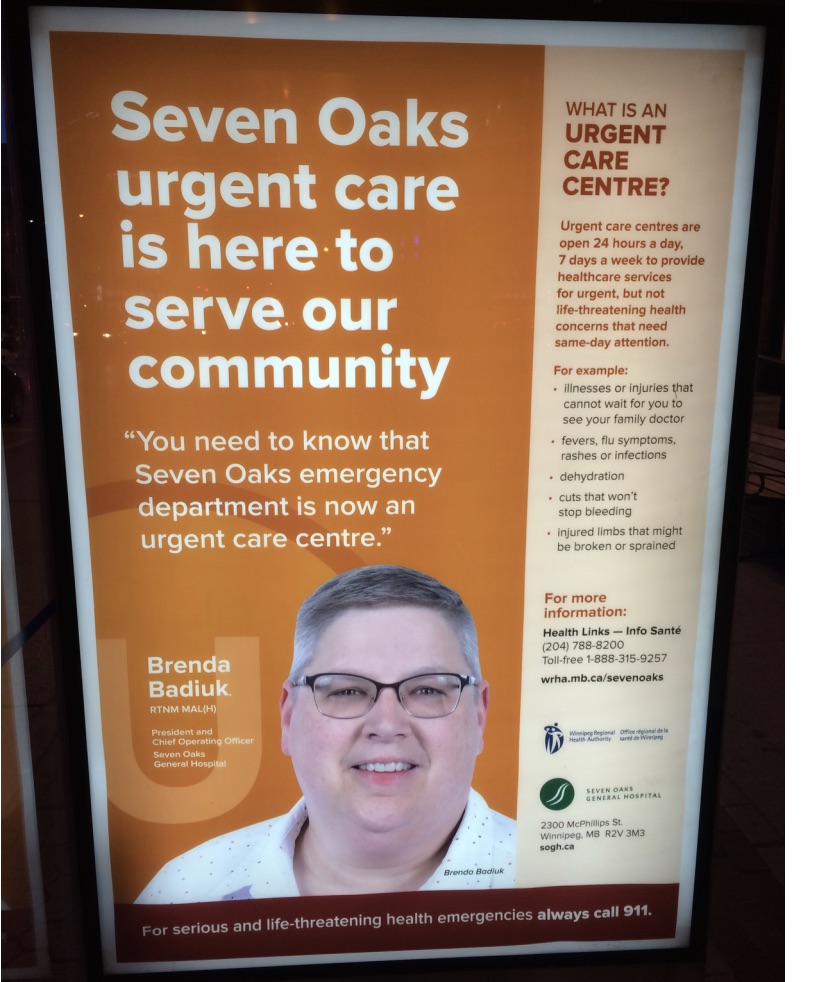 The old banker was close to the developer Bob Forrest who wanted to demolish the historic commercial buildings on Main Street to make way for a new condo which would disfigure the entire downtown heritage district, ruining panoramas and vistas. Tony backed Bob but couldn't persuade any of his Council colleagues to support the development and he was outvoted 8:1.
The Clock Tower and the old historic commercial buildings to the south are currently being done up before being sold. Had Tony had his way the old buildings on Main would by now be a pile of rubble.
Tony's way: "Never explain. Never complain."
The massive Glenway development – directly affecting hundreds of local people - showed Tony as his most soothing and emollient best. A packed meeting called to discuss "lessons learned" from the debacle had him thanking people for their contributions while keeping his own thoughts to himself. Anyway, that's all water under the bridge. Tony is hard at work reinventing himself as a tribune of the people.
The Greens and NDP
But what about the Greens and the NDP in Newmarket-Aurora?
I suspect the Greens will increase their vote on the back of the climate crisis that is staring us in the face. They have an affable and engaging candidate in Walter Bauer. 338canada.com puts them on 9.7% of the popular vote (+ or – 3.6%). Global heating is happening twice as fast in Canada than elsewhere. The tundra is thawing. The ice is melting. And people are beginning to wake up to the implications. Even the somnolent Tony Van Bynen.
The NDP, projected here to take 9.1% of the vote (+ or – 3.2%), are fielding a strong and experienced candidate, Yvonne Kelly. Despite her sterling qualities, the jury is out on how well the NDP will perform under their newish leader Jagmeet Singh.
The Manitoba election
As it happens I was over in Manitoba last week - once an NDP stronghold - and had a chance to speak to people on the ground about the upcoming Provincial election on 10 September 2019. The Conservative Premier, Brian Pallister, called the election a year early on the grounds he didn't want it to clash with Manitoba's 150thanniversary celebrations in 2020.
In the last election in 2016 the Conservatives ended a run of 17 years of NDP Governments and it will be fascinating to see if the NDP can claw its way back into contention. The pundits and pollsters say it can't be done but the soothsayers frequently get it wrong.
Provincial Pointers to Federal Election results
Are Provincial election results a good predictor of Federal elections?
Not necessarily.
But in Manitoba if the NDP can erode the Conservative majority that will be for them an encouraging sign. The Provincial and Federal election campaigns will overlap to a great extent.
Wandering through downtown Winnipeg, I see a giant public information notice in a bus shelter reminding everyone that two Accident and Emergency Departments in the city are being rebranded (and downgraded) as Urgent Care Centres.
The NDP oppose the change.
It is unlikely to affect me as I am only in Town for a few days. But as I stroll by it reminds me that elections have consequences.
This email address is being protected from spambots. You need JavaScript enabled to view it.
The People's Party of Canada has selected Andrew McCaughtrie as its candidate for Newmarket-Aurora.
Details

Written by

Gordon Prentice
Back Story: What has happened to the legislation that will allow corner shops and convenience stores to sell beer and wine?
The Beer Store Act is my shorthand for Bill 115 (Bringing Choice and Fairness to the People Act (Beverage Alcohol Retail Sales), 2019)
It sped through the Legislature in less than two weeks. The Bill was printed on 27 May 2019 and received Royal Assent on 6 June 2019. The Bill had no Committee Stage leaving people no opportunity to comment as part of the legislative process. It was Ford, Buck-a-beer, laying down the law.
The Bill amended the Liquor Control Act to terminate an agreement (the so-called Master Framework Agreement) entered into by the previous Liberal Government with the Beer Store owners in 2015. That agreement loosened things up a bit, allowing beer and wine to be sold in a limited number of non-Beer Store outlets Province-wide.
But Buck-a-beer didn't think it went far enough.
So the Beer Store Act allows the Province to rip up that agreement – leaving itself open to legal action by the Beer Store owners for breach of contract.
A year ago the Deputy Leader of the Progressive Conservatives Christine Elliott told us she wanted convenience stores to sell beer and wine. She is my MPP so I make an appointment to see her. I want to know when Andrew's Convenience Store is going to be able to sell beer and wines to his thirsty customers.
High Noon
It's 1pm at Christine Elliott's Constituency Office and I have a 15-minute meeting with my MPP on the Beer Store legislation and on Parliamentary procedures. It bothers me (a) the Province could be on the hook for millions of dollars in damages if it repudiates the contract with the Beer Store owners which, in any event, is due to expire in 2025. It can be renegotiated then without penalty. It also concerns me (b) that major public policy issues are rushed through Queen's Park with no opportunity for the public to comment. This is not how the system is supposed to work.
The changes brought in by the Beer Store Bill have not been proclaimed by the Lieutenant Governor (who acts on the advice of the Premier and Cabinet) and therefore are not law. When can we expect the proclamation?
Christine Elliott smiles and shakes hands as I enter her office. She is pleasant and welcoming. On her left sits the formidable Dawn Gallagher Murphy who is the MPP's executive assistant and gatekeeper. If you want an appointment you've got to get past Dawn first. I email my five questions to her on Friday to give Christine Elliott the heads up on what I want to talk about.
First, I ask Christine Elliott for an assurance that any Bill to reorganise municipal government will have a Committee Stage. She says that if a Bill is brought forward then she is confident there will be a Committee Stage. This is as much as I am going to get. So I move on.
Now I turn to drink.
What about Andrew?
When will Andrew be able to see beer and wine?
She tells me it is all about fairness and that the people who own the Beer Store are not even Canadian (or some aren't).
I gently suggest she is missing the point. I say the set-up in Ontario with the LCBO and the Beer Store is, admittedly, kinda quirky. A lot of people would welcome some liberalisation but baulk at breaking contracts and forking out millions of dollars when the contracts are up for renewal in a few years time and can be renegotiated then without penalty.
So I ask when the Beer Store Act will be proclaimed. This will be the trigger for legal action by the Beer Store owners. She says she doesn't know.
She says there is a Cabinet meeting on Thursday so I quickly ask if she will raise the issue then. She agrees - but then says she may not be able to tell me what transpired because of Cabinet confidentiality!
I ask if it is commonplace for Governments to break contracts and be sued for damages. She says it is not commonplace but, clearly, these things happen. She says that before Bills are introduced to the Legislature detailed briefings are prepared by the Provincial civil service who would look at any legal issues.
Ah! But I remind her that Caroline Mulroney, when Attorney General, was specifically asked about the consequences of breaking contracts in an exchange with Sandy Shaw in Queen's Park on 6 June 2019. And Caroline Mulroney refuses to answer.
Instead she passes the question on to Vic Fedeli, then Minister of Finance, who obfuscates. The Standing Orders allow for this but we are left completely in the dark about the Attorney General's views on ripping up contracts. Does she think that's OK?
My time is now running out.
I ask if I can get written answers to the questions I posed – just to flesh things out.
Of course.
And, for the nth time, I go back to Andrew's Convenience Store. When is he going to be able to sell beer and wine?
This time next year.
Ah!
This email address is being protected from spambots. You need JavaScript enabled to view it.
Sandie Shaw: To the Attorney General
"My question is to the Attorney General. The rule of law means that governments… should follow the law… Speaker, it's a principle that this Attorney General is sworn to uphold. That's why it's so concerning that this government is ripping up contracts and ignoring the rule of law—all for beer. In fact, the Canadian American Bar Association wrote the Attorney General an urgent letter and said that this government will "undermine the rule of law." The Attorney General's job is to uphold the rule of law. Has she spoken to the Premier about these serious concerns?"
Hon. Caroline Mulroney:
"To the Minister of Finance."
(Interruption)
The Speaker (Hon. Ted Arnott):
"I'd ask the Minister of Finance to sit down. I apologize. The rules of the House allow any minister to refer any question to another minister. What they're doing is completely within the standing orders."
Update on 13 August 2019 from the Toronto Star's Martin Reg Cohn: Cheap Beer and cheaper gas won't fuel a political honeymoon.
Update on 16 August 2019: Finance Minister turns down the Tories' heat on the Beer Store.
Details

Written by

Gordon Prentice
Two months after asking for an appointment with my MPP, Christine Elliott, I am getting one and I am grateful.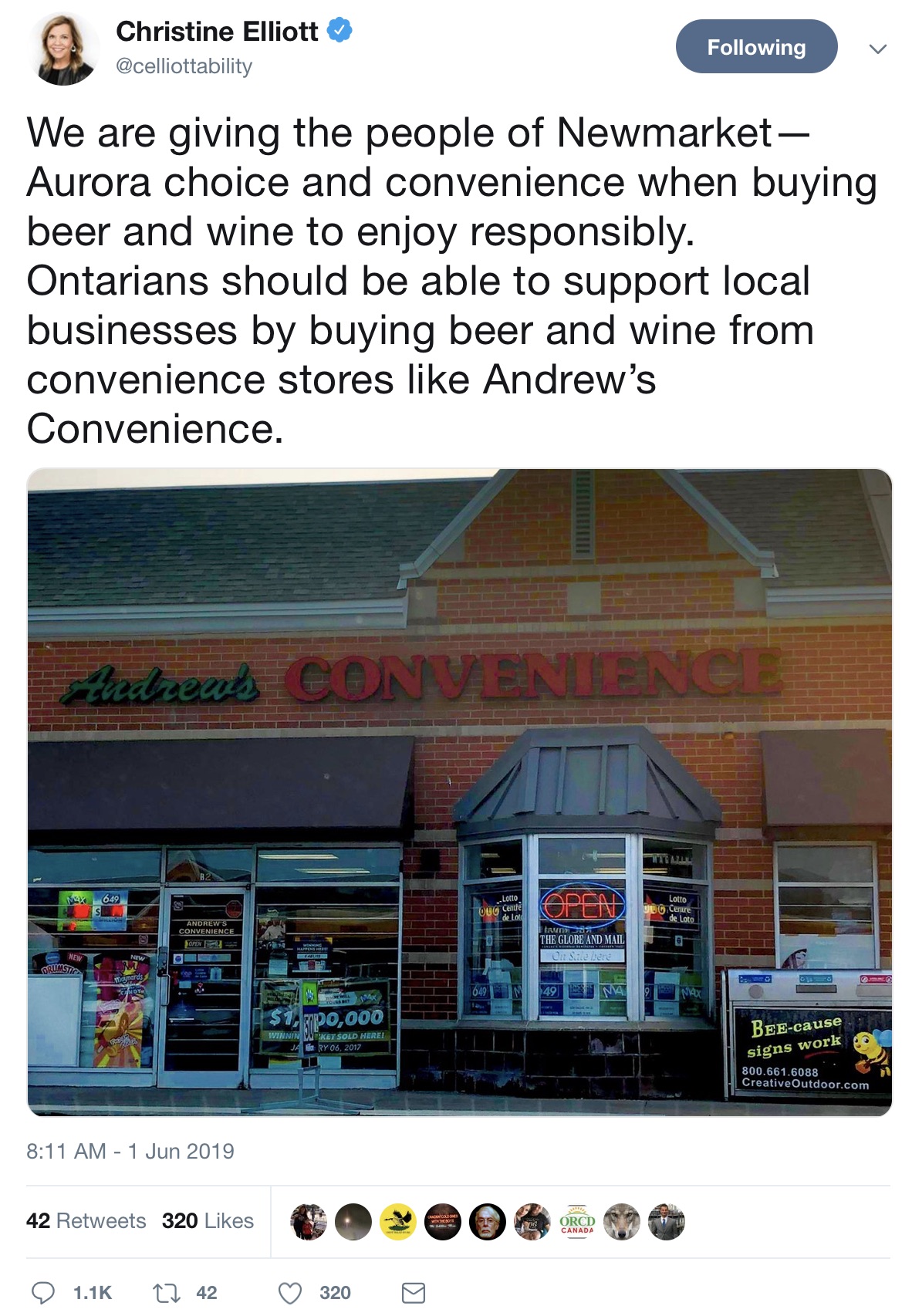 This morning's ERA newspaper tells me others aren't so lucky.
I have been given 15 minutes on Monday 12 August 2019 to say what I have to say and after the usual pleasantries I won't have a second to waste.
I want to raise two issues and I have given Dawn Gallagher Murphy, the Constituency Manager and Executive Assistant, notice of what these are.
There will be no pointless ambushes.
Issue 1: I want to find out what's happening with the Beer Store Act. It has gone through the legislature but has not yet been proclaimed by the Lieutenant Governor and is still not law. The Lieutenant Governor acts on the advice of the Executive Council of Ontario which is Ford's Cabinet by another name. If Ford wants it proclaimed he only has to ask and it will be done.
However, press reports suggest the Act will just lie there and not be brought into force. This would persuade the big brewers who (in the main) own the Beer Store to sit down and talk about the current contract with the Province which, says Ford, stifles competition.
A year ago, on 7 August 2018, Elliott told the legislature:
"Buck-a-beer is part of the government's commitment to transforming alcohol retailing in Ontario, which includes expanding the sale of beer and wine to convenience stores, grocery stores and big box stores. This is just further evidence that our government is going to do what we said we would do, and that's put Ontario consumers first."
So…
It's Question Time for my MPP
Question 1: When will Andrew's Convenience Store in Aurora be able to sell beer and wine?
Question 2: When will the Beer Store Act (the Liquor Control Act as amended) be proclaimed?
Question 3: When that happens what is to stop the Beer Store owners going to Court for breach of contract?
Question 4: If the Province negotiates with the Beer Store owners and decides to settle out of Court, what would that settlement look like?
Issue 2: As a matter of good government, Public Bills being considered by the Legislative Assembly should have a Committee Stage – unless there is some kind of emergency that makes that impossible.
Bills have committee stages to allow our MPPs to hear from and take evidence from the public and from those who might be directly affected by legislation.
Parliamentary Process and Procedure subverted
While in Opposition many Progressive Conservative MPPs complained about Parliamentary procedures being subverted in the rush to get Bills passed and on to the Statute Book.
With the Ford Government, there was, of course, no committee stage of the Beer Store Bill which barrelled through the legislature in double-quick time. Likewise there was no committee stage for the Bill which cut the size of Toronto City Council by half.
The Ford Government is considering big changes in the structure of municipal government and it would be lunacy to embark on an expensive and disruptive reorganisation of municipal government without hearing from the public first.
Question 5: Will any Bill to restructure municipal government have a Committee Stage whose duration reflects the complexity of the Bill's provisions?
Ding! Ding!
Time's up!
This email address is being protected from spambots. You need JavaScript enabled to view it.
Notes: The Beer Store owners may seek damages for breach of contract. But is this even possible given the nature of the legislation?
The Beer Store Bill states there is no remedy for the Government's breach of contract.
Yet the 2015 Master Framework Agreement negotiated and agreed between the Wynne Government and the brewers says this:
8.6 Remedies for Breach
(a) Any allegation of material breach of this Agreement (or with respect to Section 8.6(d), the Shareholders Agreement) shall be resolved pursuant to Sections 8.1 and 8.6, including the requirement in Section 8.1(b) of a Notice of Dispute. In determining whether such a material breach has occurred, an Arbitration Tribunal appointed pursuant to Section 8.1(d) and Schedule 8.1 shall treat all obligations in this Agreement, including post-termination obligations in Section 8.7, as binding and enforceable against the Province despite its status as the Crown, even where the alleged breach results from a change in legislation or public policy. (My underlining)
In late May 2019 (before the legislation passed the Legislature) the Beer Store President told the Globe and Mail:
"The government cannot extinguish our right to damages as outlined in the Master Framework Agreement."