Details

Written by

Gordon Prentice
On Sunday, in Bristol, England, the statue of the slaver Edward Colston (1636-1721) was toppled and thrown into the docks which once berthed his slaving ships.
For years, people had been calling for Colston's statue to be removed.
But nothing happened and a jubilant crowd took matters into their own hands. The statue fell after a few tugs.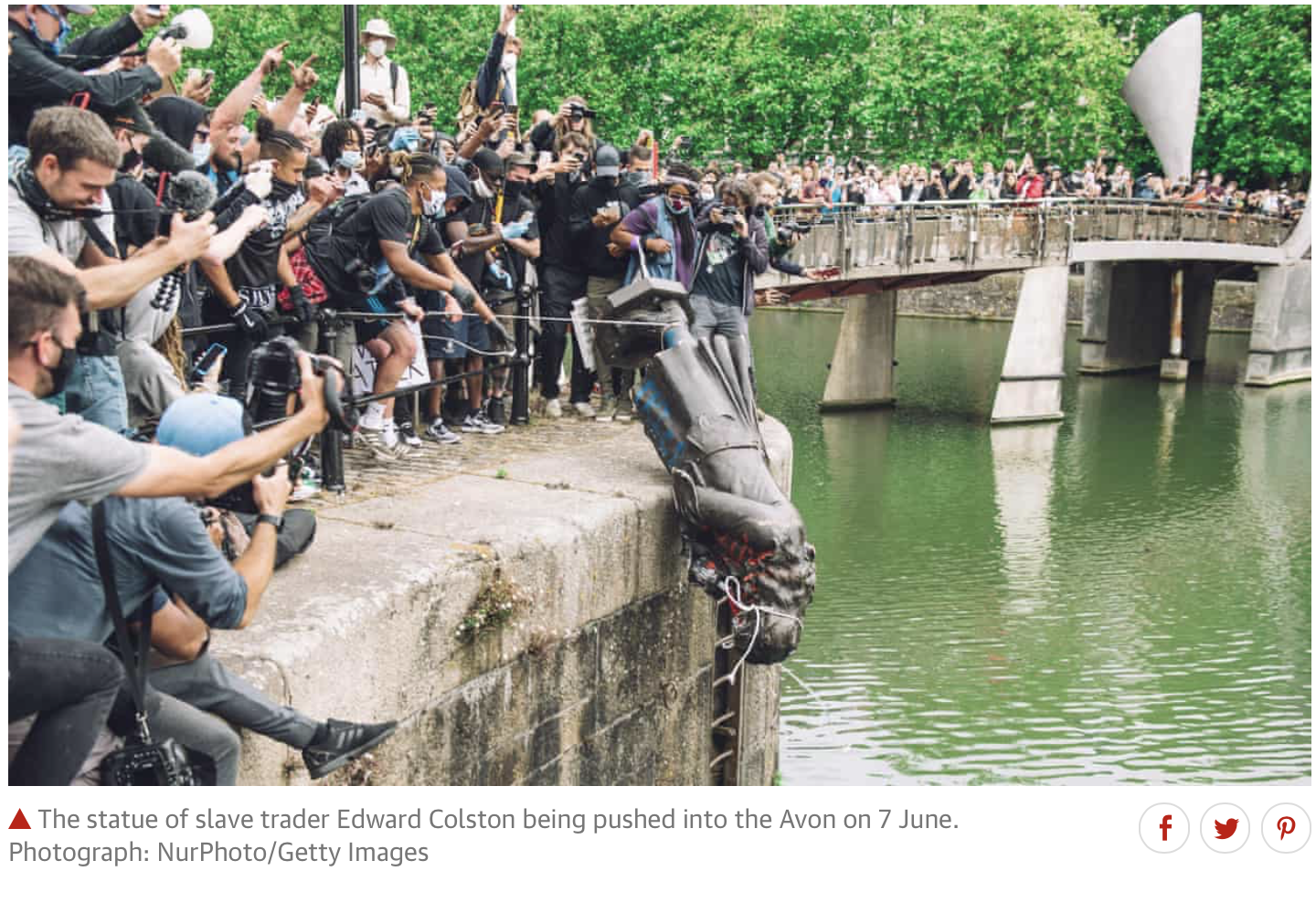 Colston was a "merchant and philanthropist" whose wealth, in large part, came from buying and selling slaves. The Oxford Dictionary of National Biography tells us he was
"a strong tory and a high-churchman who attended daily service at the cathedral when he was staying in Bristol."
Alas, we do not know if he ever prayed for the souls of the slaves he traded.
Branding
He was deeply involved in the Royal African Company whose initials, RAC, were branded on the chests of slaves, including children over the age of six.
Now, as a result of what happened in Bristol, statues all over the UK are being looked at in a new light. The Globe and Mail tells its readers that an uprising against racism "brings statues, symbols down in Britain."
Some statues will survive but they will get new plaques to set their history in context.
Many British merchants and their companies grew fabulously wealthy on the back of the slave trade. Cloth and manufactured goods were shipped to West Africa in exchange for slaves who would work in the sugar plantations of the British West Indies. The sugar (and later cotton) was sent back to Britain. This was the so-called triangular trade.
Abolition
The British Parliament abolished the Slave Trade in 1807, discounting the protests of those directly involved who predicted its abolition would bring ruin to themselves, the colonies and to Britain.
But it was not until 1833 that the ownership of slaves in the British Empire was made illegal. (The position of African slaves brought to Britain by their owners was until then ambiguous.)
Vast fortunes were made on the backs of slaves and, in a fascinating project, University College London has mapped the legacies of British slave ownership.
In Edinburgh, where I grew up, there are countless streets and monuments that link directly or indirectly to the slave trade. When I was a boy I never gave this a second thought. The horrors were never part of the history curriculum, showing the dark side of British imperialism.
Of course, terrible events in history cannot be re-written or wished away. But they can be put in context and we, in our time, must do what we can to put things right. The University of Glasgow has agreed to pay £20M (CAN$34M) in reparations, acknowledging it benefitted from bequests from those involved in the slave trade.
This is a start.
This email address is being protected from spambots. You need JavaScript enabled to view it.
(Below from the British Library: detail from a slave ship).
The Colston statue should be recovered from the River Avon and moved to the Museum of Slavery in Liverpool.
Update on 11 June 2020: Colston statue retrieved from Bristol Harbour.

Details

Written by

Gordon Prentice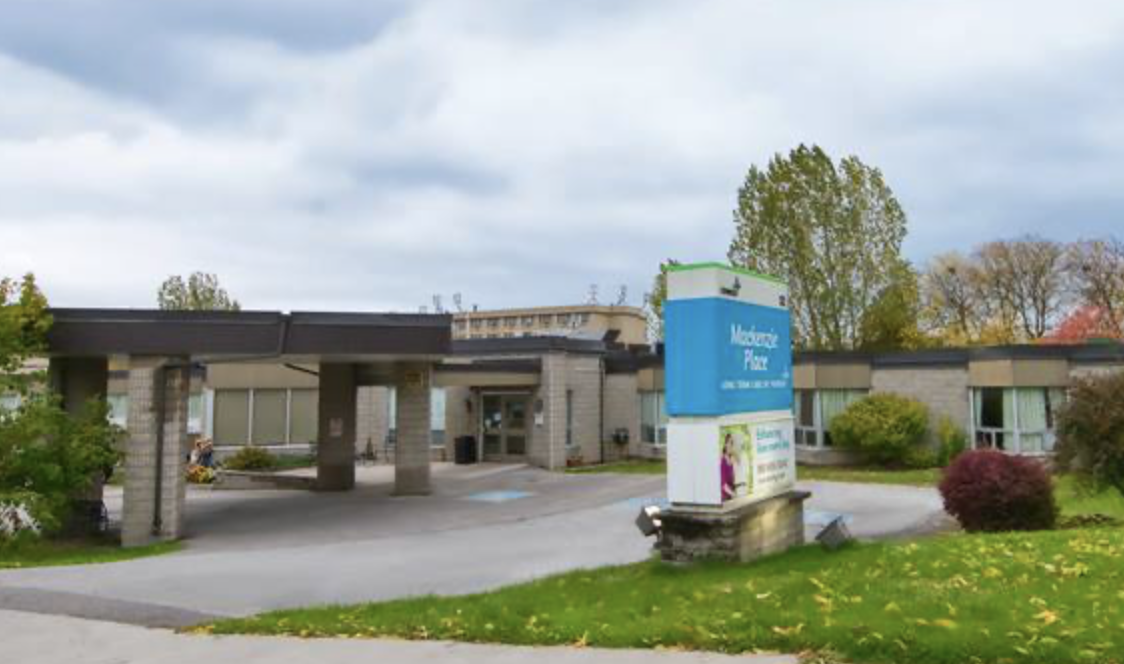 The coronavirus pandemic has brutally exposed shortcomings in many of the long-term care homes in Ontario.

But the Premier, Doug Ford, seems reluctant to accept that he is in any way responsible. In a press release today he tells us that he is fixing "what he inherited".
"As Premier, it's my job to push the system. Fixing what we inherited starts with strong leadership through this crisis and beyond to protect and care for our long-term care residents."
Yesterday, in the wake of the devastating report from the Canadian military, we learned the Province would be deploying inspection teams to long-term care homes and will be taking over the management of five of them.
Clean hands
Clearly, this crisis in long-term care has been brewing for years but for Ford to suggest he comes with clean hands to a problem he inherited is fanciful.
We know from a CBC report last month that the Ford Government scaled back comprehensive annual inspections of nursing homes to only a handful in 2019.
"…only nine out of 626 homes in Ontario actually received so-called resident quality inspections (RQIs)."
CBC News reviewed inspection reports from the last five years for all long-term care homes in the Province and found that while most received a comprehensive resident quality inspection in 2015, 2016 and 2017, the number dropped to just over half in 2018 and just nine last year."
Who ordered the change in the inspection regime?
Why did the inspection regime change so dramatically – away from unannounced comprehensive inspections to complaint and critical incident driven inspections? What was the rationale? And who ordered the change in the inspection regime?
Newmarket-Aurora MPP Christine Elliott is Minister of Health and Ford's Deputy. She gave up responsibility for long-term care on 31 August 2019 to a hived-off and stand-alone Ministry of Long-Term Care under Dr Merilee Fullerton.
Fullerton said this week that since the Ford Government was elected (in June 2018) long-term facilities across Ontario have been inspected nearly 3,000 times.
"The inspections, if you did them every five minutes it wouldn't have changed the crises in staffing in our long-term care homes."
What is to stop the government giving LTC home inspectors the power to comment on the inadequacy of staffing levels if that is what they find?
Cutting red tape
We know that the Ford Government was keen to lighten the administrative burdens on Long-Term Care Home licensees. Streamlining the licensing process was all part of the agenda to cut red tape and "make it easier for business to operate".
The Ministry of Long-term Care explains:
"The Long-Term Care Home Quality Inspection Program (LQIP) safeguards residents' well-being by continuously inspecting complaints and critical incidents, and by ensuring that all Homes are inspected at least once per year…
This is achieved by performing unannounced inspections and enforcement measures as required, and ensuring that actions taken by the government are transparent. The MOHLTC (Ministry of Health/Ministry of Long Term Care) conducts complaint, critical incident, follow up, comprehensive and other types of inspections…"
To be clear, comprehensive inspections do not occur annually and have been dramatically cut back.
Local Long-Term Care
In Newmarket-Aurora there are six long-term care homes – four in Newmarket and two in Aurora. Four are for-profit (Eagle Terrace, Mackenzie Place, Chartwell Aurora and the Willows Estate LTC Home) and two are not for profit (Southlake Residential Care Village and York Region's Newmarket Health Centre.)
(1) In Newmarket, Revera's 70 bed for-profit LTC home at Eagle Terrace last had a Resident Quality Inspection on 27 November 2017 when three written notices of non-compliance with the provisions of the Long-Term Care Act were issued. The home has seen one Covid-19 death. The complaints and critical incidents inspections are here.
(2) Revera's 93 bed Mackenzie Place in Newmarket last had a full belt and braces inspection on 26 October 2017 when four instances of non-compliance with the provisions of the Long-Term Care act were found. The complaints and critical incidents inspections are here. 15 residents have died of Covid-19.
(3) At York Region's municipal 132 bed Newmarket Health Centre LTC Home there has been no Covid-19 outbreak. It last had a full RQI inspection on 12 October 2017. The complaints and critical incidents inspections are here.
(4) In Southlake Residential not-for-profit home, managed by Extendicare, the last RQI was on 7 February 2019. The 224 bed home received 17 written notices of non-compliance. There was a Covid-19 outbreak there but no deaths. The complaints and critical incidents inspections are here.
(5) In Aurora, the for-profit Chartwell Aurora LTC Residence with 235 beds last had a full RQI inspection on 11 January 2018 when seven written notices of non-compliance were issued. The complaints and critical incidents inspections are here. 11 residents have died of Covid-19.
(6) The for-profit Willows Estate LTC Home in Aurora with 84 beds had its last RQI inspection on 9 August 2018 when 12 written notices of non-compliance were issued. There has been no Covid-19 outbreak here. The complaints and critical incidents inspections are here.
You cannot read these reports and not appreciate the immense responsibility that rests on the shoulders of those looking after frail and vulnerable people who are unable to look after themselves.
Unannounced inspections
Staff in long-term care homes need proper support with good pay and working conditions - and there must be enough of them to do the job. But let us also understand that the regulatory regime must be relentless with a return to unannounced, random inspections including stiff penalties for non-compliance.
Doug Ford and Christine Elliott could fix that tomorrow if they chose.
And whatever else they inherited that needs fixing.
This email address is being protected from spambots. You need JavaScript enabled to view it.
Update on 29 May 2020: Inspectors refused to enter care homes says Ford. And from the Toronto Star: Inspectors refused to go in. The Globe and Mail reports that Revera Inc has been fully owned by PSP Investments since 2006. The Public Sector Pensions Investments Board is a Federal Crown Corporation that invests and manages the pensions savings of public servants including members of the Canadian Armed Forces and RCMP. From Global News: Who owns the 5 Ontario long-term care homes cited by military for extreme neglect, abuse?

Note: Southlake Residential Care Village is managed by Extendicare which is a for-profit long-term care home provider. The Ministry of Long Term Care inspection report has Southlake Residential down as a not-for-profit.
Update on 30 May 2020: Ontario makes further amendments to regulations affecting care homes. From the Toronto Star: City run long-term care homes have seen fewer Covid-19 deaths. Are staff wages the reason?
Update on 2 June 2020: Patient Ombudsman opens investigation into long-term care homes. Newmarket-Aurora MPP and Minister of Health, Christine Elliott, was appointed by the Liberal Government in 2015 to be the Province's first patient ombudsman but then quit to run for the PCs in 2018. The CBC's Mike Crawley tells us (on 25 February 2020) that the Ford Government had not filled the Patient Ombudsman position since forming the Government in June 2018.
Update on 10 June 2020: From the CBC: The risk of dying is higher in for-profit long-term care homes.
Update on 30 July 2020: From the Toronto Star: Long Term Care - Commission still falls far short. And from the Globe and Mail: Families call for a Public Inquiry.
Update on 9 August 2020: From Newmarket Today: The Perils of Profit in Seniors' Housing.
Update on 26 December 2020: From the Toronto Star: For profit long term care companies pay out $170m to investors during Ontario's first wave of COVID.
Details

Written by

Gordon Prentice
Back story
In August 2018 contractors employed by the York Catholic District School Board to reconstruct the car park at the Canadian Martyrs Elementary School in London Road, Newmarket used heavy machinery to compact the ground, sending massive shock waves through adjacent homes in Harrison Drive and causing damage. No-one was warned beforehand. The Board denies liability and says residents should claim against their own home insurance policies and their insurers would, in turn, claim against the contractor's insurer. This proved impossible as insurance companies do not insure against earth movement. The Director of Education, Mr Ab Falconi, decided home owners should foot the bill for the damage caused by the School Board's contractor.
The Director moves on
Ab Falconi, the Director of Education at the York Catholic District School Board, is retiring in August (photo right).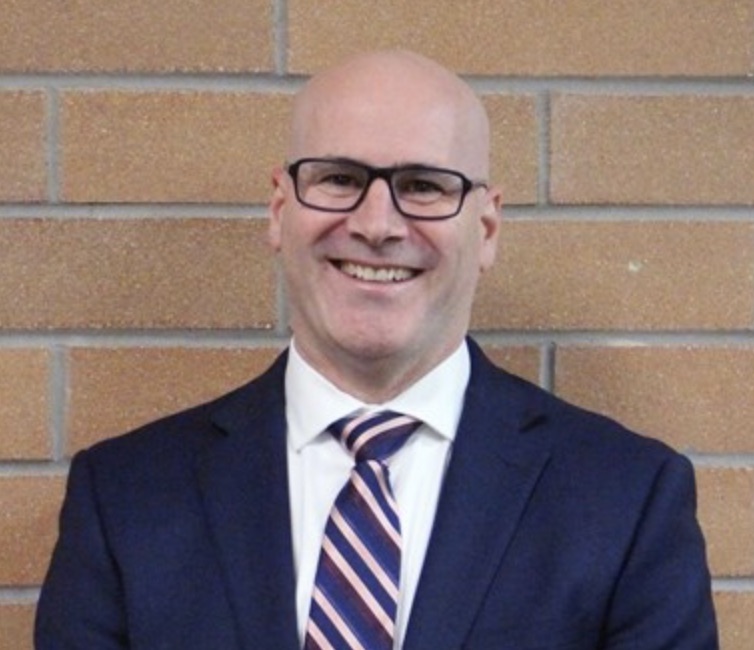 Newmarket Today records Mr Falconi's huge accomplishments in his two years at the helm.
Clearly, he has left his mark on Catholic education but not, alas, on the School Board's records and information management policy which, to this day, rests on a manual that has not been updated since 1997.
I hope the new Director of Education opens a file on complaints. Remarkably, in this day and age, the School Board doesn't keep any records of complaints. They have no way of knowing who has ever complained about anything.
Complaints
And it's not as if the York Catholic District School Board never gets complaints.
When construction vibration from the Catholic Martyr's Elementary School damaged adjacent properties in Harrison Drive, Newmarket in August 2018 residents complained – and were left to repair the damage out of their own pockets.
Hopefully the Town of Newmarket will do the right thing and protect its residents from rogue organisations that damage people's property and walk away. It happens more often than you'd think.
The Town is to consider a possible by-law on property damage caused by construction vibration later this year, sometime between July and September. The promised report has slipped before but no worries, the coronavirus has put a spoke in many of the departmental work plans.
More time needed
The revised workplan tells us:
"Additional time needed to liaise with Legal Services to ensure there is a legal means to require/enforce the recommended measures."
Over a year ago, in March 2019, a report from Planning staff went before councillors which said this:
"Over the course of the review, staff contacted numerous municipalities to determine how they deal with vibration issues from construction activities in their communities.
Of the responses, it appears few municipalities (with the exception of the City of Toronto) have standard requirements for vibration considerations and only require review when a development proposal is in proximity to a rail line."
Toronto has had a Vibration By Law since 2008. Perhaps we can learn from them.
This email address is being protected from spambots. You need JavaScript enabled to view it.

Details

Written by

Gordon Prentice
Bob Forrest's calculated and deliberate decision to order the destruction of one of Newmarket's most historic buildings is without precedent in Ontario. And he got off with a smack on the wrist.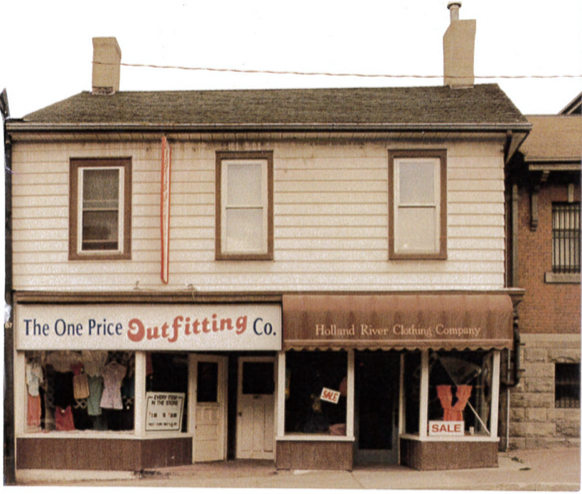 The Town decided not to prosecute, reaching agreement with him without going to Court. He was very lucky.
On the evening of 9 October 2019, the Simpson Building in the Town's historic Main Street was unlawfully demolished. The storied building, dating from the 1840s, was the apothecary of Ontario's first female pharmacist, Anne Mary Simpson. It lay smack bang in the middle of the Town's only Heritage Conservation District.
Demolitions
I contacted each of the 54 Ontario municipalities with Heritage Conservation Districts (HCD) and heard back from every one of them. Many, like Newmarket, have a single HCD. But at the other end of the spectrum we have Ottawa and Toronto with 20 each.
I wanted to know if any of these municipalities had ever brought a prosecution under S42(1)(2) of the Ontario Heritage Act and/or S8 of the Building Code Act for an unlawful demolition within a Heritage Conservation District. (Click on the "Read more" link below.)
Only two reported unlawful demolitions in their Heritage Conservation Districts where prosecutions were brought under the Ontario Heritage Act. But even in those cases the circumstances were very different from those in Newmarket.
Avoidable tragedy
Forrest knew exactly what he was doing. As part of the process for securing planning permission for his condo in the middle of the old downtown he ended up commissioning not one but two Heritage Impact Assessments on his Main Street properties. He was aware of the historic importance of the building.
Looking back, what happened was an avoidable tragedy. However, a new report from the Town's planning staff gives us hope that nothing like it will ever be allowed to happen again.
The Town's new Heritage Planner, Patricia Cho, pledges to beef-up the enforcement of the Property Standards By-Law
"to better ensure compliance with heritage provisions".
The report tells us heritage buildings should be protected against demolition by neglect. In future, planning staff with cultural heritage expertise will accompany enforcement officers when inspecting heritage buildings.
Shocking truth
This deserves a round of applause but it must be carried through in practice.
The shocking truth is that Bob Forrest's empty heritage buildings on Main Street were allowed to decay for years before our very eyes. We got used to seeing blue tarpaulins flapping in the wind, supposedly protecting the interiors from the elements.
Since those days we have mercifully seen a change of guard in the Planning Department. And the former Mayor, a keen supporter of Bob Forrest's condo plan, is now MP for Newmarket-Aurora and out of things.
I see grounds for optimism.
This email address is being protected from spambots. You need JavaScript enabled to view it.
Details

Written by

Gordon Prentice
Why did Newmarket-Aurora MP, Tony Van Bynen, miss the key House of Commons Health Committee meeting yesterday concerning the crisis in long-term care? Instead he travels 412km to Ottawa to read a question about agriculture from a script, which lasts 25 seconds.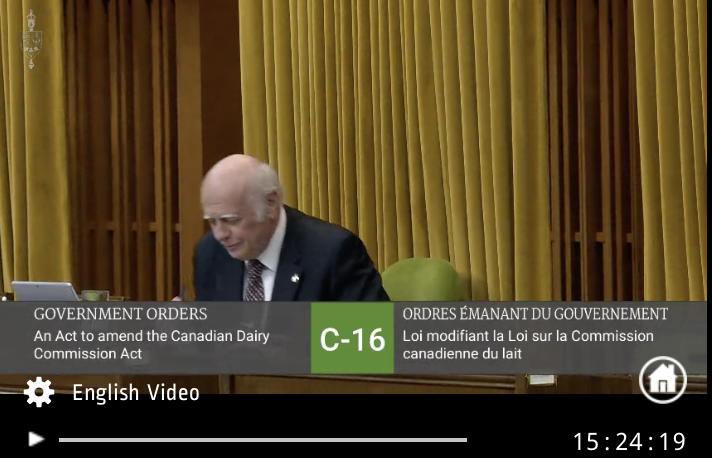 I suppose it is a question of priorities.
This is Van Bynen's zinger:
"Mr. Speaker, my understanding is that the Conservative government cut $400 million in 2013 from the AgriStability fund and the business risk management programs. Why is it now, when we are improving the program, that this is such a significant improvement?"
Gobbledegook
This gobbledegook has, apparently, some relevance to Bill C-16 which amends the Canadian Dairy Commission Act to increase the Commission's borrowing powers. The Bill is supported by all Parties in the House and there is no need for a roll-call vote.
Shortly after Van Bynen rises in the Commons Chamber the Health Committee gets underway by teleconference with evidence on long-term care from a number of experts.
To cover for him while he is away in Ottawa, Van Bynen asks Markham-Stouffville MP, Helena Jaczek, (Liberal) to take his place. (The Standing Orders of the House of Commons allow for the appointment of "acting members".)
Knows her onions
Helena Jaczek certainly knows her onions. She is a medical doctor by training and was the Minister for Community and Social Services in Kathleen Wynne's Liberal Government from 2014-2018 and Ontario's Minister of Health and Long-Term Care in 2018.
She asks a series of pertinent questions. She wants to know, for example, what the Federal Government should be doing to assist in the redevelopment of long-term care homes which are outdated and no longer fit for purpose. We are told that homes with more modern designs have had greater success in preventing the spread of Covid-19.
I watch the entire three-hour committee session and, though the technology played up from time to time, I find it informative and learn a lot.
Sticking to the script
Sadly, we don't get the chance to see Van Bynen at work, quizzing the experts on how we should tackle the crisis in long-term care. What issues would he raise? Would he express a point of view? Would he ask penetrating follow-up questions based on what he had just heard? Or would he stay safe, metronomically sticking to a script?
Van Bynen had lots of material to draw on. One of the worst outbreaks in the whole of York Region is in his Newmarket-Aurora riding at Revera's Mackenzie Place in George Street.
This is what Newmarket Today tells us in its latest update:
In Newmarket, institutional outbreaks have caused 144 cases and 13 of its 16 COVID-19 related deaths. A Newmarket man, 57, was the first individual to die of a workplace outbreak acquired case.
Outbreaks remain active at five facilities in Newmarket, including at Mackenzie Place, which has one of the most severe outbreaks in long-term care homes in the region with 80 residents and 24 health-care workers testing positive, as well as 11 deaths.
AgriStability
I now know what my MP thinks about ancient Conservative cuts to the AgriStability fund and the business risk management programs.
But I don't have a clue on how he would go about fixing the crisis in long-term care and whether the private sector should still have a role.
This email address is being protected from spambots. You need JavaScript enabled to view it.
Update on 15 May 2020: From Newmarket Today: Two more deaths at Mackenzie Place bringing the total to 13.
Update on 16 May 2020: from the Toronto Star: for-profit nursing home chains make big payouts to shareholders, execs.
Update on 18 May 2020: Latest on the local impact of Covid-19 from Newmarket Today:
"Fourteen residents of Mackenzie Place have died as a result of the outbreak that continues to have the highest number of COVID-19 cases in the region, with 80 residents and 24 health-care workers at the 93-bed home testing positive."
How Tony Van Bynen MP spends his time. Tweeting furiously. Signalling non-stop activity.