Details

Written by

Gordon Prentice
Yesterday (14 February) Newmarket Council held a workshop to consider the Library's new Strategic Plan.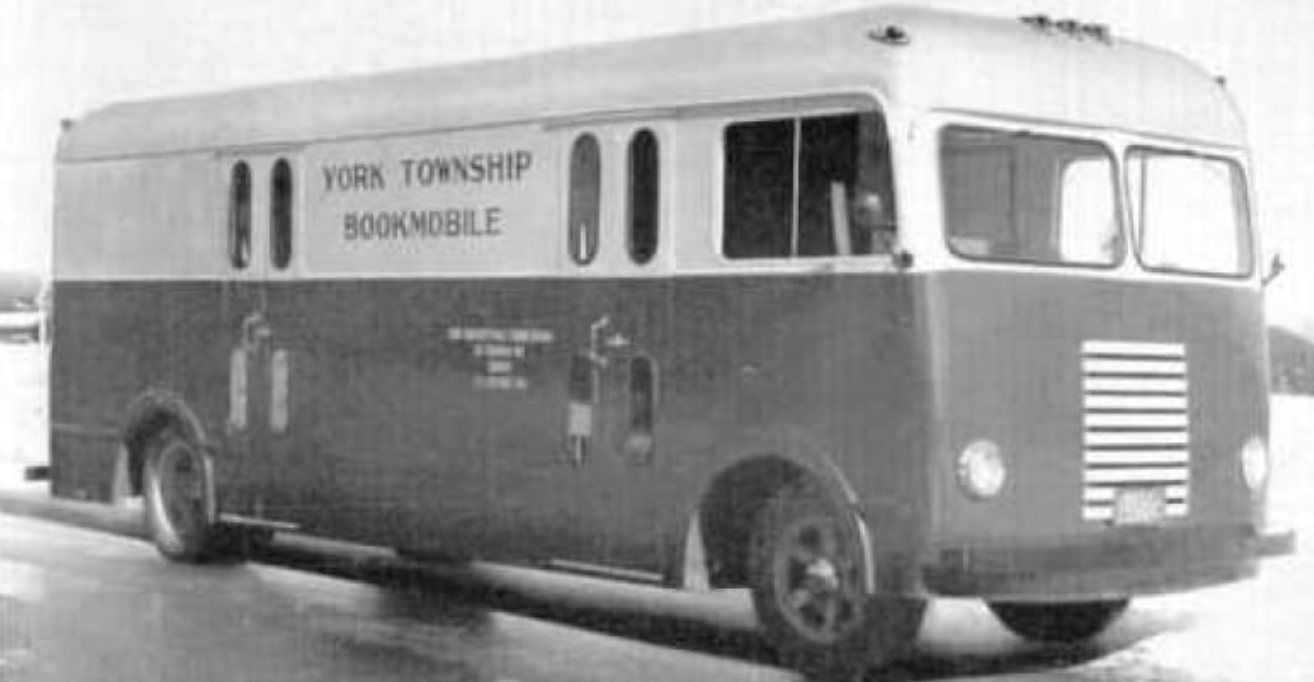 There was a presentation from the Library's new Chief Executive, Tracy Munusami, but, unfortunately, no Strategic Plan. We learn that comes along later. The CEO says it is still in draft form.
Hmmmm. I think it's overdue.
There is a lot of talk of initiating and igniting things. And challenging, inspiring and leading. This is the standard – and very clichéd - lexicon from the folks who are reinventing libraries. Making them more relevant to a diverse community etc etc. Sweeping books off the shelves to make way for the preposterous "Lendery" where people can borrow pots and pans.
The Mayor, John Taylor, overcome by the slide-show's messaging, hails the "renewed vision" and the "renewed energy". I laugh as I hear this.
Whatever happened to the new Library?
Deputy Mayor Tom Vegh thanks everyone for all their hard work and for the presentation but says he has one question, which, as it happens, is rather important.
"I was on the library board previously and I was involved in two different strategic plans and in both those strategic plans a new facility was highlighted, like right at the top of the list. And I notice that your strategic plan doesn't include that. Maybe you can explain why. Or perhaps that's just the new way that you vision the library - that the existing building that you have is adequate. I just noticed that and it stood out to me by its absence."
The Mayor chortles and says he doesn't remember this promise of a new library.
Library Board member Victor Woodhouse, a former financial analyst, laughs out loud and tells the Mayor to mild amusement that, later on, he is going to ask Council to approve $25M for a new library.
Someone refers to Councillor Woodhouse as Councillor Woodhorse which I think I prefer.

Let's get the basics right
A Board Member, Darryl Gray, gabbling at a million words a minute, tells us the Board had:
"conversations about this need, this historic need, for a new library or the perception of the historic need for new library.
And one of the things we agreed as a board we wanted to do was make sure… the services that we delivered to the community (were) right, before we even went down that road."
So there you have it. The Board doesn't want to talk about a new library until they get the basics right.
Regional Councillor Tom Vegh fought the last election promising a new library. He told the voters:
"The debate over the need for a new public library is long over. The only question now is where and when."
Why Doesn't Tom Vegh Stand Up for Himself?

Vegh seems blindsided by the presentation and the fact that the promise of a new library is nothing more than a laughing matter.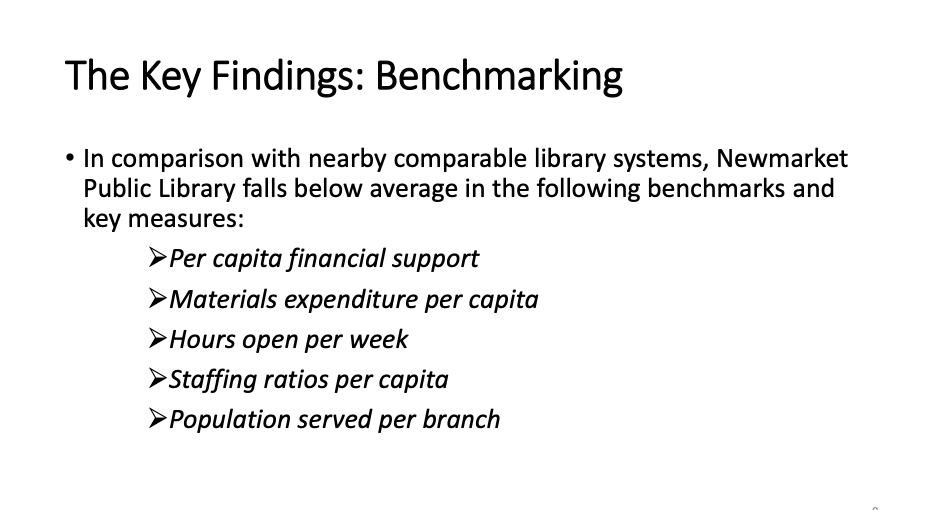 Tom Vegh is a full-time elected member, paid accordingly. Why didn't he wander into the library and ask for a meeting with the new Chief Executive? Why didn't he ask what was happening? Wasn't he curious? That's what the library wants to encourage – curiosity.
And why didn't he stand up for himself when the Mayor and Councillor Workhorse were laughing at him?
Vegh could have called in aid the previous Library Chief Executive, Todd Kyle, who, over his ten years at the helm, became increasingly outspoken, telling councillors that, on all the key metrics, Newmarket Library was way behind its comparators.
We need new benchmarks that put Newmarket at the top!
Now the Mayor is wondering aloud about the uselfulness of these old-fashioned, fuddy-duddy benchmarks when so much in the library world is changing. There's YouTube and lots of other digital sources of information. Books can be delivered to residents by drone! (I made that one up.)
Now Ward 5 councillor Bob Kwapis is telling us the library is a vital hub in his downtown patch. It shouldn't be going anywhere!
Ward 7 councillor Christina Bisanz isn't so sure. She says there are lots of people in the new sub-divisions who probably have no idea the Town has a library.
Someone mentions a mobile library.
That's the way forward! Who would have thought of that?
Newmarket Public Library is going back to the future!
This email address is being protected from spambots. You need JavaScript enabled to view it.
Update on 23 February 2022: From Newmarket Today: Newmarket Deputy Mayor says new library is needed, but Town not pursuing
The cast of characters: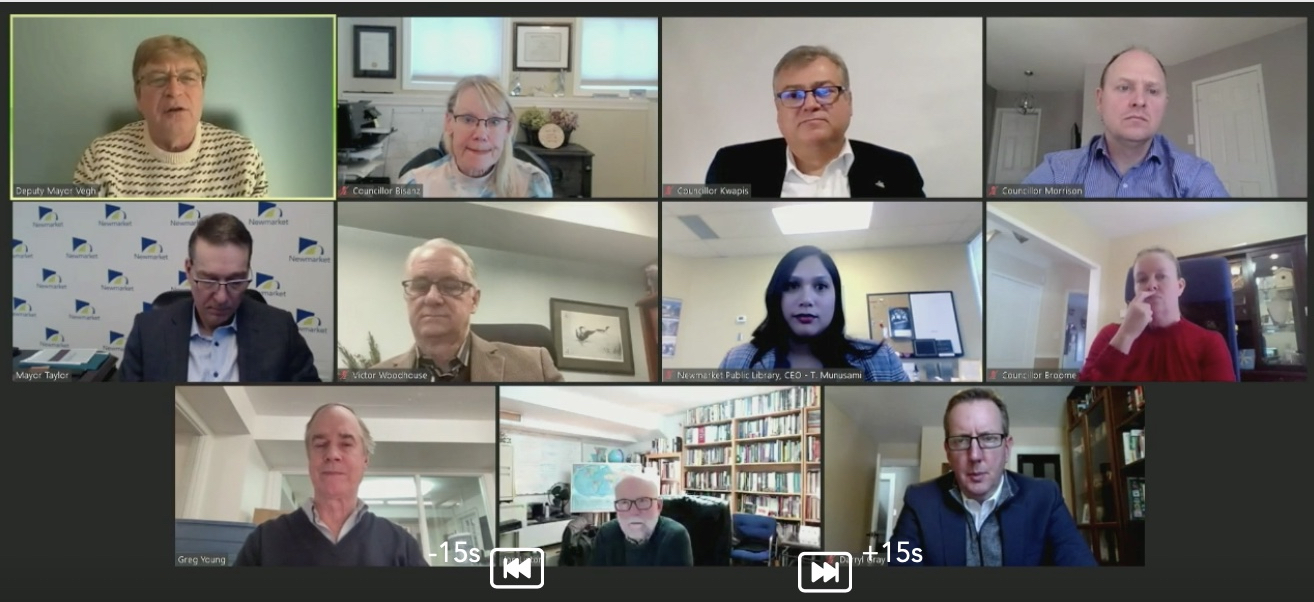 And what Tom said in October 2018 when running for election as Deputy Mayor and Regional Councillor: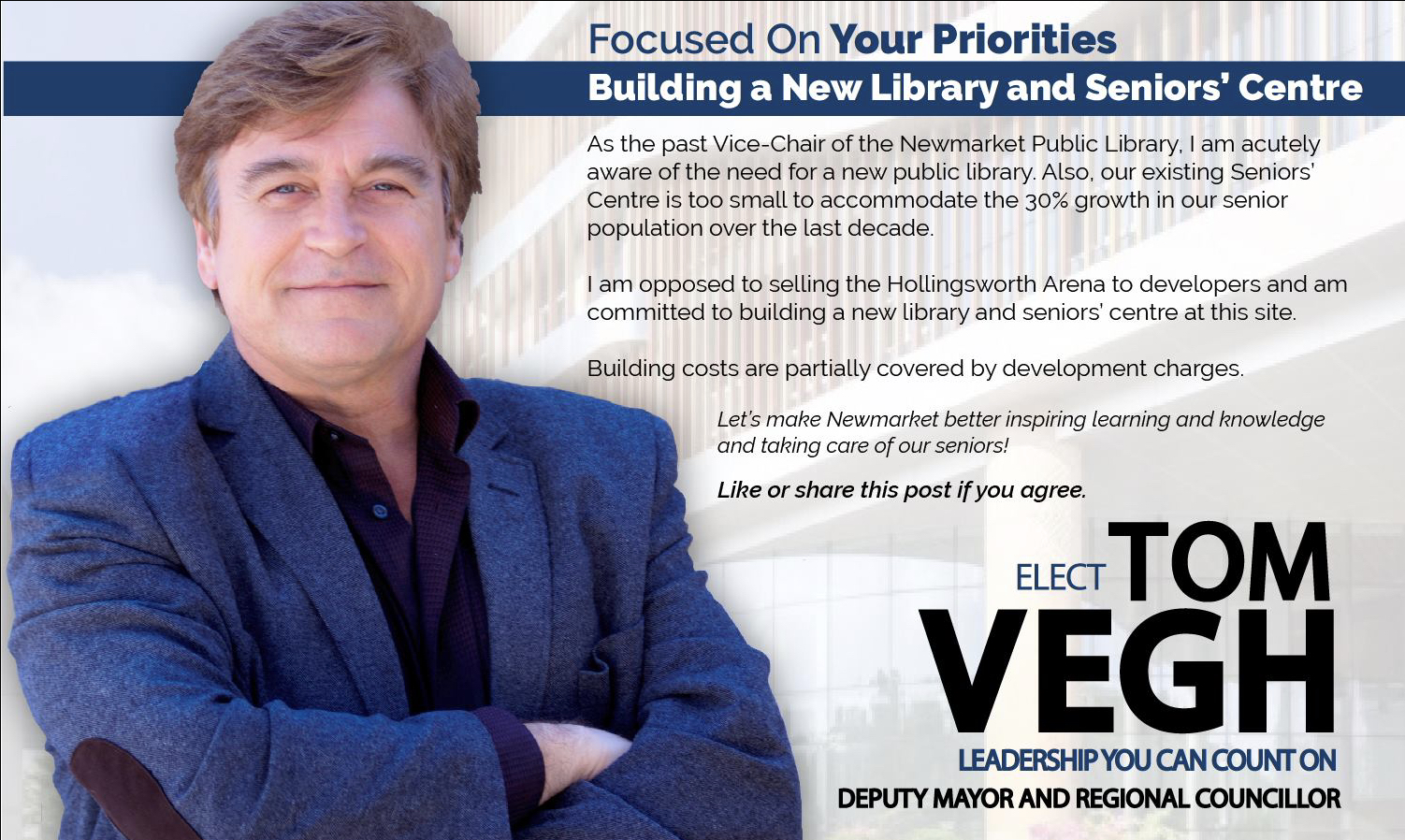 Details

Written by

Gordon Prentice
The Bradford Bypass will not get a Federal Impact Assessment after all.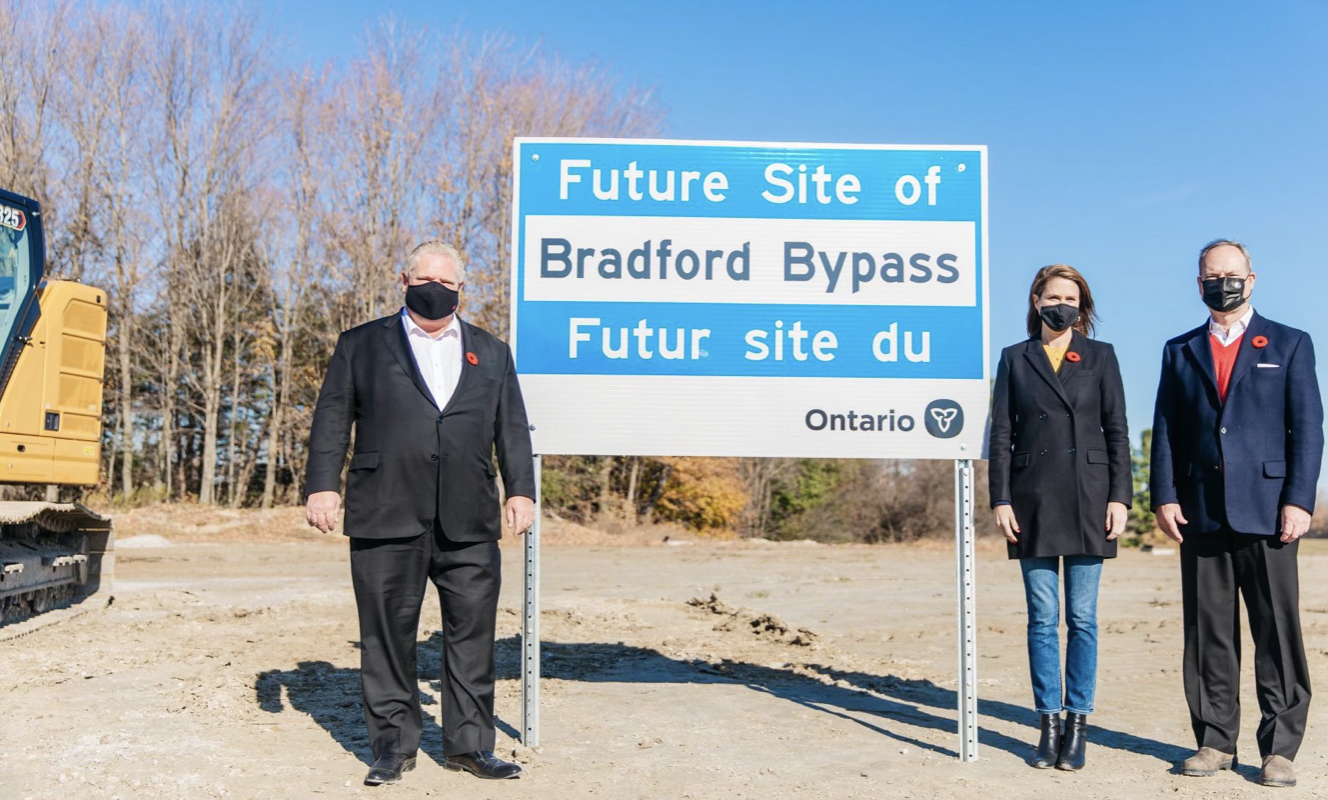 Bypass opponents had been pinning their hopes on the new Minister for the Environment and Climate Change, Steven Guilbeault, who, alas, turns out to be a damp squib. He came to the conclusion
"there is no basis to revisit the former minister's determination."
The Federal route is a dead end.
Bypass Petition
Guilbeault's decision swiftly followed Leah Taylor Roy's presentation of her bypass petition to the House of Commons last Tuesday. The new MP for Aurora-Oak Ridges-Richmond Hill reminded MPs that:
"the existing assessment was done over 25 years ago, in 1997, and on October 7 of last year, the Ontario government exempted this project from a provincial environmental assessment…
"The bottom line is that these petitioners are asking the federal government to do its duty, because the Province of Ontario did not. It is the Government of Canada's duty and responsibility to deliver on both ensuring the climate change targets that Canada committed to on the international stage and, more importantly, ensuring that we do everything we can to protect our fragile ecosystem."
Her pleas fell on deaf ears.
I don't know if she had a one-to-one conversation with the Minister before he made his announcement – or if she had the active support of my own MP, the Delphic retired banker, Tony Van Bynen. But I rather doubt it. I suspect she was on her own.
So, what next?
Everything now turns on Doug Ford losing his majority in the provincial election on 2 June 2022. And the NDP and Liberals coming to some kind of accommodation if neither wins an outright majority (which, as I write, seems likely).
Last November iPolitics told us the NDP would cancel the bypass and the Liberals would consider building it:
but Leader Steven Del Duca said in an email that "no shovel should go in the ground until all the relevant studies, including the environmental assessment, have been updated in an open and transparent way."
Del Duca, who has always been robust in his criticism of Highway 413, is much more nuanced when it comes to the Bradford Bypass. For some time now he has been sending out signals that if the municipalities want the bypass they can have it.
But things are not so straightforward. Municipalities in favour of the bypass are also calling for updated environmental studies.
Wilkinson got it right
The Minister, Steven Guilbeault, refuses to intervene, saying his predecessor, Jonathan Wilkinson, got it right when he concluded in May 2021 that:
"the regulatory review processes that apply to the Project and related consultations with Indigenous peoples provide a framework to address the potential adverse… effects and public concerns raised in relation to those effects."
But four months later, in October, the Ford Government exempted the Bradford Bypass from key requirements of the Environmental Assessment Act 1990 using regulation 697/21.
On 13 January 2022, York Region's Committee of the Whole quizzed officials from the Ministry for Transportation about this very issue.
Newmarket's Mayor John Taylor wants to know what the Ministry doesn't have to do now – thanks to regulation 697/21 - that they would have had to do before.
We wait to hear.
This email address is being protected from spambots. You need JavaScript enabled to view it.
See also the analysis behind Jonathan Wilkinson's decision of May 2021.
Click "read more" to read the reaction from Groups calling for updated environmental studies.
Details

Written by

Gordon Prentice
It's official.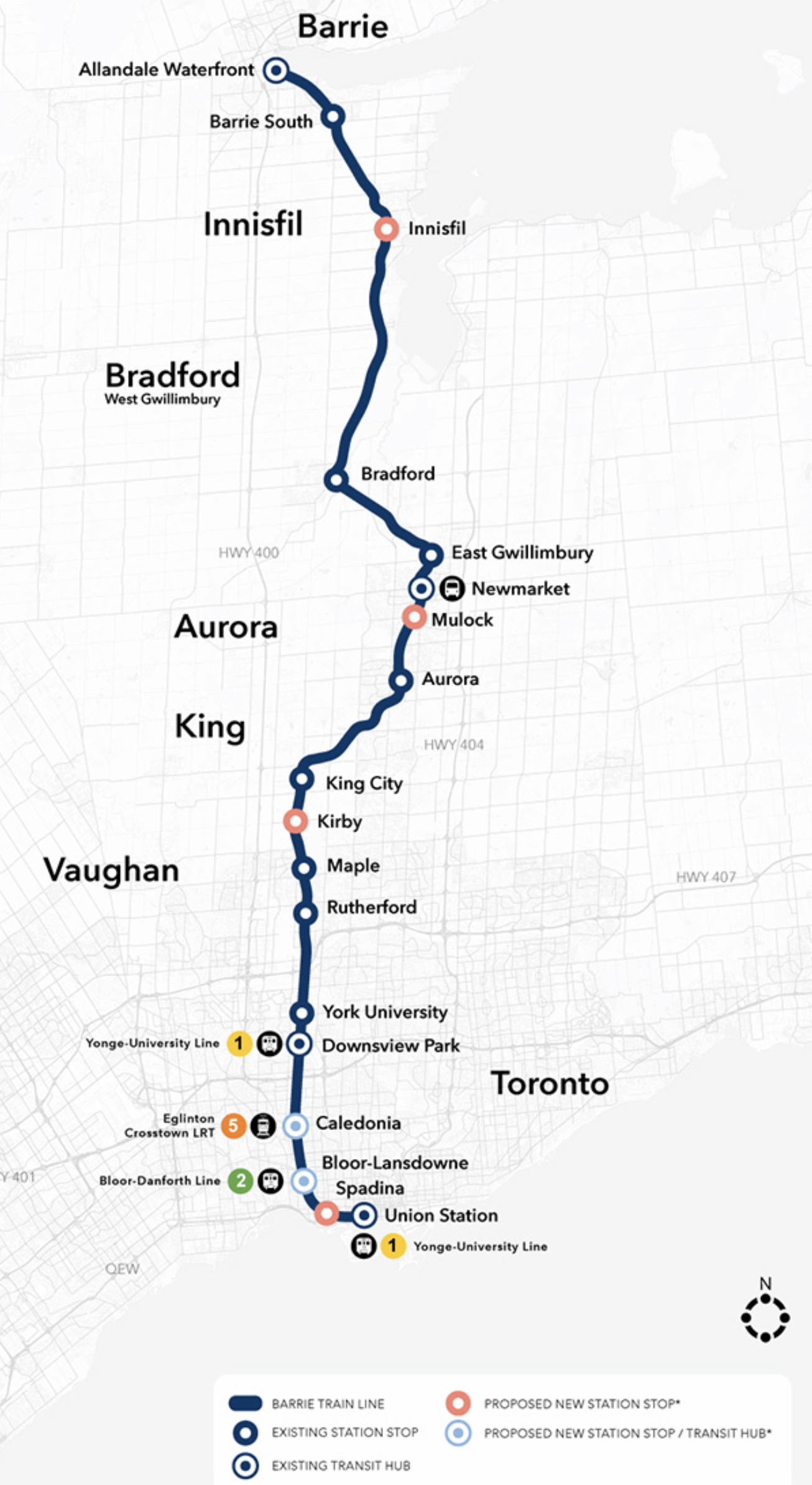 Our neighbour to the north, East Gwillimbury, is the fastest growing municipality in Canada.
It is a Town on steroids.
Between 2016 and 2021 its population increased by an eyewatering 44.4%.
By contrast, Newmarket's population grew by a modest 4.4% over the same period.
This explosive growth has consequences. How are people to get about in future? Will they drive huge distances in their daily commute? Or will they let the train take the strain?
GO expansion
The expansion of GO Rail, initiated by the Kathleen Wynne Government, was absolutely the right thing to do. It is a program that is far-sighted and much needed.
It will bring huge benefits to Newmarket and to communities all along the corridor. It will take traffic off the roads. There are no downsides.
Six months ago to this very day, Metrolinx told East Gwillimbury Council that it would extend the planned all-day two-way 15 minute service north from Aurora to Bradford. Metrolinx said it could do so
"thanks to further study and optimisation of service plans".
Grade Separations
I'd like to see these plans. What assumptions has Metrolinx made which would allow it to run fast and frequent trains through Newmarket? Will there be grade separations at Mulock Drive and Davis Drive? And, if so, who will pay for them? These are big questions but the sooner Metrolinx lets us into its thinking the better.
On 7 December 2021, East Gwillimbury's Community Infrastructure chief, Mike Molinari, told councillors:
"Metrolinx will be extending 15-minutes all-day two-way electrified go train service through East Gwillimbury through to Bradford GO Station. I look forward to that. That will serve the town very well in the coming years.
Also was good news the grade separation on Green Lane for the rail line is being actively discussed with York Region and Metrolinx for planning and delivery. That's not confirmed that it's happening, but discussions are dancing with respect to that and we will make sure that we keep Council apprised of the outcomes on that.
We will continue to meet with Metrolinx and the region and we've actually asked for Metrolinx to provide regular project updates to us and come to council periodically to provide updates on this very important initiative…."
Later that month, when I asked East Gwillimbury staff if there would be grade separations in Newmarket to allow Metrolinx to run a 15 minute service to Bradford I was told:
"We do not have these details in hand and will continue to work with Metrolinx to understand their implementation strategy."
Planning assumptions
That really isn't good enough. Metrolinx doesn't have to play its cards so close to its chest.
It must be possible for Metrolinx to share its planning assumptions with the municipalities directly affected by the decision to take the 15-minute service north from Aurora to Bradford.
Newmarket Mayor, John Taylor, is pressing Metrolinx for more information and says he will be working closely with neighbouring municipalities. He raised the issue at York Region's Committee of the Whole on 11 November 2021 with the Acting Commissioner of Transportation Services, Ann-Marie Carroll, who seemed caught off guard and completely unprepared. Yet York Region is currently drawing up its new Transportation Master Plan.
She told Taylor there would be money in the Budget for grade separations but we don't know the details. She says a number of grade separations will be required over the next thirty years but gives no indication which locations will be prioritised or how long the necessary studies will take. (To read the exchange click "Read more" below)
Grade separations can change the streetscape very significantly – a point Taylor stresses – and they can cost an arm and a leg. So, I ask again, are grade separations needed in Newmarket to deliver a 15-minute service and, if so, who pays?
These are very big issues.
And with a provincial election a little over three months away it is time for Metrolinx to share its planning assumptions.
Before the politicians start sharing theirs.
This email address is being protected from spambots. You need JavaScript enabled to view it.
Read more: The fastest growing municipality in Canada, East Gwillimbury, is promised an all-day two-way 15...
Details

Written by

Gordon Prentice
Two months ago Doug Ford asked a group of "experts" – including former PC leader Tim Hudak – to come up with recommendations to address housing supply and affordability issues.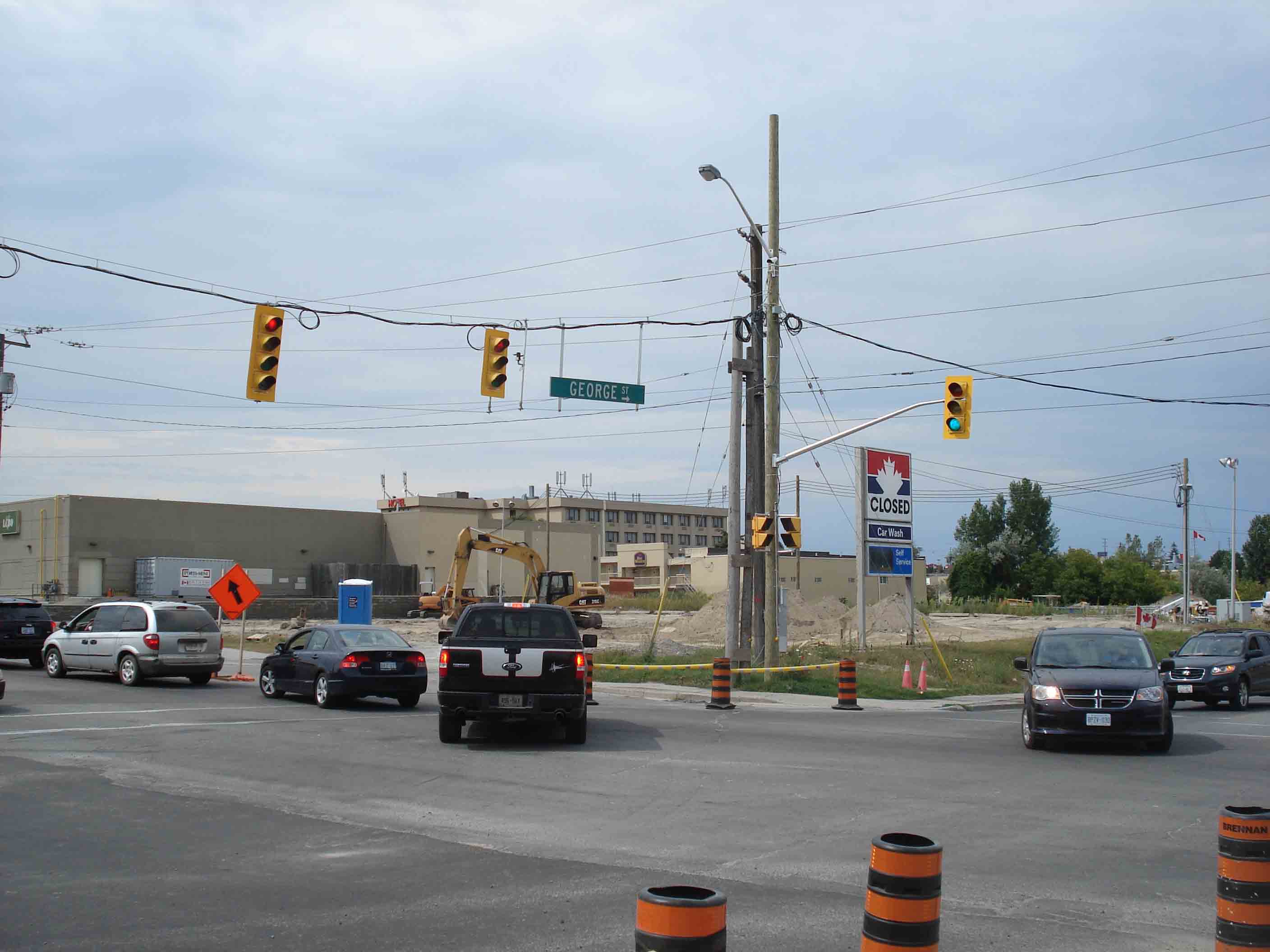 The Housing Affordability Task Force has just published their report and conclusions.
The Globe & Mail is enthusiastic:
"On Tuesday, the Province of Ontario unveiled a bold new housing blueprint. Just two months ago - with a provincial election this spring, and housing a top issue - the Doug Ford Government rushed together an expert panel on housing affordability. The main goal was to increase supply..."
There is a painless way to start increasing supply: force developers to act on the planning approvals they have.
The Task Force report says this on page 22:
Municipal leaders... shared their frustrations with situations where new housing projects are approved and water, sewage and other infrastructure capacity is allocated to the project – only to have the developer land bank the project and put off building.
They believe the answer is to:
Enable municipalities, subject to adverse external economic events, to withdraw infrastructure allocations from any permitted projects where construction has not been initiated within three years of build permits being issued.
This limp sanction is not enough.
Here in Newmarket, developers with planning approval are asked every year if they intend to start work on their project in the next twelve months and, if not, the servicing allocation is redirected elsewhere.
It doesn't make a blind bit of difference to the developers. If they don't want to build, they won't. I've been complaining about this for years.
Land-banking
Tri-Cap is the most egregious local example of a developer land-banking and refusing to build.
Planning approval for a 280 unit 20 storey condo at the intersection of Davis Drive and George Street was granted in 2009 (photo above). Around the corner, at 22 George Street, planning approval was granted 28 years ago for a 12-storey condo with 115 apartments. Almost three decades later it is still a patch of dirt. Why is this allowed to happen when there is so much housing need?
And to add insult to injury, hundreds of millions of dollars of public money has been spent on the Davis Drive corridor, making it ready for intensification, yet the developer sits on his hands, waiting for land values to increase.
Sunset clauses
There is a powerful case for sun-setting planning approvals, revoking them if they are not acted upon within, say, three years.
We know Doug Ford, won't do this. He is the developers' friend.
But will the Liberals and NDP put it in their election platforms?
If not, why not?
What on earth is there to be afraid of?
This email address is being protected from spambots. You need JavaScript enabled to view it.
See also: Ontario's Housing Supply Action Plan
Details

Written by

Gordon Prentice
What does it say about the state of the Conservative Party when a photo of the interim leader, Candice Bergen, wearing a "Make America Great Again" cap passes without comment?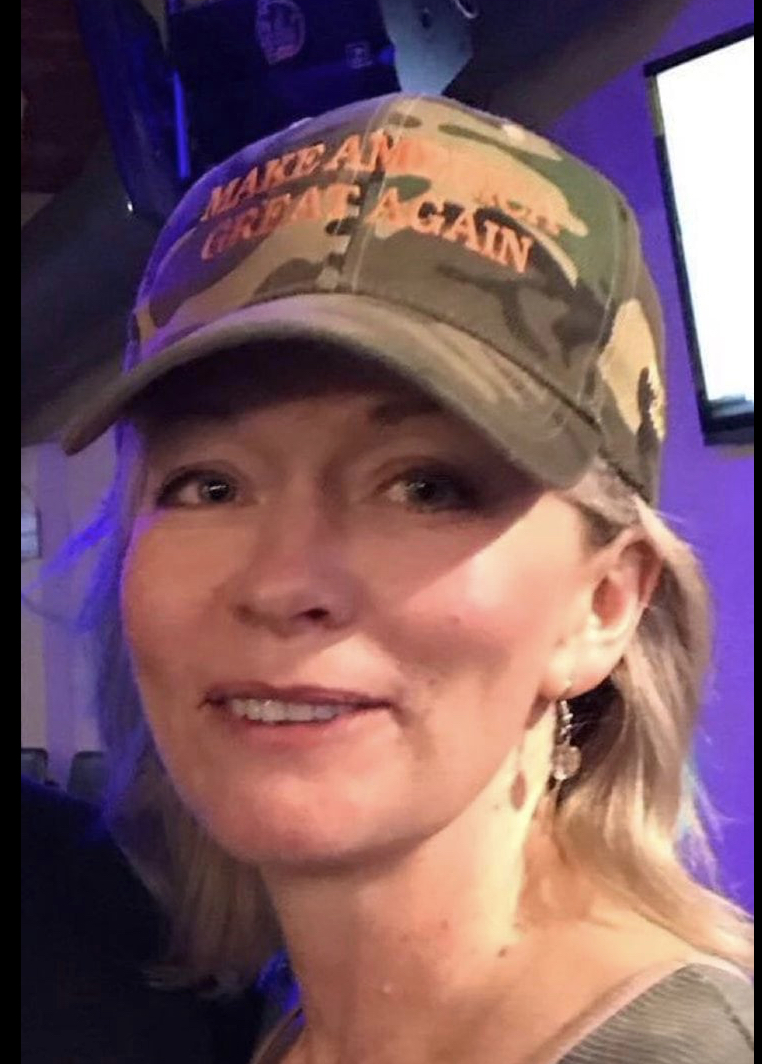 Or that the convicted fraudster Conrad Black is the star attraction in a fundraising event held by Peter Mackay last Thursday (3 February).
Astonishingly, Mackay has still to pay off all the bills he ran up when he contested the Conservative leadership in 2020 and lost to yesterday's man, Erin O'Toole.
Despite this, we are told he is thinking about throwing his hat into the ring again.
Who can afford to run?
I am left wondering how many "everyday Canadians" (as some politicians loftily say) could possibly afford to run without breaking the bank.
In 2017 contenders were given a month to raise an entry fee of $100,000. By 2019, the rules were changed to set the entry fee at $300,000. I've no idea how high the bar is going to be set this time. But $500,000 would certainly discourage the riff-raff.
To get on the ballot in 2020, the wannabe leaders also had to get endorsements from 1,000 party members drawn from at least thirty ridings across seven Provinces.
Patrick Brown. Seriously?
Among those testing the water this time around is Brampton Mayor, Patrick Brown. I simply cannot believe he is serious. If he goes for it there will be a cascade of embassassingly bad news – much of it sourced from his own acidic little autobiography: Takedown: The Attempted Political Assassination of Patrick Brown.
The detailed rules and procedures of the leadership election have yet to be set but we know the Conservatives' National Council has struck an ad hoc committee to come up with names for the Leadership Election Organisation Committee. This Committee is comprised of (but not limited to) six National Council members from different regions plus one Senator, one MP and one Conservative Fund Canada.
Gaming the system
Every member of the Conservative Party will have a preferential vote in their home riding. And each electoral district will be allocated 100 points or 1 point per vote cast, whichever is less.
Weighting votes in this way gives ridings with smaller memberships a bigger say in the outcome. So candidates game the system by courting tiny memberships, often in remote localities. They tell them what they want to hear. This is what O'Toole did so successfully last time round, racking up support in rural Quebec.
Reform Act 2014
Erin O'Toole was forced out as leader thanks to the Reform Act 2014 which gives the Party caucus at its first meeting after each election the right:
to determine what powers within the Parliamentary party belong to MPs and which stay with the leader. Those powers include the decision to oust an MP from their party caucus, or to call for a party leadership review.
Under the old Westminster model, MPs were responsible for choosing their leader. Then the franchise was widened to include all Party members – often signed up at the last moment. This was heralded as a great step forward, giving many more people a say. But it also had the perverse effect of cementing the leader in place, making it impossible in practice to remove them. The Reform Act changed all that.
Instant members
Andrew Coyne, writing in Saturday's Globe and Mail, put it this way:
"… leaders have come to be elected by the membership at large – supplemented by tens of thousands of "instant members" with no previous allegiance to the Party – leaving the leader, between elections, accountable to no-one"
He goes on:
"If caucus can no longer be compelled to accept a leader who is repugnant to it, that implies it should also have a say in choosing the leader."
For now, he says, the die is cast. But the way around that contradiction is to give MPs a much greater say in the nomination process. So, to get on the ballot a candidate for leader would need the declared support of, say, 15% of the Parliamentary caucus.
But above all else, the Conservatives need to have an honest debate about their Party and what it stands for in today's Canada.
Authenticity
That involves candidates being their authentic self, telling party members what they really think about the big issues and not triangulating or finessing their views to suit the moment.
However, in today's politics, where technology allows voters and their preferences to be sliced and diced, sorted and categorised, that's a big ask.
Personally, I prefer politicians who say what they mean and mean what they say.
At the end of the day, to do otherwise is to cheat the voters.
This email address is being protected from spambots. You need JavaScript enabled to view it.
From the Hill Times 7 February 2022: