Details

Written by

Gordon Prentice
Tom Vegh says he protects the countryside but the facts say different. His votes on York Regional Council open the way for the development of prime agricultural land in Ontario.
Here is my take on it.
Check out this clip on You Tube.
Gordon Prentice 15 October 2022
Details

Written by

Gordon Prentice
We need a 15 minute all-day-two-way GO Train to and from Newmarket. ASAP. No excuses.
I am absolutely determined to get this moving.
Check out this clip on You Tube.
FACT CHECK: The 15-minute service to Aurora is in phase one and is going ahead. We know that. Last August there was an announcement from Metrolinx saying they intend to take the service up to Bradford but there is no timeline and no details on how they can deliver a 15 minute service which may require complex and expensive grade separations. Metrolinx hopes to avoid that by using sophisticated signalling allowing the barriers at the level crossings to stay down for relatively short periods. The trains will be electric with rapid acceleration and they will be shorter.
Gordon Prentice 15 October 2022
Details

Written by

Gordon Prentice
All across Ontario developers are refusing to build when they have full planning approval from their municipality. This is an under-reported scandal. They are sitting on land waiting for its value to increase. It's called land-banking. What about the people who need a place to live?
Here is my take on it on You Tube.
Gordon Prentice 14 October 2022
Details

Written by

Gordon Prentice

My little band of volunteers is out this morning in Bristol Road – a very long road that runs from Yonge Street in the west to Main Street North in the east.
There are lots of Vegh lawn signs so I see this as a challenge. But, as usual, many of them are outside empty properties.
By now, I have a standard stump speech which rolls off my tongue.
But I've still got to spend time on the doorstep – as long as it takes.
There isn't a thing you can do for me
I am talking to a cold, detached man with a long white beard who emerges from his cluttered garage. He takes one look at me and says:
"There isn't one damn thing that you can do for me that will make a difference to my life."
I tell myself:
"Oh yes there is".
I turn round and walk away. That made a difference to his life.
Affordable Housing
I have a long and fascinating conversation with a man who knows a lot about land and property. He is engaging and knowledgeable. We talk about affordable housing. I ask:
"Where should it go?"
He says there should be an inventory of surplus Town and York Region land. And affordable housing should go there unless there are compelling reasons to the contrary.
We start talking about the campaign and how candidates (all standing as "independents") finance it. He comes up with an interesting solution:
"People can contribute, if they wish, to an election account held centrally by the Municipality. The money is then divided equally between the candidates for the several offices. And that's it. No developer money."
Hmmmm. He has recognised there is a problem and has come up with his own solution. Terrific!
I like your watch
Now I am talking to a first-time voter with his Mom standing behind.
I go through the routine explaining why I am running.
Young man, looking at my wrist, says:
"I like your Omega Seamaster."
I say:
"You couldn't afford it."
They smile.
Solar Power
Now I am talking to a father and son about their imminent move to Minden. I say my wife Heather and I were up there earlier this year staying in a terrific place called, appropriately, "Heather Lodge".
Their new home will be entirely powered by solar energy. I am fascinated.
Now I am talking to an elderly man who lost his son to COVID-19. It is heartbreaking. We talk about the health system and what needs to be done but, in the moment, it pales into insignificance when measured against his personal tragedy.
Yorkshire Man
Now I knock on the door of a man with a Vegh sign on his lawn. I've got the ammunition ready. Plenty of it. I'm never gonna run out.
He tells me he is from Yorkshire – a county I know very well. He is from Keighley. I say:
"I know Ann Cryer. She used to be Keighley's MP."
He says:
"I was taught by her husband Bob Cryer."
I tell myself I've got his vote in the bag. He says:
"No. You can't put a sign up. I've got to find out more about you and look at your website. Come back later when I've read it."
"No. This is the one and only time I'll be on your doorstep. There are over 30,000 households in Newmarket and I'm not Superman."
"Fair enough. But the Vegh sign stays until I know more about you."
That's OK.
Gordon Prentice 14 October 2022
Details

Written by

Gordon Prentice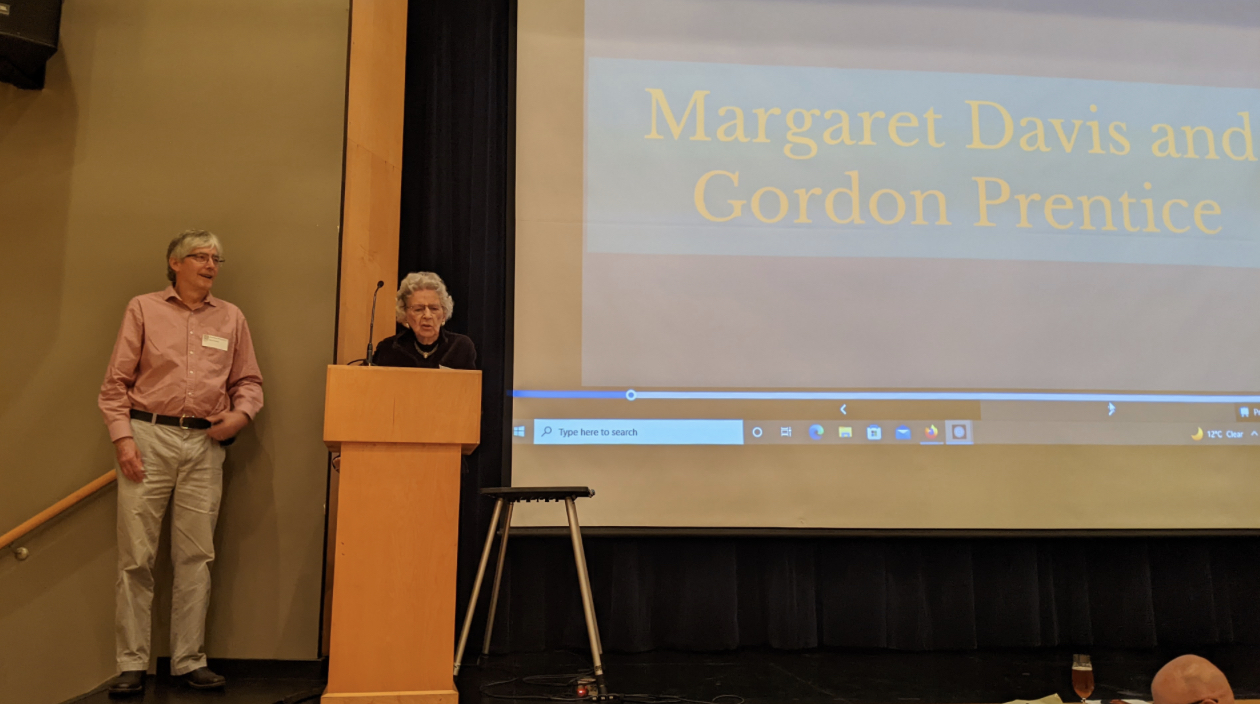 Margaret Davis and Gordon Prentice tonight received the coveted Architectural Conservancy of Ontario A.K. Sculthorpe Award for Advocacy - an award which:
"recognises an individual, a group or a non-profit organisation that has brought greater attention to an important heritage issue or controversy, and has been able to persuade others, change policies and practices, or mobilize people during a heritage crisis."
The award recognises the role we played - with many, many others - in saving Newmarket's historic downtown from the developer Bob Forrest.
It was an astonishing victory. But it shows what people can do when they join together, united in a common purpose.
We had been told beforehand that acceptance speeches should be no longer than two minutes.
Margaret told the entranced audience:
"I am one hundred years old and I shall speak for as long as I like."
Gordon Prentice 13 October 2022
And this is how Newmarket Today reported the news. The story has been shared an astonishing 1,900 times.
YouTube video from the ACO Heritage Awards wrap-up.