Details

Written by

Gordon Prentice
PACE Credit Union has been good to former MPP, Frank Klees, who represented Newmarket-Aurora in the Provincial Parliament for 19 years from 1995 – 2014.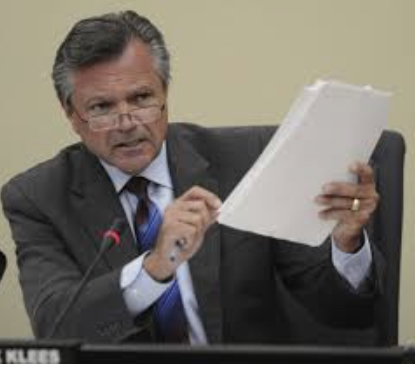 On 19 March 2014, just six weeks before stepping down as an MPP, he welcomed important visitors to Queen's Park, giving in his own words "special recognition" to
"Mr. Larry Smith, who is the CEO of Pace Credit Union, as well as the CFO of that great organization, Mr. Phillip Smith."
A detailed investigation of the two Smiths in the Globe and Mail on 23 November 2019 paints a less benign picture of the father and son duo who allegedly committed civil fraud with years of secret payments. The father, Larry, had been running the show as Chief Executive for 28 years and his son, Phillip, succeeded him in 2015. Clearly, PACE, based in Vaughan, was a family affair.
The Deposit Insurance Corporation of Ontario started investigating last year and fired the Smiths.
Financial journalist James Bradshaw writes:
"Larry Smith…arranged loans and business deals, as was his job. But Mr. Smith and a number of his family members and associates – including one former provincial cabinet minister – also pocketed millions in "consulting fees" and other benefits in connection with those deals, according to an extraordinary set of allegations levied by a financial regulator."
Millions in commissions
The cabinet minister in question is, of course, Frank Klees who, as a hired hand, took millions in commissions before joining the PACE Board in May 2018.
The Globe and Mail tells us Klees was a long-time friend of the Smith family.
"In 2013, before Mr. Klees left politics, he signed a consulting contract with PACE, approved by Larry Smith. It paid Mr. Klees a $5,000 monthly retainer in its first year and promised him a percentage commission on loans or joint ventures that he helped arrange for the credit union."
But after Klees retired from politics his income (presumably) ballooned:
"Between 2015 and 2018, Mr. Klees collected nearly $2.8-million in payments for consulting work on two joint ventures between PACE and Geranium, according to court filings. Some of the payments were made by PACE, as shown in invoices he submitted, for amounts ranging from $169,500 to $678,000. Mr. Klees also invoiced JLG Consulting, Mr. Giampietri's company, for $339,000 for consulting services."
When Klees joined the PACE board of directors he was getting around $12,500 a month for his work. But the regulator raised a red flag, pointing to a possible conflict of interest with his primary duty as a Board member - looking after the interests of the depositors.
Sourcing and facilitating
What is not in doubt is that Klees was raking in the cash, big style.
"As a consultant, my role was to source and facilitate real estate development projects between Pace, land owners and developers/builders… For those services, the parties with whom I had agreements were invoiced by my company for fees commensurate with the services delivered."
I am left wondering how many real estate development projects Klees facilitated here in Newmarket, if any. I'd love to know.
But I suppose it is none of my business.
I am just endlessly fascinated by the millions of dollars people make by "facilitating" things.
PACE was, of course, heavily involved with the Slessors and with Bob Forrest when he took out a mortgage on his Clock Tower property but I've no idea if Klees was involved in any way.
This email address is being protected from spambots. You need JavaScript enabled to view it.
Update on 26 November 2019: Today's Globe and Mail takes the story further. Regulator adds former PACE credit union directors to lawsuit alleging negligence in "secret" payments
Update on 1 December 2019: Frank Klees and Places to Grow. My exchange with Frank in 2012.
Update on 27 May 2020: From the Globe and Mail. Ontario issues special orders to approve developers' plans and quash opposition.
"The developers, represented by lobbyist and former PC cabinet minister Frank Klees, have offered to create larger, enhanced wetlands nearby, with the blessing of the Toronto and Region Conservation Authority. But they say the province's Ministry of Natural Resources and Forestry, which also supports the plan, does not have the power to lift the existing protections quickly."
Details

Written by

Gordon Prentice
Yesterday I emailed my new MP – Newmarket-Aurora's Tony Van Bynen – to congratulate him again on his stunning victory in last month's Federal Election.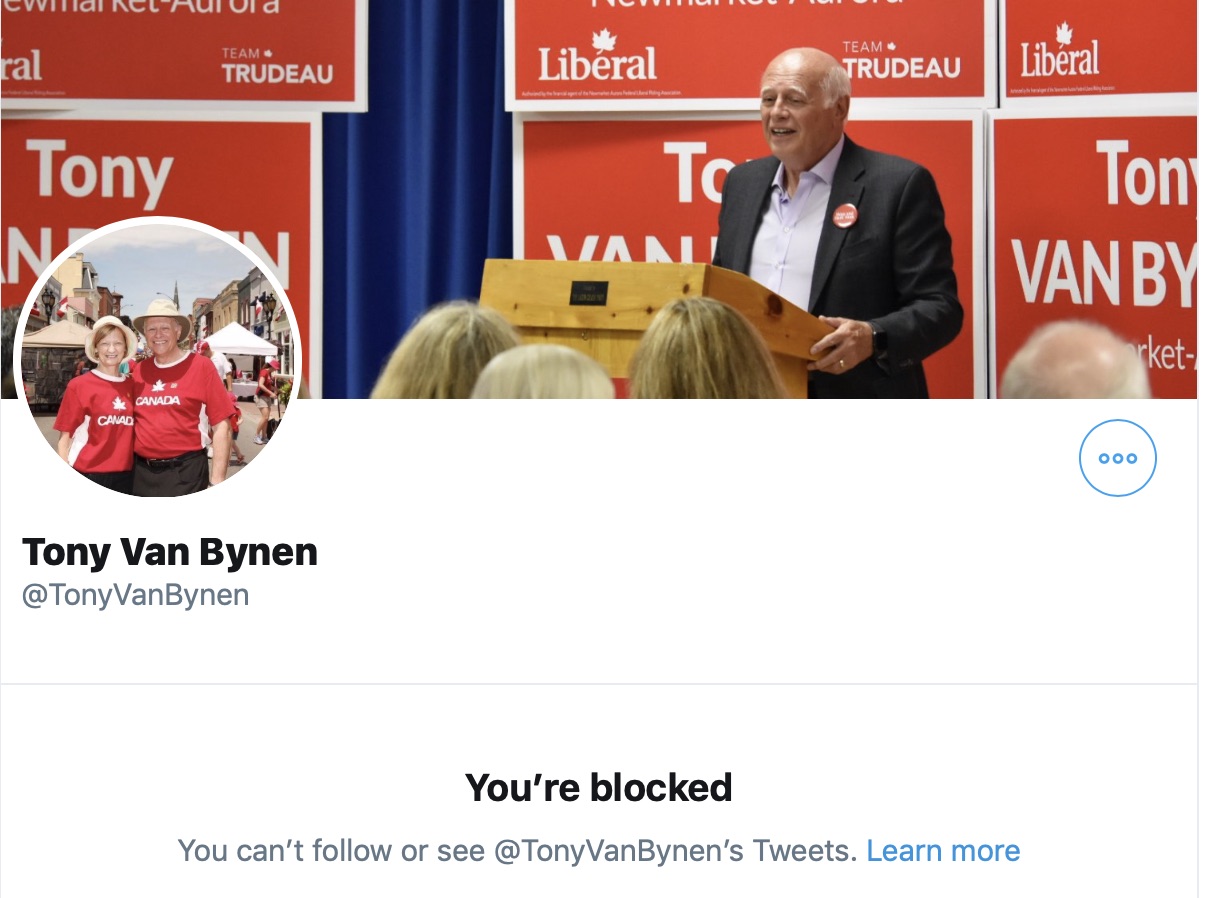 I wanted to try out his new official email address:
This email address is being protected from spambots. You need JavaScript enabled to view it.
but I could have written to him postage-free at the House of Commons or visited his constituency office in Bayview Avenue which, like the hermit crab, he took over from the previous occupant, Kyle Peterson, who had moved out.
In my email I tell Tony his election victory was a huge achievement for someone who had only been a member of the Liberal Party for a few months.
At 69, Tony is the second oldest rookie in this intake of 91 first-time MPs. Perhaps the oldest, I'm not sure.
MPs and how they spend their days
The Parliament of Canada website allows constituents to follow their MPs and see what they get up to. We will be able to track Tony's speeches and interventions in the Chamber of the House of Commons and in Committee – once we know which ones he is on. It is still a bit up-in-the-air but things will soon settle down. Other websites also track MPs so there is no excuse for being in the dark.
The Parliament of Canada website is still being updated with details and photos of the new Members and I expect Tony's Twitter account will soon be up there so I can follow him at last.
When Tony was Mayor of Newmarket he blocked me (and many others) from seeing his Tweets and this bizarre behaviour continued even after he collected his retirement pay-outs and was again running for public office. Now that he is our MP - and on the public payroll - we are all paying his salary again.
Anyway... the election is behind us and I am excited for Tony in this challenging new phase of his career.
For myself, I shall be keen to learn more about his politics.
After all those years as Newmarket's Mayor, I still don't really know him.
This email address is being protected from spambots. You need JavaScript enabled to view it.
Thursday 5 December 2019 is the first sitting day of the new Parliament.

Update at 16.00 on 24 November 2019: One of my readers sends me this pinned Tweet. This is the kinda thing some of us are blocked from seeing.
Details

Written by

Gordon Prentice
Doug Ford's decision – during last year's Provincial election campaign - to cut the size of Toronto City Council by half could end up in the Supreme Court.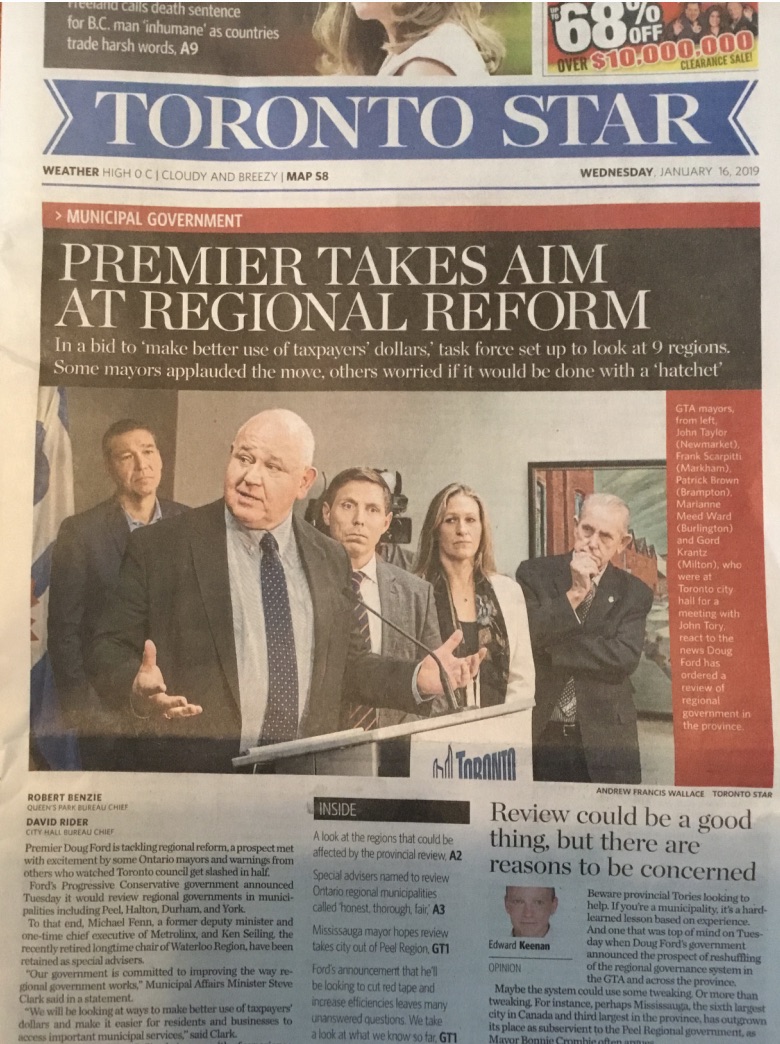 Earlier today, the City announced it would appeal against a 3-2 decision of Ontario's Court of Appeal which held the cut in Council size was lawful.
The Appeal Court's decision on 19 September 2019 didn't get the coverage it deserved as everyone was distracted by the Federal election. We shall see how it all pans out.
Last month Ford dropped his contentious plans to reform regional government and we can all breath a huge sigh of relief.
Regional reform would have been a monumental distraction.
Electing the Regional Chair: Back on the Agenda
But for York Region it also resurrects the issue of whether the Regional Chair (currently Wayne Emmerson) should be elected by the voters at large or by the 21 members of the Regional Council. There is now nothing to stop the Regional Council asking the Province for permission to have the Regional Chair directly elected as from the next election.
The former Liberal MPP for Newmarket-Aurora, Chris Ballard, championed direct election for years while the newly elected MP for Newmarket-Aurora, Tony Van Bynen, has always set his face against it. Personally, I can't see Van Bynen offering an opinion now that he has other things to think about in Ottawa but who knows?
Toronto's press release says this: The City of Toronto today filed an application with the Supreme Court of Canada to seek Leave to Appeal a decision by the Ontario Court of Appeal regarding Bill 5, the Better Local Government Act, 2018. In September, the Ontario Court of Appeal's majority opinion ruled 3-2 that the legislation that reduced the City's wards from 47 to 25 in the middle of the 2018 election was constitutional. In January 2019, Toronto City Council directed staff "to pursue a Leave to Appeal application to the Supreme Court of Canada in the event the Province is successful on its appeal at the Court of Appeal." The City has now done so and will await the Court's decision on whether to hear the appeal. Should the Court grant the application, legal arguments will be led by City of Toronto in-house counsel. The application is available online.
This email address is being protected from spambots. You need JavaScript enabled to view it.
Details

Written by

Gordon Prentice
York Region will not be taking action against candidates in the Federal Election who may have broken the by-law that regulates election signs – where they can go up and when.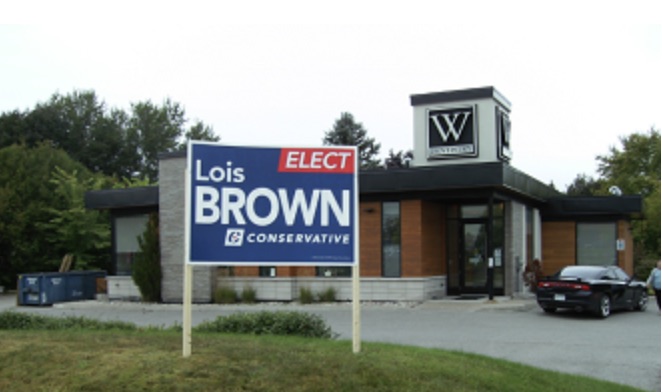 Conservative candidate, Lois Brown, had erected signs on Regional Roads which clearly flouted the rules. During the election she was forced to remove a number of them. The Liberal turned Conservative MP for Aurora-Oak Ridges-Richmond Hill, Leona Alleslev, also put signs on Regional roads before 23 September 2019, after which date signs were permitted.
The Region says there is no by-law review scheduled which rather surprises me given the by law was widely ignored by the Conservatives. The Region says it:
"addressed non-compliant signage that was a safety issue and did not lay any charges."
Local municipalities can also enforce the election signs by-law.
Penalty
After last year's municipal election in Newmarket, the newly elected York Regional Councillor, Tom Vegh, incurred a sign penalty from the Town of $1,995.69. Vegh's Financial Statement and Auditor's Report filed on 27 March 2019 shows that he spent $11,472.30 on election signs (including the sign deposit) during the campaign. This is just under half the amount spent on brochures and flyers ($25,359.68).
Seems to me there is probably a case for the Region and Town doing an automatic formal review after all elections. It would keep candidates – and their campaign managers – from believing that by-laws are made to be broken and hang the consequences.
This email address is being protected from spambots. You need JavaScript enabled to view it.
From the window display in the Comic Store in Newmarket's Main Street South. Their take on Tom: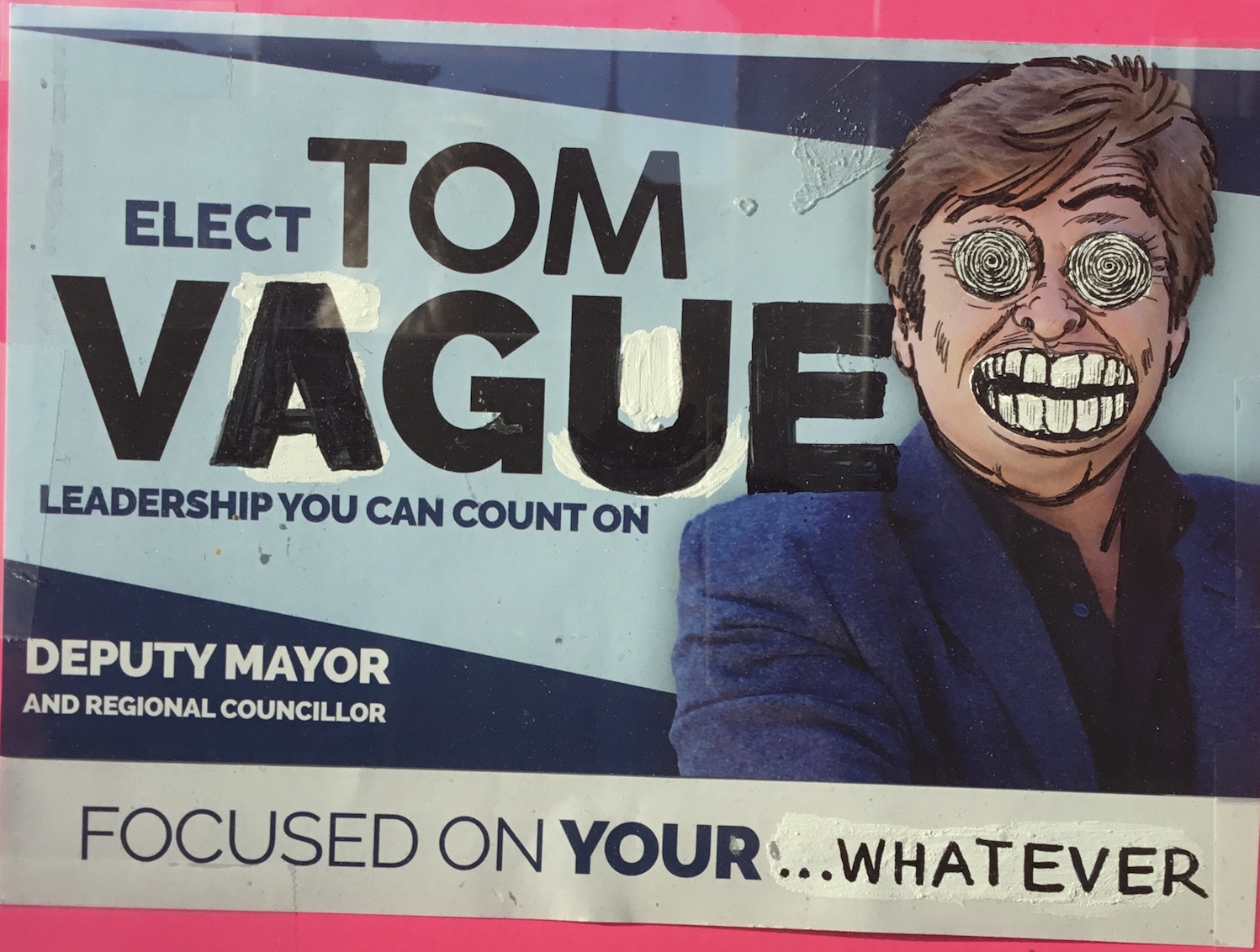 Details

Written by

Gordon Prentice
Newmarket Mayor, John Taylor, has confirmed he wants to see a full rebuild of the Simpson building at 184-186 Main Street South which was unlawfully demolished on 9 October by developer Bob Forrest.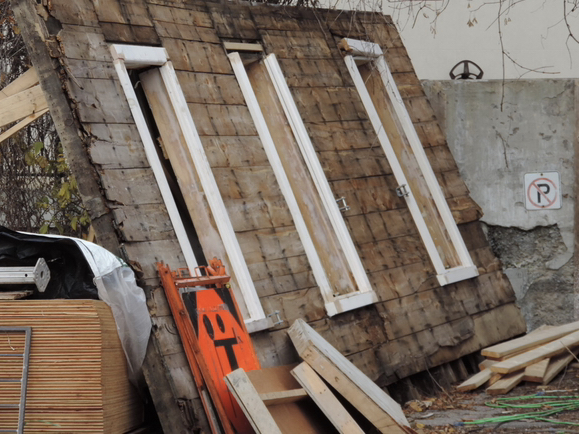 Taylor told leading members of the Newmarket Branch of the Architectural Conservancy of Ontario on Monday (4 November) the full rebuild should be
"in keeping with the original design and replacing the original façade".
The Mayor says this is his goal "at this point".
In an article on Monday (4 November 2019) Newmarket Today told us the Forrest properties on Main Street were up for sale and the listing would be handled by local realtors Joshua Campbell and Graham Purvis.
Facade "saved"
Newmarket Today tells us:
"According to Campbell, the façade of the Simpson building was saved in the demolition, as had been required by the Town."
Taylor says it is his understanding that the façade was removed weeks, maybe more, prior to the demolition.
"It was removed and saved to be replaced when all other work was complete. Saving the façade was a requirement of the Town but not as part of a demolition."
So, where is the saved façade?
There is something that looks like part of the old Simpson building propped up at the rear, in Market Square. (Photo right) Is that it?
The Mayor told me:
"The façade has been saved and is at the rear of the building and I believe it has now been tarped at the request of the town."
Experts
According to the May 2018 agreement between Forrest and the Town (at paragraph 29)
"The Town's heritage expert and the Main Street Clock Inc (Forrest's company) heritage expert will work together to prepare a mutually agreeable recommendation on the Main Street Building facades for consideration by the Town. Approval of the heritage facades for the MSCI Lands will follow the regular process required by legislation with the intention that the Town accept the expert recommendations."
It goes on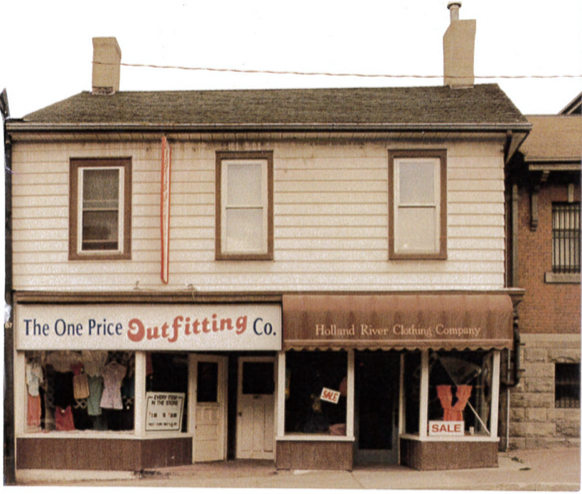 "The Town will work within its authority to assist MSCI and its neighbours with façade improvements, including, in particular, property standards issues."
Eye off the Ball
After the Town and Forrest signed their agreement in May last year, I rather took my eye off the ball. Like everyone else, I assumed that the project as agreed would move quietly and seamlessly forward to its conclusion. I did not imagine for one moment we would see the brazen unlawful demolition of one of the Town's most historic properties.
But with Forrest it is a mug's game to make those kinds of assumptions. We learned on Monday he was listing his properties for sale. Earlier, in April 2019, the Town's solicitor said a sale could, but not necessarily, give rise to complications.
In June the Town's Committee of Adjustment agreed to Forrest's request to divide up his properties into legally separate parcels of land to facilitate their sale.
In a further twist, the realtors' "Landmark on Main" website tells us further details on the site of the demolished 184-186 Main Street South will be "coming soon".
Heritage Advisory Committee needs a re-boot
At this week's meeting of the Newmarket Heritage Advisory Committee, senior planner, Adrian Cammaert, was sitting in for the Town's former heritage planner, Dave Ruggle, who has moved on the Lake Simcoe Conservation Authority.
184-186 Main Street South was on the agenda (which drew a small audience including me) but there was no written report. The senior planner told members there was no update beyond that released by the Town on 21 October. This produced no reaction whatsoever from Committee members who appeared to have been secretly lobotomised. They needed the institutional memory of the former Chair, Athol Hart.
The removal of the façade and what had happened to it was big news to me – even if was old news to members of the Advisory Committee.
Integrity of building
Who authorised the removal? What checks were done to ensure the removal would not compromise the integrity of the rest of the building? When did the removal take place? Where was the salvaged wood to be stored?
Forrest's 2016 Heritage Impact Assessment told us the original materials of the wood frame building at 184 Main Street South could be salvaged and retained as part of the reconstruction.
The March 2019 report on the conservation plan for the historic properties in Forrest's ownership had this to say about 184-186 Main Street South:
"The internal assembly and condition of the sloped roof at Building 184/186 was not assessed due to limited access during our site visit. The building was re-roofed within the last several years. It can be assured that any deteriorated wood, along with most original materials, were replaced during the re-roofing; although further wood deterioration has likely occurred since. The rainwater gutters and drainage system consists of contemporary aluminum gutters at the roofline and rainwater leaders. The existing drainage system is not original to the building. Non original metal flashing has been installed along the fascias and is in fair condition. The roof structures of buildings 188/190 and 194 are not part of the conservation work."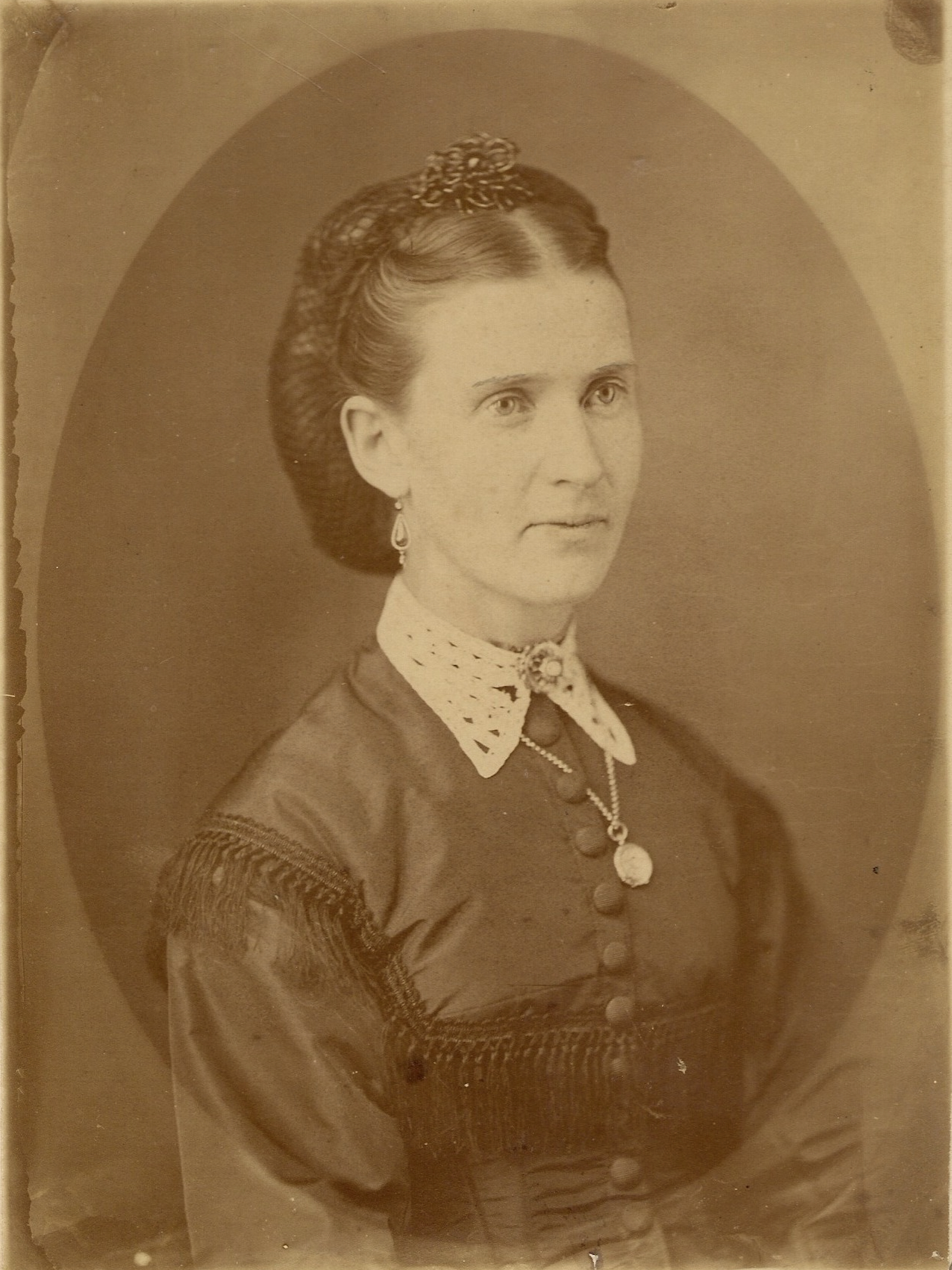 The report cited the action required:
"Investigate if wood decay is present on the wood roof deck and repair accordingly. Repair (in-fill) areas with missing wood deck with material to match existing. Replace asphalt shingles and any deteriorated deck boards."
I have no idea what work was done.
Clearly, the circumstances surrounding the removal of the façade will be part of Peter Noehammer's report which we must all assume will include a detailed chronology showing who had responsibility for what at every stage.
After these latest developments, there is no good reason why an interim report cannot be put before the Council at its next meeting on Monday 11 November 2019.
This email address is being protected from spambots. You need JavaScript enabled to view it.
Note: The Conservation Plan was considered by the Newmarket Heritage Advisory Committee at its meeting in April 2019.
In May 2019 there was a report to the Advisory Committee from the Lower Main Street South Heritage Conservation District Advisory Group (LMSSHCDAG) - whose membership is mainly senior Council staff.
The then Senior Planner (Dave Ruggle)
"advised that an application related to the facade restoration for 184-194 Main St. South has been received. He provided a brief overview of the drawings of the proposal".
In September 2019, Heritage Advisory Committee Member, Mitch Saunder, (who sits on the Lower Main Street South Heritage Conservation District Advisory Group) provided an update regarding the application for a Heritage Permit for façade restoration on 184 to 194 Main Street South. At the Advisory Committee's meeting in September there was no update from the LMSSHCDAG.
Note 2: An 1879 Almanac tells us about the Simpson business as it then was. The photo (right) shows Anne Mary Simpson, the first female pharmacist in Ontario.
"The business of the chemist and druggist is one requiring a vast amount of experience and watchful and constant care for its successful prosecution. The fact that Mrs. Simpson is successfully conducting such an establishment on Main Street Newmarket, speaks in the highest terms for ability and energy of will. The business was established by her husband in 1865 and in 1879 that gentleman passed from this life and his widow carried on the business having obtained her certificate from the college to continue said business. The premises occupied for the business are quite commodious and are tastefully fitted up and contain a fine stock of fresh and pure drugs and chemicals and toilet articles, propriety medicines of acknowledged merit and standard reputation as well as those articles used by physicians in their practice. She is a native of England and is an ornament to her sex, and a lady highly esteemed by all classes of the community."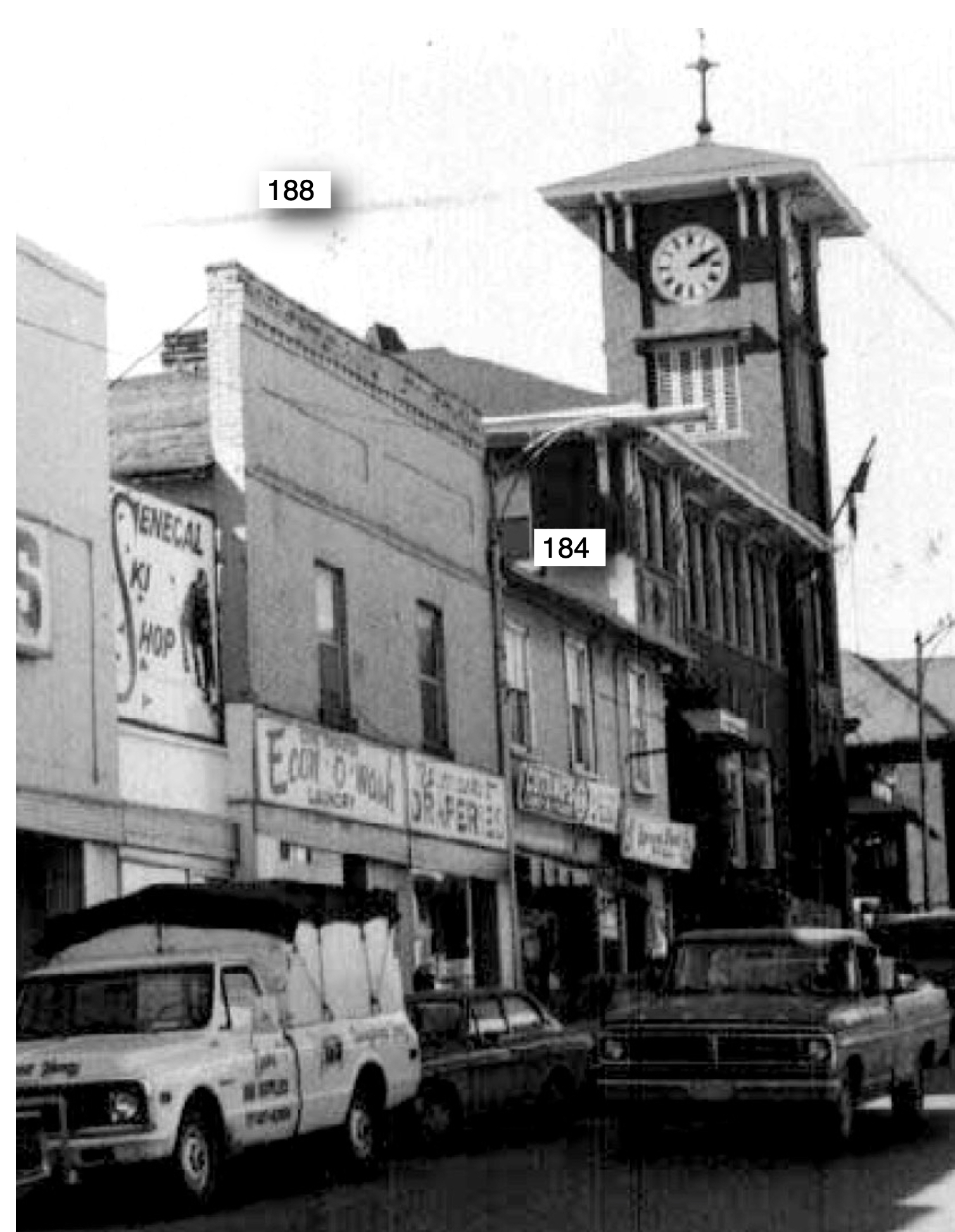 Photo of 184-186 Main Street South from Forrest's 2016 Heritage Impact Assessment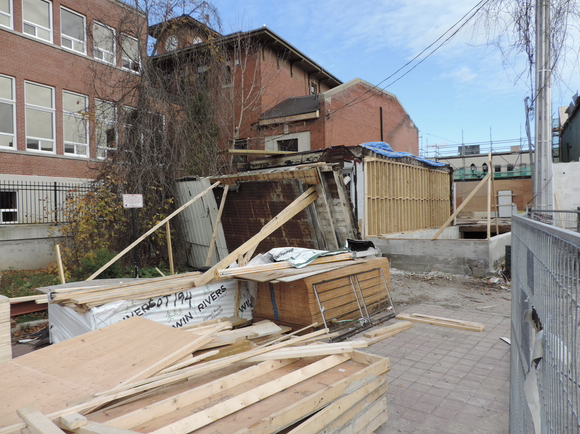 What seems to be left of the facade, propped up by planks at the rear of 184-186 Main Street South. Is this what is being "saved"? Or is there something under the blue tarpauline on the roof of the portacabin?