Details

Written by

Gordon Prentice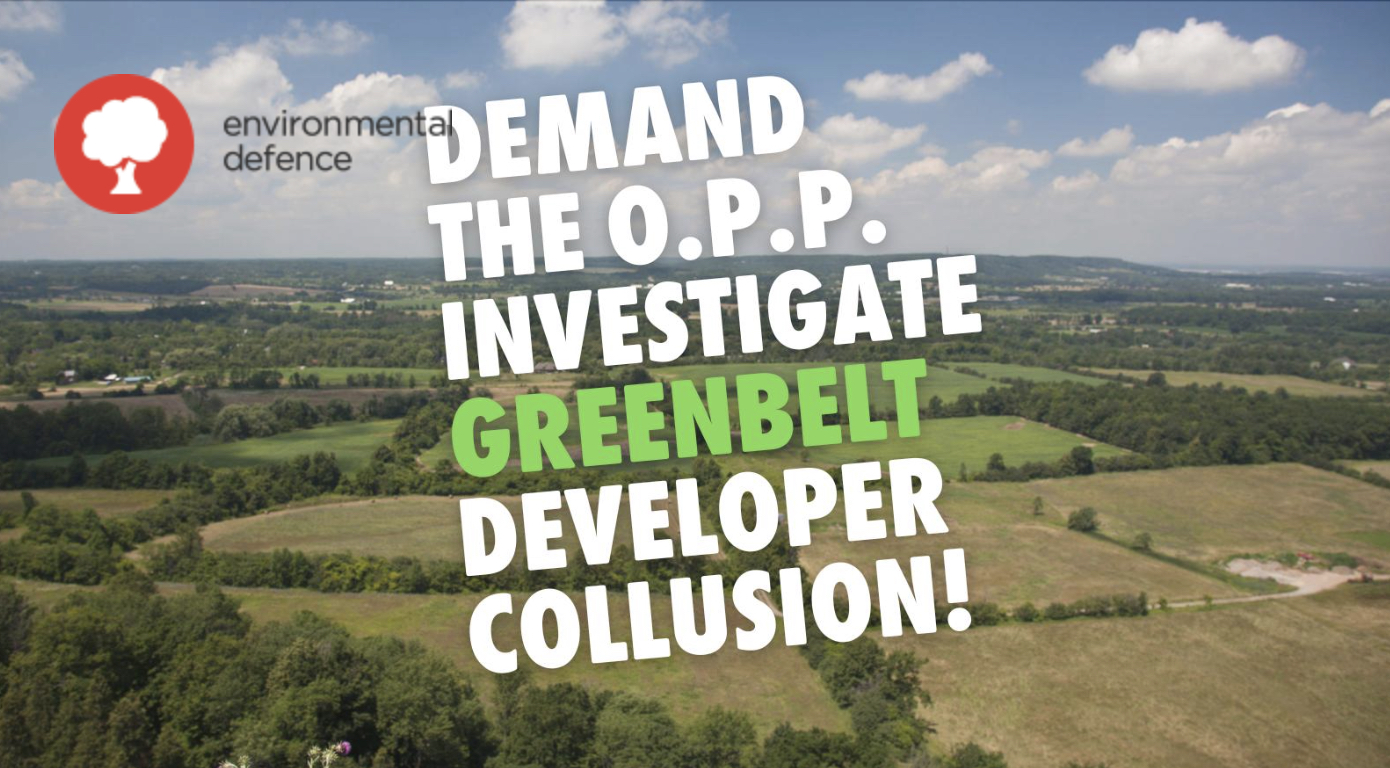 Doug Ford has made it very clear.
Even after the scathing report from the Auditor General he is not changing course on the key issue that really matters.
Ford insists the lands removed from the Greenbelt on 21 December 2022 are going to be developed.
MPPs have the power to stop this theft of prime agricultural land for more urban sprawl.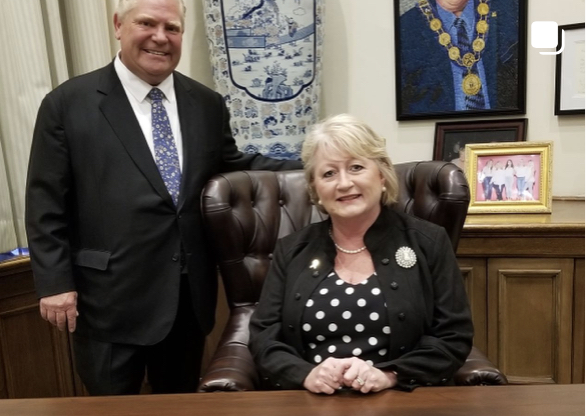 I hope Newmarket-Aurora MPP, Dawn Gallagher Murphy, will do the right thing but her track record suggests she will cling like a limpet to Ford.
She was personally appointed by Ford as the local Progressive Conservative candidate. Party members had no say.
Backed Financially by Michael Rice
When she became the official PC candidate she was backed financially by Michael Rice, the developer who bought the Bathurst Greenbelt lands in King on 15 September 2022 and which are now to be opened-up for development. Rice doesn't live in the riding. He gave her $2,000 and a further $1,087 to her Newmarket-Aurora Constituency Association.
But who is Dawn Gallagher Murphy?
Since her election on 2 June 2022 she has transformed herself from the former MPP's Office Manager into a local celebrity, opening things, congratulating people and handing out grants and awards from the Province. She sees herself as FordNation's ambassador in Newmarket and Aurora.
In her Community Newsletter from 2 December last year, the MPP explained why she was supporting the removal of lands from the Greenbelt. Click "Read more" below.
This email address is being protected from spambots. You need JavaScript enabled to view it.
Read more: "Call in the Police!" Greenbelt Rally outside Office of Dawn Gallagher Murphy this Saturday, 19...
Details

Written by

Gordon Prentice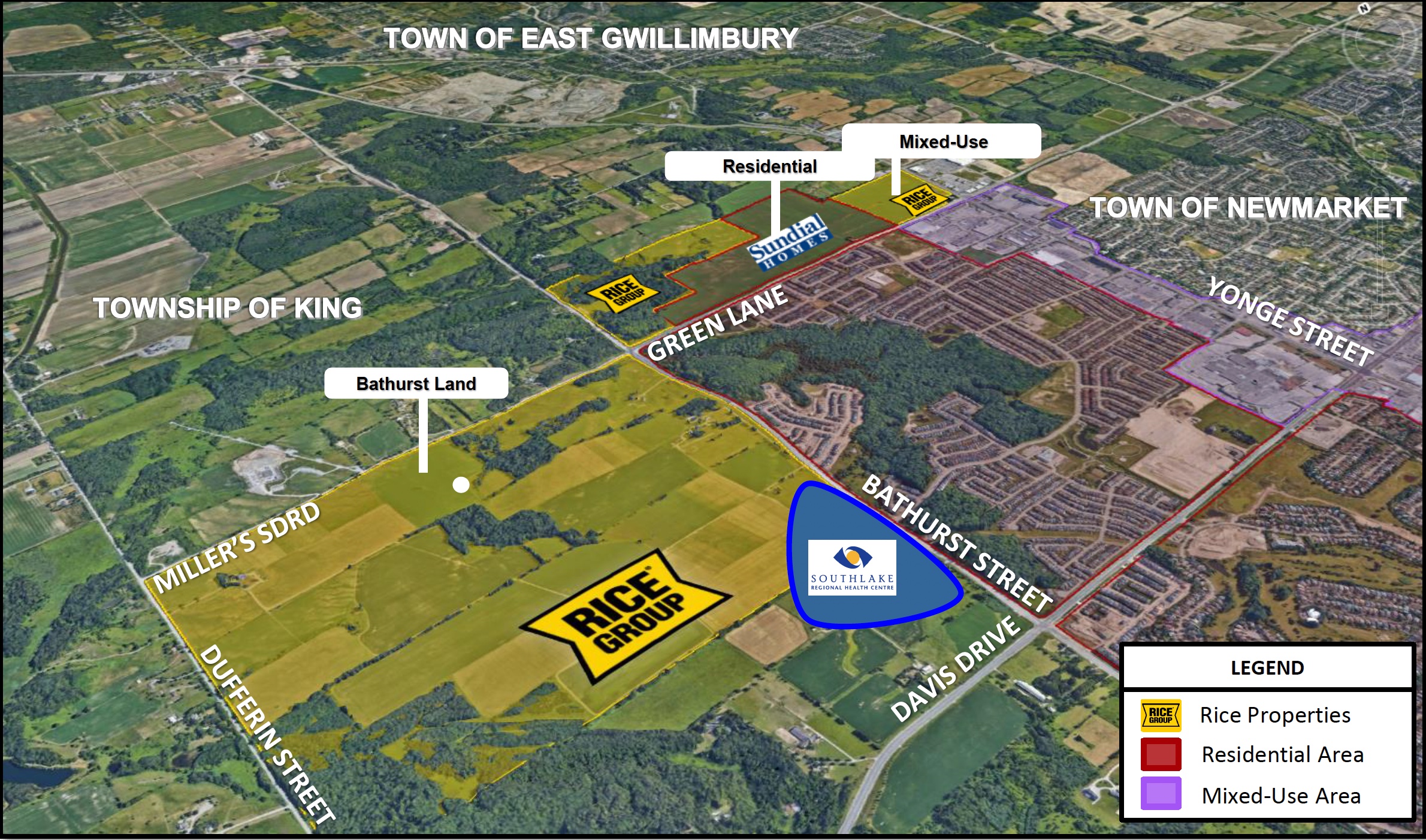 On 1 November 2022, three days before the Ford Government announced publicly that certain Greenbelt lands would be opened-up for development, the developer Michael Rice gave a presentation to the Chief Executive of Southlake, Arden Krystal, offering Greenbelt land for a new hospital. The meeting, at King Municipal Centre, also involved the Township's Mayor, Steve Pellegrini.
The map above was on display.
The schematic clearly shows the Southlake logo straddling the Greenbelt land purchased by Rice on 15 September 2022 and the adjacent lands to the south owned by John Dunlap, a wealthy landowner who sat on the Southlake Board until September 2022. I take it the logo is meant to show the approximate location of the hospital.
Yet only the Rice lands were removed from the Greenbelt on 21 December 2022. To this day the Dunlap lands remain in the Greenbelt.
That has perplexed me for many months.
In February this year, York Region's Chief Planner, Paul Freeman, made it perfectly clear that, from a planning perspective, an institutional use such as a hospital could only be built in a settlement area, not on prime agricultural land in the Greenbelt.
Hidden Wiring
The Auditor General told us last week that the decision to remove the Rice lands from the Greenbelt was taken by Ryan Amato, Steve Clark's Chief of Staff, supported by a small six-member team of civil servants bound by a confidentiality agreement which prevented them sharing information with others outside their group. She did us all a great service by exposing the hidden wiring of Government bureaucracy.
Until I read her report I had mistakenly believed the provincial civil service shared information between Ministries, commonly known as joined-up Government.
However, we learn that Amato and his team operated in a hermetically sealed silo. The left hand really didn't know what the right hand was doing. The Ministry of Health appeared to be out of the loop.
The Ministry of Health would have known that Southlake was looking for a site for a second hospital. That information was contained in Southlake's Master Plan which the hospital's Chief Executive, Arden Krystal, handed over to the Ministry on 31 January 2020.
In April 2022 the Government gave Southlake $5M to help with its planning work for a new hospital – and this would have involved searching for a second location.
Did Dunlap offer land for a new hospital?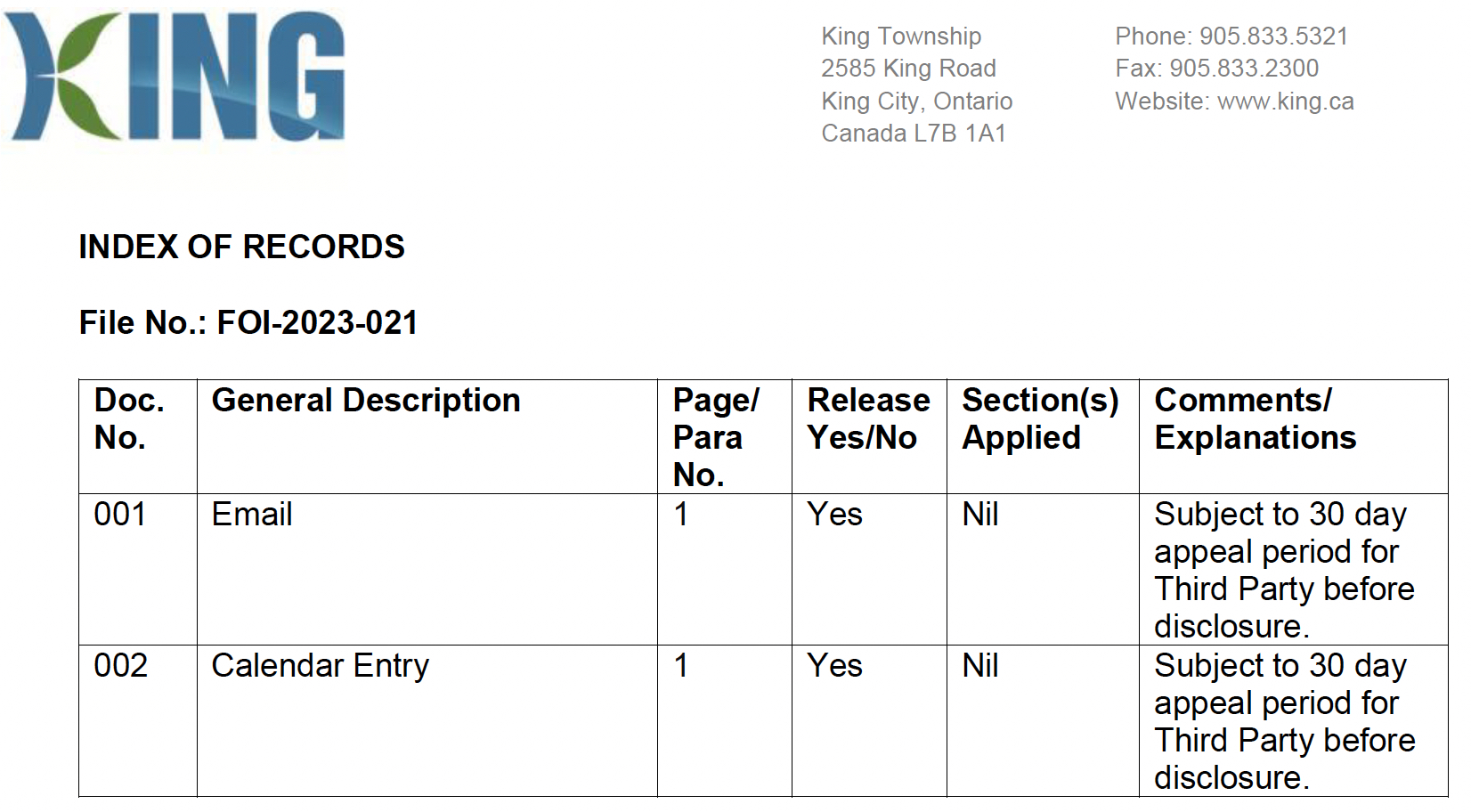 If Dunlap offered lands for a new hospital, why were these not removed from the Greenbelt on 21 December 2022?
Probably because Amato's entire focus was on the Rice lands to the north.
Earlier this year, Pellegrini told his local newspaper that he has been scouring the municipality for years, looking for a suitable site for a new hospital.
The blowhard boasted:
"I have been moving this idea forward since 2019 – on different lands, with different landowners. At the time of our meeting, I brought the idea of a hospital forward to the Rice Group and they were open to discussion."
We know for a fact that Pellegrini met Rice. And we assume he met Dunlap.
Months ago I filed a Freedom of Information request with King Municipality (FOI 2023-21) for the following:
"I request sight of all records which give the dates in (a) 2019 (b) 2020 (c) 2021 and (d) 2022 on which Mayor Pellegrini met King landowner, John Dunlap, to discuss (a) the possible location of a new hospital in King and (b) the offer of land for such a purpose."
The Township tells me there are records relating to my request (a diary entry and an email) which will be released to me on 23 August 2023.
Southlake stonewalls
This may clear up any lingering confusion about whether Dunlap offered some of his land for a new hospital campus. For its part, Southlake is battening down the hatches, stonewalling and hoping I will just go away.
The municipality tells me it has no records of any other meetings the Mayor may have had with landowners. The municipality also says it has no records of any work done to identify suitable land for a hospital in King. We, the credulous public, are asked to believe the Mayor was flying solo – with no records of any discussions with the Township's Planning Chief, Stephen Naylor, or its Chief Administrative Officer, Daniel Kostopoulos, about locating a new hospital in King.
I now wait to see what information is released to me on 23 August 2023.
Like everyone else outside Ford's inner circle, I am speculating.
We don't know what Ryan Amato knows. He is in Italy.
Arden Krystal's lips are sealed and former Southlake Board member John Dunlap is following her example, saying nothing. Mayor Pellegrini cannot be relied upon to tell the truth.
We are told records don't exist until they do.
And Michael Rice refuses to talk to the Auditor General, saying what he does or doesn't do with his own money is none of her business.
We shall see.
This email address is being protected from spambots. You need JavaScript enabled to view it.
Below: email from Michael Rice to King's Chief Administrative Officer, Daniel Kostopoulos, on the afternoon of the 7 November 2022 Committee of the Whole meeting when Mayor Pellegrini moved a resolution welcoming the offer of lands in King for a new hospital. Pellegrini met Rice on 17 October 2022 to prep for the 1 November 2022 meeting.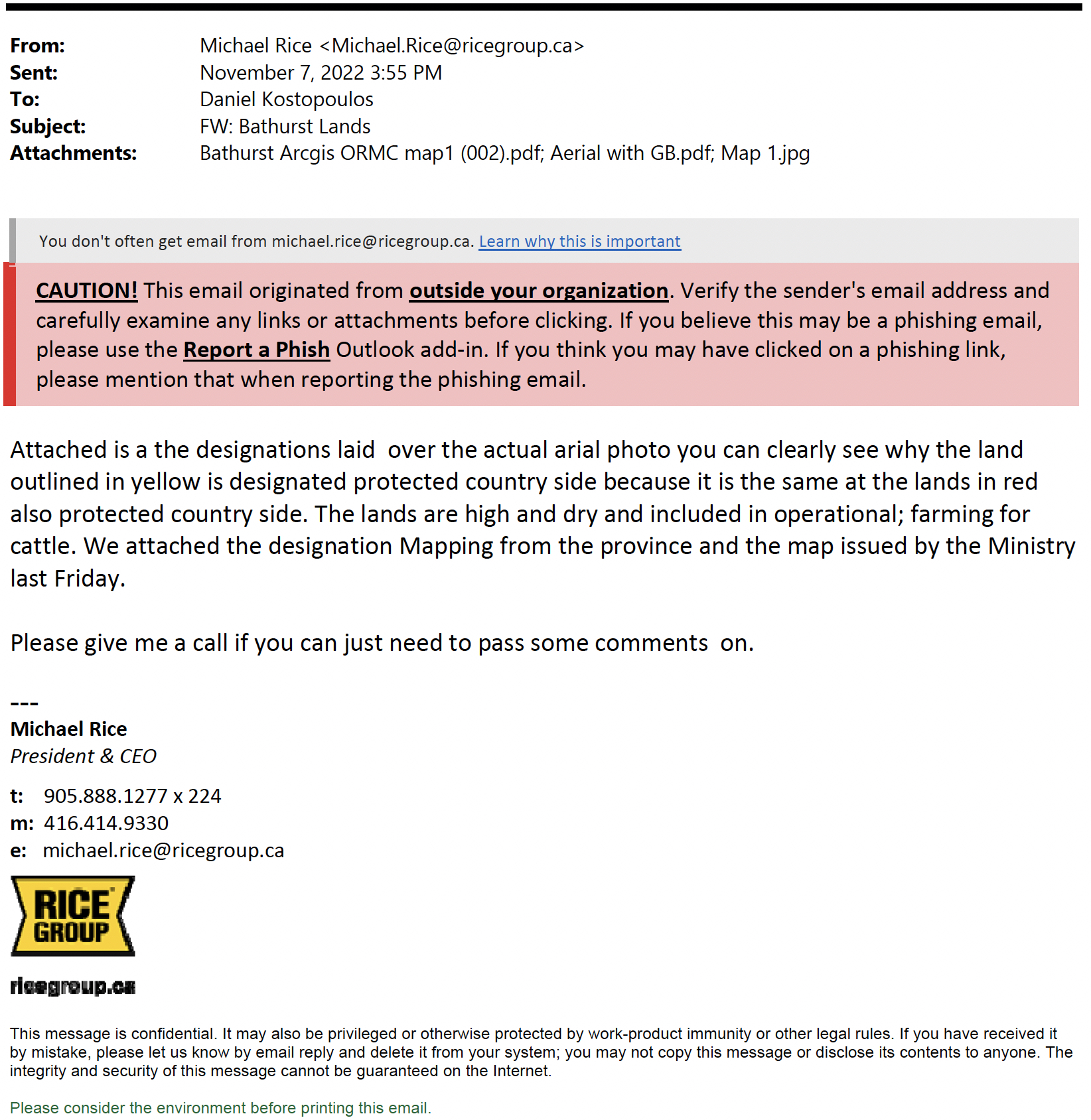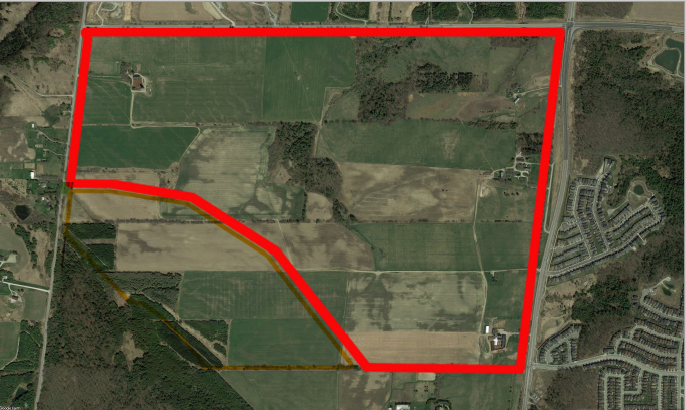 Details

Written by

Gordon Prentice
Today, Doug Ford is going on the offensive, peddling the old canard that Greenbelt land is needed if Ontario is to meet the challenge of building 1.5 million homes over the next decade.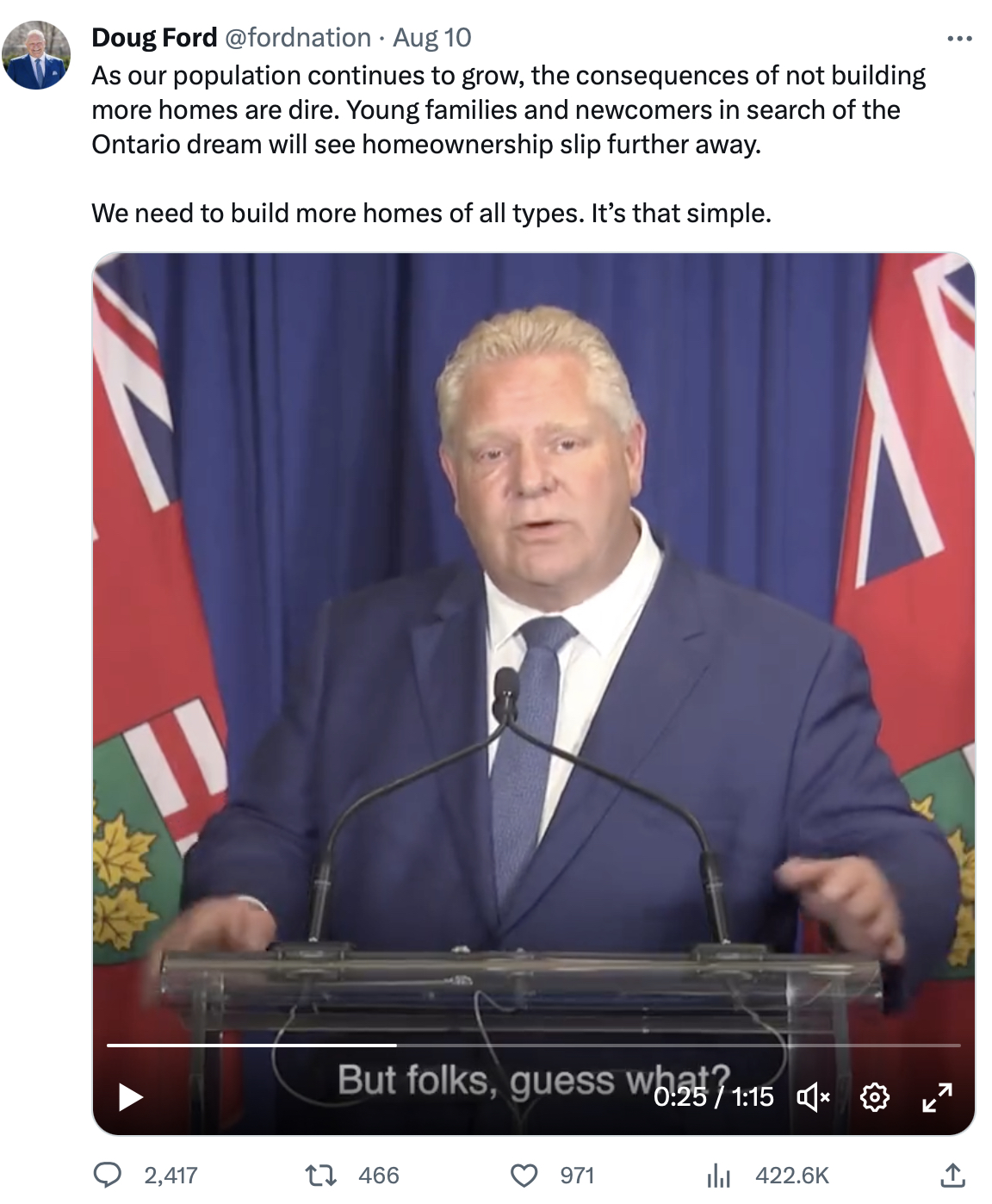 The Auditor General, Bonnie Lysyk, tackled that one head on. She said there was sufficient land outside the Greenbelt to meet housing targets.
She pointed to the Ontario Housing Affordability Task Force, set up by Ford, which reported in February 2022:
… a shortage of land isn't the cause of the problem. Land is available, both inside the existing built-up areas and on undeveloped land outside greenbelts.
Greenbelts and other environmentally sensitive areas must be protected, and farms provide food and food security.
Planning Approvals given but not acted on
The Task Force went on:
Municipal leaders also shared their frustrations with situations where new housing projects are approved and water, sewage and other infrastructure capacity is allocated to the project – only to have the developer land bank the project and put off building.
They then came up with this non-solution:
Enable municipalities, subject to adverse external economic events, to withdraw infrastructure allocations from any permitted projects where construction has not been initiated within three years of build permits being issued.
Land Banking
There must be thousands of sites across the Province where full planning approval has been given but the developer is sitting on the land, doing nothing. Withdrawing sewage and water allocations means absolutely nothing. Why would it?
If developers go on strike then municipalities should have the power to rescind planning approval if spades aren't in the ground after, say, four years. This is what happens in the UK and the sky hasn't fallen in.
York Region has asked its nine constituent municipalities to supply figures showing the number of approvals they have given that have not been acted upon.
I've been blogging about this land-banking scandal for a decade – to absolutely no effect.
A car park where the condo should be
Here in Newmarket we have egregious examples. A 280 unit 20 storey condo where planning permission was granted in 2009. Today it is a car park. Next door a 12 storey condo with 115 apartments where planning approval was granted 28 years ago. Today, it is still a patch of bare earth. The land, sterilised for decades, is owned by Tricap.
If Ford really wanted to do something useful he would abandon his plans to build on the Greenbelt and persuade his friends, the developers, to end their strike.
A one-cause Bill would do it – sunsetting planning approvals that are not acted on within four years.
This email address is being protected from spambots. You need JavaScript enabled to view it.
Details

Written by

Gordon Prentice
Today's report on the Greenbelt from Ontario's Auditor General, Bonnie Lysyk, is damning. The summary is here and the full report is here.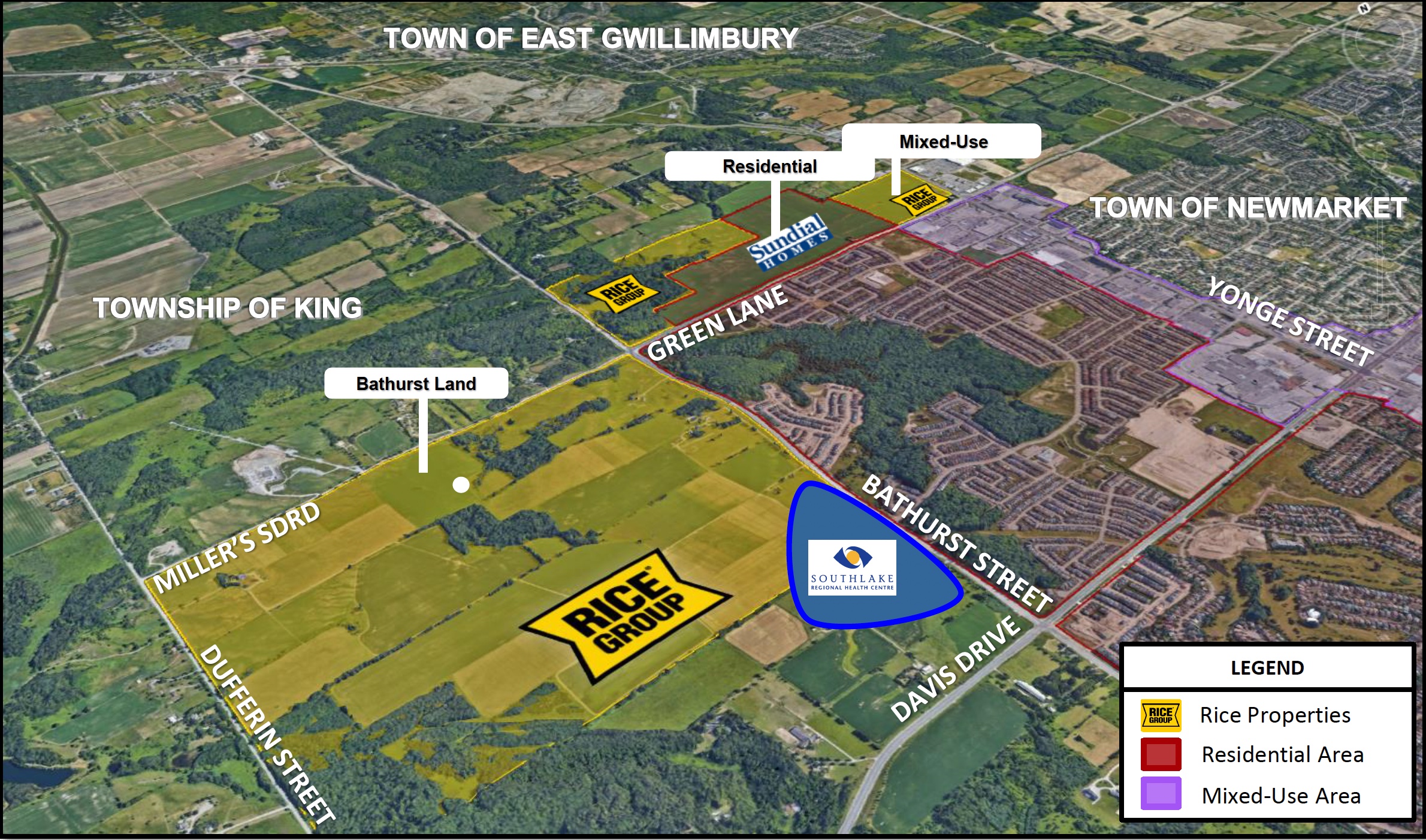 I read it from cover to cover and there's more to come out. For example, there's nothing in the report about Southlake and Michael Rice's offer of Greenbelt land for a new hospital.
As early as January 2022 Rice was talking to Southlake about accommodating a new hospital on his lands.
I am left wondering why the police are not involved. We now have clear evidence of insider dealing where the well-connected will make millions, perhaps billions.
The response in the media to these revelations has been universally hostile.
But Ford vows to press ahead regardless. The lands taken out of the Greenbelt are not going back in.
$8.28 billion
The Auditor General tells us how a cosy little coterie of developers knew before the rest of us that certain lands were to be pulled from the Greenbelt and opened-up for development.
Astonishingly, as a consequence, developers could see an $8.28 billion increase in the value of their land. And that estimate is based on 2016 figures.
We are expected to believe that Doug Ford and the Minister of Municipal Affairs and Housing, Steve Clark, knew nothing. The mastermind was Ryan Amato, Clark's Chief of Staff.
Knaves or Fools?
If they knew nothing, they are either knaves or fools. I'd say both.
We learn it was Amato who identified land for removal from the Greenbelt. He then passed the details on to a "Greenbelt Project Team", sworn to secrecy, who made sure all the boxes were ticked. To be considered for removal the lands had to be adjacent (a) to an existing settlement area and (b) to the edge of the Greenbelt boundary. And the lands were to be considered out of bounds if they were in a specialty crops area or contained Natural Heritage System lands. (NHS) The developers didn't like that.
Bathurst contained 34.03% of lands within the NHS so that disqualifying criterion was promptly removed by the Government. Ford was bending over backwards to help his friends.
Priority sites
We learn that while attending the Building Industry and Land Development Association's (BILD) Chair's Dinner on September 14, 2022, Michael Rice approached Amato and gave him a package containing information about land he wished to see removed from the Greenbelt. The following day Rice bought the land at Bathurst for $80M.
On 16 September 2022 Amato told his colleagues in the Housing Ministry that the Government wished to initiate a site-specific review. There were three priority sites which included the Bathurst site in King, next door to us in Newmarket.
Bathurst belongs in the Greenbelt
There is no question the land at Bathurst should stay in the Greenbelt. 88% of its 655 acres are in active agricultural use. 83% of the land is classified as the highest quality soil (class 1) supporting cash crop production. There are three livestock operations. This quality land should not be paved over.
Ford promised that construction would start no later than 2025 and if developers dragged their feet the lands would be returned to the Greenbelt. But the Government hasn't set targets to allow progress and results to be monitored, measured and publicly reported.
No surprises there.
For the People
Ford's best hope is that we'll all feel exasperated and indignant for a few days and then we'll move on. And there will be no lasting consequences.
This email address is being protected from spambots. You need JavaScript enabled to view it.m
Update on 10 August 2023: Toronto Star editorial: Ford's favours for developers. Fire Municipal Affairs and Housing Minister Steve Clark, halt the development of Greenbelt lands and call in the cops. And from the Globe and Mail editorial: A damning report exposes Ford Government's favouritism
Update on 15 August 2023: From the Toronto Star: Doug Ford won't fire the man blamed in the Greenbelt scandal. But who is he really protecting?
Read more: Selling the Greenbelt: Ryan Amato was the mastermind. Ford and Clark were kept in the dark
Details

Written by

Gordon Prentice
Southlake Regional Health Centre has launched a "search consultation" inviting anyone who is interested: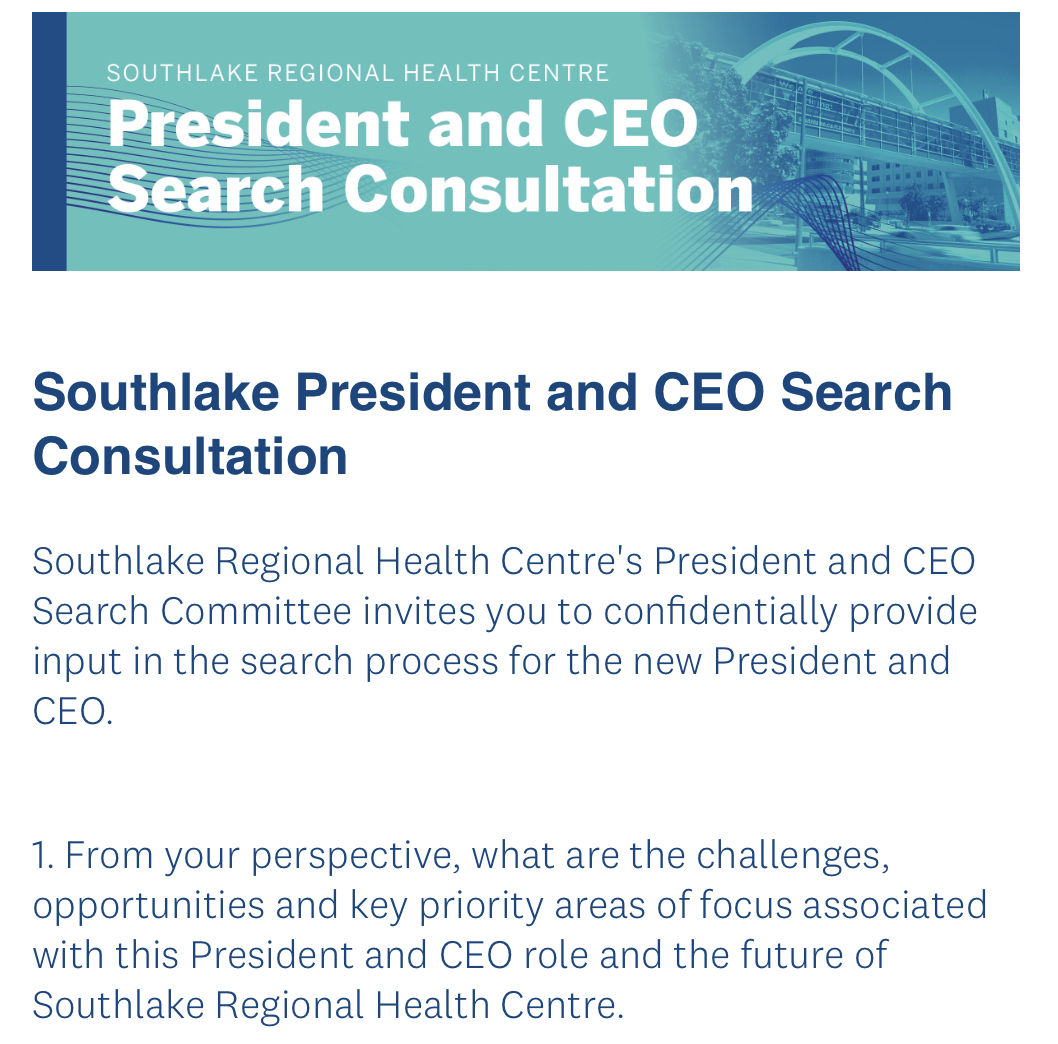 "to confidentially provide input in the search process for the new President and CEO."
The current Chief Executive, Arden Krystal, dropped a bombshell on 5 July 2023 by unexpectedly announcing her resignation in the middle of a major exercise to find a location for a second Southlake campus as close as possible to the Davis Drive site.
Big Job with Salary to Match
Being Chief Executive is a big job with a salary to match. Arden Krystal's pay last year was $521,297 plus $10,649 in taxable benefits.
Her 2017 contract with the hospital is here. The responsibilities are huge.
I have nothing but praise for the medical staff who deserve ten out of ten. We are lucky to have them.
But it is impossible to write about Southlake without mentioning the many well publicised run-ins the nurses have had with the hospital management.
And I was shocked to discover the hospital was cutting the number of nurses in the middle of the COVID pandemic.
Southlake's consultation asks:
From your perspective, what are the challenges, opportunities and key priority areas of focus associated with this President and CEO role and the future of Southlake Regional Health Centre.
What leadership attributes and competences should the ideal candidate possess?
What experience should the ideal candidate possess?
If you were speaking to a good candidate for the role, what would you say about the organisation and the opportunity to generate their interest?
This survey is confidential. However, Southlake is committed to keeping you updated. If you wish to receive updates from Southlake, including an overview of the results of this survey, please provide your information below...
I can't see a deadline for returning the survey form but I may have missed it. How much notice the Search Commitee will take of the responses is anyone's guess.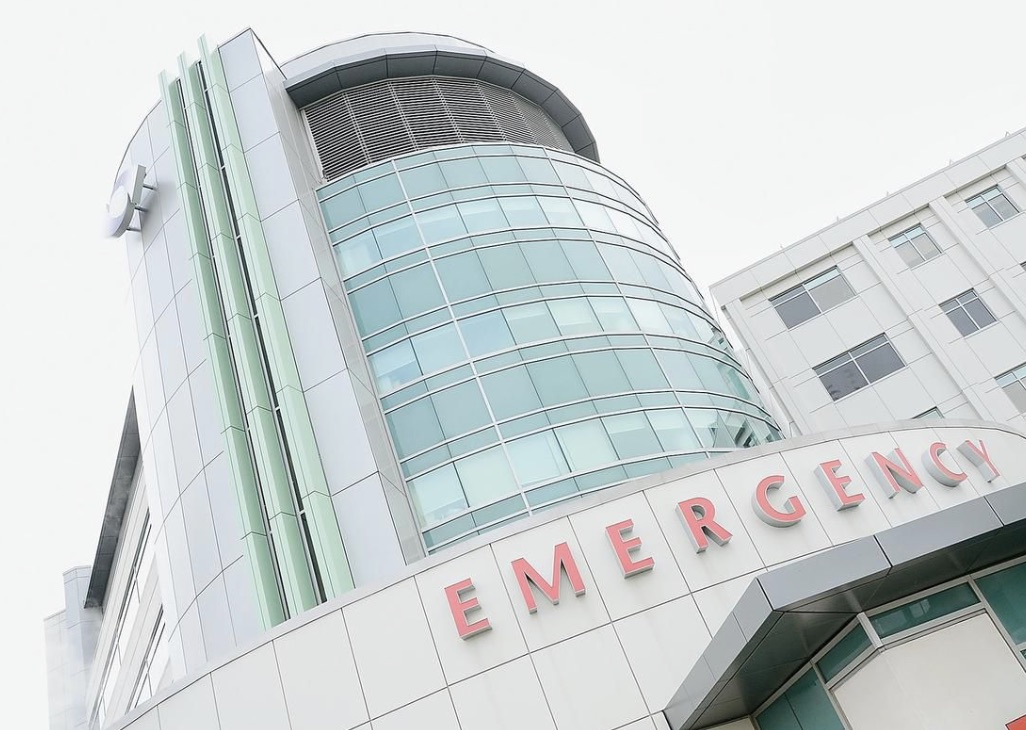 For a non-medical person like me these are daunting questions. But, first up, I'd say the Search Committee (whoever they are) will be looking for someone with a medical background with a track record in hospital administration, delivering results. (Arden Krystal was a nurse in her earlier career.)
The successful candidate will also bring his or her own ethos to the job.
Southlake and Transparency
The Southlake I've observed over the years has hoarded information, treating every scrap of paper as if it contained a patient's medical history.
The hospital trumpets:
"Southlake Prides Itself on being transparent."
Pull the other one!
Shrouded in Secrecy
Meetings of the Board of Directors are shrouded in secrecy. There are no minutes available to the public – not even redacted ones. Only selective meeting summaries.
Even now, over nine months after a key meeting on 1 November 2022 when developer Michael Rice offered Greenbelt land for a new hospital for a nominal fee, Southlake insists it has no records of what happened then. Who is kidding whom?
The Board's "meeting summaries" do not tell us about conflicts of interest that have been declared by Board members.
They do not tell us if the offer of land for a new hospital was reported to the Board at its meeting on 25 November 2022 or, indeed, at the next meeting on 26 January 2023 after the Ford Government had removed the Rice lands in King from the Greenbelt.
If everything is above board there is absolutely no reason why this information should be withheld.
The new Chief Executive has nothing to fear by opening up a closed institution and letting the daylight in.
This email address is being protected from spambots. You need JavaScript enabled to view it.
Update on 8 August 2023: From the Toronto Star: Doug Ford's Tories brace for auditor's report into controversial Greenbelt land swap