Details

Written by

Gordon Prentice
The big news today – at least for me – is a promised review of Competition Law.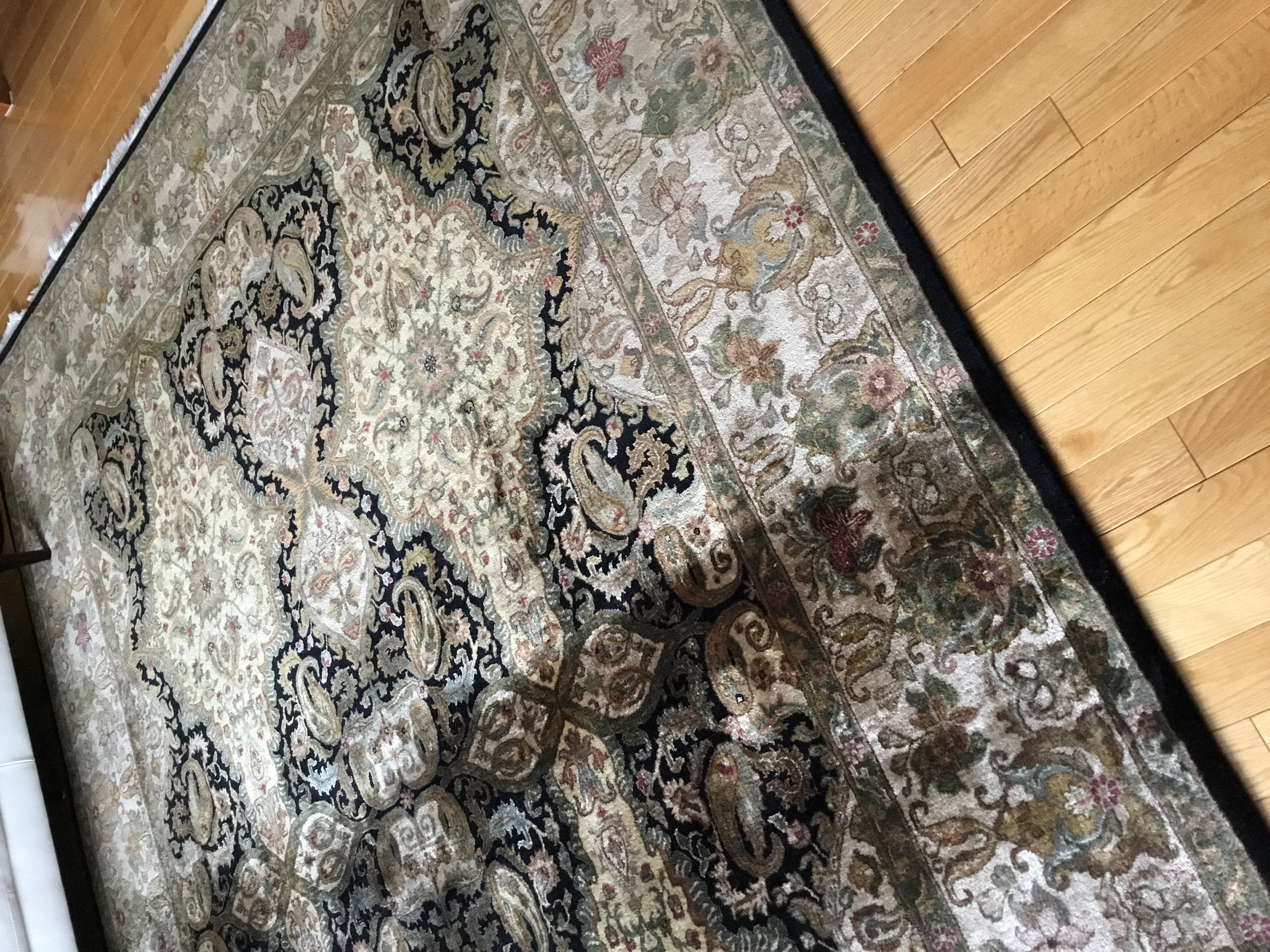 Can't come soon enough.
The review will include "deceptive advertising".
As it happens, I'm already in touch with the Competition Bureau about the Newmarket firm Fully Completely Inc who operate out of 320 Harry Walker Parkway North.
Last year I gave them five expensive (for me) hand-woven carpets for cleaning and got them back in December in a lamentable condition.
After a number of phone calls and email exchanges with the firm, asking them what they were going to do about it, I receive this one from the owner, Darren Cunliffe, on 30 December 2021:
"This is sad you have put this amount of time in this. It's a rug. Let us know if you want us to pick up and rectify. I'm not engaging you in this again."
Against my better judgement I returned three carpets for "remedial work", holding back two for safe keeping until I saw the results from the first three. The largest carpet is, quite literally, a shadow of its former self (photo: after remedial work).
I gave my carpets to Fully Completely because (a) I wanted to give my business to a local firm and (b) their website flagged up their expertise and customer focus:
"We at Fully Completely through our experience decided there was a market for quality service at a reasonable price. Anyone can say they are carpet cleaners, but we at Fully Completely are schooled and certified by the INSTITUTE OF INSPECTION CLEANING and RESTORATION CERTIFICATION (IICRC)"
That's just a bunch of hokum.
The Institute tells me that Fully Completely Inc is not certified by them and the owner, Darren Cunliffe, does not appear in their records. They tell me individual carpet technicians may be registered with the Institute but without names they could not check. And when I asked Fully Completely to give me the names of the people who worked on my carpets they refused citing "privacy reasons".
I've asked Darren Cunliffe for my money back.
If I don't hear from him we shall take it from there.
Fully Completely Inc is not a member of the Newmarket Chamber of Commerce.
This email address is being protected from spambots. You need JavaScript enabled to view it.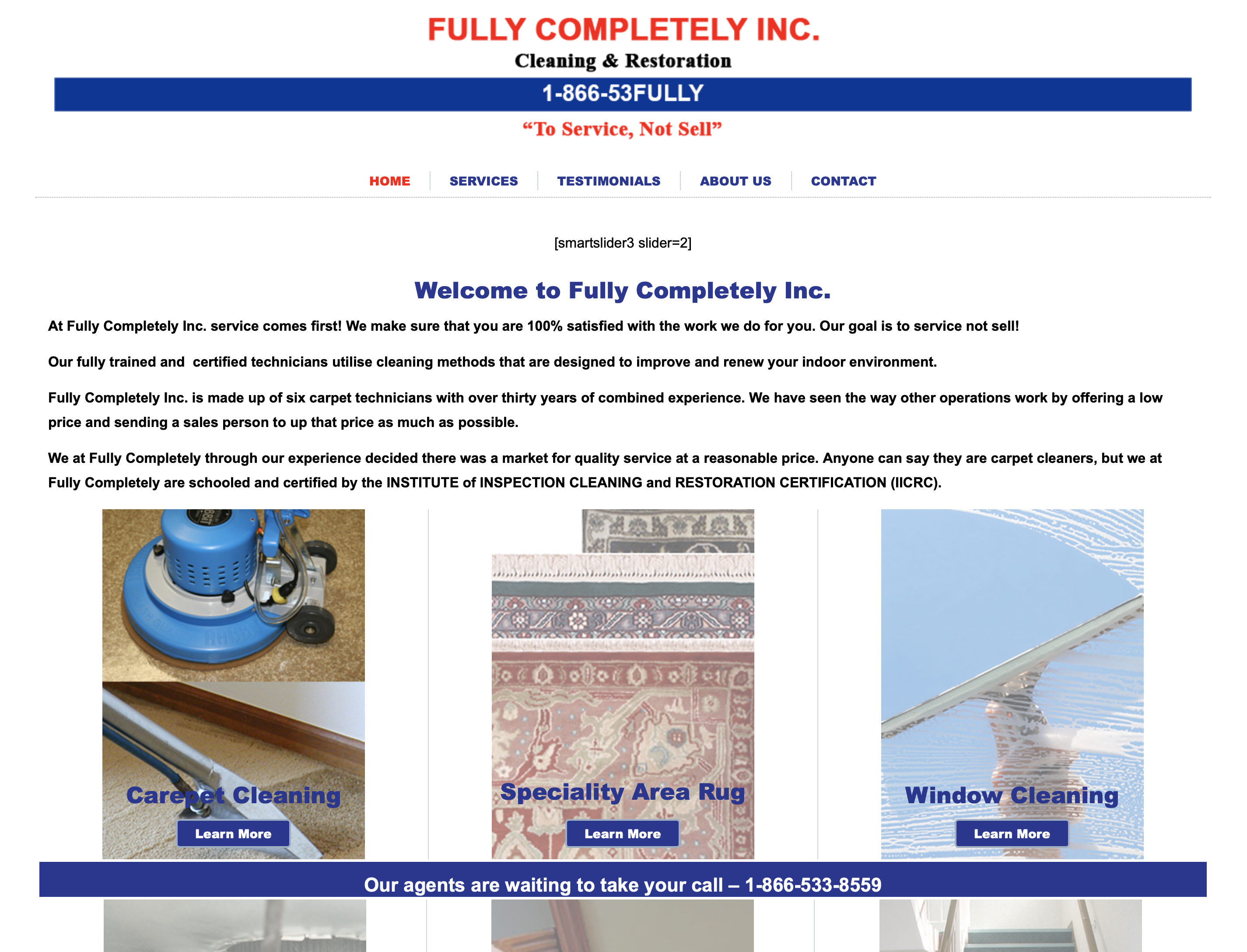 Details

Written by

Gordon Prentice
An estimated 84% of truckers are vaccinated.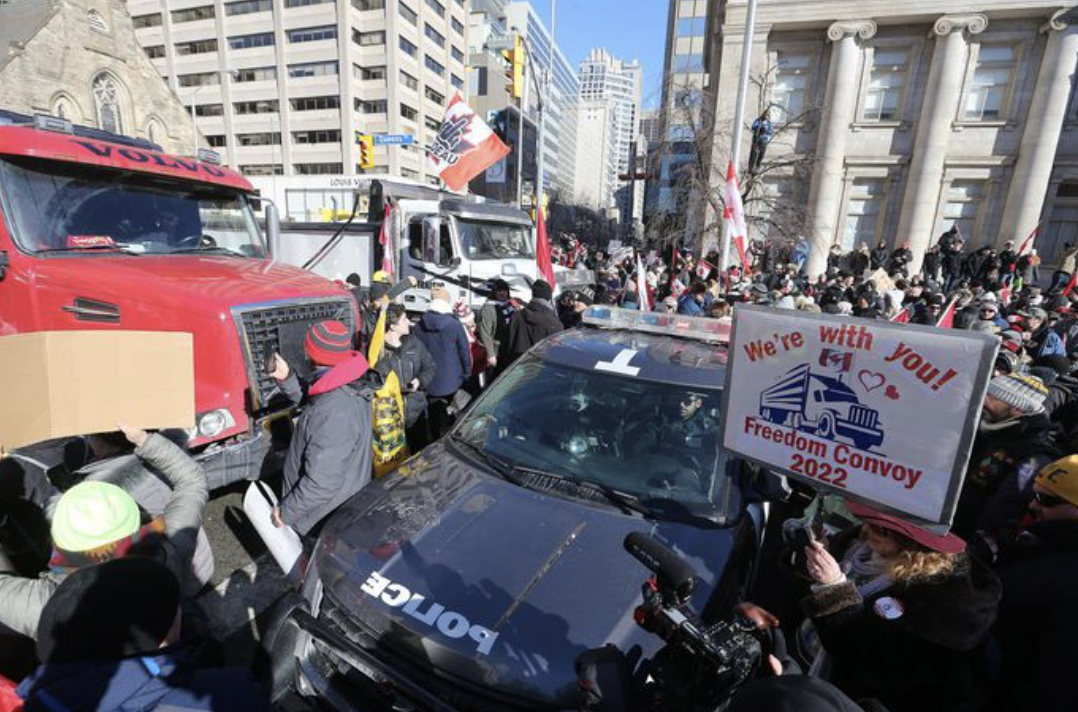 But they don't get much airtime.
The other 16% of truckers and their camp-followers - who are getting all the attention - claim the freedom to remain unvaccinated. (Photo Downtown Toronto today)
This morning (5 February 2022) the Ontario Government tells me:
89% of people over the age of 12 are fully vaccinated (at least two doses);
3% are partially vaccinated and
8% are unvaccinated.
In the Province's Intensive Care Units:
174 are fully vaccinated (50.8%)
10 are partially vaccinated (2.9%) and
158 people are unvaccinated (46.1%)
The official figures are constantly being updated but, as of now, 8% of the population at large is unvaccinated yet they, the unvaccinated, occupy 46% of the beds in Intensive Care.
Prioritising the vaccinated
Clearly, the unvaccinated who get Covid 19 are much more likely to end up in intensive care than the fully vaccinated. They put an additional load on a system already under pressure.
Other things being equal, it seems to me the fully vaccinated should have priority over those who deliberately choose to remain unvaccinated.
Heath care is rationed in all sorts of ways. Waiting lists are the obvious example. But rationing happens in more subtle ways every day, all over the country, in a million medical and administrative decisons, rarely made explicit.
At the moment ICUs appear to be coping. But what if a virulent new strain of Covid emerges?
The truckers won't have the freedom to go elsewhere for treatment. No-one else is gonna let them in. They will be stuck here in Canada.
With the freedom to choose to go to the back of the queue.
As if.
This email address is being protected from spambots. You need JavaScript enabled to view it.
Note: There is a time lag between hospital reporting on Covid and the figures appearing on Ontario.ca. Public Health Ontario is reporting 501 patients in Intensive Care today (5 February)
The Provincial Government says of its figures:
This is a new data collection and the data quality will continue to improve as hospitals continue to submit data. Data on patients in the ICU is collected from two data sources that have different extraction times and public reporting cycles. This may cause discrepancies with other hospitalization numbers that are collected using a different process.
Update on 8 February 2022: Toronto Public Health data show hospitalization and death are rare for individuals with three doses of Covid 19 Vaccine.
Details

Written by

Gordon Prentice
The Toronto Star's Martin Regg Cohn reported on Saturday that the NDP candidate for Ajax, former Mayor Steve Parish, was responsible for naming a local street after the WWII German Naval Commander Hans Langsdorff.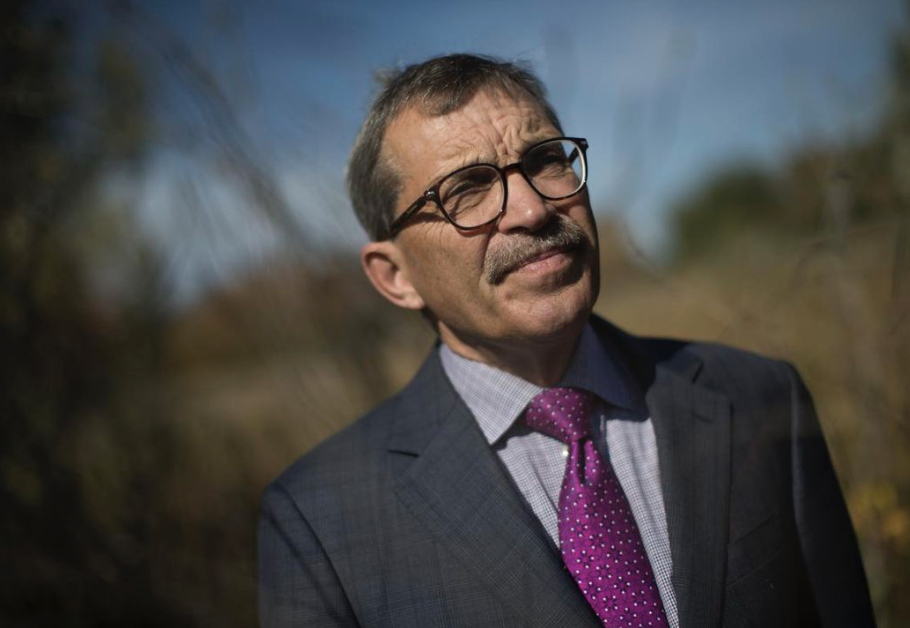 When Parish (photo right) was confirmed last month as the NDP's "star candidate" in Ajax, Cohn asked the Party for an explanation.
"…the Party referred me to his previous public statements, and those of party leader, Andrea Horwath, saying he meant no offence."
Cohn goes on:
"As mayor in 2007 Parish hailed Langsdorff as a "remarkable leader". His town took the name from HMS Ajax, one of the three Allied vessels involved in the fight against the Graf Spee commanded by the Nazi Captain."
Horwath gets it wrong (again)
Andrea Horwath often gets things wrong. But defending Parish was a serious error of judgement. One of many in her decade at the helm of Ontario's NDP.
(Last year she said it was a Charter Right for education workers to refuse a Covid 19 jab. This unleashed an immediate storm of protest - from within the Party and outside - and she rapidly back-tracked.)
And now, this morning, I read that Andrea Horwath has decided that Steve Parish cannot be a candidate for the NDP.
"The NDP's vetting process gave us confidence that Mr Parish does not hold anti-semitic views. However, our Party is committed to naming and correcting injustice, and vowing to do better – and as a candidate he has not met the mark."
Shelf-life
Personally, I believe Andrea Horwarth is well past her sell-by-date as leader of the NDP. All politicians have a shelf-life and it is not cruel or unreasonable to suggest she should make way for someone else. The NDP is not going to win a majority of seats in the June election under her leadership.
After the Dundas controversy I've spent some time thinking about how we should commemorate people – or not.
And the very idea that we should have a street in Ajax named after a card carrying member of the Nazi Party beggars belief.
I spent this morning reading a big chunk of the Battle of the River Plate by Richard Woodman and Christopher Summerville.
Trapped in the River Plate in Montevideo with British and Allied warships waiting for him, Langsdorff chose to scuttle his battleship. He and his crew made it safely to dry land. Three days later Langsdorff commited suicide.
Faith in my Fuehrer
On the evening before he shot himself in the head he wrote that he accepted responsibility for the scuttling of his ship and he was
"happy that I can with my life prevent the casting of any imaginable shadow on the honour of the flag"
and he would
"meet my fate with firm faith in the cause and the future of the nation and of my Fuehrer".
How did Steve Parish get it so wrong?
And what on earth was Andrea Horwath thinking when she waved him through as one of the NDP's "star candidates"?
This email address is being protected from spambots. You need JavaScript enabled to view it.
HMS Ajax was commissioned into the Royal Navy in 1935. During the Battle of the River Plate HMS Ajax was commanded by Captain Charles Henry Woodhouse who was promoted to Rear Admiral in 1946. He retired in 1950 and, unusually, was made a full admiral in 1952. After the River Plate, HMS Ajax went to the Mediterranean where she took part in the Battle of Matapan, in operations off Crete and in the Malta convoys. Later she was part of the force covering the D-Day landings in Operation Neptune. In 1944 she provided accommodation for Churchill on his visit to Athens. She was broken up in 1949.
Update on 8 February 2022: Andrea Horwarth was elected leader of the Ontario NDP in March 2009.
Details

Written by

Gordon Prentice
The wannabe MPP, Shameela Shakeel, has dropped out of the race to become the Liberal candidate for Newmarket-Aurora in the Provincial election in June.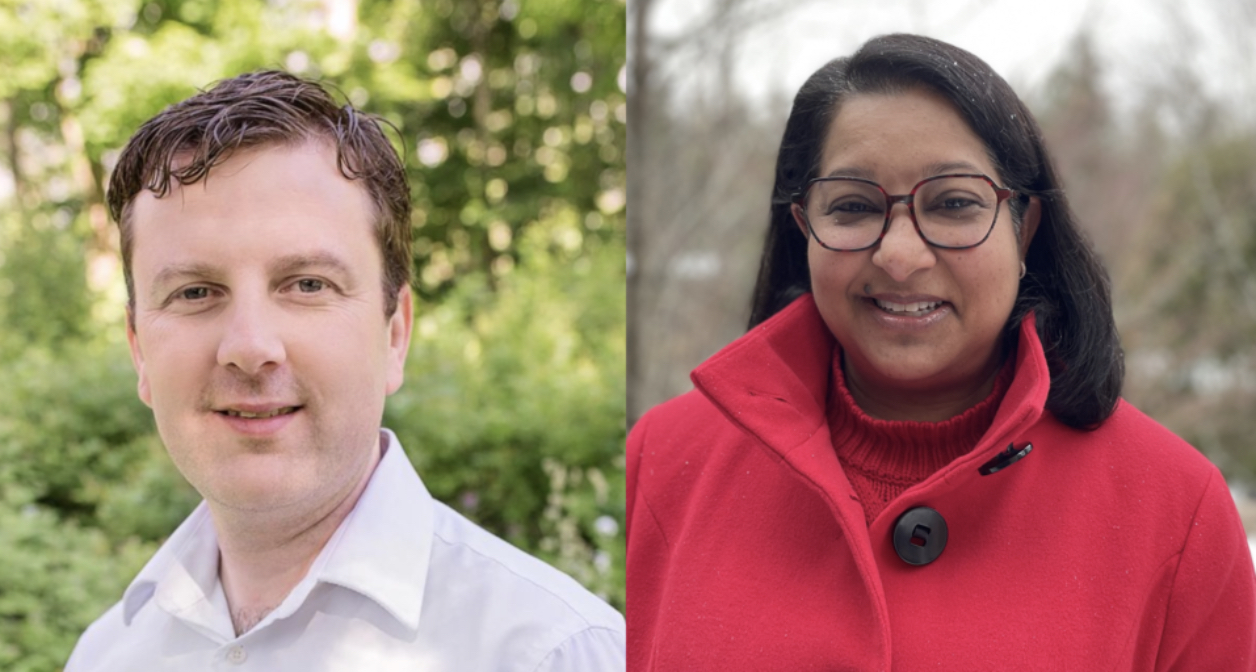 Yet again, the local Liberals are fielding a candidate drawn from a pool of one.
Psychologist Dr Silvain Roy will be acclaimed at the nomination meeting at 7pm on 10 February 2022 which will be held virtually by live webcast.
Requirements
The revised notice of the nomination meeting which was sent out to the Party faithful yesterday, 26 January 2022, says
"Only one nomination contestant who has met all the requirements set out in the approved nomination plan for Newmarket-Aurora and remains on the ballot. Accordingly, Dr Silvain Roy will be acclaimed as the candidate of the Ontario Liberal Party in the electoral district of Newmarket-Aurora at the nomination meeting."
Smear campaign
I have no idea if Shameela Shakeel jumped or was pushed. But she grabbed the headlines when she claimed she was the victim of a smear campaign. She told Newmarket Today on 15 January 2022:
"I know that this happens. That smear campaigns happen. I know that intimidation happens. This is why people who look like me and think like me don't run for politics."
The Ontario Liberal Party nomination rules lay out the standards of conduct expected of nomination contestants. Paragraph 25 warns contestants to:
"conduct themselves with decorum and respect for opposing Nomination Contestants, the Ontario Liberal Party, any of its members, or any of its officials"
"refrain from conduct that will unduly and material diminish the chances of any Candidate to win their electoral district for the Ontario Liberal Party in a general election",
"refrain from conduct that is unbecoming or detrimental to the public confidence in the Ontario Liberal Party or its nomination process"
Untenable political risk
I learn that a Nomination Commissioner may disqualify a contestant if he or she falls short and that the Commissioner
"may rely on any statement on social media deemed to be offensive, inflammatory, controversial or presenting untenable political risk as grounds for the disqualification of a Nomination Contestant or of a nominated Candidate."
Oh dear!
It looks like Shameela Shakeel is not cut out for the rough and tumble of Liberal Party politics.
Or she could have looked at the rules and walked away.
This email address is being protected from spambots. You need JavaScript enabled to view it.
Update on 27 January 2022 at 10.30am: A top Liberal official in the Newmarket-Aurora Party tells me:
"Shameela was not green-lighted by the Ontario Liberal Party head office. No reason was given."
Update on 27 January 2022: From Newmarket Today: Liberals oust Education Advocate from Provincial Nomination Race
Details

Written by

Gordon Prentice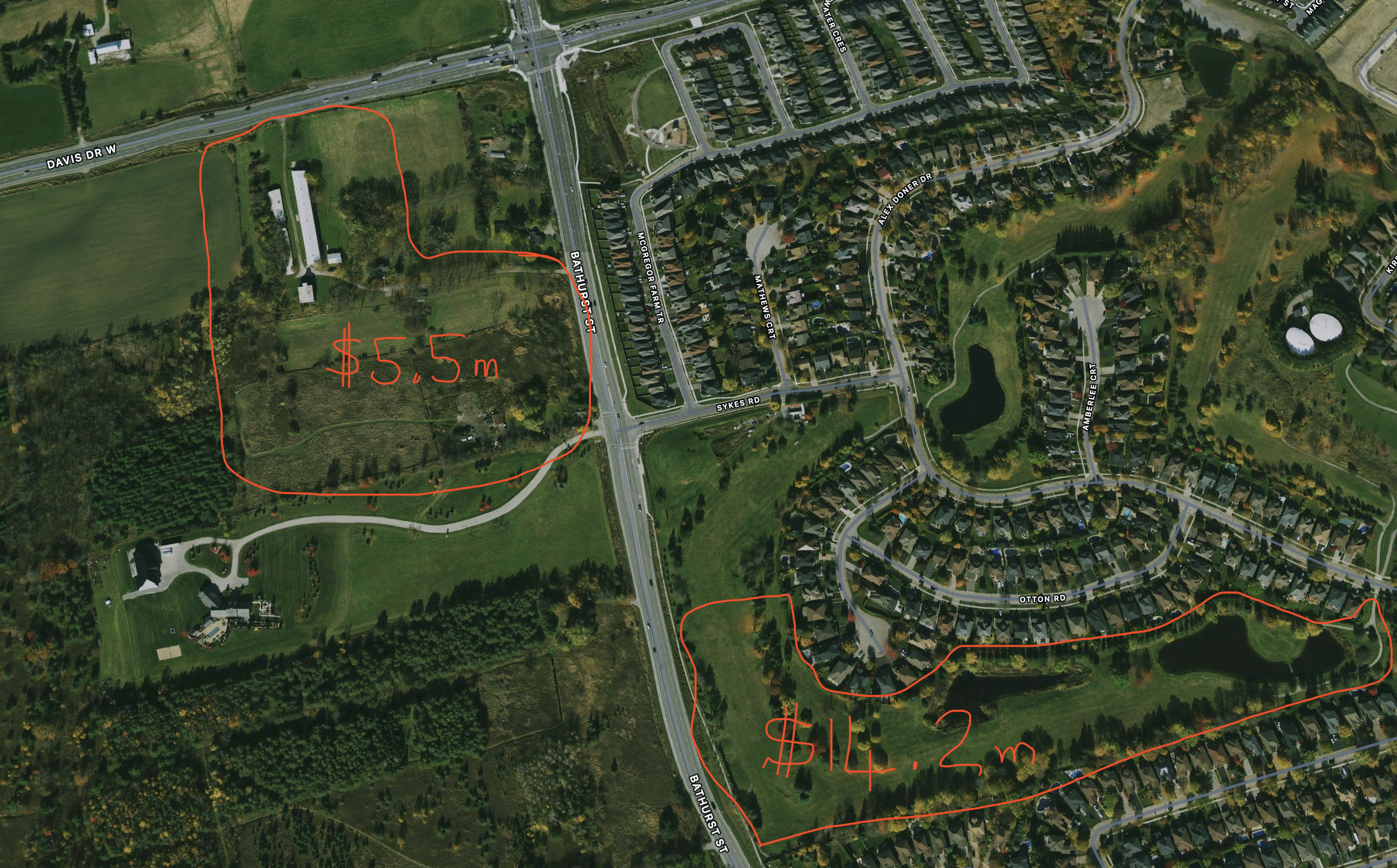 Why is it that 16 acres of undevelopable land donated by the Glenway developer to the Town of Newmarket is worth over $14M when a 16 acre farm 300 metres away is on the market for $5.5M?
I'd like to know.
On 14 December 2021 the Town of Newmarket issued an official donation receipt of $14,290,000 to the Glenway developer, Marianneville, for its donation of 16 acres of land in Glenway West, abutting Bathurst Street. (see map below)
Eleven years earlier, on 21 January 2010, Marianneville bought the former 140 acre Glenway Golf Course for the knockdown price of $9,900,000 gambling on getting planning permission to redevelop – which it got.
Astonishingly, the donation receipt for 16 acres is worth more than Marianneville paid for the whole 140 acres in 2010.
Money in the bank
Marianneville can use the donation receipt to offset tax owing to the Canada Revenue Agency. It's as good as money in the bank.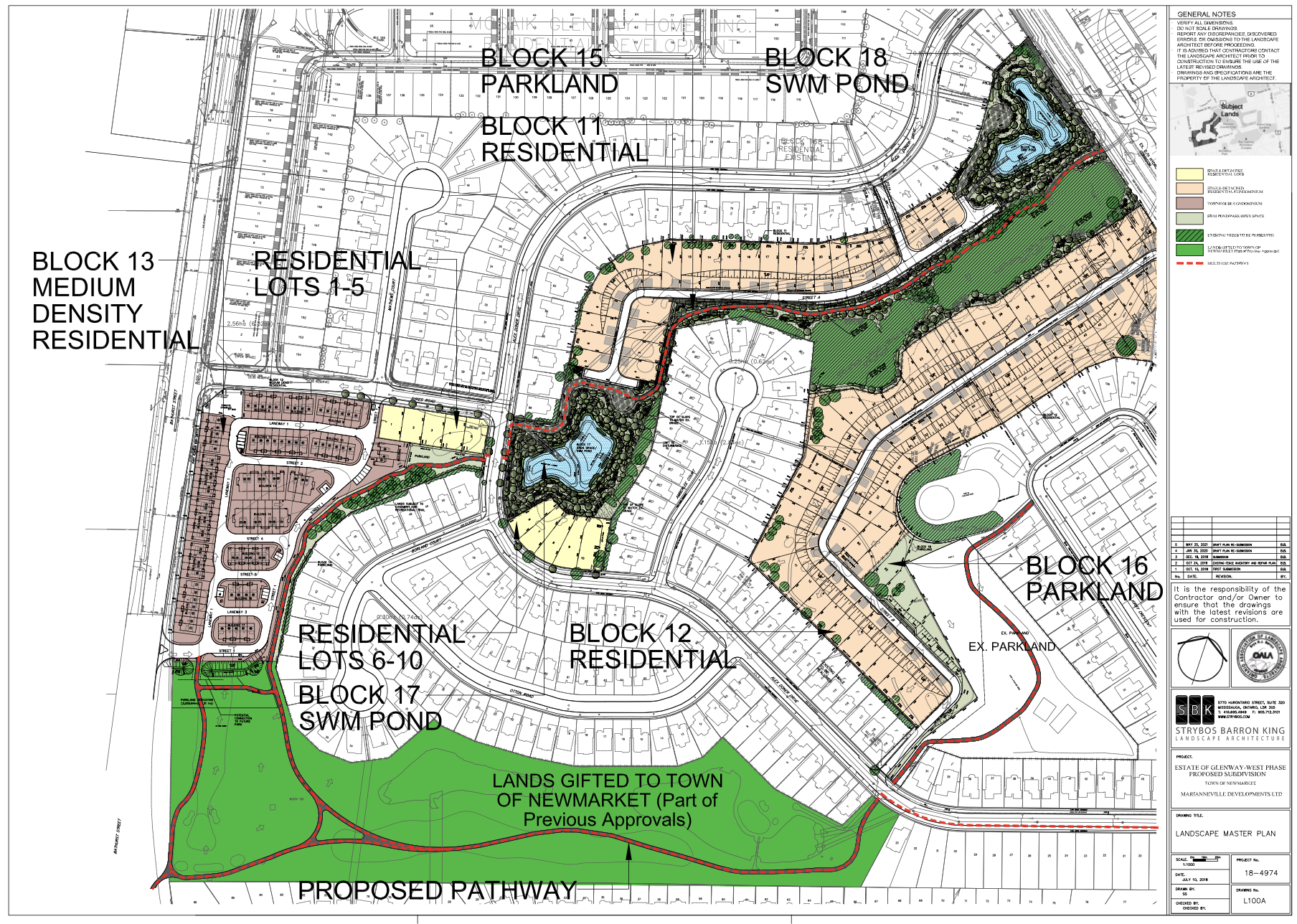 The Town doesn't pay anything. For accounting purposes, the donation receipt will appear as revenue in the Town's financial statements, matched by the acquisition of the land for the same amount.
But who decided the land was worth over $14M? And why isn't the valuation report available for the public to read?
The Town has a Donation Policy but valuations are kept confidential.
So I have no way of knowing if the $14M is a wildly inflated valuation or if it is the going rate, in line with similar gifts of comparable undevelopable land elsewhere.
Fair Market Value
The donation has to be valued at Fair Market Value which is defined as the price the property would bring
"in an open and unrestricted market and between a willing buyer and a willing seller who are knowledgeable, informed, and acting independently of each other."
Last month's sale of the Clock Tower in the heart of the historic downtown for $4,250,000 shows the market at work. For gifted land, professional valuers must be brought in to assess its value. The donor pays for the valuation.
Oak Ridges Moraine and Greenbelt
The land contains two large stormwater ponds and lies within the Greenbelt and the Oak Ridges Moraine where development is strictly controlled. In fact, no development is possible on the donated land.
On 30 December 2021 Newmarket Today reported
The donated lands are around the former 16th hole of the golf course. (Marianneville's Joanne) Barnett said that portion of the property was less suitable for development for houses, but worked for a trail system.
"They supported two stormwater ponds and segued nicely into the woodlot there. It was a nice fit."
Three hundred metres away, the 16 acre Chesters Chicken Farm, at the corner of Bathurst and Davis Drive West, is up for sale with an asking price of $5,499,000. The land also lies within the Oak Ridges Moraine.
So why the huge difference in value?
Planning considerations
The donated Block 120 is zoned as Open Space. It is located in the settlement area of the Town of Newmarket but it also lies within the Oak Ridges Moraine. The policies of the Oak Ridges Moraine Conservation Plan (ORMCP) override the Town's official plan.
Municipal planning decisions have to conform with the ORMCP which takes precedence over municipal official plans.
There are other land classifications listed in the Plan such as "Countryside". And where the land is up for sale the market decides its value.
If you Google "land sales on Bathurst Street" you will find other parcels of land for sale. And all these are within the Oak Ridges Moraine on the rural King side of Bathurst.
I see 16230 Bathurst where you can get 23 acres for $5.25M.
Now I see 100 acres in King – within the Oak Ridges Moraine – offered for sale at $12,800,000. For this you get:
"a beautiful mix of open rolling paddocks, hayfields, a lovely woodlot with trails and even a horseshoe-shaped pond.
And what about 16365 Bathurst (this one on the Newmarket side) ) where you can pick up a rather grand house and 37.6 acres for $7,500,000?
The detailed maps of the Greenbelt are here. They show the boundaries of the Oak Ridges Moraine. The Glenway lands (and the donated Block 120) are shown in sheet 31 which covers Newmarket. Aurora and the Oak Ridges Moraine in King are shown in sheet 45.
Personal and sensitive
The Town keeps the record of donations secret for this reason:
"Charitable giving is normally a personal and sensitive issue. To ensure the privacy of donor information it is necessary to control access to donor and donation information. The Financial Services Department maintains records on all donors and donations received by the Town. A donor may request that his/her gift and/or all information pertaining to that gift remain anonymous."
But, surely, that cannot possibly apply to the donated land when the Town itself publicised the gift in 2017 and Marianneville has chosen to speak openly about it.
How can they then shelter behind the veil of confidentiality?
In other cases where donors insist on confidentiality, it should be possible to list the number of donation receipts issued every year with their value together with the number of donors who didn't want a receipt for tax purposes.
The Marianneville valuation shouldn't be secret.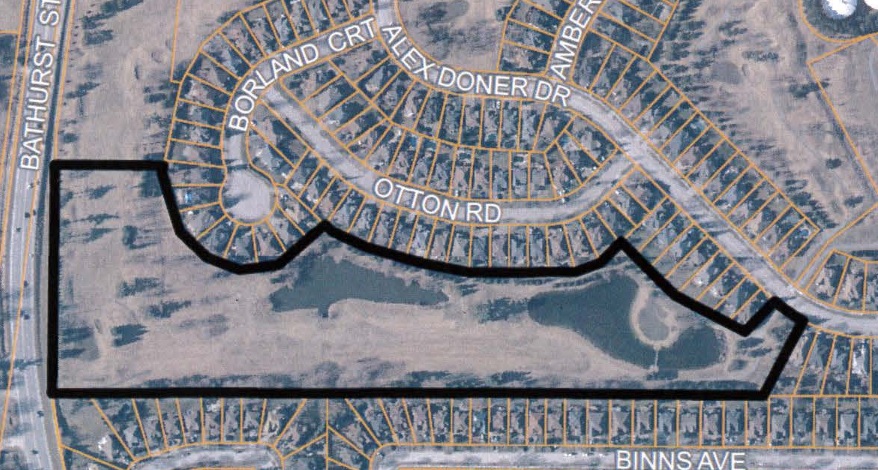 We need to have sight of the valuation report and the name of the valuer who prepared it. Why ever not?
The Town's donation policy also takes into account any possible advantage the donation may bring to the donor. (For example, properties overlooking permanent open space may sell for a premium.).
"Only the Eligible Amount of a donation may be recorded on a donation receipt. If the donor receives any property, services, or other Advantage in consideration of his or her donation, the Fair Market Value (FMV) of the Advantage is deducted from the FMV of the gift to determine the Eligible Amount for the purposes of the donation receipt."
Donations and Planning Approval
The policy makes it clear that:
"Donations will not be accepted from persons who have a concurrent application of a permit or license from the Town or an application for planning approval from the Town, or from persons who are bidding for a contract from the Town through a procurement process."
Marianneville is still waiting for certain approvals for what remains of its Glenway West development but this was anticipated in 2017 by the Town's then Chief Administrative Officer, Bob Shelton, who wrote:
"Marianneville continues to own the balance of the west lands that are not included in this land donation. These lands include a woodlot, stormwater management ponds and former golf course fairways. Should Marianneville file a development application for some or all of these remaining lands, the application will stand on its own and be reviewed in accordance with the prescribed Planning Act process."
We would expect no less.
This email address is being protected from spambots. You need JavaScript enabled to view it.
Update on 1 February 2022 to change "tax receipt" in headline to "charitable donation receipt" for greater accuracy.
Update on 27 January 2022: I have updated my blog to include the new paragraph above headed "Planning considerations"
Note: In his Information Report in 2017, Bob Shelton, told us that, in addition to the land donation, Marianneville had agreed to
"design and construct trails and related works at its cost on, and adjacent to, the donated lands at a time agreed to with the Town. The trail will connect to the Bathurst Street sidewalk, the existing trail in the Kirby Crescent Park, and Alex Doner Drive. For the portion of the trail proposed on lands retained by Marianneville an easement will be required and provided to permit public access over private land."
There are 42 km of paved recreational trails in Newmarket and more are planned including multi-use paths. I don't know the length of the one at Glenway West nor do I know how much it would cost to build. The Town, though, will be responsible for maintaining it.