Details

Written by

Gordon Prentice
The Greenbelt land west of Bathurst which lies immediately adjacent to Newmarket was bought in September 2022 for $80M by Green Lane Bathurst GP Inc whose President is Michael Rice.
Less than two months later, on 4 November 2022, the Provincial Government proposed opening the land up for development.

So, what would the land be worth now?
Price per acre
The Rice Greenbelt land covers 687 acres giving a price per acre of $116,448. Less than 2km away, going south on Bathurst lies Chester's Chicken Farm, whose 16.42 acres are currently on the market for $6,499,000. This works out at $395,797 per acre. Across Bathurst in Newmarket lies the former Marianneville land which was donated to the Town on 14 December 2021 in exchange for a tax receipt which could be used to offset tax otherwise owing to the Canada Revenue Agency.
Here the 15.92 acres were deemed to be worth $14,290,000 which works out at $897,613 per acre. For reasons which I needn't go into here, I believe this valuation to be completely bogus and wildly inflated. (You can read my letter to the Canada Revenue Agency here in which I call for a new valuation.)
All three lie within - or, in the case of Marianneville, mostly within - the Greenbelt. The donated Marianneville lands are in Newmarket, a settlement area.
$80M - a very good deal
If the Rice Greenbelt lands had been valued on the same basis as the Chester Chicken Farm they would have been sold for $271,912,539. On the other hand, if they had been valued as the Marianneville lands at Glenway West they would have sold for an eye-watering $616,660,000.
Which ever way you cut it, Michael Rice got a very good deal.
The valuation of land is as much an art as a science, especially in the absence of a market (as in the Marianneville case which involved the charitable donation of land in exchange for a tax receipt).
But a sale at Fair Market Value would be the price the property would bring:
"in an open and unrestricted market and between a willing buyer and a willing seller who are knowledgeable, informed, and acting independently of each other."
It is impossible to believe the person who sold Rice 687 acres for $80M in September would have done so if he had known the land – or a huge chunk of it - would be earmarked for development less than two months later.
And why did Rice buy this huge tract of land when everyone else believed it was Greenbelt in perpetuity and protected from development?
Gambling on a hunch
Was Rice gambling on a hunch that, at some stage, it would become developable? Or was there more to it than that?
In its motion on 7 November 2022, King's Committee of the Whole said the new landowner was committed to providing lands for the Southlake Regional Health Centre site for a nominal fee. The Mayor, Steve Pellegrini, told the press afterwards he thought this could be $5.
Of course, if Rice were to sell the lands Southlake needs for its new acute hospital for $5 that would be a done deal – a willing buyer and a willing seller. But if Rice were to donate the lands outright he could, cheekily, make the gift conditional on getting a tax receipt from Southlake (a charity) which he could then use to offset tax owing to the Canada Revenue Agency. This is, of course, the infamous Marianneville wheeze. Charitable giving with a payback.
But, for the moment, we need to know when Rice first realised the Greenbelt land he bought could be opened up for development. And we need to know when he first approached Southlake, making them an offer they couldn't refuse.
Once we have this information everything else will start slotting in to place.
This email address is being protected from spambots. You need JavaScript enabled to view it.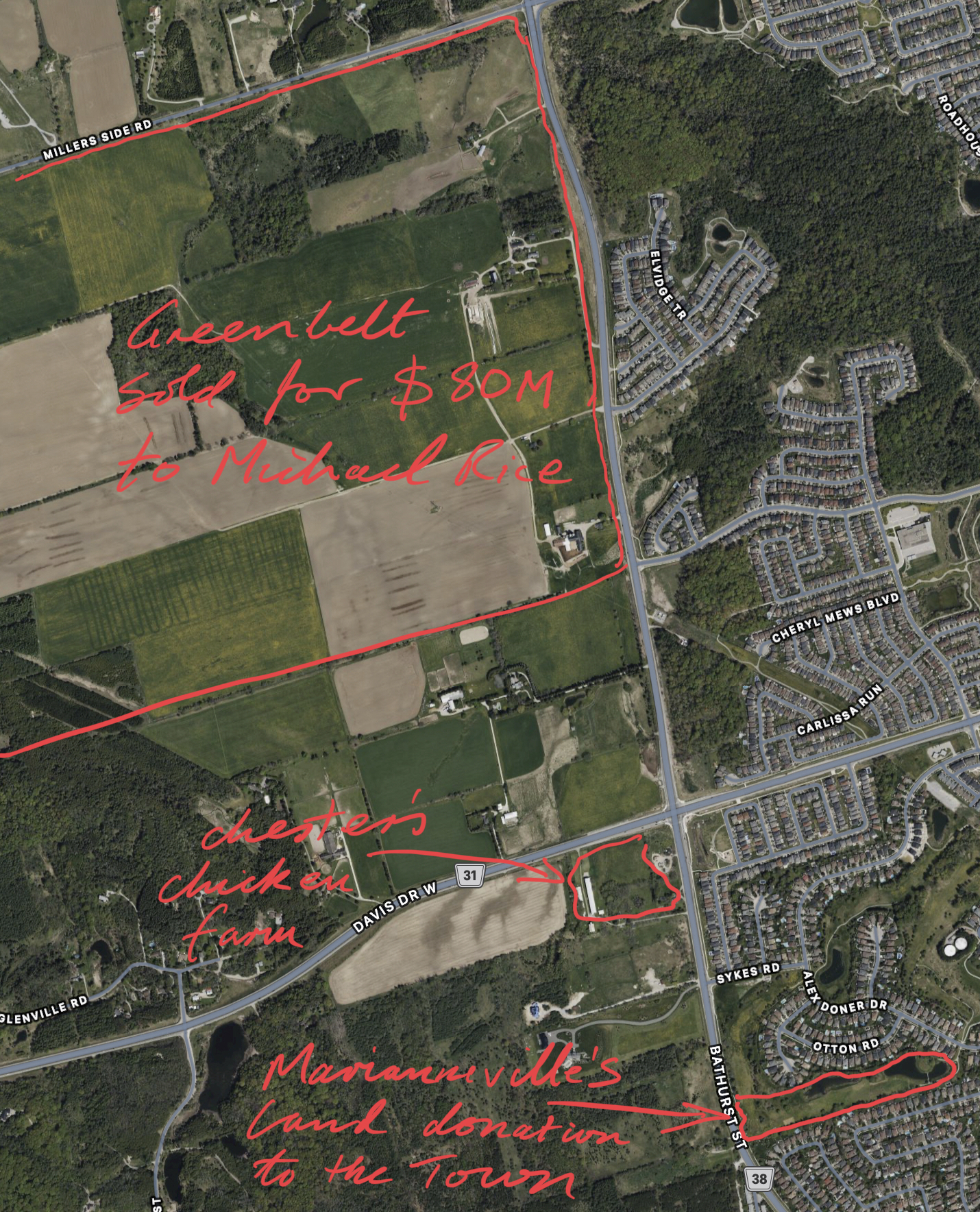 Details

Written by

Gordon Prentice
Earlier today (Friday 20 January 2023) Doug Ford said he was confident no developers had been tipped off about the changes to the Greenbelt which would allow building on land that was out of bounds to developers.
They were.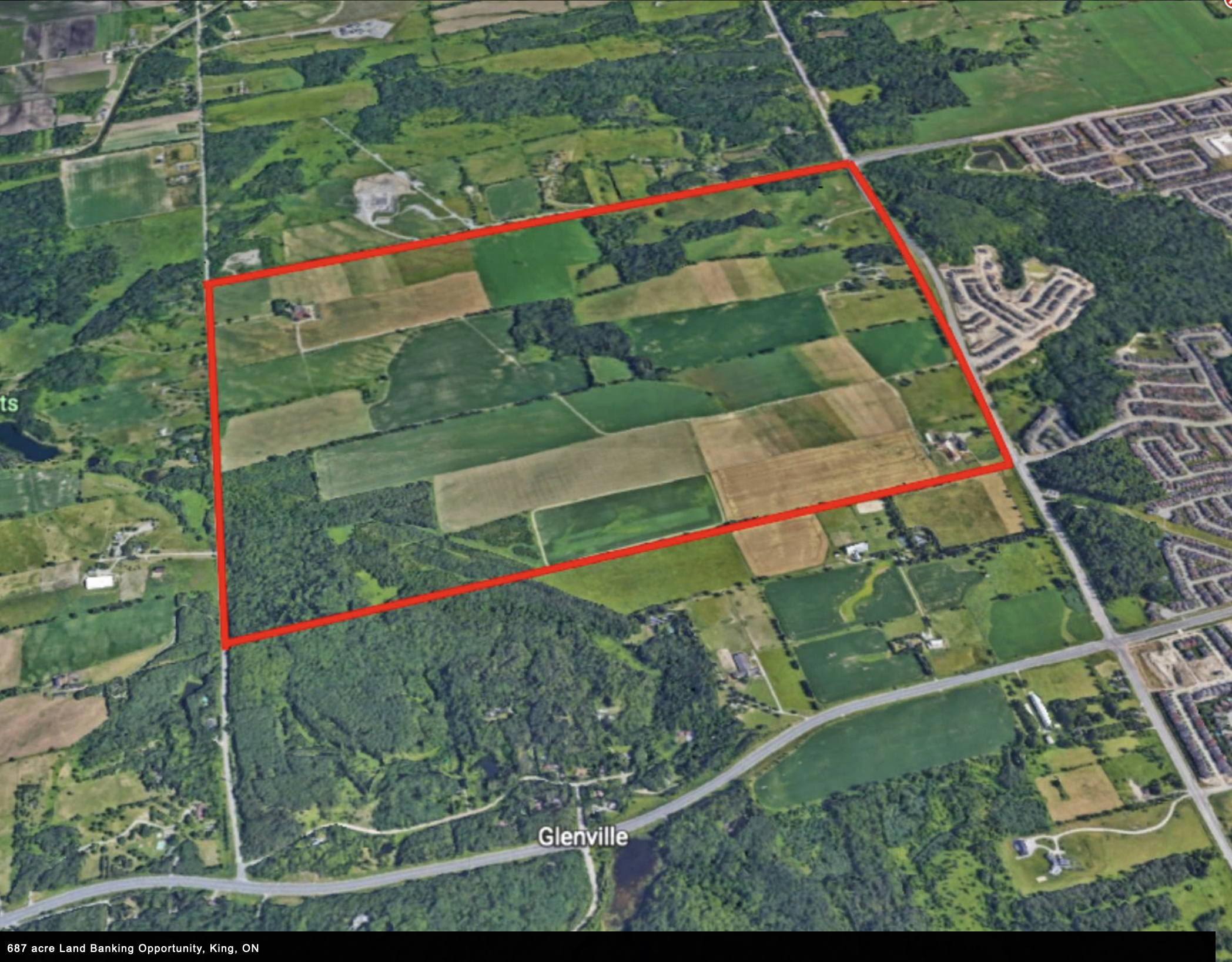 On Friday 4 November 2022, the Minister for Municipal Affairs and Housing, Steve Clark, announced that 15 areas of land totalling approximately 7,400 acres were to be removed from the Greenbelt.
This was the first time the Government indicated that this land would be taken from the Greenbelt for development.
And yet on Tuesday 1 November 2022 – three clear days before the new Greenbelt policy was publicly unveiled – a representative of the Rice Group told the Mayor of King, Steve Pellegrini, that some of their soon to be redesignated Greenbelt lands in King (west of Bathurst and south of Miller's Side Road) would be made available to Southlake Hospital "for a nominal fee".
The Rice Group purchased 687 acres of Greenbelt land for $80M in September 2022. (see right)
On 7 November 2022, Steve Pellegrini tabled a motion saying King supported a new hospital on the (soon to be) former Greenbelt lands and that:
"the landowner is committed to providing the necessary lands for the Southlake Regional Health centre site for a nominal fee."
In December 2022 I lodged a Freedom of Information request with the Township asking what form that commitment took and to whom it was conveyed. (See below) The Town tells me:
"The commitment of a nominal fee for the hospital lands was conveyed verbally to Mayor Pellegrini during an in-person meeting with Rice Group and Southlake Representatives on November 1, 2022."
When did the Rice Group first realize their Greenbelt land could be developed?
This begs a number of questions. When did the Rice Group first realise the Greenbelt land it purchased a few months earlier could be developed? When did the Rice Group first approach Southlake offering some of the land for a nominal fee and what precisely was said? Did Southlake not raise questions about the land being in the Greenbelt? And how did the Rice Group respond to that?
Steve Pellegrini told the ERA newspaper yesterday that King was doing nothing nefarious by asking the Province to fast track its land for a new hospital. Clearly, he was assuming the sale or gift of the land for a nominal fee would go through.
Pellegrini told the ERA:
The Township had worked with a previous owner looking to develop the land but couldn't because it was in the Greenbelt.
The landowner died a few years ago and the family sold the land to the Rice Group. The sale closed a couple of weeks before it was pulled from the Greenbelt.
When without warning the province pulled the King land out of the Greenbelt, council capitalised on it by saying "at least give us a hospital"."
Did Pellegrini tell the Rice Group at the in-person meeting on 1 November that the hospital was a non-starter because the proposed site was in the Greenbelt? And if he did say that how did the Rice Group respond?
The Integrity Commissioner and the Auditor General will be interested in the answers.
This email address is being protected from spambots. You need JavaScript enabled to view it.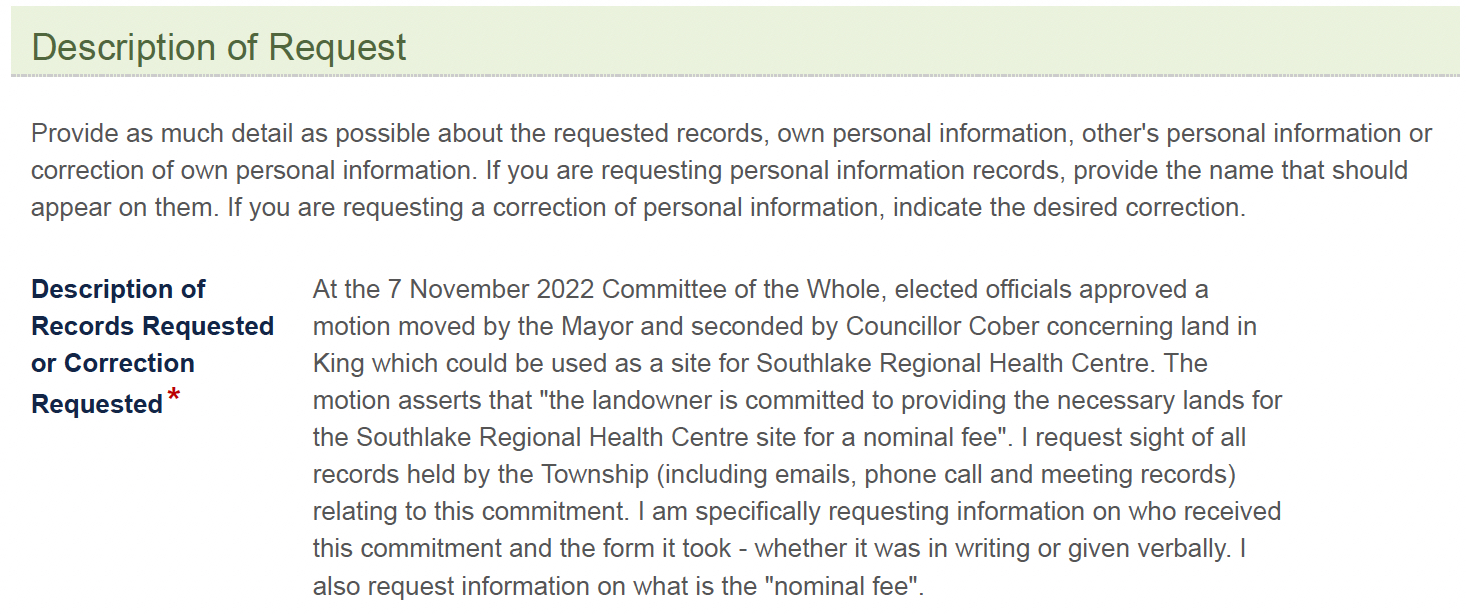 Read more: Building in the Greenbelt: Developers were tipped off
Details

Written by

Gordon Prentice
Yesterday (30 December 2022) the UK's National Archives released almost 600 Cabinet Office files from 2001 and 2002.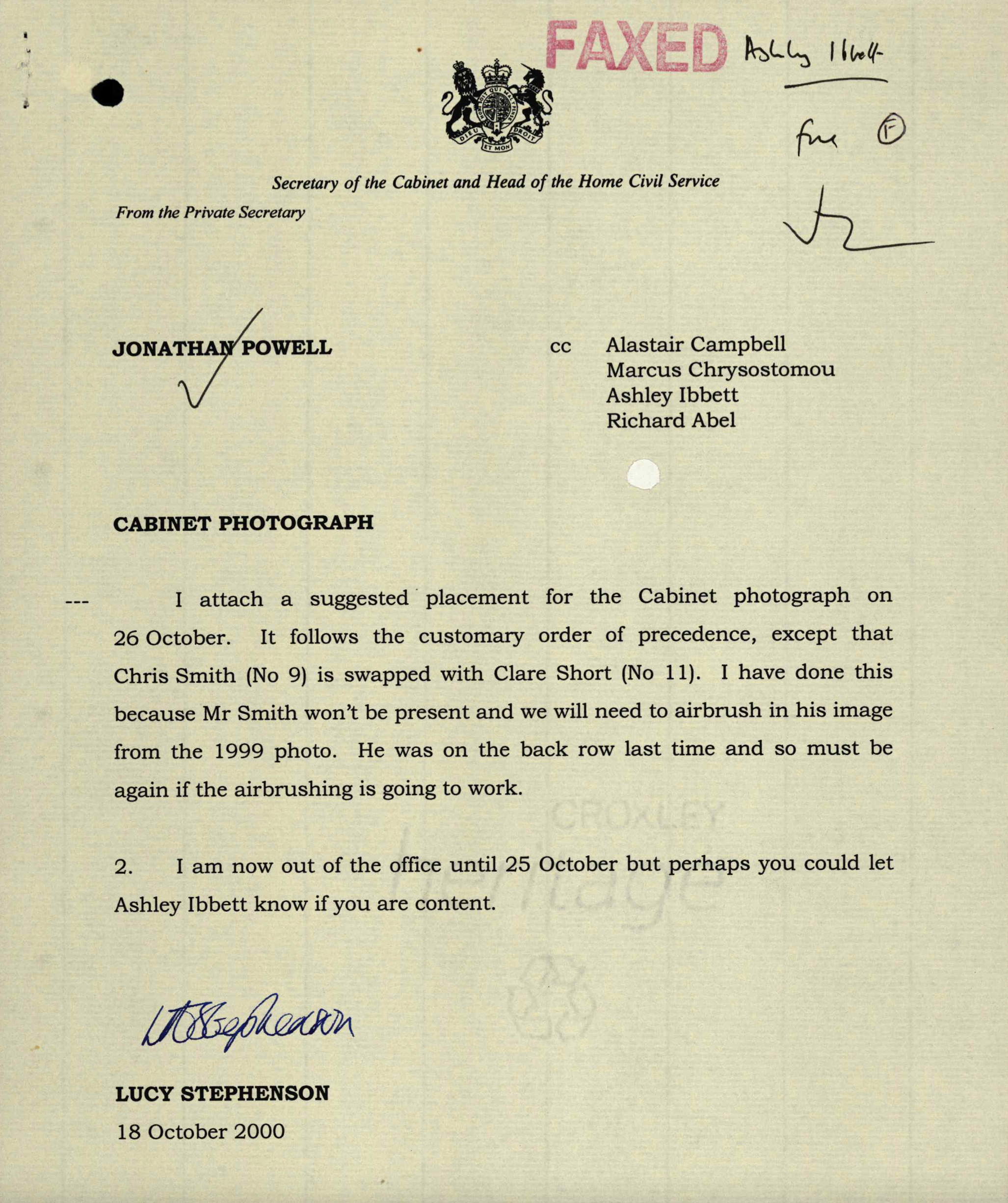 They paint a fascinating picture of the challenges facing the Blair Government (which was first elected in 1997) and how Britain's Prime Minister developed his strategies for governing.
Fake News!
I discover the British Government was airbrushing people into Official Photographs – Soviet style. It leaves me wondering if people were ever airbrushed out. And all this before Donald Trump and his Fake News! (see right)
The National Archives say the papers – released under Freedom of Information legislation - give a snapshot of what was happening 20 years ago and at the turn of the century.
Unfortunately, the files are incomplete. Some information has been withheld – and the policy is not to explain why. So an email of 12 February 2001 concerning Conrad Black and his "possible peerage" is missing. At some point, hopefully, it will surface.
Tony Blair in Canada
The papers which document the preparations for Tony Blair's first visit to Canada on 21-22 February 2001 as PM are absorbing. There are candid pen portraits of Prime Minister Jean Chrétien and the other major players in Canadian politics.
A note from the British High Commissioner in Ottawa, Sir Andrew Burns, on 1 February 2001 tells Blair that Chrétien will be in an "expansive mood" after his election victory in November 2000.
"He is sitting comfortably in Ottawa. His personal decision to call an early election was handsomely vindicated with an increased majority. The Opposition parties are in serious disarray. And he has seen off an early leadership review in his own party. For the moment he has no reason to fear the leadership ambitions of his popular and successful Finance Minister, Paul Martin. His own men hold the caucus leadership."
Blair addressed the Canadian Parliament on 22 February 2001 and it is an education to see how the speech was put together - and what was included and left out.
Frozen Pensions
Officials offer Blair "lines to take" if the Canadians raise difficult issues such as "frozen pensions". (At the time 140,000 UK pensioners living in Canada had their State pension frozen at the level which applied on the date they left the UK. But if they had moved to the United States, for example, their pensions would have been uprated annually as in Britain.)
UK State pensions are frozen in many countries with significant UK expatriate populations including Australia, New Zealand and South Africa.
It is clearly unfair.
Twenty years on, nothing has changed.
I doubt it ever will.
This email address is being protected from spambots. You need JavaScript enabled to view it.
Update on 10 January 2023: from the Guardian. Erasing Boris.
Details

Written by

Gordon Prentice
Developers will not pay a cent towards the cost of providing roads, water and sewage and other key infrastructure needed to service new developments providing the housing is "affordable". In York Region this would mean houses and apartments selling for $1,034,000 or less. Instead, the costs will be transferred from developers to local taxpayers.
Background: The More Homes Built Faster Act (Bill 23) – championed by Newmarket-Aurora's new MPP, Dawn Gallagher Murphy – is deeply flawed legislation, rushed through Queen's Park at breakneck speed with next to no consultation, leaving important details up in the air.
In a reward to their friends in the development industry, the Ford Government will no longer expect developers to pay Development Charges (DCs) on newly built housing which is deemed to be "affordable".
What are Development Charges?
These DCs are fees paid by developers to municipalities to help pay for the capital costs of infrastructure needed to service new development. Without these DCs the costs of growth will fall on local residents rather than the developers.
York Region and lower tier municipalities such as Newmarket will take a huge financial hit as legislation will exempt thousands of newly built homes and apartments from DCs.
New Definition of Affordability
York Region's Committee of the Whole last week considered a commentary from staff warning that Bill 23 introduces new definitions for housing affordability which is to be 80% of the average purchase price of a home.
"... Prior to Bill 23, using the Province's definition of affordable home ownership, a York Region household that earns approximately $120,000 annually can only afford a home priced at $536,000."
"In 2021, 80% of the average purchase price for homes sold in York Region ranged from $520,000 for a condominium to $1,282,000 for a single detached dwelling (or an average of $1,034,000 for all unit types). Having a threshold at 80% of the average purchase price for a home is too high to be considered an affordable ownership option for many residents in the Region and will now be subject to a full DC waiver."
Unclear how average is to be calculated
The Regional Treasurer, Laura Mirabella, tells members the legislation does not define how the average will be calculated. She expects the definition to come next year. Will the average be calculated using sale prices by Region? Or, more narrowly, on a municipality by municipality basis? Or even on a Province-wide basis?
"It is completely unclear how "average" will be defined. But, yes, if the purchase price of affordable ownership housing new-builds is deemed to be 80% of whatever that average purchase price is, there would be a full exemption which would be a significant loss in development charge revenue for us."
She says it is uncertain how many developers would take up the call to provide homes for sale at 80% of that average. (Click "Read More" below to read the exchanges)
Half a million dollar jump
The Region's Chief Planner, Paul Freeman, adds:
"In 2021 80% of average home prices sold in York region range from a $520,000 for a condominium to $1.28M for a single detached. So the average is about just over $1,000,000 so anything under $1,000,000 is exempt from development charges…
"This is well above the provincial definition we've always used for affordable homeownership. For households that earns in our case, and it's based on the lowest earning 60% of households typically, it is $132,000 annually who can afford to buy a home which would be priced at about little over $500,000. So that's a half a million dollar jump for an exemption. And it is significant. It will add up to a lot of lost development charge revenue for municipalities."
Half Baked
The More Homes Built Faster Act is half baked and the legislative process that produced it is broken. Queen's Park is a complete circus.
How is it that our MPP, Dawn Gallagher Murphy, can vote for legislation which mandates Newmarket to accept 12,000 new homes by 2031 when the Town's Mayor, John Taylor, is on the record saying that is an impossibility? (See table right)
How is it she will vote for a Bill which does such damage to housing services for the most vulnerable?
Bizarrely, Bills can receive Royal Assent before the end of the consultation period.
In a single chamber legislature such as ours - with no "sober second thought" back-stop - there is a special responsibility on MPPs to ensure the legislation they vote for is not incoherent rubbish.
This email address is being protected from spambots. You need JavaScript enabled to view it.
See also: What the Government is proposing and York Region's response. And here.
Update on 30 December 2022: From the Toronto Star: Need for services casts doubt on Province's plan

Read more: Ford to reward developers if they build "affordable" houses and apartments (under $1,034,000)
Details

Written by

Gordon Prentice
One year ago the Town of Newmarket gave the developer, Marianneville, a tax receipt for $14M in exchange for a donation of land at Glenway West.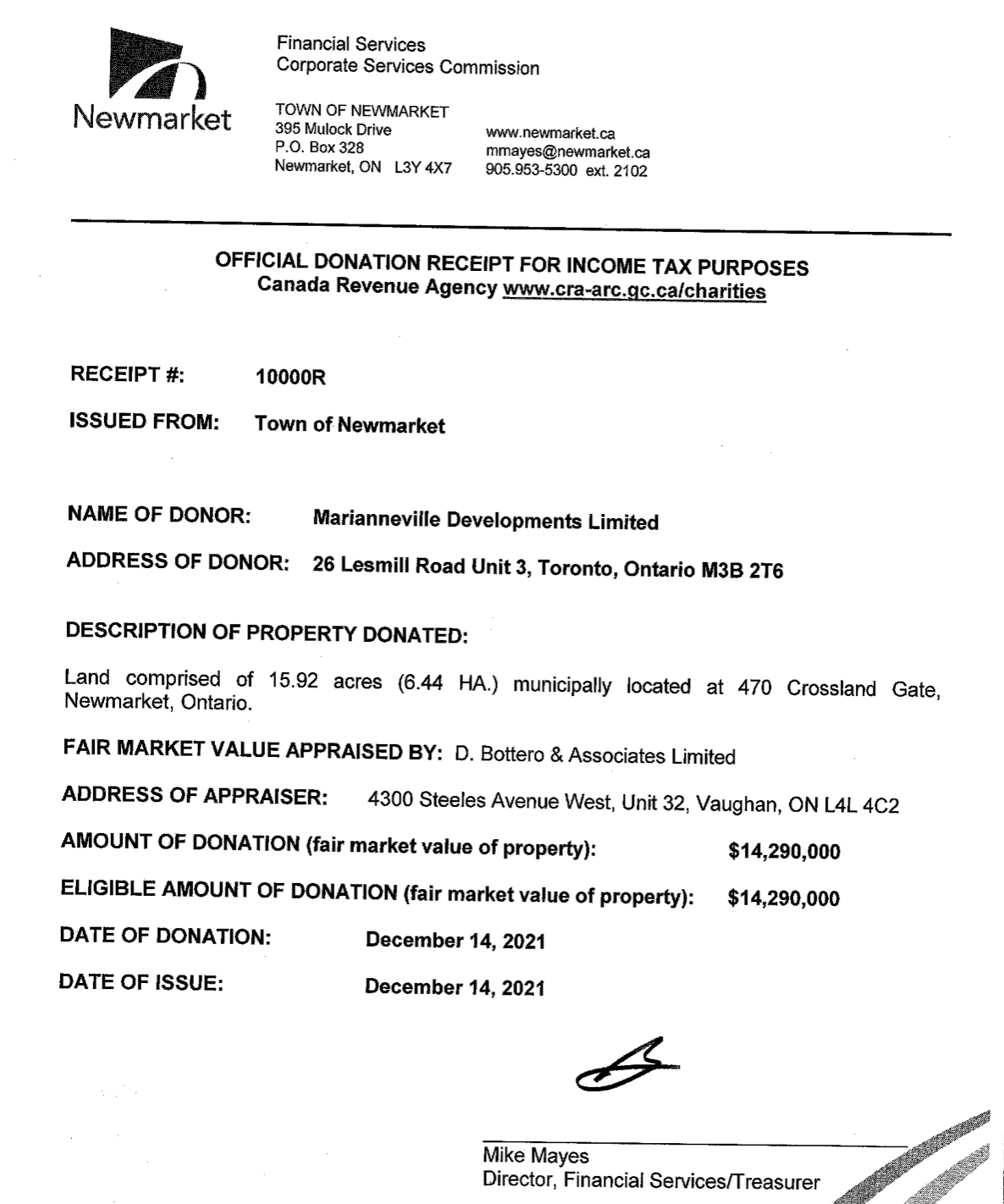 To be clear, this $14M is not picked from the pockets of Newmarket taxpayers. It is, rather, a receipt purporting to reflect the value of the donated land which can then be used by the developer to offset tax otherwise owing to the Canada Revenue Agency.
I blogged about it here.
Work of Fiction
The $14M valuation report is a work of fiction based on "extraordinary assumptions" made by the valuer D Bottero & Associates. It assumes two large stormwater ponds can be drained and filled in to allow townhouses to be built on the donated land. I am unaware of any report by the Town's planners or engineers saying this is feasible or practicable or would otherwise fit in with the Town's policies.
When I asked the Town's new Chief Administrative Officer, Ian McDougall, to commission a new valuation on the grounds the original one was flawed he told me on 14 April 2022 he would only do so if directed by the Canada Revenue Agency.
"The Town would not alter the amount on a Tax (or Donation) Receipt that has already been issued without direction from Canada Revenue Agency. Therefore, commissioning a new valuation report would have no practical purpose and would not be an appropriate expenditure of public funds. I will be asking staff to look into other municipalities' experiences in these sorts of donated land situations in order to positively evolve our approach from any best practices identified."
Canada Revenue Agency
In the light of this I wrote to Toni Mancini, the Director General of the CRA's Charities Directorate, on 22 April 2022 setting out the issues as I saw them. (For sight of this click "Read More" below).
After chasing them up a couple of times I was eventually told on 17 November 2022 that the CRA does
"not provide feedback or updates once a lead is submitted to us"
and that
"the Charities Directorate's actions are only made public when they result in a charity being revoked, annulled, suspended or penalised."
That's fair enough. There are undoubtedly very good public policy reasons for keeping quiet about CRA investigations. But here we are not talking about the tax affairs of private individuals but rather the process for valuing land and whether the CRA's own rules were followed. (The CRA stipulates the valuation and donation of land should happen more or less contemporaneously. Here, the so-called "fair market value" was assessed on 26 February 2021 and the tax receipt was issued on 14 December 2021 – an interval of 291 days.)
So, in the absence of any response from the CRA, I am going down the Freedom of Information route again to find out if this sort of thing is commonplace. I am careful not to name names.
Following the rules
I want to know how many times over the past five years the CRA has ordered a new valuation of land donated to a municipality on the grounds that the CRA's own rules on such charitable donations were not followed.
And I am also curious to know how many municipalities have had their charitable status revoked, annulled or suspended or had suffered some other penalty – again, in each of the last five years.
If this kind of information is not routinely collected by the CRA I won't get it - unless I am prepared to pay for a tailored search of the records.
And that could cost an arm and a leg.
So, what is the simple answer to this conundrum about estimating the true value of donated land?
I would run the valuer's "extraordinary assumptions" past the planners and engineers and test them against the Town's own policies which regulate development.
We may then get a valuation which passes muster.
And not the joke valuation which, for their own very different reasons, the Town and the developer are content to rely on.
This email address is being protected from spambots. You need JavaScript enabled to view it.
Below: Stormwater Pond 13 which the valuation report says can be filled in and the land used for townhouses. No other stormwater ponds in Glenway have been redeveloped in this way.
Note: I received the Bottero report following a Freedom of Information request to the Town of Newmarket. When I asked for it to be posted on the Town's website I was told this would happen after the appraiser had provided the Town with an accessible PDF as required by the Accessibility for Ontarians with Disabilities Act. It has not yet been posted.
Read more: Whatever happened to... the $14M tax receipt given by the Town of Newmarket to the developer,...