Details

Written by

Gordon Prentice
Harold Kim may be a household name in Aurora where he is the Town's Deputy Mayor but up here in Newmarket he is an unknown quantity.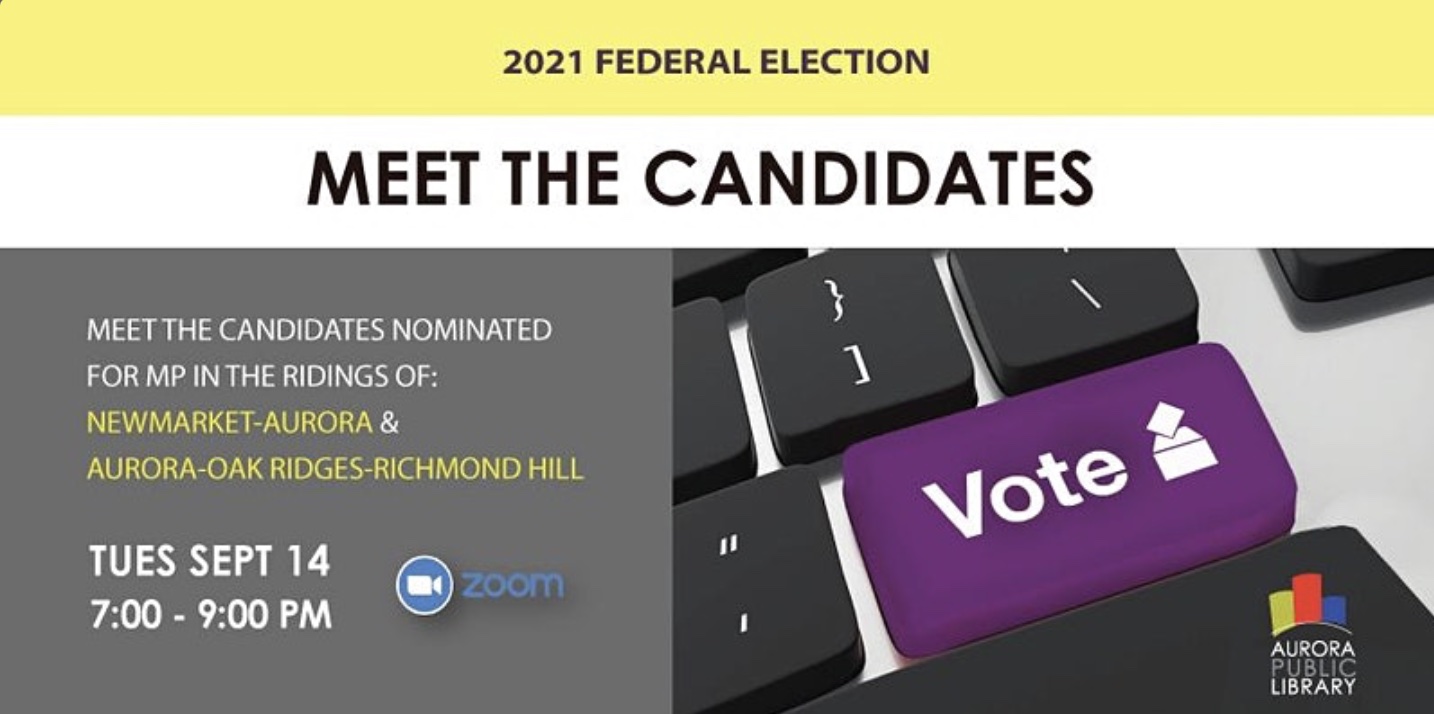 So it saddens me to see him stay away from the candidates' debates which offer him the perfect opportunity to introduce himself to the voters.
Kim was a no-show at the Aurora Chamber of Commerce election debate on 8 September and he is not listed as a participant at the debate on Tuesday 14 September 2021 which is being hosted by Aurora Public Library.
Boycott
Yesterday I emailed his campaign office via his website:
Aurora Public Library is holding a meet the candidates event on Tuesday 14 September 2021 from 7pm til 9pm. I notice that Harold is not listed as a participating candidate. Is there any reason for this?
Harold was also missing from the candidates' debate hosted by the Aurora Chamber of Commerce. Was there a reason for this?
In his closing remarks at the Chamber event, the Liberal candidate, Tony Van Bynen, said Harold's absence suggested he was taking the support of the business community for granted. Isn't he?
Clearly, the Conservative strategy is to stay away from candidates' debates.
Part of a pattern
Leona Alleslev, the Conservative candidate for Aurora-Oak Ridges-Richmond Hill will also be boycotting the Aurora Library event. This is all part of a pattern.
The Toronto Star is covering the election in York Region. This morning I learn:
"Alleslev declined to do an interview with the Star for this story. She also did not respond to a request for biographical and campaign information from Torstar reporter Kim Zarzour or answer questions Zarzour put to all the candidates in the riding about truth and reconciliation, the climate crisis, the pandemic and whether or not they would consider crossing the floor (or in Alleslev's case, consider crossing the floor again)."
(Alleslev was first elected as a Liberal but crossed the floor to the Conservatives.)
I don't know if I'll get a reply from Harold Kim or those who manage his campaign.
Doing the right thing
But they should know they are making a big mistake in refusing to engage with the issues, except at arm's length.
Up here in Newmarket, Kim needs all the exposure he can get. I've had one election flyer from him. And his on-line presence is lacklustre.
Contrast this with Tony Van Bynen who has spent two years blitzing us with taxpayer-funded report-backs and repackaged Government statements on Covid and much else besides.
These have morphed seamlessly into his on-line election campaign, using the same artwork, colours, photographs and design. He is everywhere.
Maybe Kim thinks the polls are right and he has an edge.
Perhaps he doesn't want to risk it all by saying something during a debate which is ill-judged and damaging. Who knows?
Say what you mean and mean what you say
Personally I've always believed politicians should stake out their positions and argue their case, clearly and robustly. And where they disagree with their opponents they should say so and engage in the debate, hoping to win the voters round to their point of view.
Anything less than this cheats the voters.
How can we get the measure of our local candidates if they stay away from debates and refuse to tell us what they really think?
This email address is being protected from spambots. You need JavaScript enabled to view it.
Update on 13 September 2021: editorial from the Globe and Mail: Canadians deserve better than one lousy debate
Update on 16 September 2021: From Newmarket Today: Conservatives face criticism for missing candidates' debates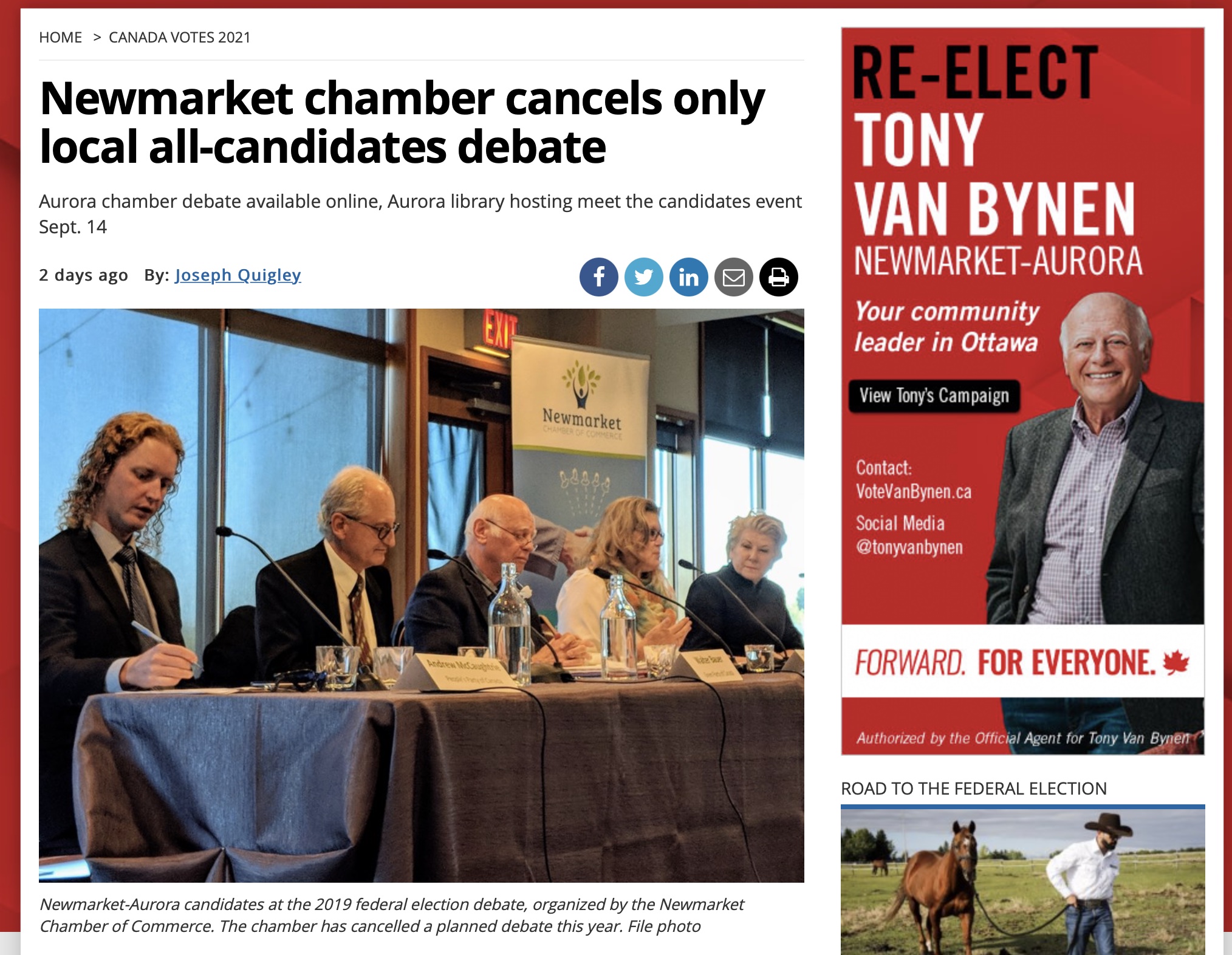 Details

Written by

Gordon Prentice
The polling aggregator 338Canada.com gives the latest odds on the projected winner here in Newmarket-Aurora:

And here is the CBC Poll Tracker.
This email address is being protected from spambots. You need JavaScript enabled to view it.
Details

Written by

Gordon Prentice
The Newmarket Chamber of Commerce has cancelled next week's election debate citing logistical issues and the short timeframe.
The Chamber explains:
This is seriously bad news. As I tap this out, this means there will be no debate in Newmarket open to the public where they can assess the merits of the candidates and see how they deal with being challenged on the issues.
Good grief! As a community and as a riding we are being short-changed.
Another casualty of this snap election called in the middle of a pandemic.
What a sad state of affairs that we can have a public debate on who should be the Mayor of Newmarket but not one on who should represent us in the Parliament of Canada.
This email address is being protected from spambots. You need JavaScript enabled to view it.
Details

Written by

Gordon Prentice
The polling aggregator 338Canada.com says Newmarket-Aurora is a toss-up between the Conservatives and Liberals.
Here are the latest odds of winning:

And here is the CBC Poll Tracker.
Details

Written by

Gordon Prentice
Newmarket-Aurora's former MP and now Liberal candidate, Tony Van Bynen, told us affordable housing would be one of his top priorities.
But the record shows he hasn't mentioned it in the House of Commons in almost two years.

Except once to say it was a priority.
I was hoping he would have explained by now the difference between "affordable rental housing" and "attainable rental housing". (See right from his flyer)
Is affordable housing attainable?
Is attainable housing affordable?
If attainable housing is affordable why not just say affordable?
Priorities
Van Bynen made his first speech in the House of Commons on 11 December 2019 when he told fellow MPs that climate change, affordable housing, infrastructure funding, health care and a need for a long-term fiscal plan would be his priorities. He had earlier told CTV news that "preserving local heritage" would also be a priority.
The Parliament of Canada website's search engine allows constituents to find out what their MP has said and done in Ottawa and what their priorities are.
I see two references to climate change (on 20 April 2020) and one on infrastructure (on 26 January 2021). There are multiple references to health as Van Bynen sits on the Health Committee whose agenda has been dominated by the Covid crisis. There are no references to local heritage.
The 43rd Parliament has, of course, been atypical with virtual votes and virtual speeches. The pandemic has turned the world upside down.
After his election in October 2019 Van Bynen took a while to find his feet. That's fair enough.
But, after two years, perhaps he can tell us what his priorities now are and if they've changed. And, if so, why?
This email address is being protected from spambots. You need JavaScript enabled to view it.