Details

Written by

Gordon Prentice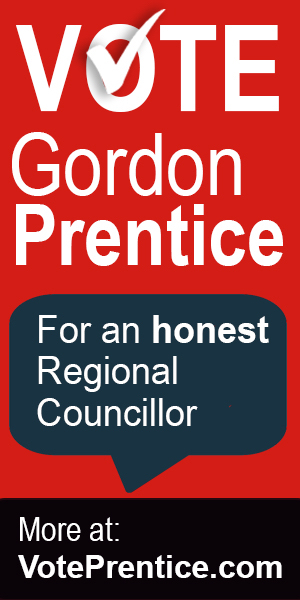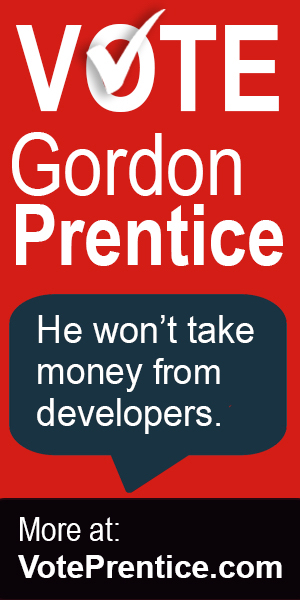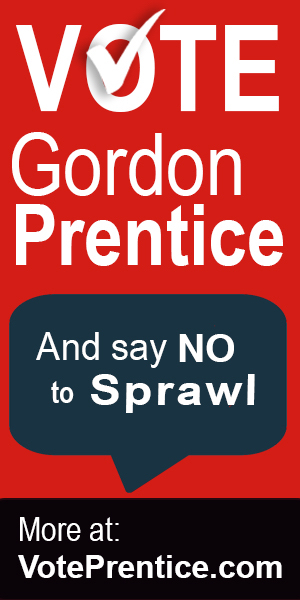 Details

Written by

Gordon Prentice
The weather this weekend is perfect for meeting people on their doorsteps.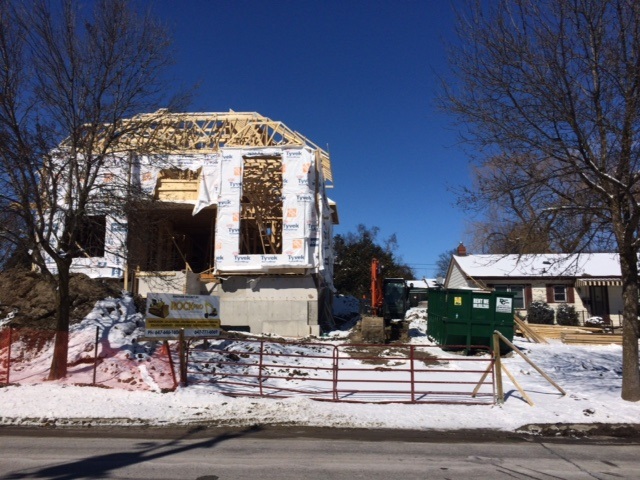 Blue skies and warm for this time of year.
I've just heard that turnout Town-wide has crept up to 15.18%. So I'm hoping for a surge in voting today and tomorrow when voting ends.
Turnout in 2018 was a less than impressive 34.7%.
I meet people who freely admit they vote in Federal and Provincial elections but pass on municipal because they figure it is less important.
I remind them that York Region's population is bigger than five Canadian Provinces and the Region delivers key services we all rely on.
A Ribbon of Red and Black
I am out with my little band of volunteers and we make a mark. A ribbon of red and black lawn signs now runs along Patterson and Elgin too.
There's no hostility. People are happy to talk.
I hear quite a few British accents from people who've been here for decades.
Even when people tell me they've voted, I linger to ask about their concerns.
On Elgin I meet one woman who is prepared to put me through the wringer.
She leaves the house and sits on a bench on her porch, peppering me with detailed questions.
I like that.
What would you do?
She tells me she knows all about Tom Vegh and the developers but what would you do about development in Town?
I mention the developers' strike. I say we must get apartments built on the Davis/Yonge corridors. And we must protect stable residential neighbourhoods from inappropriate developments.
I cite the so-called monster home at 1011 Elgin Street which triggered a review of the Town's policies on compatibility. (Photo: 1011 Elgin under construction with its Lilliput neighbour alongside)
After ten minutes of back and forth she says she voted for me. She says her husband has yet to vote.
Work on him, I say.
Gordon Prentice 23 October 2022
Details

Written by

Gordon Prentice
Newmarket's Mayor, John Taylor, tells us that, as of this morning, Saturday, only 12% of voters have cast their ballot.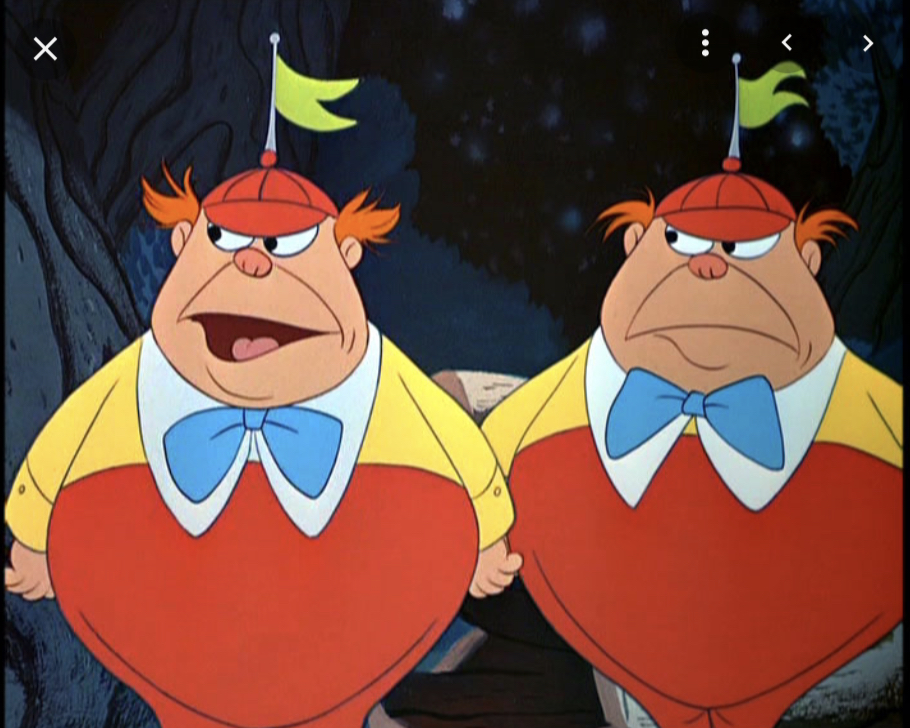 Personally, I don't blame the voters. I blame the system.
I agree with Nam Kiwanuka who co-hosts The Agenda with Steve Paikin on TVO.
She says:
"Voters need more time and opportunities to put questions to those seeking to represent them. We should have had more public debates for all positions in this election. I found out that there had been one for my local councillors — but only after it'd already happened. There haven't been any for the role of public-school-board trustee."
Elections need a bit of fizz and pizzazz to grab people's attention.
Here, my opponent Tom Vegh refuses to engage with me.
Bowl of Blancmange
I think of him as a bowl of blancmange.
I see two problems.
There have been no public debates where people can see me forensically unpick Vegh's program and record and call him out for what he is.
And the local press and media – no doubt in the interests of "balance" – have not followed up on stories which are crying out to be investigated. Tom Vegh's refusal to participate in the debate at York Regional Council when a $1M capital grant to Inn From the Cold was at stake. He used to be Executive Director of the organisation. What gives?
And with the Mayor acclaimed, the voters think that nothing much is going to change and they get on with their lives.
They think the choice is between Tweedledum and Tweedledee where the difference between the two is vanishingly small.
Big mistake.
Gordon Prentice 22 October 2022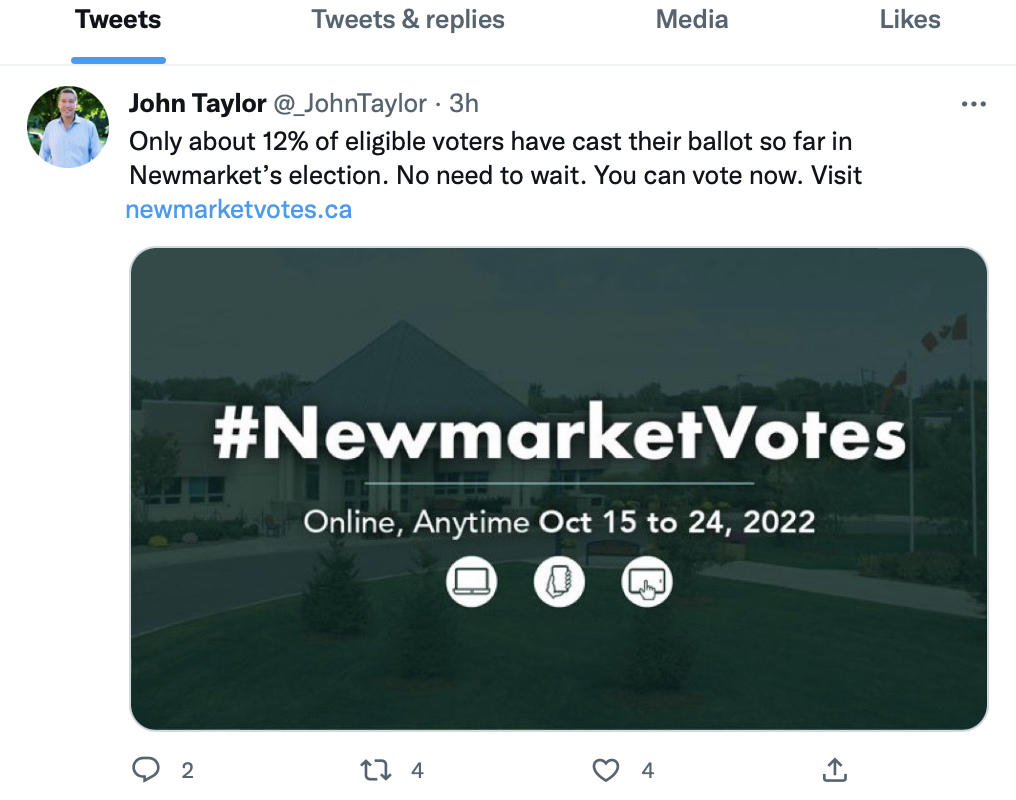 Details

Written by

Gordon Prentice
Tom Vegh cannot defend his voting record on environmental and land use policy. So he invents a new one to hoodwink the voters.
In his on-line campaign ad Vegh says: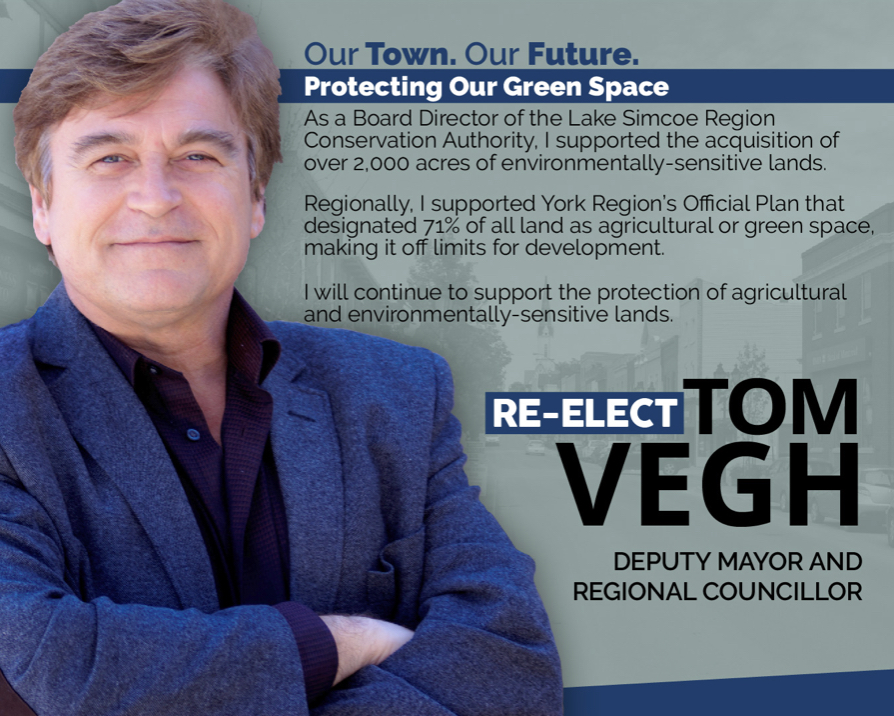 "I will continue to support the protection of agricultural and environmentally-sensitive lands."
That statement is untrue.
And Vegh knows it is untrue.
One year ago, almost to the day, I posted a blog:
Protecting the Greenbelt: Taylor's way or Vegh's?
In view of Tom Vegh's unwillingness to tell the truth about his voting record I am re-posting it.
Gordon Prentice 22 October 2022
Protecting the Greenbelt: Taylor's Way or Vegh's? (Originally published 25 October 2021)
This Thursday (28 October 2021) York Regional Council will be asked to ratify a decision taken in Committee on 14 October 2021 that redesignates 1,400 acres of "protected countryside" in Markham and Vaughan to allow uses that would otherwise be prohibited in the Greenbelt. (The "fingers" to be opened for development are shown in red on the map below.)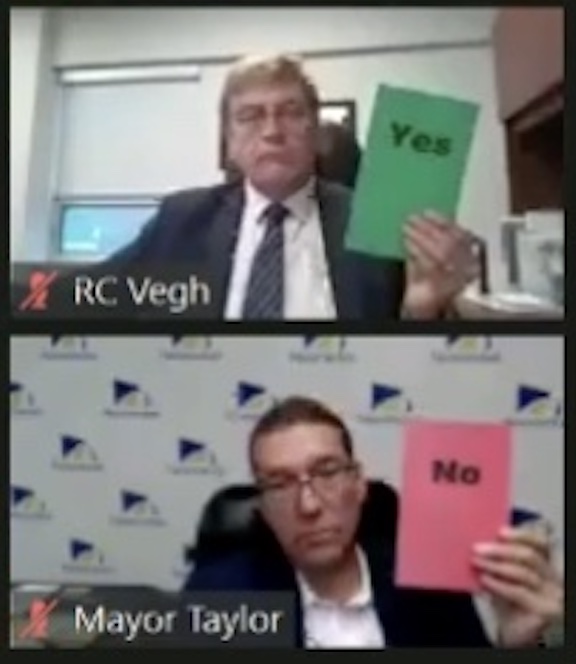 The developers' proposal was backed by elected members in a 15-5 vote with Newmarket's Mayor and Regional Councillor on opposite sides of the argument.
The Town's Mayor, John Taylor, condemns the proposal – privately initiated by developers - which he claims would set a damaging precedent.
But Newmarket's Regional Councillor Tom Vegh takes a different tack, voting in favour of the developers' proposal but for reasons he keeps to himself. Vegh says nothing throughout the one-and-a-half-hour-long debate.
Residential, commercial and industrial uses
York Region planning staff tells elected members the application to amend the York Region Official Plan 2010 would change the land use designation from Agricultural to Rural which:
"would allow for additional non-agricultural uses such as rural residential, commercial, or industrial uses rather than limiting the uses to complementary open spaces uses that meet the intent of the Provincial Greenbelt Plan, the 2010 York Region Official Plan and local Official Plans."
The staff says approval
"would have implications on the other Greenbelt lands currently recommended through the Region's Municipal Comprehensive Review for redesignation from Agricultural Area, and potentially similar Greenbelt lands beyond York Region."
Follow the money
Taylor weighs in against the developers' plans claiming they are in it for the money:
"If there (were) no financial gain or if all the financial gain related to the land that could be developed for housing could be put into a Community Trust then this amendment wouldn't be being pursued."
Taylor says the issue is best left to the Municipal Comprehensive Review which is due to report in six months, in April 2022.
Newmarket Today's coverage is here.
Vegh should explain
This Thursday (28 October) the Regional Council will be asked to endorse the Committee's decision and instruct staff to prepare a bylaw giving effect to the developers' proposal which had been received the day before.
Tom Vegh should tell us why he took the developers' position – against the advice of his colleague, John Taylor, and the combined planning staffs of Markham, Vaughan and York Region and a host of other independent and impartial bodies.
We don't pay Regional Councillors (or MPs and MPPs for that matter) to sit there and suck their thumbs and say nothing. Expressing an opinion on controversial issues is part of the job description. (Tony Van Bynen please take note)
1 November 2021
But if Vegh remains silent on 28 October we can look forward to the upcoming Newmarket Council meeting on 1 November 2021 when councillors will get an update on developments at York Regional Council, either from Taylor or Vegh.
I suppose the Mayor could pull rank and give the report back.
Personally, I'd prefer to hear from Tom Vegh.
This email address is being protected from spambots. You need JavaScript enabled to view it.
The lawyer acting for the developers is Ira Kagan who acted for Marianneville in Glenway.
The Greenbelt is always under threat. Eternal vigilance is needed to protect it.
Update on 28 October 2021: Letter from the Greenbelt Foundation dated 27 October 2021, put before York Regional Council on 28 October 2021.
And one from the York Federation of Agriculture.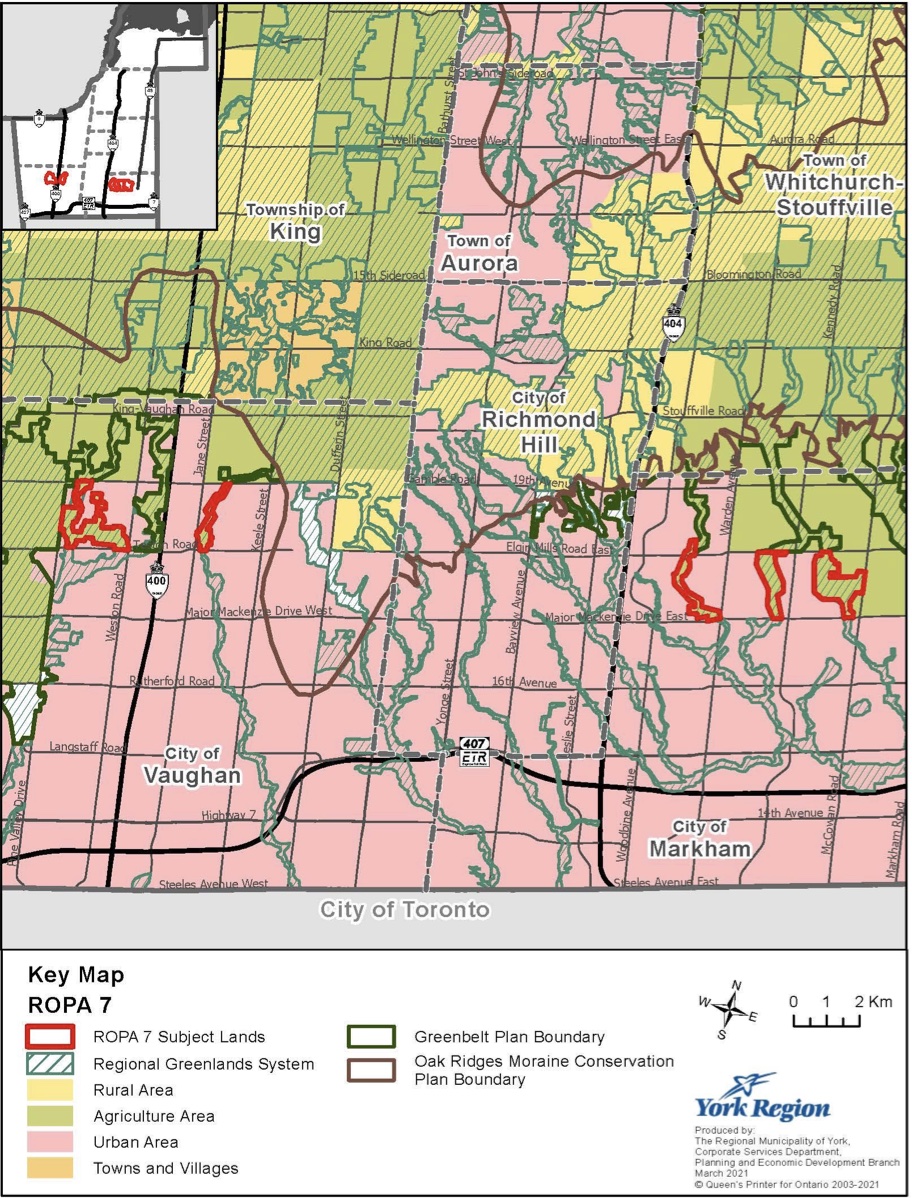 Details

Written by

Gordon Prentice
This afternoon I am out and about with my little band of volunteers.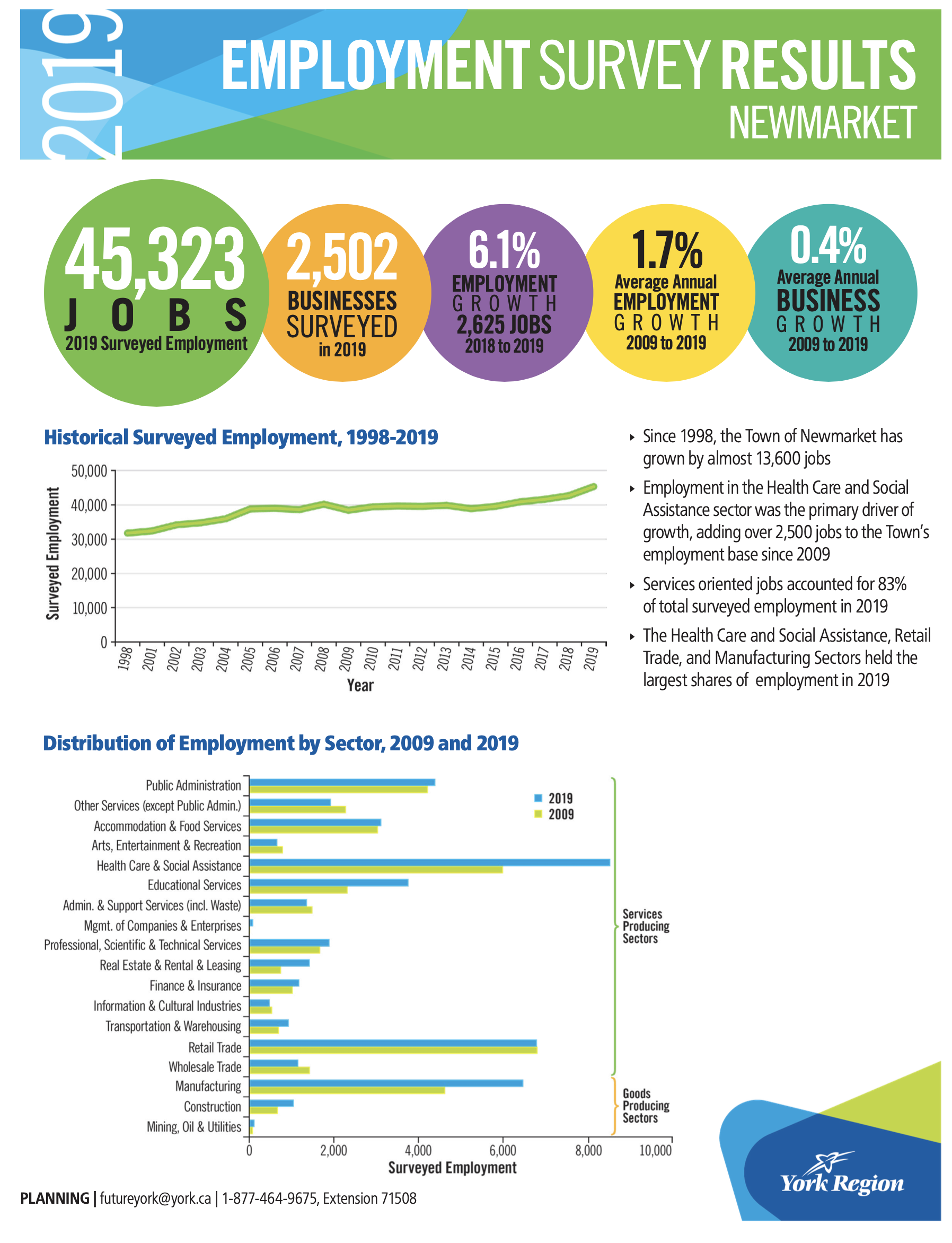 There are four of us.
We are in Alexander Road and the streets off it.
It is a beautiful day. Blue sky and warm.
Polished to Perfection
My stump speech is now polished to perfection. I now need only a few seconds to launch into it.
Behind the first door I knock on is an elderly man with a Scottish accent. I think to myself, no problem.
Before I can properly introduce myself he growls that York Region employs too many people and slams the door in my face. I am left bemused: What about the Police? What about our water supply? What about…
He is gone.
Three men in a garage
Now I am talking to three men in a garage. They get me talking about Liz Truss. And Brexit. And what's happening in Britain. I tell them I could talk for an hour on these issues but we are getting off-point. They say I can put a lawn sign up.
Now I am talking to a woman about health and social care. She works in that field. I tell her that health care and social assistance is one of the biggest employers in Newmarket. I want it to stay that way.
I mention Southlake and (in my view) the crazy idea of splitting Southlake into two. Ambulatory care at the Davis Drive site and acute care on a new site outside Newmarket, possibly up to 10km away.
We are being told a split site solution is the way forward when, in reality, it will give rise to as many problems as it will resolve.
Months ago, I asked Southlake to see the minutes of the meetings that brought forward this recommendation. I was told my Freedom of Information request would cost me hundreds of dollars and I was given no timeline on when I would get the answers.
Kindred spirits
Now I am invited in to a house where two women quiz me on my environmental credentials.
The living room has a wonderful array of huge leafy plants.
I tell them we are kindred spirits.
And we talk about all sorts of things. How do we save the planet?
I am in no rush.
Gordon Prentice 21 October 2022
Note: The 2019 employment survey from York Region is the latest one available.