Details

Written by

Gordon Prentice
The retiring Mayor of Vaughan, Maurizio Bevilacqua, last week (10 November) advised members of York Regional Council to play by the rules and reject any proposals for an advertising campaign against Ford's Bill 23 (More Homes Built Faster) which will allow development on the Greenbelt.
This is the same Maurizio Bevilacqua who voted for the adoption of York Region's Official Plan, redesignating agricultural land in Vaughan to rural and allowing football, tennis courts and other recreational uses on cropland.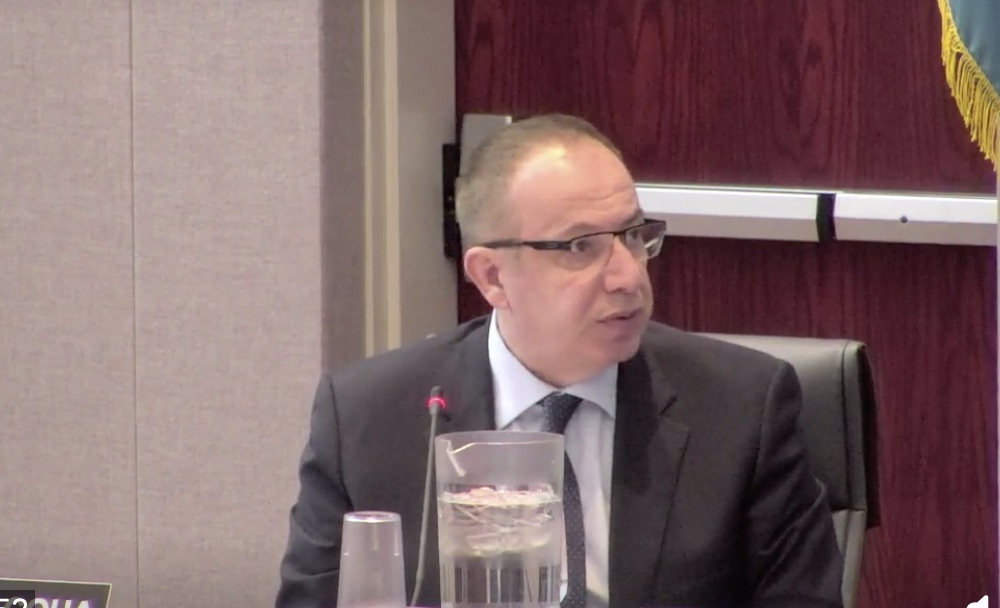 Newmarket's Mayor, John Taylor, had been pressing for an ad campaign to highlight the many flaws in the Bill. He told members the Province expected Newmarket to deliver 12,000 new units while requiring wastewater and sewage to be sent down to Lake Ontario and not up to Lake Simcoe. He said the new infrastructure could take six years to build. Taylor says:
"We have an allocation for 2,000 housing units left until (the sewage servicing infrastructure) is built. So in six years… we've built 2,000 of the 12,000 required homes. And then the last two years of the timeline - you have until 2031 to build – we're supposed to go build 5,000 homes each year to hit this target when we're building 300 now. The math is so bad it's not even remotely realistic."
"They're gonna follow the rules"
I laughed out loud when I heard Bevilacqua, a former MP, tell his colleagues:
"I'm sure they're going to follow the rules in Queen's Park. There are certain things called committees before laws are enacted and they have to go through a public consultation. And if I'm not mistaken I think there are 444 mayors in the province of Ontario and they all have a say on behalf of council to appear in front of such committees."
When Bevilacqua urged his colleagues to behave in a "diplomatic" and "refined" way, avoiding "confrontation" and using the levers that were available to them, the deadline had already passed for people wishing to make oral presentations to the Bill Committee.
Consulting the public. Don't blink or you'll miss the opportunity
The Legislature ordered the Bill into Committee on 31 October 2022. The Committee (Heritage, Infrastructure and Cultural Policy) decided to hold public hearings in Markham on Wednesday, November 9, 2022 (in-person), in Brampton on Thursday, November 10, 2022 (in-person), and in Toronto on Wednesday, November 16, 2022, and Thursday, November 17, 2022. The Committee's web page tells us:
"Interested people who wish to be considered to make an oral presentation on Bill 23 are required to register by 6:00 p.m. (EDT) on Thursday, November 3, 2022 (Markham and Brampton) and 6:00 p.m. (EST) on Wednesday, November 9, 2022 (Toronto).
Those who do not wish to make an oral presentation but wish to comment on the bill may send a written submission by 7:00 p.m. (EST) on Thursday, November 17, 2022."
By Thursday of this week it will all be over.
Many of the old conventions which have regulated proceedings in the Legislature have been thrown overboard by Ford. Giving people adequate time to collect their thoughts and comment on major legislative proposals is just one. The use of the notwithstanding clause is a symptom of a deeper problem – believing an election victory gives the Government a mandate to do whatever they like.
The Doctrine of the Mandate
Bevilacqua believes this too:
"This Conservative government just recently received a majority from the province of Ontario and we collectively need to respect that.
And part of that agenda was housing… Now did they address all the issues that we are concerned about? Probably not. But do they have a mandate to govern? Yes they do."
In his platform for the 2022 Provincial Election Doug Ford never said he would build on the Greenbelt.
So does the doctrine of the mandate now extend to any and every policy proposal whether or not it is included in the Party Platform?
This is not the way our democracy is supposed to work.
Telegraphing intentions
If a political party seeking office wants to do something big, bold and significant it should be in the Manifesto.
Doug Ford was caught on camera in 2018 promising to open-up chunks of the Greenbelt for development and then, when the story got out, he pledged he wouldn't.
In Bevilacqua's contorted logic, the fact that Ford "telegraphed his intentions" years ago gives him the mandate to do now what he repudiated then.
Personally, I'm all for Taylor's ad campaign.
The bigger the better.
Gordon Prentice 15 November 2022
Click "read more" below to read Maurizio Bevilacqua's speech
Read more: Ford apologist Maurizio Bevilacqua gives advice on "playing within the rules"
Details

Written by

Gordon Prentice
The CBC has now revealed the names of the owners of the Greenbelt land which Doug Ford plans to open up for development.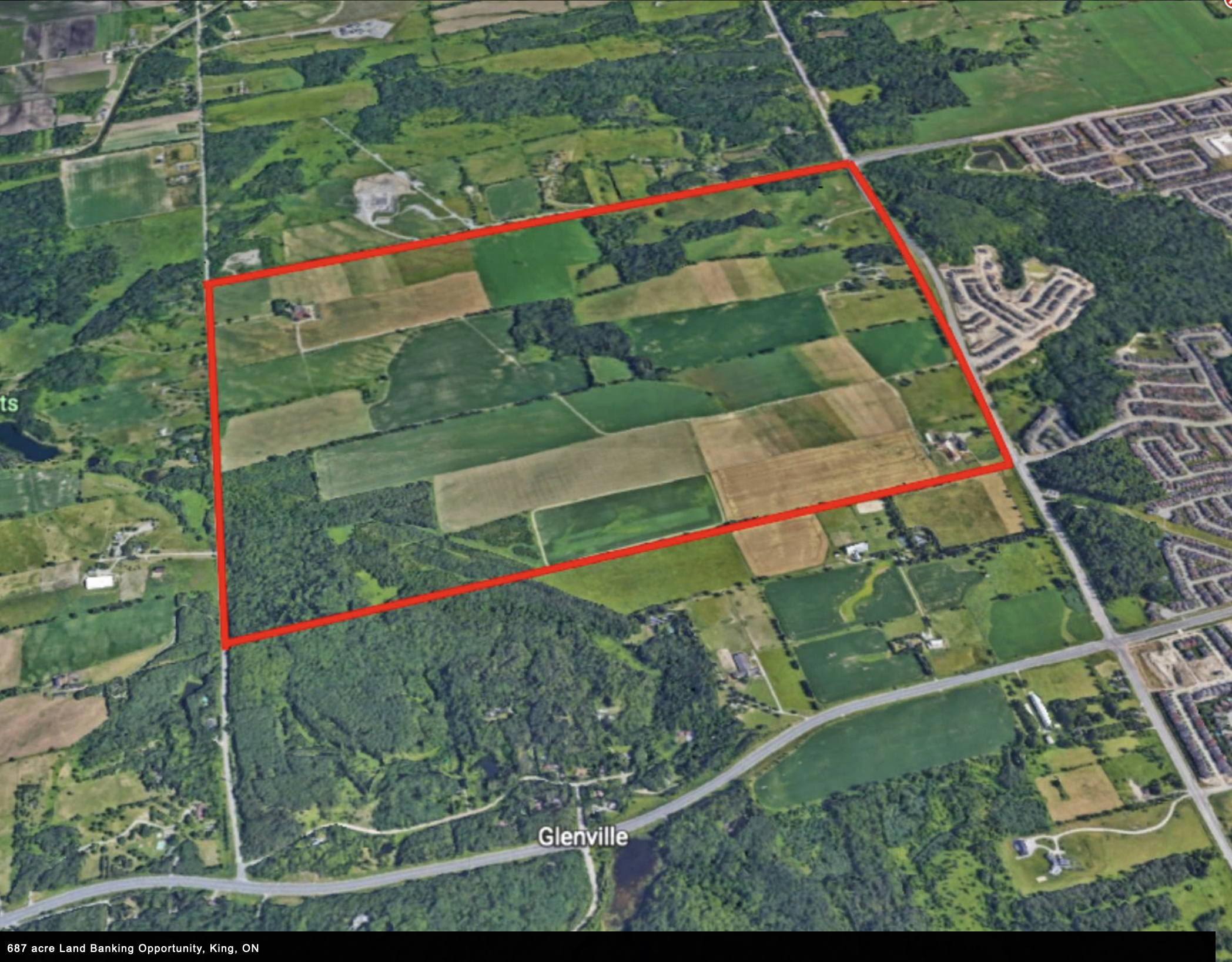 The Greenbelt land west of Bathurst which lies immediately adjacent to Newmarket (photo right) was bought by Green Lane Bathurst GP Inc whose President is Michael Rice.
The CBC reports:
"While removing this land from the Greenbelt would open it up for housing development, the Township of King's council earlier this week passed a resolution supporting it as the location of a new Southlake Regional Health Centre site, and asked the province to fast track its development. The resolution stated the landowner was willing to provide the land for the hospital site for a "nominal fee"."
Charitable Donation
Rice's company now owns over 680 acres of Greenbelt land. And the King Resolution suggests he would gift it to Southlake for $5. As a charitable donation he could claim a receipt from Southlake which would offset the price paid against any tax liability. Rice would also have a huge tract of developable land left.
It has been suggested that the new Southlake needs 60-80 acres.
The current Davis Drive site – earmarked in future for ambulatory care - is 19 acres and Southlake's Master Plan says:
"Almost 90% more space is required just to right-size our current units to today's hospital standards… As our current site is landlocked and has a floodplain to the east, options for expansion on the existing site are limited."
Lands left over for housing
Even if a new acute hospital were to be developed on the Greenbelt lands at Bathurst there would be lots of land left over for housing development.
Michael J. Rice gave $1,200 to Tom Vegh's 2018 election campaign. The donation was made on 1 December 2018 after the election result was known but at a time when Vegh was struggling to pay off his campaign deficit. It is not yet known if Rice contributed to Vegh's successful campaign for re-election last month.
Vegh made no comment on the weakening of the Greenbelt when Bill 23 (More Homes Built Faster Act) was raised by Newmarket Mayor John Taylor at York Regional Council on 10 November 2022.
Gordon Prentice 13 November 2022
Update on 14 November 2022: Globe and Mail editorial: The Greenbelt needs to stay green
Update on 17 November 2022: From the Toronto Star: They recently bought Greenbelt land that was undevelopable. Now the Ford government is poised to remove protections - and these developers stand to profit
Details

Written by

Gordon Prentice
Why did the Provincial Government insert a new category of "special provisions" into the York Regional Plan to allow a high-density development in Aurora (at Leslie and Wellington Street East) that the Town had previously rejected?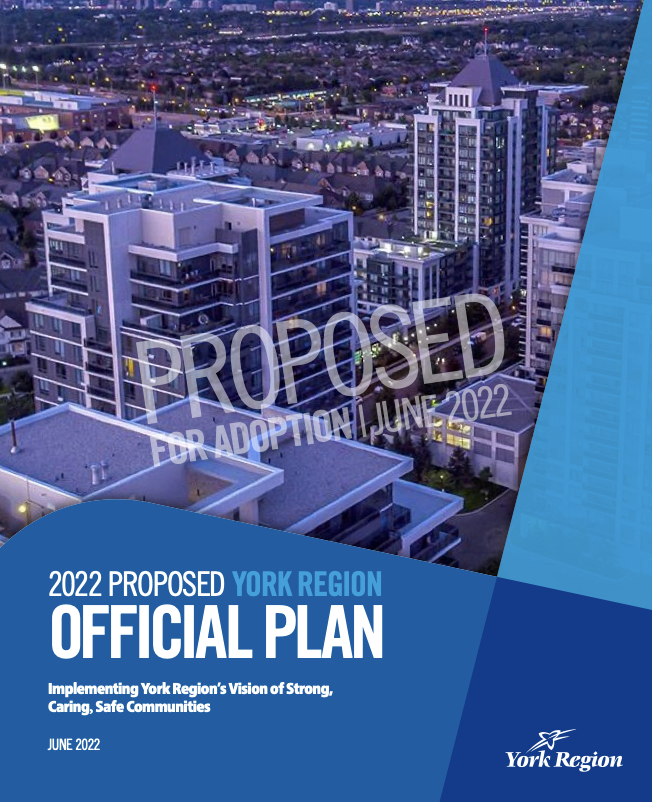 A fascinating article in Politics Today quotes Aurora Mayor Tom Mrakas:
"This was absolutely unexpected. There was no consultation with the town, no consultation with the region. I hate to say it, but it reeks of a favour for a friend."
It turns out the landowner hired lobbyist Patrick Lavelle-Tuns in early October to influence Municipal Affairs Minister Steven Clark. Lavelle-Tuns was deputy Manager of Doug Ford's 2018 PC leadership campaign.
The Aurora "special provision" was one of five changing policy on specified lands.
80 changes
The York Regional Official Plan was approved by the Province on 4 November 2022 and makes no less than 80 modifications, without giving reasons beyond what we can deduce from the text itself. York Region staff were not consulted on the changes and the implications are still unclear.
The memorandum presented to the Regional Council on Thursday (10 November) by the region's chief planner, Paul Freeman, and explaining the changes is here. The most significant relate to lands delineated for future urban expansion and the consequent threat to agricultural lands.
The decision on the York Regional Plan came on the same day as the announcement on the release of Greenbelt lands for development.
Up-in-the-air
A number of issues important to Newmarket are left up in the air.
The Province deletes the proposed Mulock GO Rail Station from Appendix 2 on the grounds that it (along with Gormley and Kirby):
"require further planning and consultation to finalise their location and delineation."
But Freeman says:
"the adopted Regional Official Plan (that was presented to the Province for approval) included greater protection for these lands by identifying preliminary boundaries and making them subject to policies that would ensure transit-supportive development."
He says that while the Province has taken a different approach "the intent remains relatively equal".
If so, why do it?
York Region left in the dark
Freeman sums it up this way:
"The approved Regional Official Plan 2022 includes growth beyond assumptions made through the Municipal Comprehensive Review process, examples being additional urban expansion, higher densities and conversions of employment areas to community areas. The implications of these changes will need to be assessed from a servicing perspective."
And from a political perspective too.
Gordon Prentice 12 November 2022
Update on 23 November 2022: from Newmarket Today: The future of Mulock GO rail station
Details

Written by

Gordon Prentice
A resolution carried by King's Committee of the Whole yesterday (7 November 2022) suggests the new owner of the Greenbelt lands west of Bathurst is "committed to providing the necessary lands" to Southlake Regional Health Centre for a "nominal fee".
The resolution is at 3:18:40 on this YouTube
clip.
Click "read more" to see the resolution.
Gordon Prentice 8 November 2022
Details

Written by

Gordon Prentice
The land west of Bathurst and immediately adjacent to Newmarket which is currently Greenbelt will be worth an absolute fortune when that status is removed and it becomes available for development.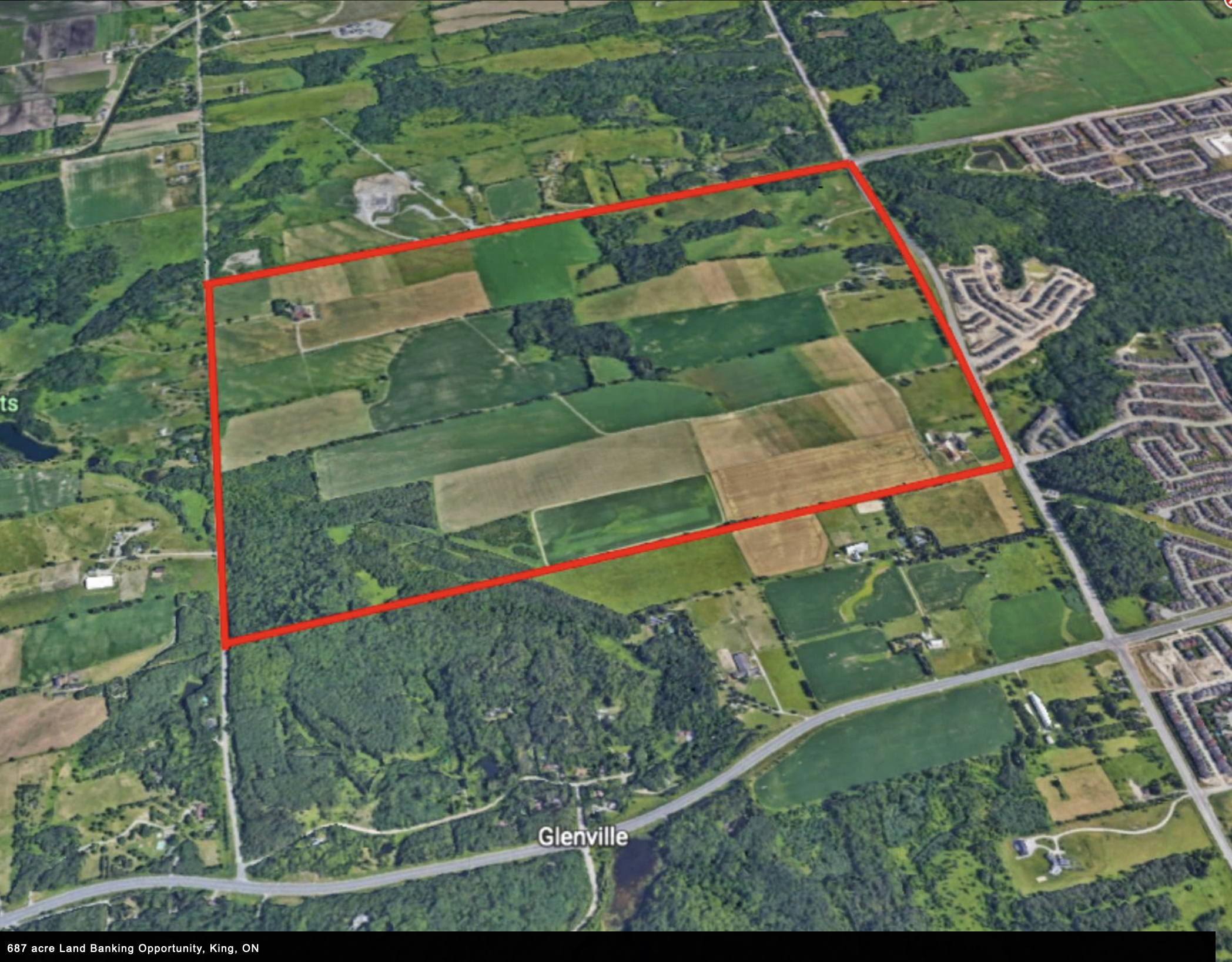 The Province announced on Friday 4 November 2022 that it was redesignating 7,400 acres of Greenbelt to accommodate new housing.
The huge parcel of (soon-to-be ex-Greenbelt) land at Bathurst was sold in August this year for $80M. It covers a massive 2.78 sq kms.
Land Banking Opportunity
The real estate agents, Moffat Dunlap, described the 687 acres as a prime opportunity for "land banking".
They say the land is located
"across the road from completed subdivisions"
and is:
"a unique opportunity to acquire the largest block of land ever assembled in the area. Multiple houses and barns on the property which support the existing cash crop and livestock farm. The tenant farmer is willing to continue to work the land to keep the taxes low."
"Almost out of development land"
The estate agents say the land is in a strategic location and that the
"surrounding municipalities are almost out of development land."
For the new owners, the redesignated Greenbelt land will now be worth many, many multiples of the $80M they paid for it only a few months ago.
The land is shown in this Land Registry map, bottom left, as lots 3, 4 and 5 of Block 03407 together with the northern half of lot 2.
Gordon Prentice 8 November 2022
Update on 17 November 2022: From the Toronto Star: They recently bought Greenbelt land that was undevelopable. Now the Ford government is poised to remove protections - and these developers stand to profit