Details

Written by

Gordon Prentice
This Thursday (22 October 2020) Newmarket Mayor John Taylor will tell York Regional Council that it is time to have a Regional Chair that is directly elected by the voters. Ever since the Region was established the Chair has been indirectly elected by members of the Council. It is a throwback to a different age.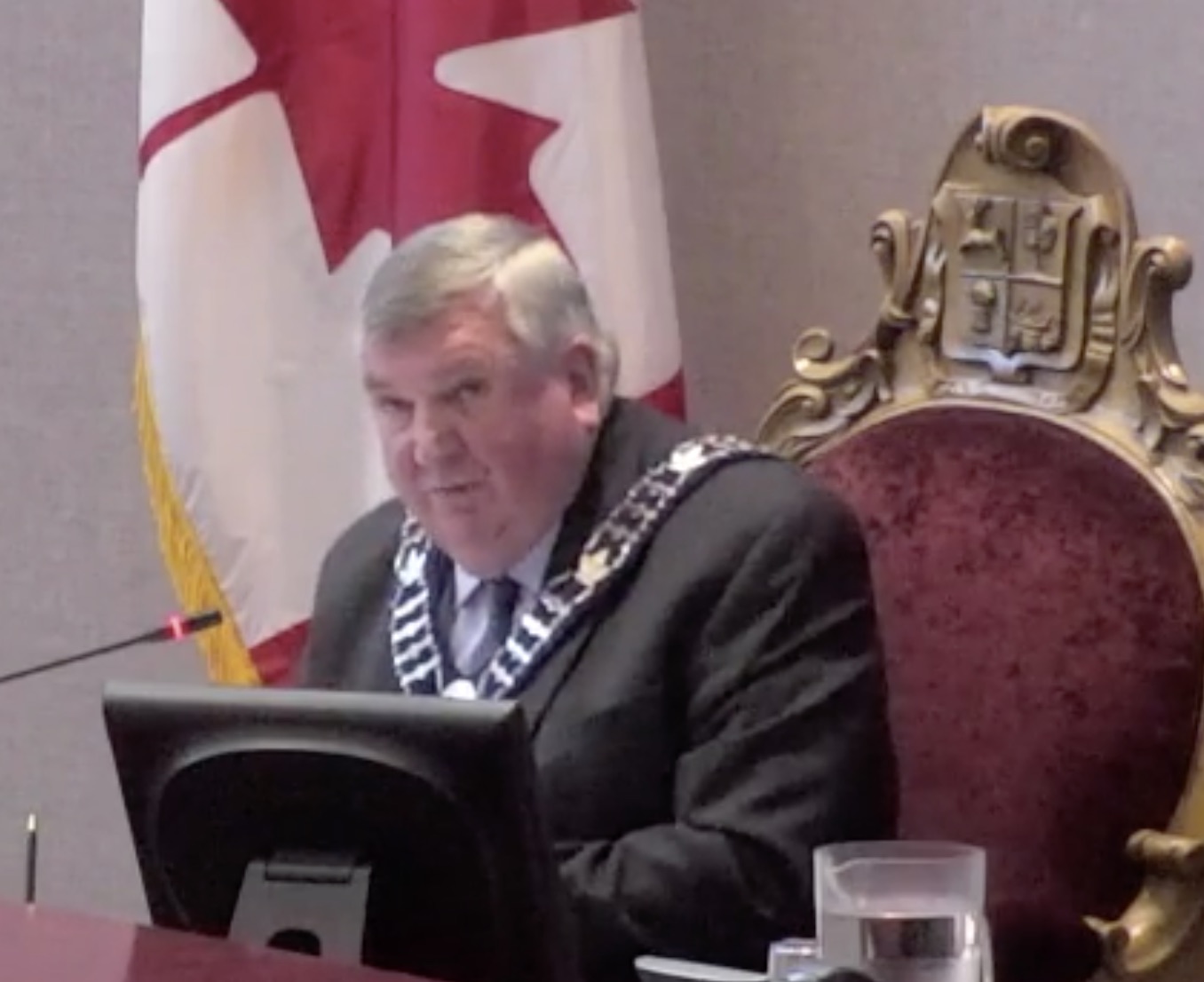 Years ago, former Newmarket Aurora MPP Chris Ballard introduced a Private Members' Bill which would force the direct election of the chair of York Region. But, like so many other PMBs, it failed to get onto the Statute Book.
On 2 March 2016 I gave evidence to the Bill Committee (along with former Newmarket Mayoral candidate Chris Campbell and Newmarket councillor Christina Bisanz) and the points we made then are still valid today. I told Committee members:
"(York Region's) population is bigger than PEI, Newfoundland, Labrador, New Brunswick, Nova Scotia, Saskatchewan, and it's rapidly closing on Manitoba. Yet the person who leads York region is indirectly elected by 20 people."
When Ballard's Private Members' Bill didn't pass into law (and very few PMBs do) it was picked up by Kathleen Wynne's Liberal Government and rolled into an omnibus Public Bill which guaranteed it would pass. The incoming PC Government under Doug Ford then scrapped the elections for regional chairs at the same time he cut the size of Toronto City Council by half.
Popular Mandate
Taylor has a long record supporting direct election. Indeed, when he stood for Regional Chair in 2014 – predicting he would lose – the contest drew attention to the inherent absurdity of having an indirectly elected chair with no popular mandate.
The Regional Chair for the last six years, Wayne Emmerson, is jovial and knows how to run a meeting. (Photo right) But he admits he would never win an election at large.
Van Bynen against direct election
Newmarket-Aurora's Liberal MP, Tony Van Bynen, deeply conservative in so many ways, always set his face against direct election when he served on the Regional Council as the mute Mayor of Newmarket. Scandalously, he disregarded the 7-1 vote on Newmarket Council in favour of direct election and cast his vote for the status quo when the Region voted on the issue.
Emmerson - whose remuneration package is lavish - has grown more imperial with the passage of time. In March last year he felt obliged to apologise to Regional Councillors Jack Heath and Joe Li for being unnecessarily brusque with them, giving them a dressing down in public.
On Thursday Joe Li will be seconding Taylor's motion.
This email address is being protected from spambots. You need JavaScript enabled to view it.
Updated on 21 October 2020 to include a new fourth paragraph explaining how Ballard's Bill was picked up by the Government and became law.
The following motion was deferred from the Regional Council meeting of February 27, 2020 to the meeting on 22 October 2020. To be moved by Mayor Taylor, seconded by Regional Councillor Li:
That the Regional Chair be directly elected by an at large election.
Note: In 2018 the Ford Government decided to scrap the elections for Regional Chairs which the previous Liberal Government had mandated. Emmerson had decided not to run in the election for Regional Chair but changed his mind after Ford's announcement.
Update on 22 October 2020: At the Council Meeting today Taylor moved the motion that the Regional Chair be directly elected. He did not speak to his motion and there was no debate. In favour of direct election: 6. Against direct election 14.
In favour of a directly elected Regional Chair: Regional Councillor Don Hamilton (Markham), Regional Councillor Jim Jones (Markham), Regional Councillor Joe Li (Markham), Mayor Tom Mrakas (Aurora), Mayor John Taylor (Newmarket), Regional Councillor Joe DiPaola (Richmond Hill)
Against a directly elected Regional Chair: Regional Councillor Jack Heath (Markham), Regional Councillor Linda Jackson (Vaughan), Mayor Iain Lovatt (Whitchurch-Stouffville), Mayor Steve Pellegrini (King), Regional Councillor Carmine Perrelli (Richmond Hill), Mayor Margaret Quirk (Georgina), Regional Councillor Gino Rosati (Vaughan), Mayor Frank Scarpitti (Markham), Mayor David Barrow (Richmond Hill), Mayor Maurizio Bevilacqua (Vaughan), Regional Chair Wayne Emmerson, Regional Councillor Mario Ferri (Vaughan), Regional Councillor Robert Grossi (Georgina), Mayor Virginia Hackson (East Gwillimbury).
Details

Written by

Gordon Prentice
One year ago to the day the developer Bob Forrest ordered the unlawful demolition of the Simpson Building in the heart of the old downtown. It was once the apothecary of Ontario's first female pharmacist, Anne Mary Simpson. We lost a priceless part of Newmarket's history.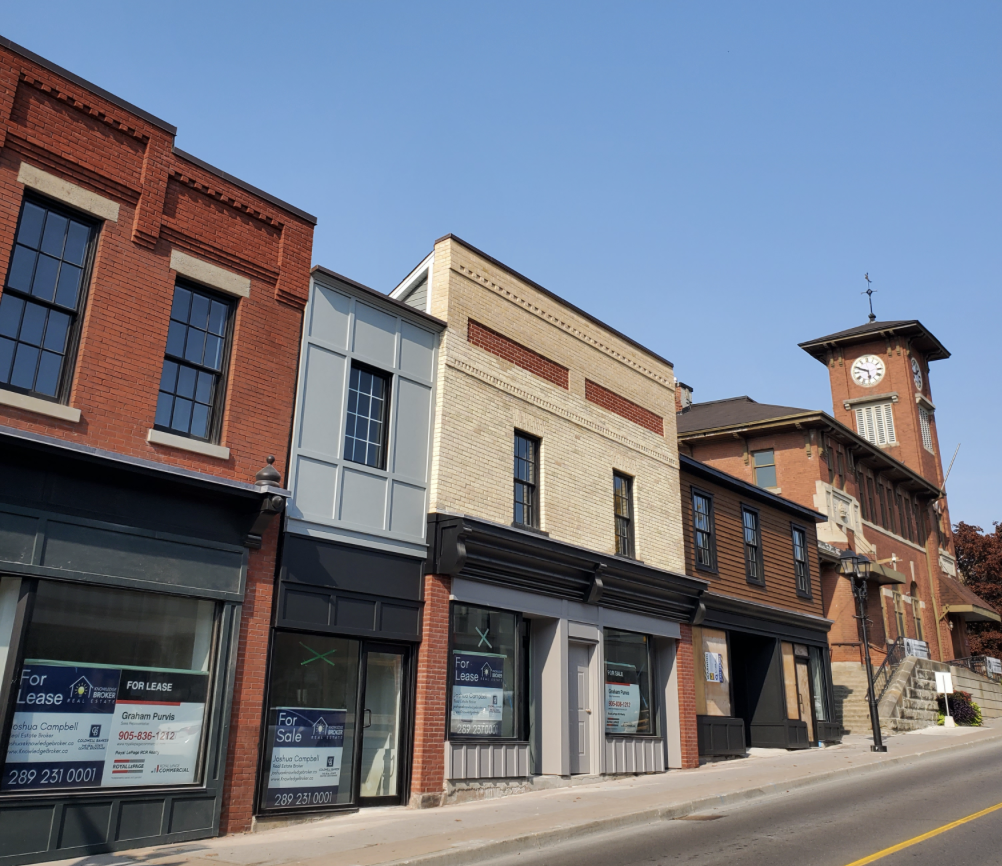 Earlier this year, the University of Waterloo's Dan Schneider asked me to post a guest piece on his heritage blog and this is my take on what happened.
Unfortunately, there is no official report from the Town setting out the sequence of events, explaining what happened on 9 October 2019 and why.
The Town struck a deal with Forrest allowing him to admit that the building was taken down without permission. There would be no prosecution. In return, Forrest promised to rebuild the Simpson Building and restore the adjacent commercial buildings he owned.
It was a get-out-of-jail-free card.
Most of the work has now been completed and the buildings look good. (Photo right taken in late September 2020)
Forrest has been trying to sell his properties on Main Street South for many months now, so far without success. But these are difficult times.
He could, of course, lower the asking price and still walk away with millions.
This email address is being protected from spambots. You need JavaScript enabled to view it.
Details

Written by

Gordon Prentice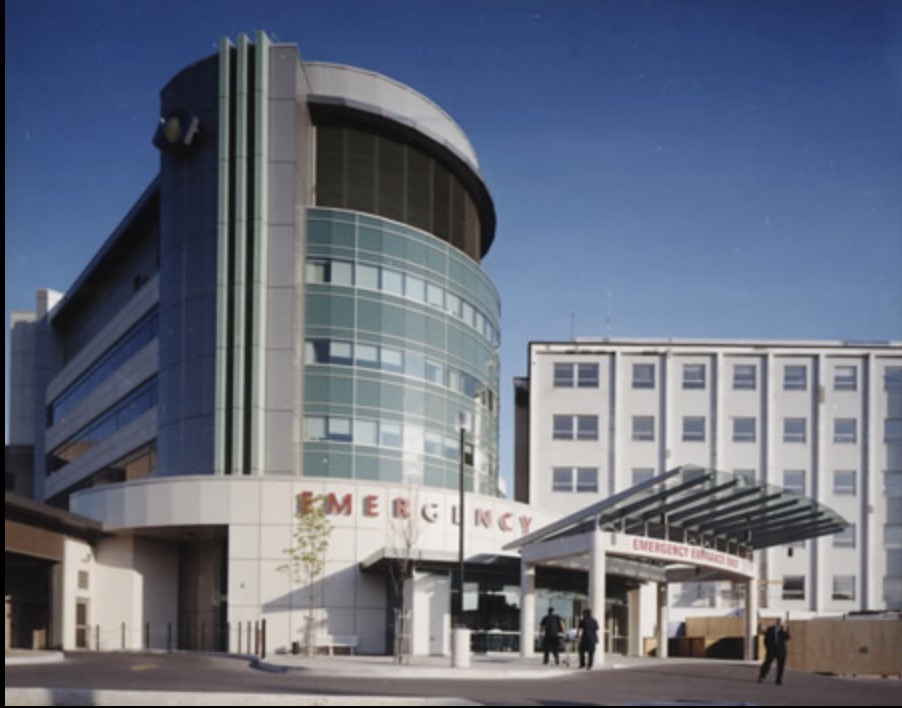 Back Story: Southlake Regional Health Centre is a big 525 bed teaching hospital in Newmarket with a wide catchment area. It has almost 3,500 employees and 580 physicians. The hospital is funded primarily by the Province. It is operating with a deficit of over $17M which the Hospital Treasurer describes as "not sustainable". Last week Southlake said it would be eliminating 97 Registered Nurse positions. Is it all about saving money? Or is it about moving more health care out of the hospital and into the community?
COVID is back
Today Doug Ford tells us the second wave of Covid 19 is here and it will be worse than the first.
This comes hot on the heels of yesterday's news that the Province would be investing $52.5m to recruit, retain and support more health care workers.
So what should we make of last week's extraordinary announcement from Southlake that the hospital intends to cut 97 registered nurse positions because of "significant financial pressures"?
Good grief! We are in the middle of a pandemic.
All hands on deck!
At times like this it's all hands on deck. We shouldn't be throwing registered nurses overboard – whatever the reason.
Southlake's Treasurer, Steve Hills, warned the hospital's AGM on 17 June 2020:
"The current financial position is not sustainable."
He was reporting an eye-watering deficit of $17,679,000 in the financial year to 31 March 2020 - compared with a modest surplus of $157,000 the year before. He says:
"Increasing demand for services as well as replacement of critical hospital infrastructure continue to place significant pressures on the physical and financial capacity of the organization, and it shows no sign of abating in 2020/21."
The costs of COVID
He says Covid had a limited impact on the 2019/20 results (costing about $1.9m) but this will clearly change in 2020-21. The Board wants "additional base hospital funding" which means money from the Province which provides the lion's share of hospital funding.
The Minister of Health, Christine Elliott, who happens to be Newmarket-Aurora's MPP, has not specifically commented on the planned elimination of 97 registered nurse jobs but her Ministry was not so shy:
"Southlake received a funding increase of over $5 million this year to expand frontline services for the people of York Region. Hospitals are in charge of their own operations and operational decision-making. That said, when making planning decisions, we expect all hospitals to minimize impacts on frontline care."
$5M is a drop in the bucket.
"A ridiculous assertion"
However, on 24 September at Queen's Park, Liberal MPP Michael Coteau challenged Elliott about the planned Southlake job cuts:
"Earlier this week, we found out that 100 public sector nurses were laid off in the Minister of Health's own riding. How could the government lay off nurses when we have a crisis in long-term care; we have a crisis in public education, where cases are increasing; we have a crisis in testing, where we're seeing people wait days to get tests and in lines for eight hours? How can they actually push privatization and fire nurses during this pandemic?"
Coteau wants the Government to confirm:
"That not one single health care worker will be fired during the pandemic".
Elliott tells him:
"That is an absolutely ridiculous assertion. That is absolutely incorrect. We believe in our public health care system. That is what we're trying to transform."
In fact, Southlake expects the 97 nursing posts to disappear through attrition and natural wastage. The hospital says it hopes to avoid
"any frontline involuntary employment loss"
Swapping registered nurses for registered practical nurses
Southlake has already cut 24 clerical and administrative positions which could impact front line care. I don't know.
The hospital stresses that despite the deep cuts in registered nursing posts it is still recruiting. They will be adding:
"49 registered practical nurse positions, 29 patient services partner positions* and three social worker positions".
These are all valuable jobs. But, clearly, Southlake is not replacing like with like.
The Ontario Nurses Association condemned the move. They've had run-ins with the hospital for years over staffing issues. Most recently in 2017 after complaints about working practices in the Emergency Department.
With everything that is now happening it beggars belief that Southlake is pressing ahead, getting rid of Registered Nurses, when the organisation is overstretched and working over-capacity. Just when you think more nurses would be needed.
Hip and Knee replacements pushed back 7 years
Southlake's Chief Executive, Arden Krystal, told the House of Commons Health Committee on 10 June 2020:
"I want to talk about hospital capacity. There's no doubt that hospitals across Canada, and it doesn't matter which province you're in, have been operating at over 100% capacity even well before COVID-19. Further to the comments by my radiologist colleagues, one of the challenges with working over capacity is the only way you can recoup capacity to deal with a pandemic like this is to cancel elective procedures.
Our hospital went down to 30% of our normal volume. We've modelled that for hip and knee replacements alone it could take us seven years to recoup the number of surgeries we would need to do if we don't work evenings, weekends and everything else. Of course, the problem with that is human resources. As one of my other colleagues mentioned, they are pretty burned out. To try to get them to work those extra hours, even if we were funded for it, would be very difficult. Once again, we need to rethink our hospital sector."
It does sound kinda counter-intuitive to complain about over-capacity and staff burn out in one breath and then to cut registered nursing positions in the next.
Southlake has been running at over capacity for years. The way to tackle this says Health Minister Christine Elliott is to stop people turning up in hospital for conditions which can be treated elsewhere. The answer was to be found in "better connected care".
Hallway medicine
The Ford Government wants to "end hallway medicine" by ensuring greater co-ordination between all health providers – in and out of hospital. And new "Health Teams" are being set up across the Province. Southlake was in the first wave in November 2019 which was:
"approved after an extensive readiness assessment process, which involved significant time, collaboration, research and effort from partners across the health care sector."
Southlake's Strategic Plan which looks forward to 2023 was written before COVID and its Master Plan delivered to the Province in February this year. That seems a lifetime ago.
But with the arrival of the coronavirus and the melt-down in long term care everything has gone pear-shaped.
Without additional cash the hospital itself could be on life-support.
This email address is being protected from spambots. You need JavaScript enabled to view it.
Note 1: Newmarket-Aurora's Liberal MP, Tony Van Bynen, who sits on the Commons Health Committee and was on the Board of the charitable Southlake Foundation (which raises money for the hospital) has not expressed a view on the loss of 97 registered nurse positions.
Note 2: The Ontario Hospital Association makes the case here for additional funding.
Note 3: *Southlake describes a Patient Services Partner (PSP) as someone "responsible for the provision of patient care to a specific group of patients under the supervision of Regulated Health Care Professionals (RHP) and in accordance with the policies and procedures of the Southlake Regional Health Centre (SRHC). PSPs are primarily required to perform tasks for patients that are focused on activities of daily living (ADL) including mobility and feeding."
Updated on 30 September 2020 to include the Queen's Park exchange between Liberal MPP Michael Coteau and Health Minister Christine Elliott. To see the full exchange click "Read more" below the graphic.
Update on 8 October 2020: From Newmarket Today: Southlake CEO answers questions on nurse lay-offs, defdicits and the future

Details

Written by

Gordon Prentice
What happened to Justin Trudeau's election promise to give cities the power to restrict – or even ban – handguns within their own boundaries?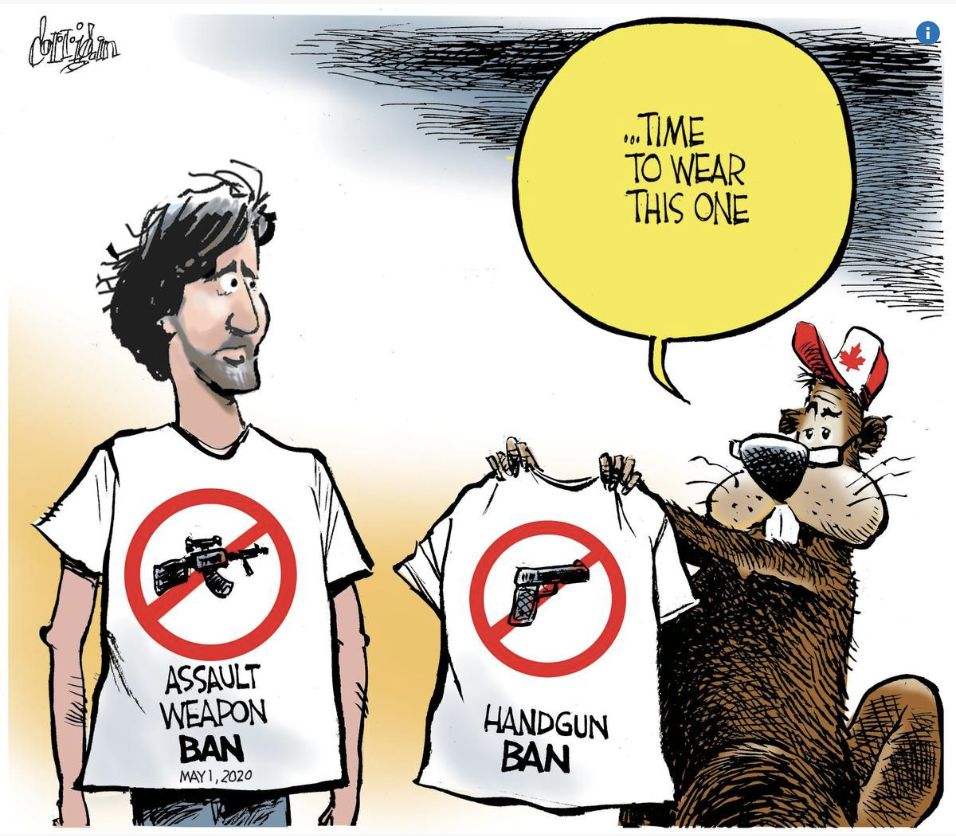 Precisely nothing.
Of course the Prime Minister has other pressing matters to think about such as the coronavirus but Governments should be able to walk and chew gum at the same time.
You would think the massacre in Nova Scotia – the deadliest in Canadian history with 22 people killed – would be a spur to action but, instead, decisions will be postponed until the public inquiry has reported.
Bill Blair, the Minister of Public Safety, first resisted calls for a public inquiry but then bowed to the pressure of public opinion.
Absurd and totally unworkable
I do not believe for one moment that this Liberal Government will legislate to give municipalities the powers to ban or restrict the possession of handguns in their own patch. The very idea is absurd and totally unworkable. We need a nationwide ban. But the PM flinches from doing this, fearing the anger of the gun lobby. He should simply face them down.
The number of people affected by firearm-related violent crime has soared in recent years. We hear about the victims who have been killed but what about the survivors left traumatised or with life changing injuries?
Handguns used most in firearm-related violent crime
Figures from Statistics Canada tell us there were 3,351 victims of violent crime involving a handgun in 2010. By 2018 the number of victims had soared to 4,601. This represents a staggering 61.5% of all victims of firearm related violence. By contrast, in the same year (2018) there were 1,262 victims of a rifle or shotgun assault, representing 16.9% of the total.
And these shocking figures exclude Quebec where a large proportion of firearms cases report as "unknown" the most serious weapon used in the assault. So the true picture is even worse than these figures suggest.
I've written before about Danielle Kane, left paralysed from the waist down, a victim of the Danforth shooter, Faisal Hussain. But what about all the others? The 19 wounded survivors of the attack on the Quebec city mosque by the deranged Islamaphobe, Alexandre Bissonnette. How are they coping?
Tartan scarves and tweets
We do not know the precise nature of the injuries sustained by the survivors of these horrifying attacks. When I contacted Bill Blair at his Ottawa office and at his Ministry I was ignored. My own MP, Newmarket-Aurora's Tony Van Bynen, contents himself with gesture politics by hanging a tartan scarf on his front door for a couple of days and tweeting his condolences. But he was not prepared to table Parliamentary Questions to get the information we all need to understand what's going on.
In the absence of any practical help from elected officials I went down the Access to Information route. Specifically I wanted to know if the Ministry of Public Safety had:
Estimates of the cost to Municipalities of (a) implementing and maintaining a local ban on handguns or (b) restricting access to handguns.
Statistics on the number of people who have been left permanently disabled as a result of a handgun assault and the nature of the resulting injury
Statistics on the number of people under the age of 18 (a) fatally shot and (b) wounded in each of the last 10 years by someone using a handgun.
No information on cost of implementing local handgun bans
On 28 July 2020 the Ministry's Access to Information person, Mathieu Couture, told me:
"Public Safety do not have records regarding your request… We would suggest that you send your request to Statistics Canada and the RCMP."
I followed the advice and on 29 July the RCMP told me there would be delays in responding due to the Covid-19 pandemic. I am still waiting to hear.
Statistics Canada were quick off the mark and have been very helpful in supplying off-the-shelf material. But getting information on, for example, the nature of injuries following a firearms assault is more problematical. If possible, I want to know how severe these injuries are. What if someone has been blinded? Or paralysed? Or lost a limb? Or has developed psychological issues which prevent a return to normality?
When MPs request this kind of information they don't pay for it. But with no help from my own MP I shall be paying Statistics Canada for a "custom data request" which will likely cost a lot more than the standard $5.
Statistics Canada tell me the gun violence figures for 2019 will be made available after September 30, 2020 when all the data from previous years will also be updated. Data for 2020 (which, of course, will include the massacre in Nova Scotia) will not be available until the summer of 2021.
Throne Speech
In the meantime, can the Prime Minister get through the Throne Speech on Wednesday (23 September) without precipitating a Federal Election that no-one wants?
In the last Throne Speech on 5 December 2019 the Governor General told us:
Year after year, headline after headline, Canadians have seen firsthand the devastating effects of gun violence. Too many lives lost, too many families shattered. It is time to show courage, and strengthen gun control.
The Government will crack down on gun crime, banning military-style assault rifles and taking steps to introduce a buy-back program. Municipalities and communities that want to ban handguns will be able to do so. And the Government will invest to help cities fight gang-related violence.
We are on the eve of the 30th anniversary of the horrific killing of 14 women at l'École Polytechnique in Montréal, a day when all Canadians pause to remember and honour those women who were killed because of their gender. And we take stock of the harm that gender-based violence continues to do to Canadian society.
The Prime Minister followed this up on 13 December 2019 with a Mandate Letter to Bill Blair calling on him
With support from the Minister of Justice and Attorney General of Canada, implement our firearms policy commitments, including to:
Amend Canada's firearms laws to ban all military-style assault rifles, with an associated buyback program and two-year amnesty;
Work with provinces and territories to give municipalities the ability to further restrict or ban handguns;
Since then we have seen action on military-style assault weapons but they are not the biggest part of the problem.
No intention of banning handguns
Personally, I believe Bill Blair has absolutely no intention of banning handguns. He said nothing when his own department produced a flawed survey on proposals to restrict firearms which allowed people to vote on-line multiple times, completely invalidating the result.
For his part, the Prime Minister wants to see the handgun issue disappear. So the can is being kicked down the road again as memories of the Nova Scotia massacre fade and the anger subsides.
But there will, of course, inevitably be a next time.
A deranged individual, gun in hand, on a mission to kill.
What if it were to happen here in Newmarket in Upper Canada Mall?
Tweeting condolences wouldn't be enough.
This email address is being protected from spambots. You need JavaScript enabled to view it.
Update on 1 October 2020: From the Globe and Mail: Ottawa plans to allow cities to ban handguns (but nothing in the article gives details on how the Federal Government will go about it.)
Update on 14 October 2020: Toronto Star editorial calls on Trudeau Liberals to stop ducking a handgun ban. And from the Globe and Mail: Political Cowardice.
Update on 19 September 2020: From the Globe and Mail: Why the Liberals insist on a handgun ban that nobody wants
Update on 16 November 2020: From the Toronto Star: Twelve years old: A death that shames us all
Update on 17 November 2020: In the House of Commons on 16 November Liberal Minister skates over the issue of further restrictions on handguns.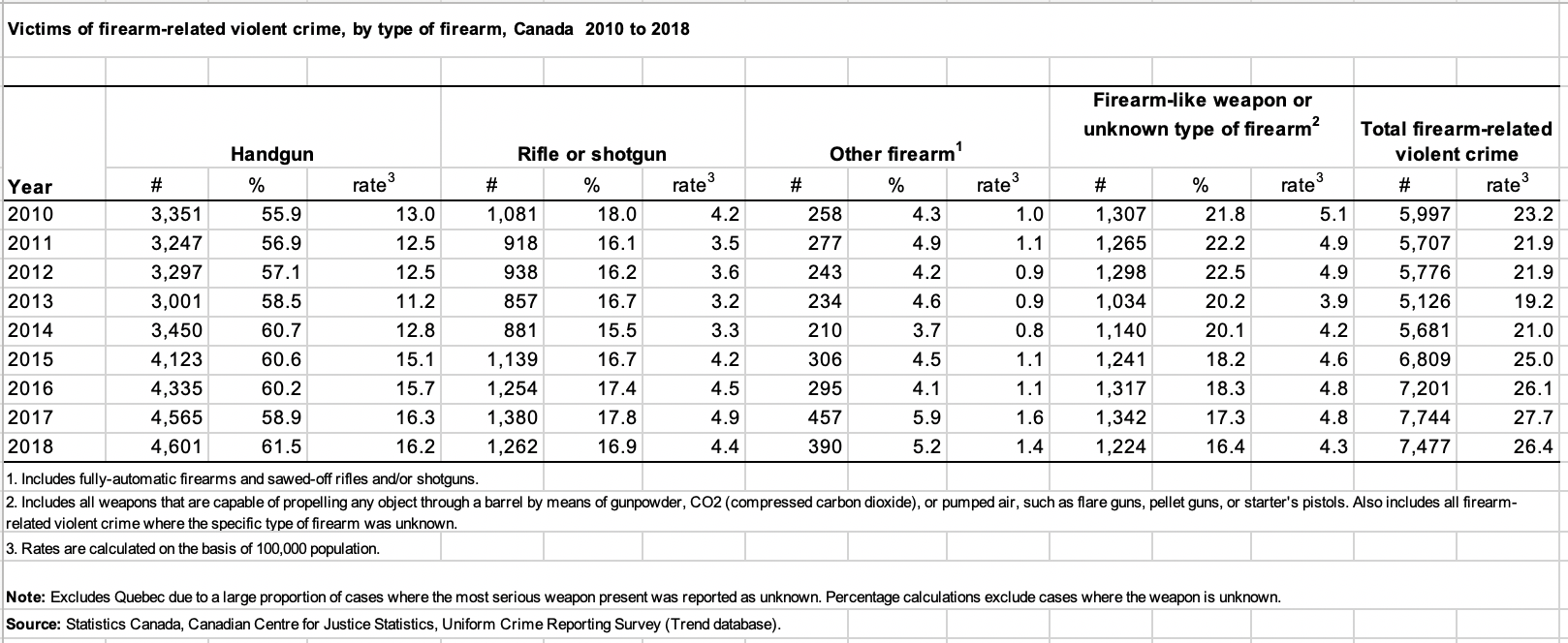 Cartoon from the Toronto Star.
Details

Written by

Gordon Prentice
There's big money to be made in developing land. Just ask former Progressive Conservative MPP Frank Klees who makes millions from "facilitating" these things.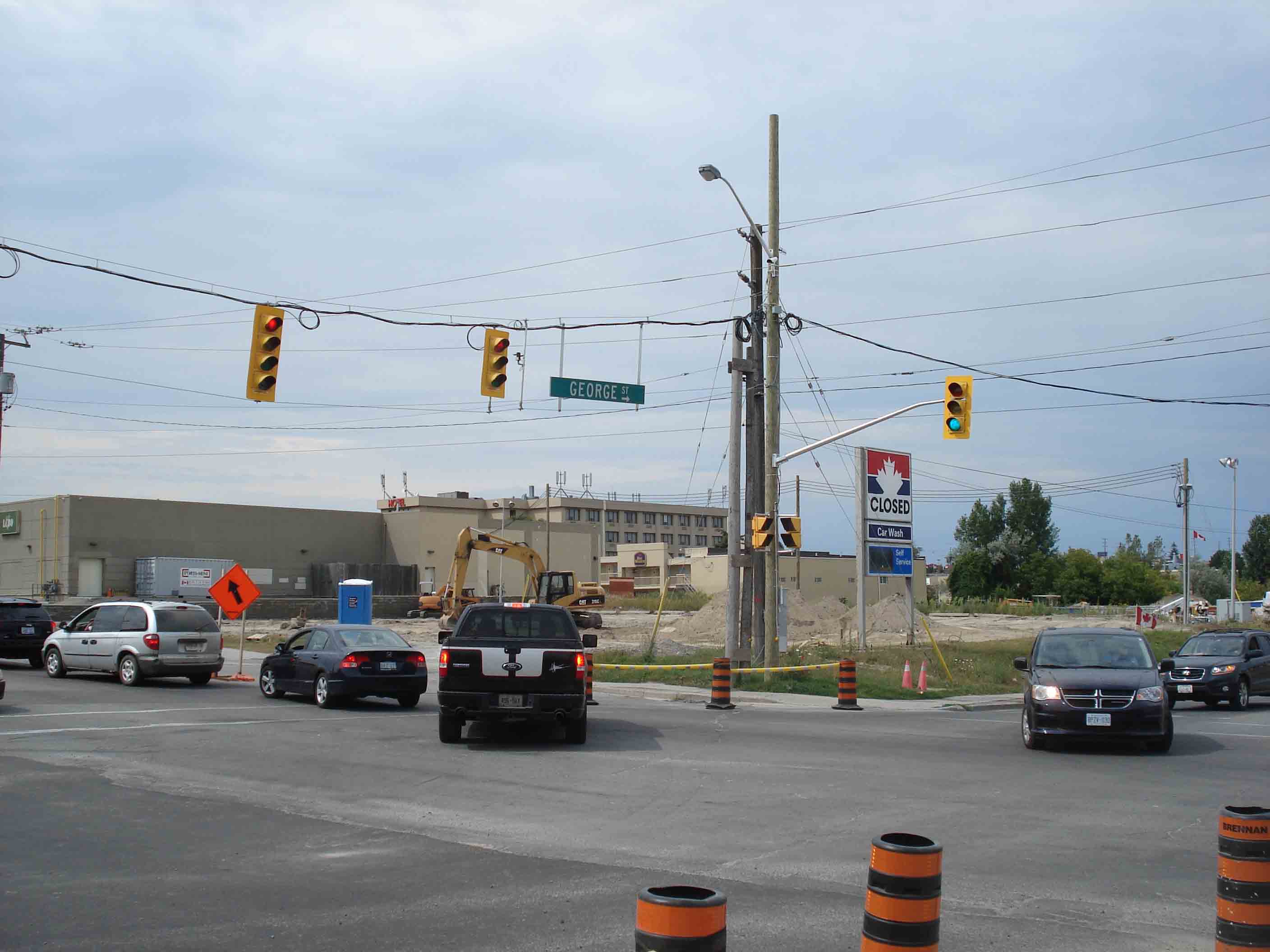 But it's also possible to make millions by buying land and doing nothing with it, simply waiting for its value to increase. This happens in Newmarket and all across Ontario. Property speculators secure planning approval for major schemes and then sit on their hands.
Seven years ago I blogged about Tri-cap properties who have planning permission to build a 20-storey condo with 280 units at the intersection of Davis Drive and George Street. Approval was granted 11 years ago. The same outfit owns vacant land at 22 George Street where planning approval was granted an astonishing 27 years ago (in 1993) for a 12-storey condo with 115 apartments. Nothing has been built. (Photo right of Davis and George in 2013 and below the same site in July 2020 - after millions of dollars of public money had been spent upgrading Davis Drive.)
Land-banking
Tri-cap is into "land-banking" in a big way but they release and develop land when it suits their purpose. (The employment land between Harry Walker Parkway and the 404 is currently being developed.)
But I am left wondering how many condos across the Province have planning approval but nothing gets built because of an investment strike by landowners. Sitting on decades-old planning approvals for condos is a sin when so many people in Newmarket are crying out for affordable accommodation. It's not against the law but it is clearly against the public interest.
Once planning approval is granted it "attaches" to the land (as the lawyers would say) and cannot be withdrawn without massive compensation being paid to the landowner. A simple and elegant solution is to time-limit the planning approval. If work hasn't started within, say, five years the permission is withdrawn.
Planning approvals
This is what happens in the UK where planning approvals lapse after three years if shovels aren't in the ground by then. Once the approval is timed-out a new application would have to be submitted to the municipality.
Of course, there would have to be safeguards. Here in Newmarket, for the moment, there is insufficient sewage and wastewater capacity which restricts the number and size of developments which are allowed to proceed even if they have planning approval. But these "servicing allocations" are a temporary stop-gap until the capacity issues are resolved.
As municipalities do their best to manage intensification within their own boundaries, the Provincial Government is currently out to consultation on plans to open up more land to development outside the built-up areas. Ford wants municipalities to identify the land needed for development up to 2051. Critics fear this will encourage sprawl.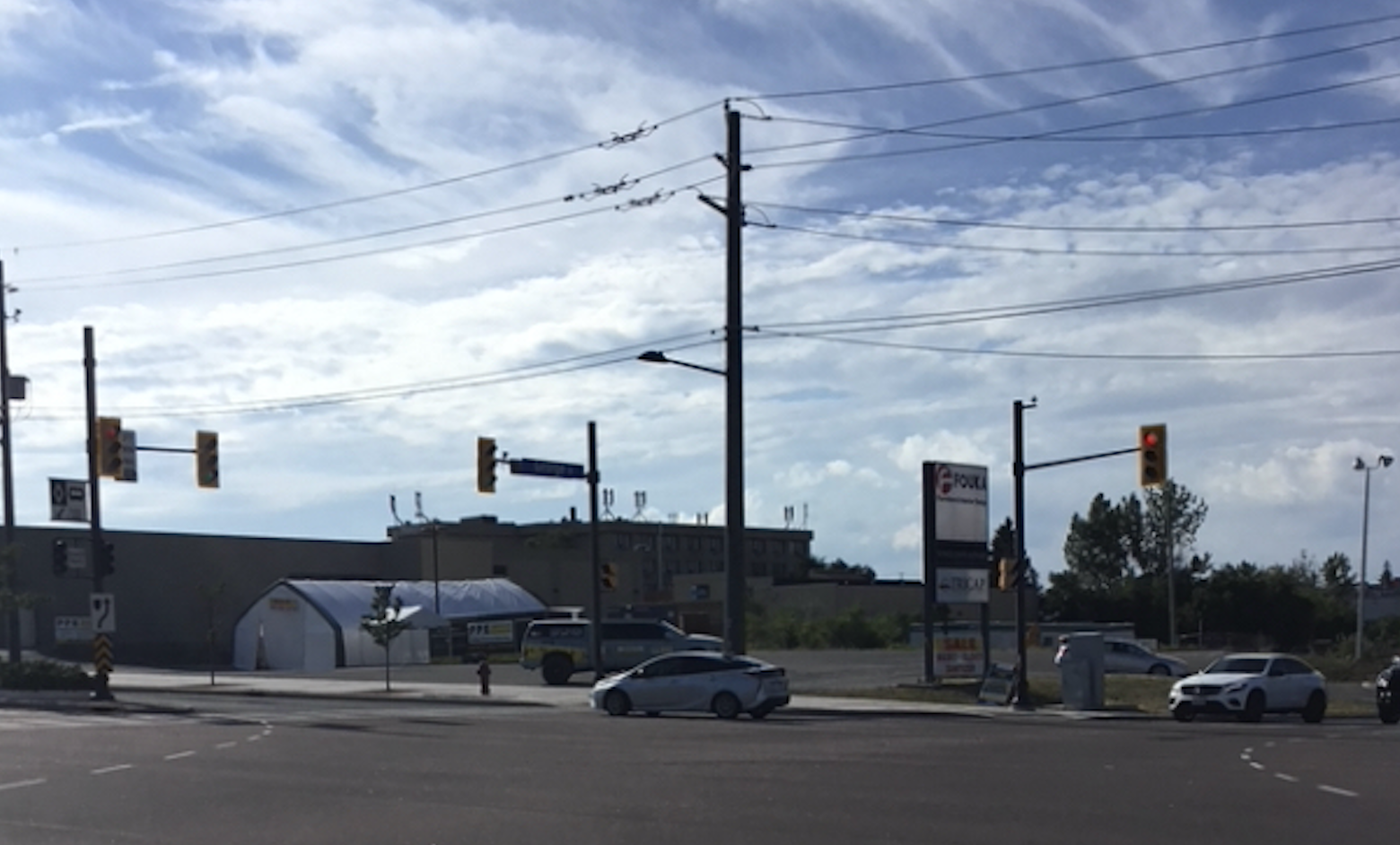 The consultation closes this coming Friday (31July 2020) and the Town's planners sensibly are recommending (a) growth is concentrated in areas with the infrastructure to handle it and (b) policies requiring more affordable housing (through inclusionary zoning) are implemented.
Greenbelt and Whitebelt
The Greenbelt is off-limits to developers but with Doug Ford you never know. He told his friends he would open up big chunks of the Greenbelt to development and then changed his mind when he was caught on camera and the video got out. Over time, he forgets what he has promised.
Ford's proposed amendments to "A Place to Grow" will inevitably put pressure on the so-called "Whitebelt" – lands between the boundaries of the urban areas and the Greenbelt which are shown white on Growth Plan maps and which are not protected from future development.
Tim Gray, Executive Director of Environmental Defence, told the Globe and Mail last month:
"It's a big gift to land speculators who have bought up farms in the whitebelt, because once you get (the land) redesignated, its value goes up (by) orders of magnitude."
Frank Klees is going to be a busy boy.
This email address is being protected from spambots. You need JavaScript enabled to view it.