Details

Written by

Gordon Prentice
Bill Blair, the Public Safety Minister, believes the Government's new firearms bill will keep handguns off the streets without a Federal ban.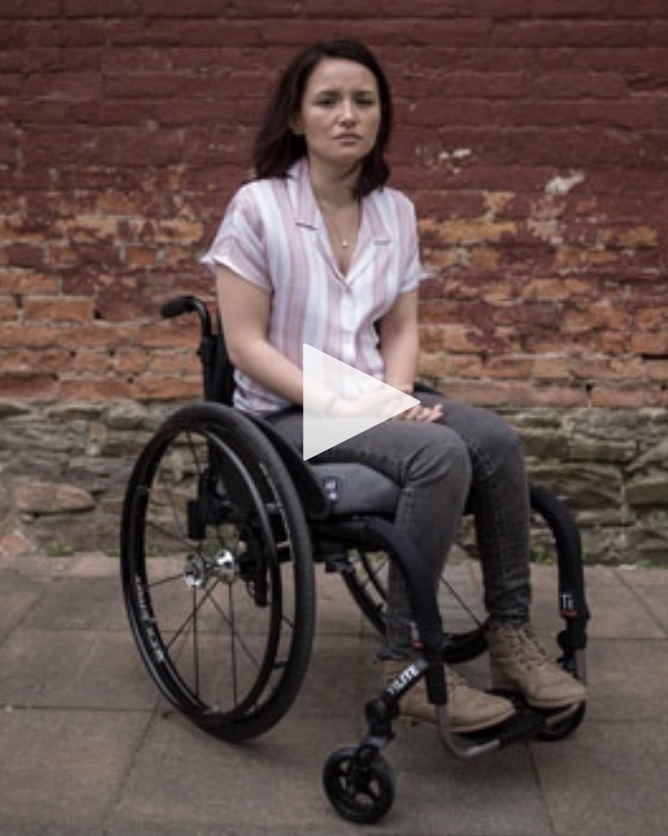 This is, of course, complete nonsense.
The Government says all municipalities can enact by-laws regulating firearms within their own areas. But they need the OK from their Province first.
And Alberta, Saskatchewan and Ontario have all ruled out any possibility of handguns bans. So where does this leave us?
Ineffective and meaningless
This morning's Toronto Star describes Bill C21 as an ineffective measure:
"So the Federal Government can say it will support municipalities that want to "create safer communities" by banning handguns, but it comes with a caveat – "if allowed by their province/territory."
"That makes it all but meaningless in many parts of the country. It leaves Toronto, which is plagued by gun violence and has wanted a handgun ban for years, at the mercy of Ontario Premier Doug Ford, who has repeatedly said he doesn't believe in such a ban."
Ford's Deputy, Newmarket-Aurora's Christine Elliott, is also hostile to a handgun ban. In Queen's Park in 2008 she claimed bizarrely that in Canada
"…we have a handgun ban, for all intents and purposes"
Gun manufacturers liability
Elliott was speaking in the debate on a Private Member's Bill which would make firearm manufacturers and importers liable for harm caused by the unlawful use of a handgun. She told MPPs that would never happen:
"What the member is really trying to get at here is to take a product that's actually legal - because the manufacture of guns is legal - and make it into an illegal product. So if it's used for an illegal purpose, the manufacture is going to be responsible, no matter how it's used. That simply can't exist. It doesn't make any sense."
Danforth Shooting
But this is precisely the issue with the Danforth mass shooting where survivors of the massacre in July 2018 allege the manufacturer of the handgun which was used to kill and main people (Smith & Wesson) failed to incorporate safety features into its guns. They point to "authorised user" technology where only an authorised user could pull the trigger. They are claiming damages of $150M.
Our own MP, Tony Van Bynen, told us before the election he was in favour of a ban on handguns but he has been quiet as a mouse since. A year ago, when I asked him if he supported the Danforth Class Action I didn't get a reply.
But when Bill C21 comes up for debate I hope he pauses for a moment and thinks about Danielle Kane, the young woman caught up in the Danforth shooting and is now left paralysed from the waist down. (photo above)
Would Bill C21 protect innocents like her in future?
Of course not.
So what is he going to do about it?
This email address is being protected from spambots. You need JavaScript enabled to view it.
Here is the Department of Public Safety briefing on Bill C21.
See also this blog: Danforth class action against Smith & Wesson allowed to proceed.
Update on 18 February 2021. From the Globe and Mail: The Trudeau Government's Gun Bill is not what Canada needs
Details

Written by

Gordon Prentice
America needs a 9/11 type Commission to tell the story of the invasion of the US Capitol on 6 January 2021 and to make recommendations to ensure nothing like it can ever happen again.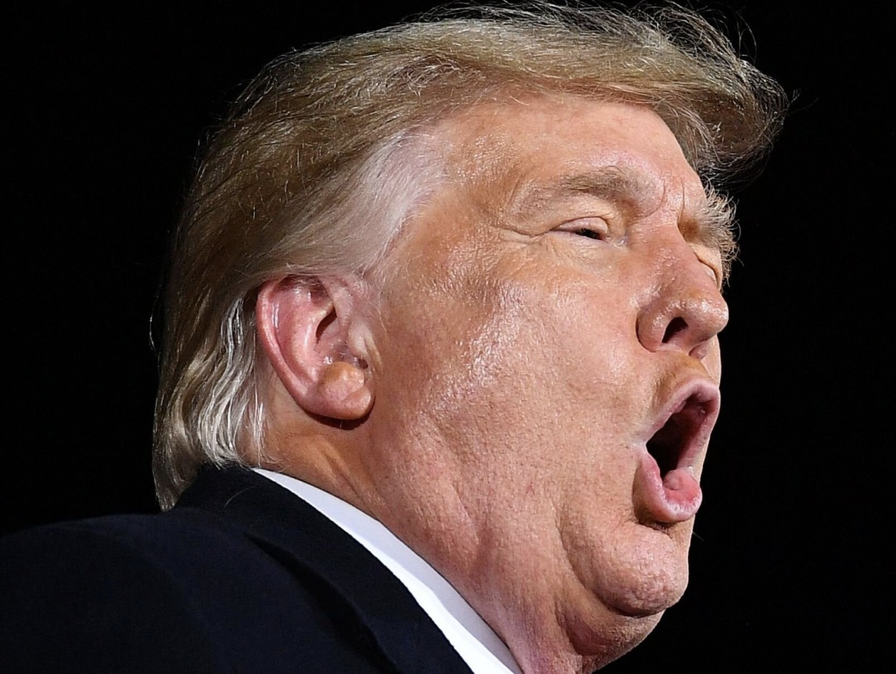 Donald John Trump is not out of the woods yet.
The original 9/11 Commission took 20 months to report and made three dozen recommendations. If Congress acts swiftly we could get a report well before the mid-term elections in November 2022.
Perfect timing, I'd say.
I sat through the Senate impeachment trial transfixed, marvelling at the skill and eloquence of the House Managers led by the hugely impressive Jamie Raskin.
Hearing but not listening
The Senators heard what was said but too many were not listening.
The United States Senate is not "the greatest deliberative body in the world" as we are forever being told. Far from it. The impeachment trial showed it to be a joke institution, unwilling to convict on the clearest evidence of guilt.
In a surreal moment, the Senate Republican minority leader, Mitch McConnell, votes to acquit and then tells us Trump was "practically and morally responsible" for the riot.
Good grief!
Clearly, Americans need a 9/11 type Commission to explain in meticulous detail how Trump orchestrated the storming of the US Capitol. And the lessons to be learned.
Trump will say it's fake news.
But who will believe the old demagogue?
This email address is being protected from spambots. You need JavaScript enabled to view it.
Update on 16 February 2021: From CNN: Trump attacks McConnell in lengthy statement.
Update on 17 February 2021: From The Hill: Riot Probe likely to focus on McCarthy-Trump Call.
Details

Written by

Gordon Prentice
Yesterday I received a letter from Public Safety Canada replying to one I sent to Bill Blair last May about gun violence.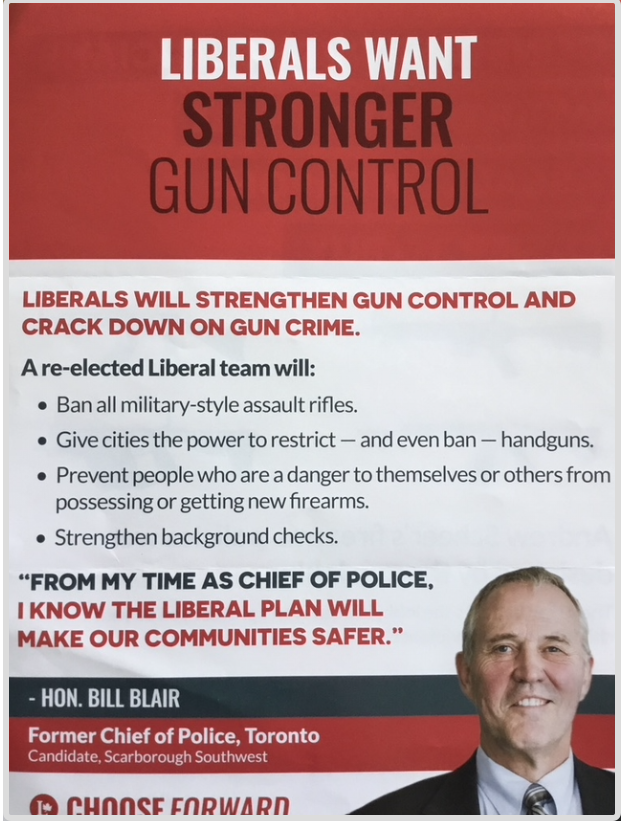 Eight months is a long time to wait for a reply. But I count myself fortunate.
I've written to the Public Safety Minister, Bill Blair, a number of times before, in pre-COVID days, always about firearms, but he has never bothered to get back to me. Personally, I think that's bad form – particularly from someone as elevated as Mr Blair. So I was pleasantly surprised when I received an answer of sorts even if it came from Talal Dakalbab, a senior civil servant in the Ministry, rather than the great man himself.
I wanted to know:
(1) What estimate the Minister has made of the cost to Municipalities of (a) implementing and maintaining a local ban on handguns or (b) restricting access to handguns?
(2) If the Minister will make it his policy to collect statistics on the number of people who have been left permanently disabled as a result of a handgun assault, specifying in each case the nature of the injury?
(3) How many persons under the age of 18 have been (a) fatally shot and (b) wounded in each of the last 10 years by someone using a handgun?
One year ago to the very day (on 26 January 2020) I wrote to my MP, Tony Van Bynen, asking if he would table these questions in Parliament. But nothing happened. No acknowledgement. Just silence.
Then, three months later, on 26 April 2020, in the wake of the terrible massacre in Nova Scotia, Van Bynen stirred himself, telling me he would submit my email correspondence to Minister Blair.
If he did, my questions were lost somewhere along the way.
But the helpful Mr Dakalbab tells me that if I would like a reply to my questions I should resubmit them.
Which is precisely what I intend to do.
These are increasingly dangerous days in Newmarket. Here Newmarket Today covers the latest outrage. And why I believe the Liberal Government will not ban handguns.
Update on 28 January 2021: From the Globe and Mail: Quebec City Mosque co-founder decries lack of Federal progress on handgun control. And from the CBC - four years after the slaughter in Quebec.
Update on 30 January 2021: From the Montreal Gazette. Events to mark anniversary of mosque massacre begin with calls for gun control. See also Justin Trudeau blames Provinces for Canada's inaction on Municipal handgun bans (from Peterborough Examiner 13 November 2020)
Click "Read more" below to read my emails to Tony Van Bynen MP and the Minister, Bill Blair. And the letter I received from Mr Dakalbab.
Details

Written by

Gordon Prentice
Metrolinx is asking the public to comment on their "New Track and Facilities Environmental Project Report" which shows how the Barrie rail corridor will be upgraded to accommodate the new gold-plated all-day two-way 15-minute train service from Toronto's Union Station to Aurora. The deadline for comments is Thursday 28 January.
Newmarket and all stations north to Barrie are promised, by contrast, a 30-minute rush hour service during the morning peak period from 6.30am – 9.30am.
The report looks at the impact of the plans on the natural and built environment. Comments will land on the desk of the Province's Minister of the Environment, Jeff Yurek.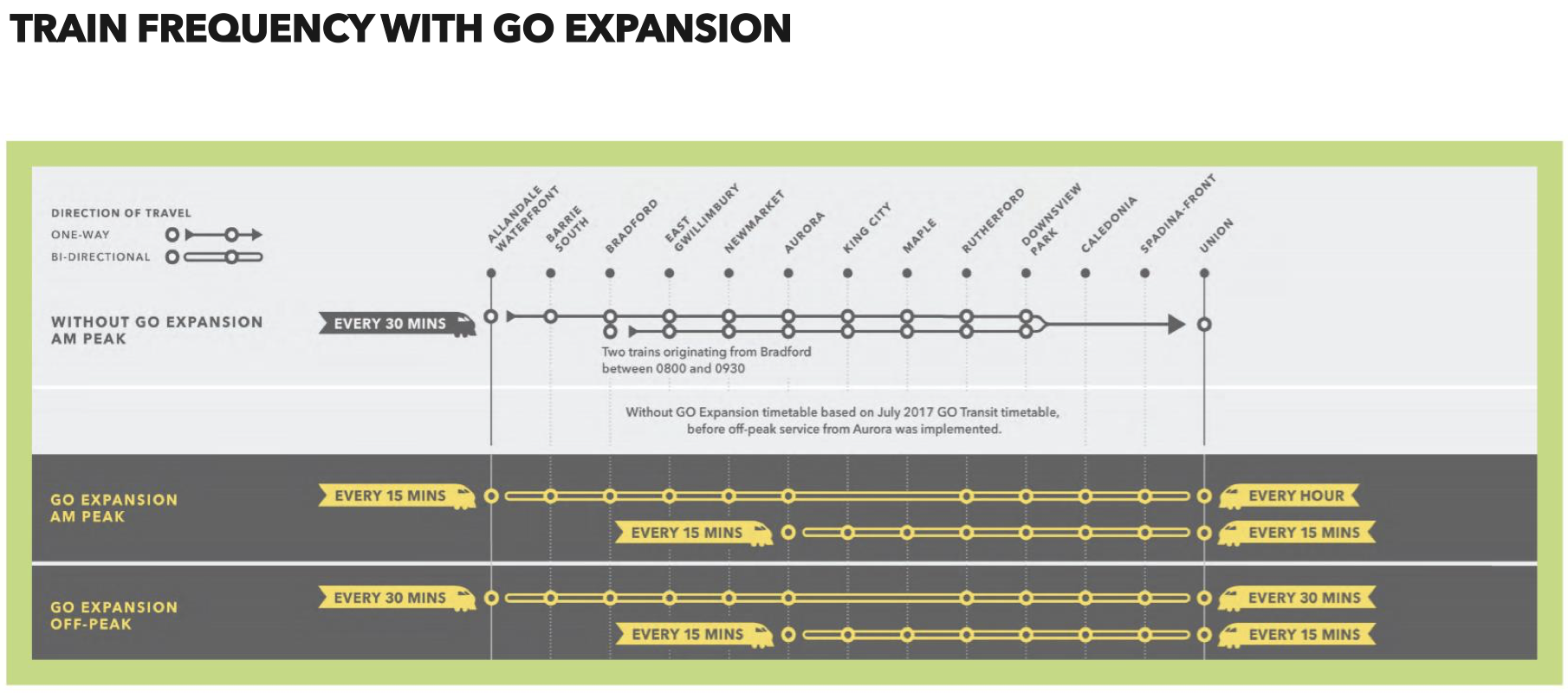 As recently as 4 November 2020 Metrolinx was still dangling the prospect before us of an all-day two-way 15-minute service along the entire corridor, all the way from Toronto to Barrie.
Pipe Dream
But this is just a pipe-dream unless (a) the Province commits to future funding and (b) safeguards the land needed for grade separations. Without these grade separations a 15-minute service is impossible. The Provincial Government and its agency Metrolinx will commit to neither.
At its Council meeting on 22 September last year, the Town of East Gwillimbury – an area represented by the Minister of Transportation, Caroline Mulroney – called on the Ministry and Metrolinx to bring forward grade separation into Phase 1 (to 2027) as the Town and surrounding area were growing rapidly and needed a fast rail service. Simcoe County is projected to grow by 37% over the next twenty years.
East Gwillimbury asked Metrolinx to:
"proactively advance a 2nd Implementation Phase of the GO Expansion Program and extend all-day, two-way, 15-minute service to East Gwillimbury GO Station"
and prioritise the existing Green Lane at-grade rail crossing for grade separation.
The Town admitted last week it still hadn't received a response from either the Ministry or Metrolinx – four months after the request was made.
Twin tracked
The rail corridor through Newmarket (until a point just north of the Newmarket GO Rail Station at the Tannery) is to be twin tracked. But these are described by Metrolinx as "passing tracks" to accommodate additional train movements. Some trains will, no doubt, be running empty, going to the proposed new layover in Bradford. But the level crossing barriers will still have to come down at Davis Drive and Mulock Drive to accommodate these train movements.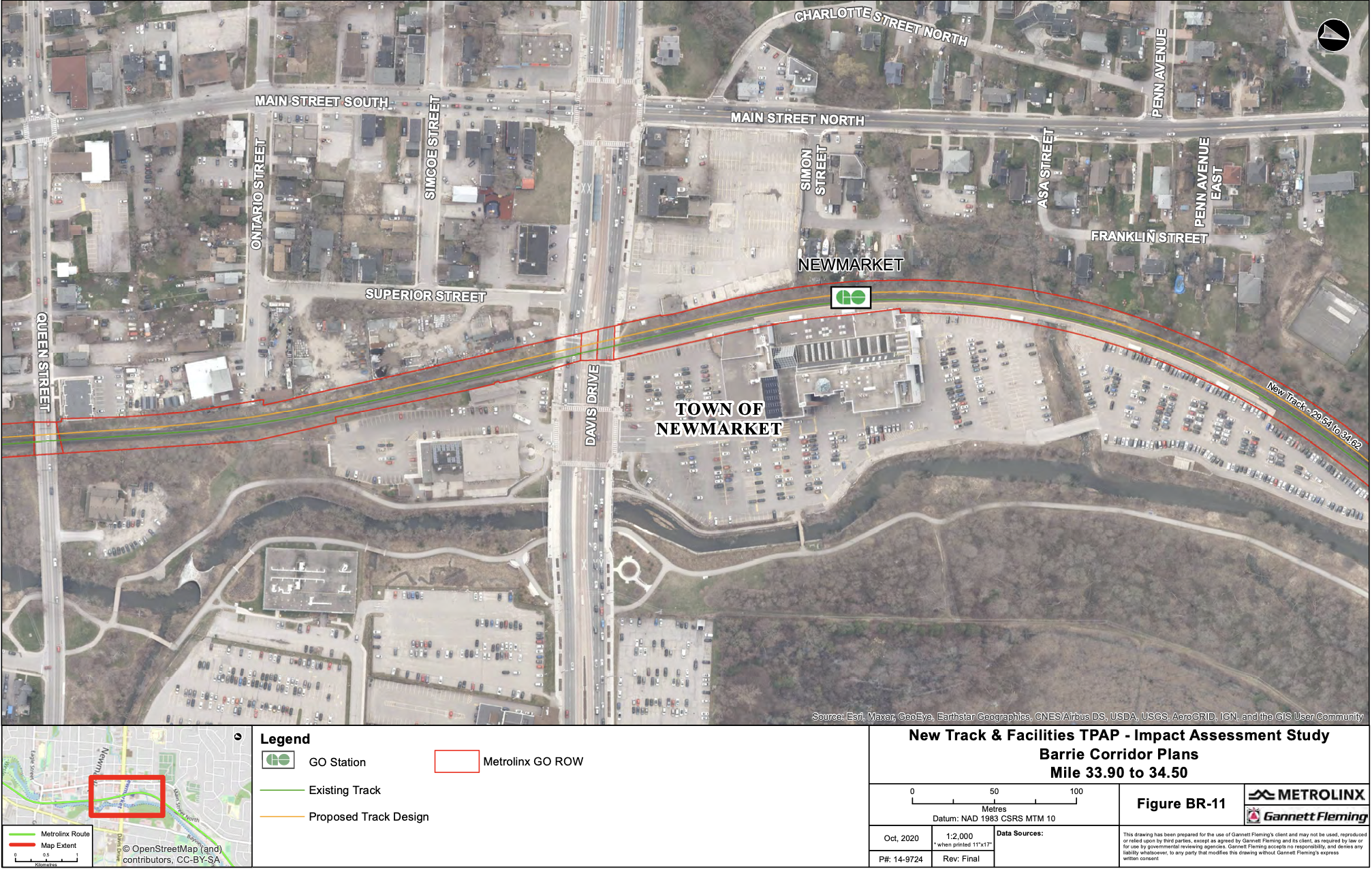 Without grade separation the traffic on Davis Drive (with its bus rapidway) and Mulock Drive (the busiest road in town) is likely to become severely congested. (Above: the rail corridor at Davis Drive)
Here in Newmarket we can expect to see the latest refined version of the Mulock Secondary Plan in the Spring setting out the Town's vision for developing the land around the proposed new Mulock GO Rail Station. How much land, if any, will be safeguarded for over or underpasses? Or does the Town simply attach a health warning advising developers that some land around the station is likely to be acquired by compulsory purchase at some point in the future?
In the draft plan buildings up to 12 storeys are shown as the preferred form of development on the land closest to the new station.
Metrolinx tells me:
"Should 15-minute service be extended north of Aurora, Metrolinx may undertake further analysis on grade separations in Newmarket."
Hacked
On 17 January Metrolinx became aware that their public engagement site had been hacked:
"Regrettably, the names, email addresses and in some very limited cases, street addresses and phone numbers of participants who commented as part of the public consultation process were not properly redacted in error and could be accessed by the public. We are writing to advise you that contact information you submitted was affected by this incident."
Metrolinx has informed the Information and Privacy Commissioner. But for days the consultation report could not be accessed by members of the public wishing to comment. I don't know how this might affect, if at all, the adequacy of the consultation period which is specified by statute.

The Environmental Project Report itself is a daunting slab of text and graphics, designed to intimidate by sheer volume alone. But is there anything we in Newmarket should be particularly concerned about?
Heritage Buildings and Construction Vibration
In Chapter 7 the report looks at vibration impacts on heritage buildings. We are told the new tracks and switches which will be laid through the Newmarket stretch of the corridor:
"will require excavation, backfilling and compaction prior to installation".
Properties (described as "built heritage resources") at risk of vibration damage include the old railway station in Davis Drive (occupied by the Chamber of Commerce) and others in Cotter Street and Franklin Street. In total 11 properties could be affected. I am sure Metrolinx will do the right thing. But the Town may have its Construction Vibration By-law in place by the time the work starts.
I hope so.
This email address is being protected from spambots. You need JavaScript enabled to view it.
Update on 20 February 2021: Metrolinx has yet to address the points made in East Gwillimbury's Council Resolution of 22 September 2020.
Click below to see an aerial view of the planned new track work from Newmarket's boundary with Aurora to just north of the GO Rail Station at Davis Drive.
Details

Written by

Gordon Prentice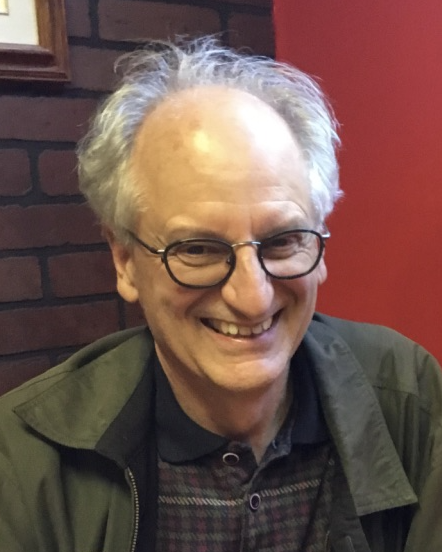 Gordon Prentice writes: Tomorrow (20 January 2021) the newly inaugurated US President Joe Biden will cancel the Keystone XL pipeline as one of his first Executive Orders. Here, guest contributor Walter Bauer (photo right) critiques Canada's 2020 Climate Plan. Walter has discussed his review of the 79 page document with local MP Tony Van Bynen who has promised to pass it on to the Minister of Environment and Climate Change, Jonathan Wilkinson.
Walter Bauer writes:
Since 2016, our government has voiced concern about Climate Change. Canada's 2020 climate plan, "A Healthy Environment and a Healthy Economy" [1] is framed as an extension of Canada's 2016 "Pan-Canadian Framework on Clean Growth and Climate Change" (published December 9/2016).
Compliance with the Paris Agreement means that Canada needs to reduce its greenhouse gas (GHG) emissions to 30% below 2005 levels (to 511 Mt CO2 eq/year) by 2030. Every year, Environment Canada publishes 2-year old statistics, by sector, of our annual GHG emissions. Its 2020 report shows that our greenhouse gas (GHG) emissions have barely changed since 2005 (see purple square.)
The 2020 climate plan is a 79-page document with 13 Annexes (Appendices). Canadians have one of the highest carbon footprints in the world. It is good we finally have a climate plan but while this plan ticks off most of the environmental boxes, we will not meet the 2030 Paris target. From the plan, a graph, entitled "Exceeding Canada's 2030 Target", which appears on page 62, depicts our "starting point" (see page 63) and our targets. Starting in 2016, the Pan-Canadian Framework was to do the heavy lifting, bringing our yearly GHG emission down to 588 Mt/year by 2030. The 2020 climate plan is to do the rest, supposedly exceeding the Paris target, by reducing emissions to 503 Mt/year. The starting point is fiction. Contrary to the climate plan, the starting point is not 815 Mt/year but actually 720 Mt/year (see above), down from 730 in 2005.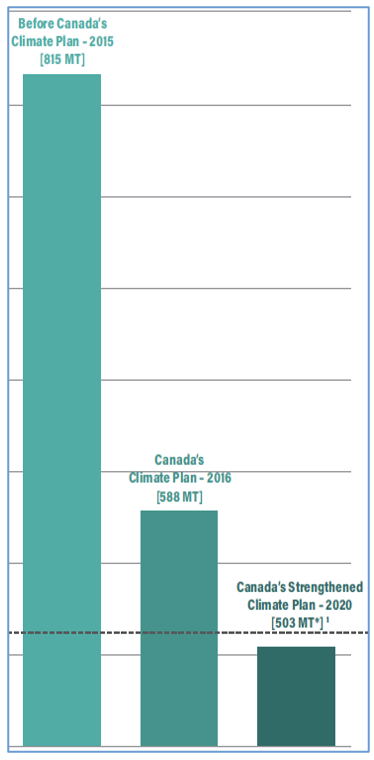 The next bit of fiction is our path to 2030. Four years after what the government would have us believe was its transformational 2016 plan, according to Environment Canada's 2020 report, our emissions have gone up since 2016 from 706 Mt/year to 729 Mt/year in 2018. But the fiction does not end with our false start.
The climate plan's next graphic (page 63) is entitled "Progress to Canada's 2030 Emissions Target" implying there have already been reductions in greenhouse gases. The graphic provides a breakdown by sector of projected reductions in GHG emissions. Most notably, the Oil and Gas sector is shown with the largest reduction of <104 Mt/year> (over twice that of any other sector). This projection flies in the face of the three additional pipelines that are currently under construction in Canada: Trans Mountain, Keystone XL, and Line 3 Refurbishment (began in 2016 and is near complete). If these three pipelines come online as the government intends, Canada's GHG emissions will increase by 113 Mt[3]/year over 2018 levels. The 113 Mt is a calculation of GHG emissions simply to extract the oil and fill the pipeline, not to burn the oil. Unless the government is relying on the collapse of oil prices and empty pipelines, this continued misguided support of pipelines is based on a "the-more-you-spend-the-more-you-save" mentality, i.e. more fiction.
The government is ignoring added GHG emissions from the augmented oil production needed to fill the pipelines. Continuing with projections beyond the Environment Canada data, by 2023 our GHG emissions will be 8% higher than 2005. Since 2016, we've wasted seven years. Only seven years remain to meet the Paris target. Its actions show that our government is not committed to meeting the 2030 target. "Any time a government talks about fossil fuels being some kind of a bridge to a future sustainable world or a stepping stone to dealing with climate change, essentially what that means is we're going to delay the phasing out of fossil fuels."[4]
The pipeline contradiction aside, assuming the reductions touted in the government's plans have an immediate effect starting in 2021, we will be relying on the following sample highlights, one from each of the "five pillars" in the climate plan, which are all good initiatives but too little, too late:
1. "The Government is proposing to increase the carbon price by $15 per year, starting in 2023, rising to $170 per tonne of carbon pollution in 2030." This initiative may be the strongest. Revenue neutral, each $15 increase adds approximately $0.03 to the price of a litre of fuel. Over 7 years the price of a litre will increase by $0.21. In Ontario, the current price of gas is approximately $1.10 per litre. By 2030, therefore, it will be $1.31. In 2012, the price was $1.32. Sweden's carbon tax is now $126 per tonne, it is not revenue neutral and gas is $2.30/litre. According to Environment Canada, in 2015, transportation accounted for 201 Mt/year of GHG emissions (28% of all emissions.) By 2018, it had risen to 218 Mt/year. According to the climate plan, our objective is to reduce transportation emissions by only 12 Mt/year (6% below 2015 levels). Clearly, the government itself does not believe in the effectiveness of its plan;
2. "Invest up to $3.16 billion over 10 years, to partner with provinces, territories, non-government organizations, Indigenous communities, municipalities, private landowners, and others to plant two billion trees." Newly planted trees have little effect for the first ten years. We already plant 600 million trees per year in Canada, which often provides the excuse for cutting down mature trees. And Canada's forests, because of monoculture, poor management, insect infestation, and mega-fires, are proving to be a net carbon source rather than a carbon sink (documented by Environment Canada);
3. "Provide $2.6 billion over seven years, starting in 2020-21, to help homeowners improve their home energy efficiency by providing up to 700,000 grants of up to $5,000 to help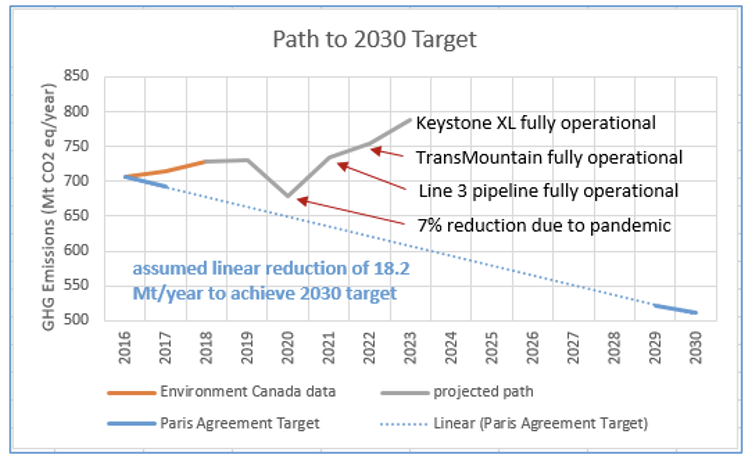 homeowners make energy-efficient improvements to their homes, up to one million free EnerGuide energy assessments . . ." The number of grants is insufficient to accomplish the climate plan's unlikely 64% reduction. According to Environment Canada, residential GHG emissions in 2015 were 43 Mt/year. According to Statistics Canada, "of the 12.4 million households in Canada, more than 8.5 million owned their home"[5]. Because this program only addresses "up to 700,000" or 8% of owned households, it will only affect 8% of 43 Mt/year residential emissions, which is approximately 3.5 Mt/year. Based on 421,000 energy audits completed since 2003, largely because of older home retrofits, the average GHG emission reduction per retrofit is 29%[6]. For newer homes the average is lower and in range of 5-15%. A 29% reduction of the 3.5 Mt/year only amounts to 1 Mt/year;
4. "Invest an additional $287 million over two years, starting in 2020-21, to continue the Incentives for Zero-Emission Vehicles (iZEV) program until March 2022 [bold added for emphasis]. The program provides a rebate of up to $5,000 on a light-duty zero-emission vehicle". Prior to Premier Doug Ford's 2018 cancellation of Ontario's $14,000 rebate, EVs were among the best-selling vehicles on the car lot. Sales have now collapsed. A federal $5,000 rebate is insufficient to spur the needed conversion to EVs, which are generally more expensive to buy; and
5. "Building Canada's Clean Industrial Advantage: To make sure that Canadians have good-paying, long-lasting jobs, there is a need to make certain that Canadian businesses are making and providing the low-carbon products, services and technologies." Given the ongoing research and development in energy storage, concrete, bioplastics, carbon sequestration and agriculture to name a few, the government investment of $5 billion over five years between a Net-Zero challenge, a Low-carbon and Zero-emissions Fuels Fund, and Sustainable Development Technology Canada is inadequate.
In conclusion, since the government's election in 2015, Canada's GHG emissions have increased and the climate plan's investment in reducing GHG emissions is woefully inadequate. This author has no confidence that we will meet our 2030 target let alone Net-zero by 2050. Please prove me wrong.
Walter Bauer, P. Eng.
[1] https://www.canada.ca/en/services/environment/weather/climatechange/climate-plan/climate-plan-overview.html
[2] National Inventory Report 1990 –2018: Greenhouse Gas Sources And Sinks In Canada
[3] Based on 174 kg CO2 / barrel for Alberta oil sands: https://www.pembina.org/blog/real-ghg-trend-oilsands
[4] Dale Marshall, national program manager with the organization Environmental Defence.
[5] https://www150.statcan.gc.ca/n1/pub/11-402-x/2011000/chap/fam/fam-eng.htm
[6] https://windfallcentre.ca/data-tools/retrofit-performance