Details

Written by

Gordon Prentice
The new MP for Aurora, Oak Ridges and Richmond Hill, Leah Taylor Roy, has spoken out against the Provincial Government's plans to build the Bradford Bypass and Highway 413.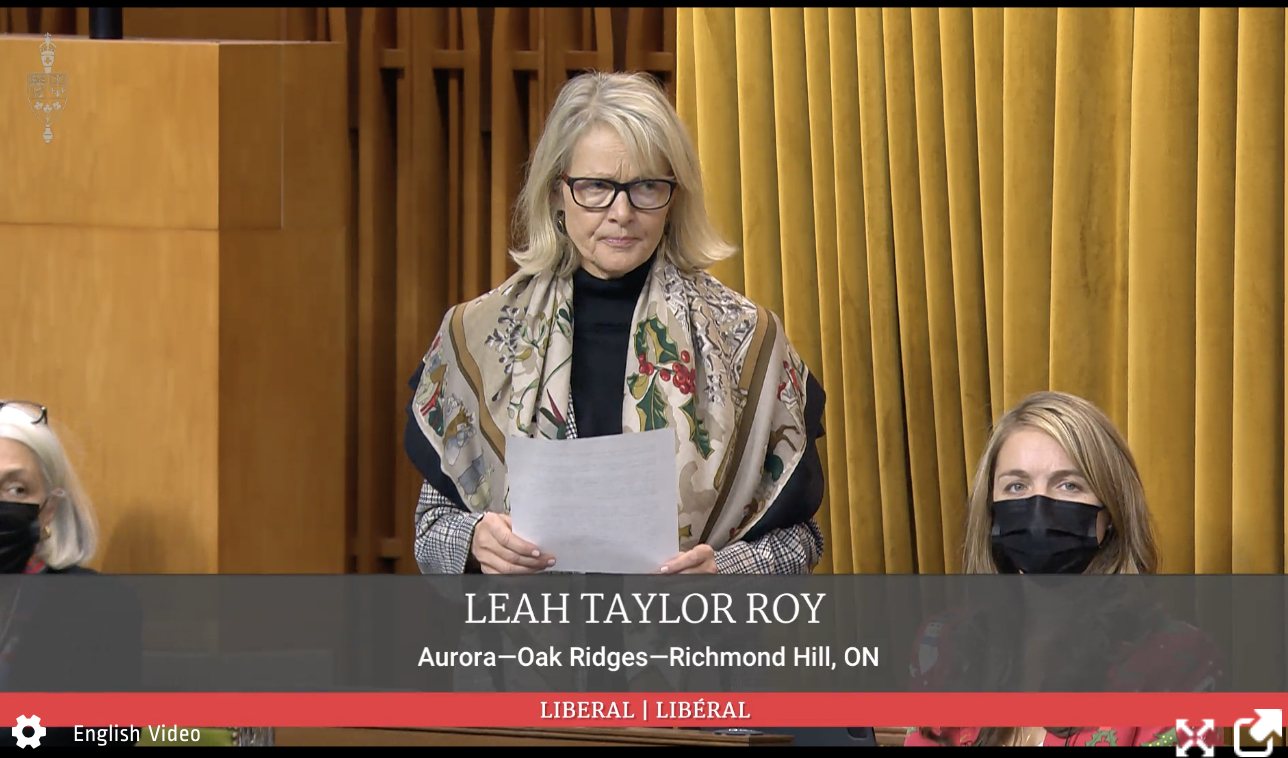 Earlier this month she told the House of Commons:
"Each of these projects comes with profoundly negative environmental consequences, such as running through the pristine greenbelt and fertile farmlands, raising emission levels, degrading the water quality in Lake Simcoe and undoubtedly leading to increased development in the green spaces surrounding them."
Her next-door neighbour, Newmarket-Aurora's Liberal MP, Tony Van Bynen, has yet to make his position clear.
Ford rules out new Environmental Assessment
However, the former Mayor of Newmarket will be under pressure to take a position now that his old Council has nailed its colours to the mast. Last Monday (6 December 2021) Newmarket councillors unanimously passed a resolution calling on the Province to carry out an environmental assessment before any work begins. The Province has ruled that out.
In the absence of a Provincial environmental assessment, Newmarket councillors want the Federal Government to step in and OK a Federal Impact Assessment. (Click "read more" below to read the debate at Newmarket).
National Platform
Taylor Roy has been appointed to two key Standing Committees – Agriculture and Agri-Food and also Environment and Sustainable Development - which will give her a national platform.
The previous Minister of the Environment, Jonathan Wilkinson, rejected the call for a Federal Impact Assessment but we are now in a new Parliament with a new Minister of the Environment and a second request for a federal impact assessment is going in. The arguments for the first FIA were put by Eco-Justice and can be read here.
Opposition to the Bradford Bypass is growing. This morning's Toronto Star carried a full-page advertisement calling on Doug Ford to "cancel these highways".
This email address is being protected from spambots. You need JavaScript enabled to view it.
Update on 17 December 2021. Newmarket Today reports:
"Aurora-Oak Ridges-Richmond Hill Liberal MP Leah Taylor Roy spoke about the project's potentially negative environmental impact in the House of Commons Dec. 3. Newmarket-Aurora Liberal MP Tony Van Bynen said they have received emails from constituents they have forwarded to new Environment Minister Steven Guilbeault for consideration. He said the federal ministry is content the processes in place for the project are sufficient. But he said transportation is an issue within York Region, and there needs to be a solution to address traffic growth.
"I'd like to see us expanding transit systems. The growth problem, it's not going to go away, so we need to find environmentally sensitive ways to respond to that."
Opaque, as ever. Does this mean Van Bynen supports Newmarket Council's position or not?
Update on 30 December 2021. From the Toronto Star: Something is stirring in Suburban Voters in the 905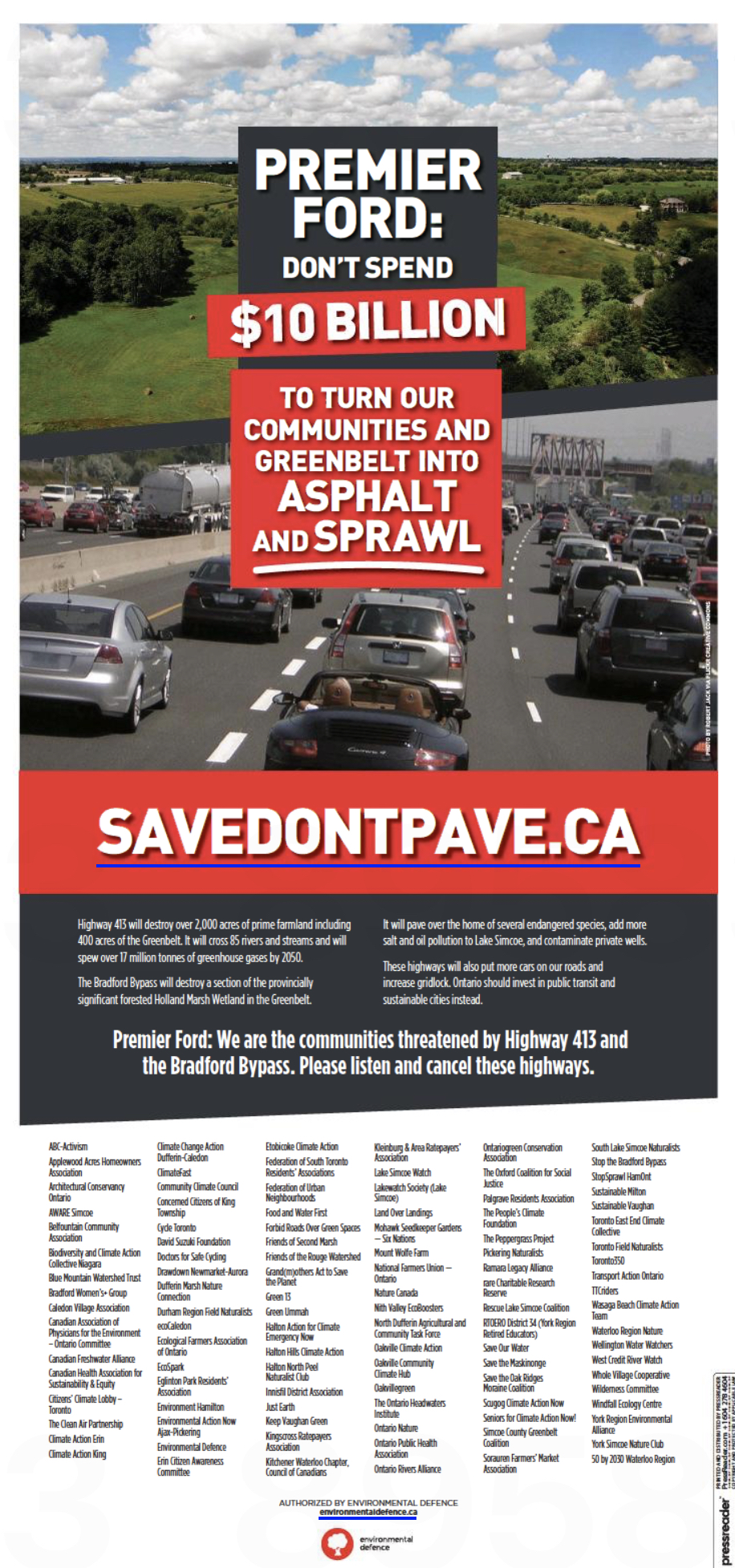 See also: Impact Assessment Agency of Canada: Highway 413 Project
Read more: Stop the Bradford Bypass campaign gets powerful advocate in new MP, Leah Taylor Roy
Details

Written by

Gordon Prentice
Newmarket councillors will have a great opportunity this afternoon (Monday 6 December 2021) to quiz leading opponents of the controversial Bradford Bypass.
Claire Malcolmson from Rescue Lake Simcoe Coalition and Bill Foster from FROGS will tell councillors the project needs a full environmental assessment – something rejected by the Province which is relying on one carried out 24 years ago in 1997.
But the Coalition and others say the studies are out of date. What is needed is a Federal Impact Assessment – but this was ruled out in May 2021 by the then Minister of the Environment and Climate Change, Jonathan Wilkinson.
Ignored
The Rescue Lake Simcoe Coalition has been in touch with Newmarket-Aurora's Liberal MP, Tony Van Bynen, but he has not responded to three requests to discuss the issue.
Meanwhile, the Province is pressing ahead, determined to complete what it sees as a flagship policy.
The Bradford Bypass is a huge issue and councillors owe it to their Newmarket constituents to get involved and ask penetrating questions of the deputations.
The case for Road and the case for Rail
Just "receiving" the deputations without comment - as so often happens - would be a massive slap in the face to all the environmental organisations who have real concerns about the project and the process that is being followed.
Tomorrow, East Gwillimbury Council will consider a staff report on plans from Metrolinx to run a 15-minute all-day two-way GO Train service up to Bradford.
But for Doug Ford and his developer friends the Bradford Bypass is clearly their top priority.
This email address is being protected from spambots. You need JavaScript enabled to view it.
Update at 4.45pm on 6 December 2021: Earlier this afternoon Newmarket councillors backed calls for a new Environmental Assessment of the Bradford Bypass project. This is a big shot in the arm for the Rescue Lake Simcoe Coalition and other environmental groups. More to follow.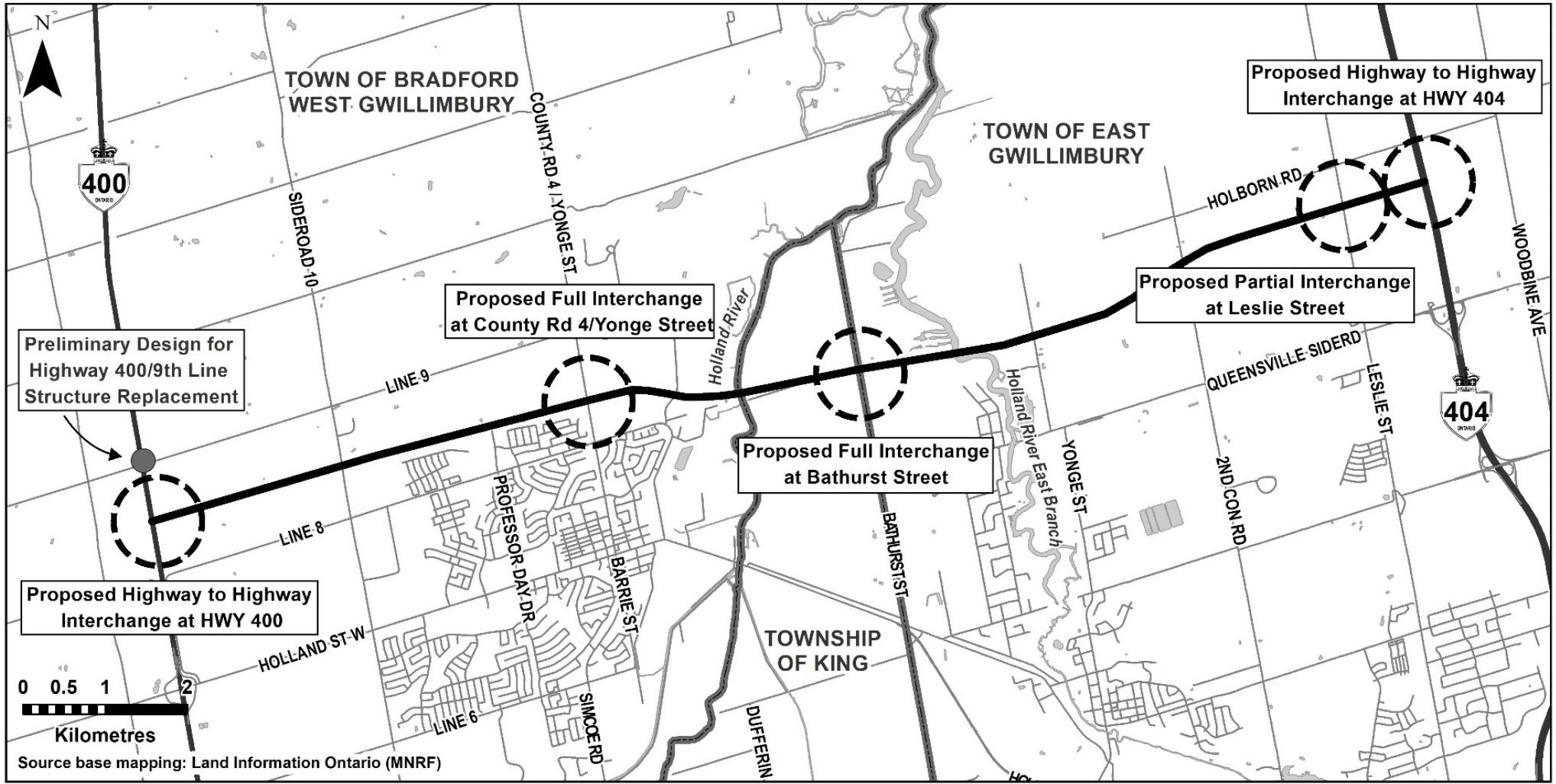 Details

Written by

Gordon Prentice
Tomorrow (7 December 2021) East Gwillimbury Council will resume its debate on getting the 15-minute all-day two-way GO Train service extended north from Aurora where it is currently planned to terminate.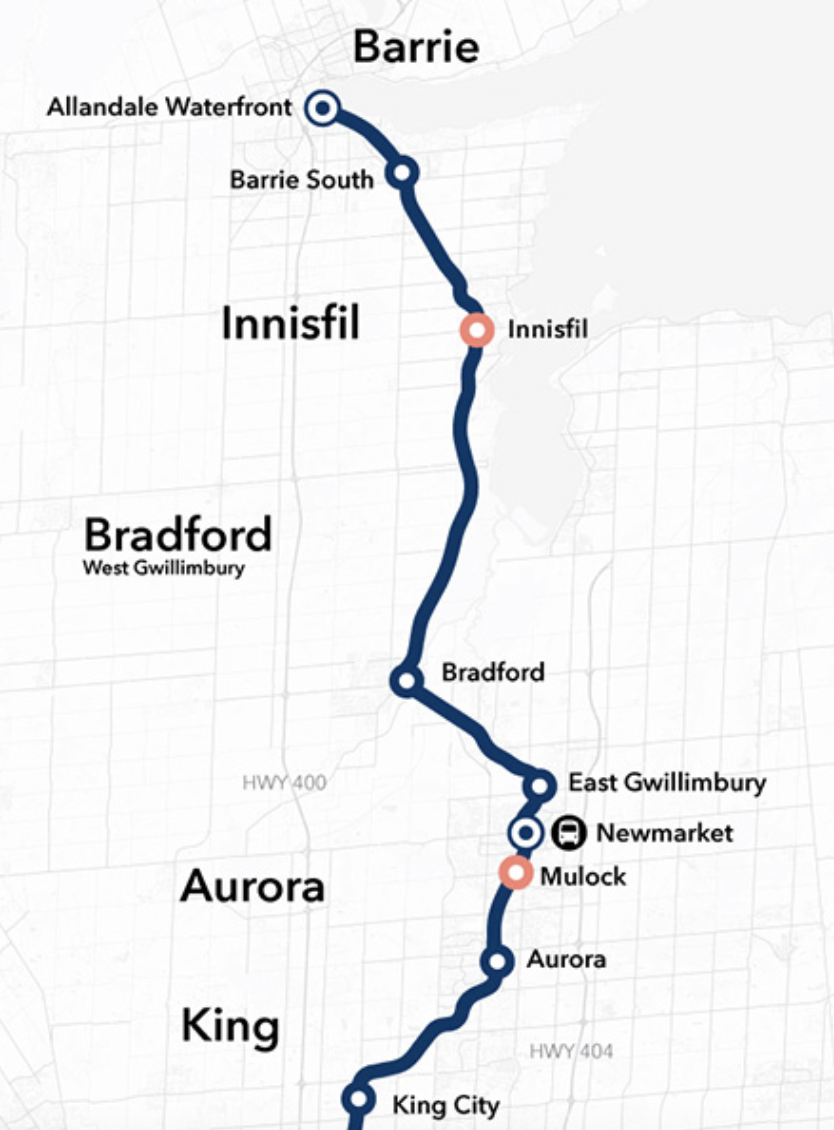 Councillors last discussed the issue over a year ago - in September 2020 - when they called on Metrolinx to accelerate plans to bring the fast trains to East Gwillimbury.
Someone heard them.
On 12 August 2021 Metrolinx confirmed it planned to extend the 15-minute, two-way, all-day electrified GO train service past Aurora GO Station to Bradford GO in the future. This was a major breakthrough. But the commitment is open-ended. There is no timeline.
Metrolinx says the change is possible
"thanks to further study and optimization of service plans" (we wait for the details)
but cautions:
"while this commitment to service expansion includes potential upgrades such as adding segments of double tracking to the corridor, we would welcome further discussions with The Town of East Gwillimbury and with York Region on road-rail grade separations through the service area."
East Gwillimbury needs Newmarket - and we need them
As we know, East Gwillimbury can't get a fast train service unless we get one here in Newmarket. It's a team effort. The two municipalities should be working in tandem.
And that means tackling the thorny issue of grade separation head on. We need engineering and technical studies to be commissioned asap to show us what can feasibly be done – and at what cost.
Now is the time for East Gwillimbury (and Newmarket) to press the case with York Region which is, as I tap this out, putting together its Transportation Master Plan which tries to anticipate future transport needs and infrastructure. It is the Region's blueprint and what appears in print matters.
Mapping and study areas
Newmarket Mayor, John Taylor, has urged the Region's Transport Planners to map all possible grade separations in the Master Plan, identifying the locations as study areas.
Last month he warned his colleagues at the Region:
"We are all discovering that grade separation in relation to the 15 minutes service is going to be a huge issue for all of us. And I think the implications financially are massive."
He also expressed concerns about the impact of grade separation which:
"can change the streetscape of an area of significance dramatically - depending on what engineering design is finalized."
All true.
But we need the engineering studies on grade separation now - not in ten year's time when we are gridlocked.
This email address is being protected from spambots. You need JavaScript enabled to view it.
Update on 8 December 2021: Yesterday, the correspondence from Metrolinx on the proposed 15 minute service to Bradford went before East Gwillimbury Council. The whole thing was over in 2 minutes with no questions.
No-one queried how it was possible to get a 15 minute service to East Gwillimbury without things happening downstream in Newmarket. This is what the lead staff person, Mike Molinari, told councillors:
"The first memo is an update with regards to Metrolinx GO expansion program and GO Rail electrification transit project assessment process which is also known as the TPAP.
That's good news. Metrolinx will be extending 15-minutes all-day two-way electrified go train service through East Gwillimbury through to Bradford GO Station. I look forward to that. That will serve the town very well in the coming years.
Also was good news the grade separation on Green Lane for the rail line is being actively discussed with York Region and Metrolinx for planning and delivery. That's not confirmed that it's happening, but discussions are dancing with respect to that and we will make sure that we keep Council apprised of the outcomes on that.
We will continue to meet with Metrolinx and the region and we've actually asked for Metrolinx to provide regular project updates to us and come to council periodically to provide updates on this very important initiative. Happy to answer any questions."
East Gwillimbury councillors could try a little harder to engage with the issue.
Click "read more" for John Taylor at York Region's Committee of the Whole on 11 November 2021 on grade separation.
Read more: East Gwillimbury and Newmarket must partner if they are to get a 15-minute GO Train service
Details

Written by

Gordon Prentice
Over a year ago, on 22 September 2020, East Gwillimbury Council formally requested Metrolinx to accelerate the timetable for bringing the planned 15-minute GO Train service north from Aurora to Green Lane.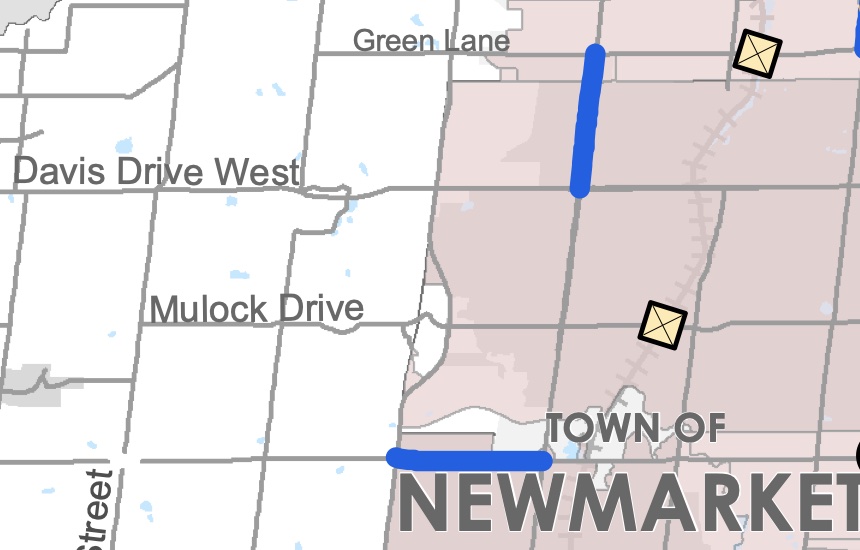 East Gwillimbury, home to Caroline Mulroney, the Minister of Transportation, anticipates a huge population increase of over 150,000 residents by 2051. The area around the GO Rail station at Green Lane is planned to accommodate 28,750 new residents. The Council says this kind of growth needs a fast train service. I agree.
After taking a leisurely eleven months to think about it, Metrolinx announced on 12 August 2021 it is indeed planning to extend the 15-minute service north from Aurora to Bradford, taking it past Green Lane in the process, but, once again, there is no timeline.
East Gwillimbury councillors will be getting a staff report on the latest state of play on 7 December 2021.
Plainly, East Gwillimbury can only have a 15-minute service if we, downstream in Newmarket, get one too.
Grade separation
But is it possible to run an all-day two-way 15-minute GO Train service north from Aurora to Bradford without a grade separation at Davis Drive in Newmarket? For the moment, we live with a quaint level crossing complete with flashing red lights and clanging bells.
Without grade separation there will be huge traffic jams and back-ups in and around Davis Drive – one of Newmarket's designated growth corridors, along which runs a bus Rapidway that cost millions and which is designed to speed passengers on their way.
Transportation Master Plan

Enter York Region's transport planners. They are currently updating the Transportation Master Plan (TMP) which sets goals and priorities for the next thirty years.
These Master Plans are revised and updated every five years or so (the last one was in 2016) and list strategic objectives – such as making better use of our roads and enhancing partnerships with others such as Metrolinx.
As part of this exercise, they offer us a glimpse of the future, showing the proposed road and transit networks in 2051. A report is going up to York Region's Committee of the Whole next Thursday (11 November).
Astonishingly, there is no grade separation shown at Davis Drive – without which a 15-minute GO Train service is impossible. The map shows one at Mulock Drive and another at Green Lane in East Gwillimbury – which is a step forward - but without grade separation Davis Drive will be a colossal bottleneck. (Map right shows the grade separations in 2051 as yellow squares marked X)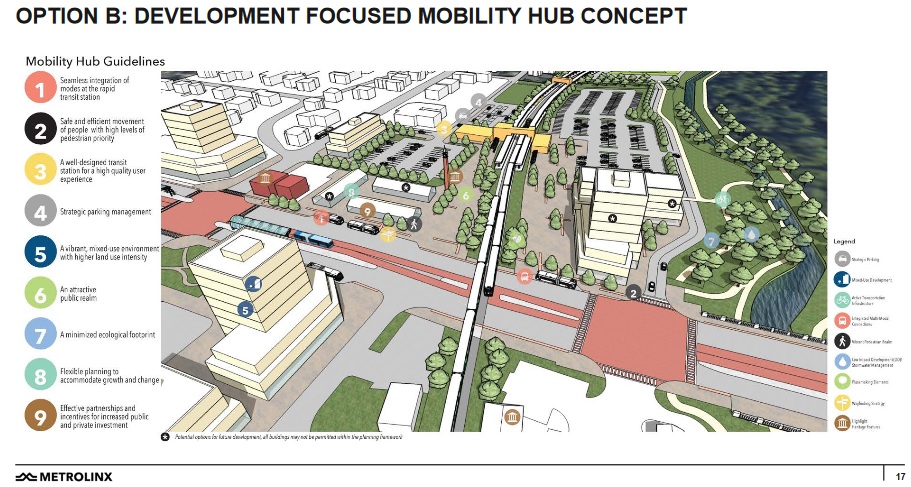 The draft TMP will go to the Regional Council in March next year with a final round of public consultation in the Spring. The Regional Council is expected to give final approval in June 2022.
Kicking the can down the road
But will the new updated TMP trigger studies that should have been done years ago?
The 2016 Master Plan (at page 149) mentions Davis Drive as a "special study area" which is "constrained in terms of network capacity" and "needs further analysis":
"The increasing frequency of crossings of GO Trains across Davis Drive and the associated delays to both cars and transit vehicles have been identified as key issues and follow-on studies are needed to explore alternative solutions."
Whatever happened to these studies? How is it possible for these "key issues" to be kicked into the long grass when the results will determine whether or not Metrolinx can deliver a 15-minute train service to the north?
In 2017 we got a mobility hub study from Metrolinx on the GO Rail station at the Tannery on Davis Drive but it ignored the elephant in the room – grade separation. (See graphic, right)
Broad brush.

The TMP focusses on infrastructure, explaining in broad brush strokes, where and when it is likely to be needed.
But the report going up to Regional Council members next Thursday tells us the 2022 TMP update will not include the detailed phased infrastructure maps that summarize network requirements in five-year horizons which were included in the 2016 TMP.
We learn that infrastructure improvements – where they are to be made and how they are to be paid for – will be in the Region's rolling 10-year Roads and Transit Capital Construction Program which is approved annually.
So, with all these qualifications and caveats, the proposed plan reduces
"the number of road-rail grade separations to reflect the significant capital and operational costs"
Where are the estimates for the likely costs of grade separations? We know how much the Bradford Bypass will cost (give or take $700M) but no-one can tell us how much a grade separation will cost at Davis Drive.
This is no way to plan for the future.
When Metrolinx announced in 2016 that the 15-minute all-day two-way GO Train service would terminate at Aurora the first reaction of the then Mayor of Newmarket, the famously gradualist Tony Van Bynen, was to accept the decision, saying we should
"ease into it as we go forward".
It may take much longer to ease into it than he ever imagined.
This email address is being protected from spambots. You need JavaScript enabled to view it.
See also: The Greater Golden Horseshoe Transportation Plan - discussion paper.
Update on 8 November 2021: East Gwillimbury grapples with growth target
and from the Premier's Office: Ontario Fully Funding the Bradford Bypass. And from Newmarket Today: "A no brainer. Ford announces full funding for the Bradford Bypass"
See also: From the Toronto Star 20 November 2021: Doug Ford is spending billions on highways. He should look farther down the road.
Update on 24 November 2021 from the Toronto Star: Build highways and traffic will follow
Graphic below shows the GO Rail stations. Orange ring shows proposed new station.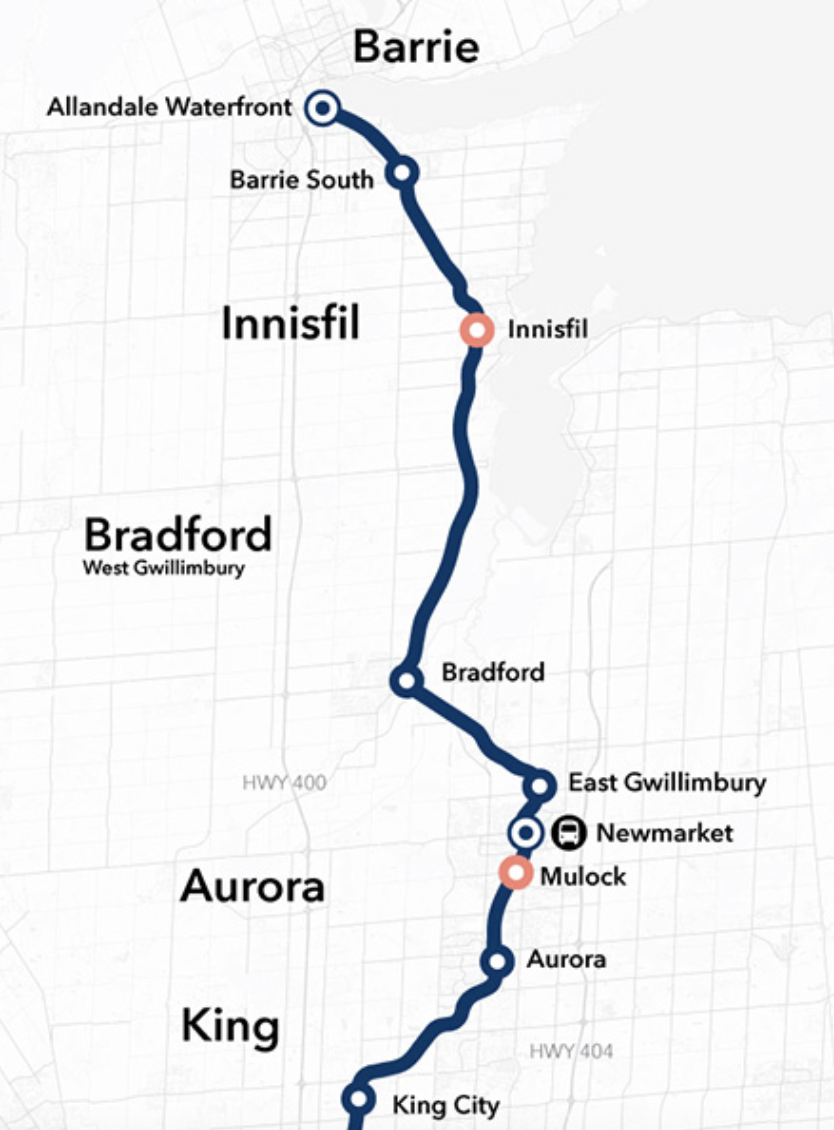 Below: From the 2022 York Region Transportation Master Plan public consultation materials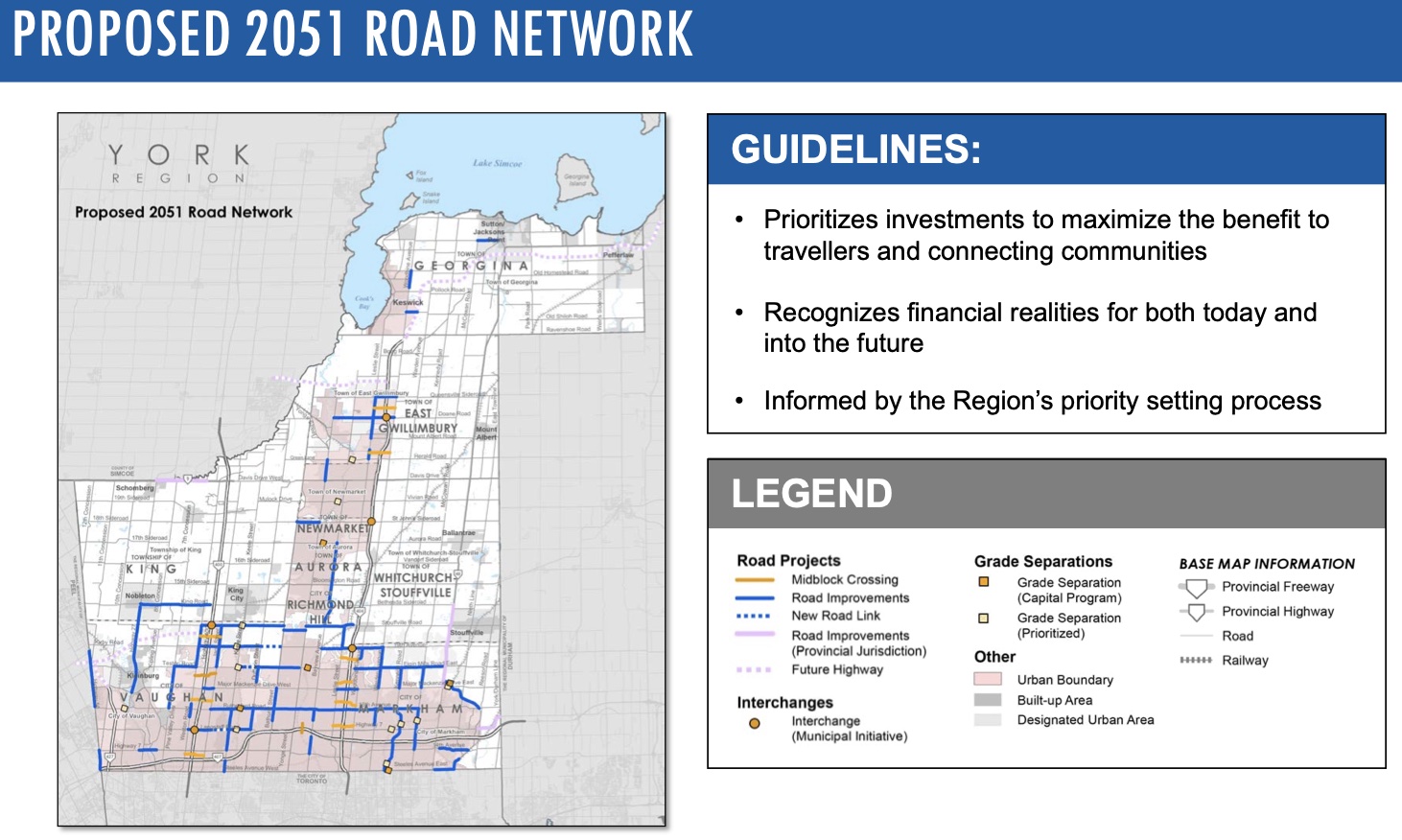 Details

Written by

Gordon Prentice
Tomorrow (1 November) Tom Vegh will give his report back to Newmarket councillors on the controversial vote by York Regional Council to amend its own Official Plan and redesignate Greenbelt land in parts of Vaughan and Markham from "agricultural" use to "rural" as requested by a group of landowners and developers. This change, which he supported, allows very different uses on Greenbelt land.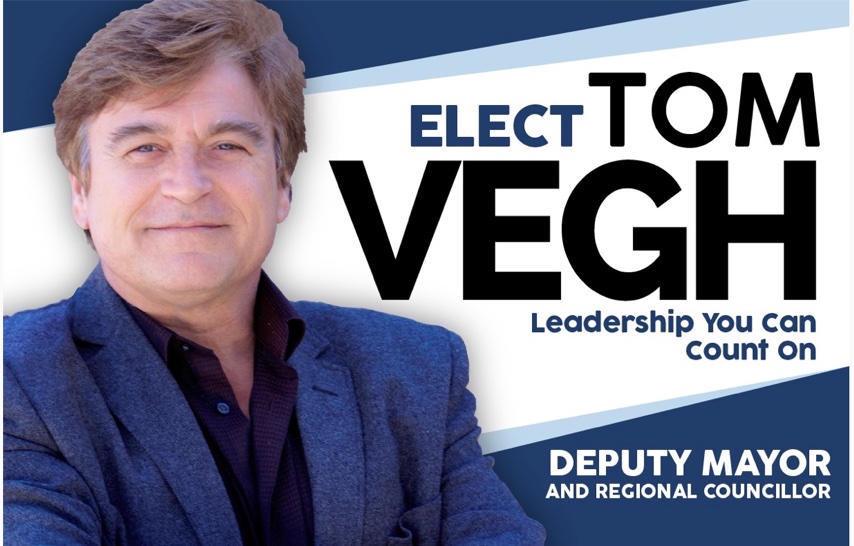 Tom will say it is much ado about nothing.
At the Regional Council last Thursday (28 October) Tom delivered a 72 second critique of the developers' amendment, explaining his position.
"Thank you. A quick little comment. I'd like to make this comment primarily because of all the comments I am seeing on social media about this and what we're doing. And I just wanted to say that the Greenbelt… actually in the Greenbelt Plan 2017… actually supports parks and open spaces on Greenbelt land.
I've seen on social media people talking about… they're gonna be bulldozing thousands of trees on these fingers, these Greenbelt... these green lands… building commercial, residential etc
It's really about open spaces and parks for the residents to use and there is really nothing unusual about that quite frankly.
So our report that we're looking at right now - and the minutes that we are voting on - has a fair amount of information about the intentions here. And I do encourage the public to read that because there's a bit of a knee-jerk reaction when people hear that you're changing and allowing some changes to happen in the Greenbelt land. And in this case, I just want to stress we're looking at parks and open spaces, not buildings, not permanent structures and certainly not bulldozing thousands of trees. Thank you."
But what does the change mean in practice?
The Greenbelt land will be redesignated from "Agricultural" to "Rural". The latter allows for a wide range of recreational and other uses in rural areas:
Rural lands support and provide the primary locations for a range of recreational, tourism, institutional (including cemetery) and resource-based commercial/ industrial uses.
The Greenbelt Plan also makes it clear there should be no residential sub-divisions in rural areas.
What do the developers get out of it?
The developers would no longer have to go to the expense of providing parkland and open spaces within the urban areas they are developing. That recreational space for the new residents will be provided by the Greenbelt next door.
Developable land in the urban area is, as a consequence, freed up for further development. This arrangement makes millions for the developers.
Will it set a precedent?
It could do. It may set a precedent in other areas of the Greenbelt across the Province where similar "fingers" of Greenbelt land project into urban areas.
Who decides what will happen to the Greenbelt lands?
The York Official Plan, as amended, will allow the lower tier municipalities (such as Vaughan and Markham in this case) to decide the location, range and type of parkland uses to be permitted in these newly designated Rural Areas. Decisions will be taken by the municipality
"through its official plan and/or approval of site-specific development applications". (my underlining)
This formulation leaves plenty of scope for fancy dancing.
In this case, the developers are, for the most part, the landowners in the Vaughan/Markham Greenbelt fingers.
They will now transfer ownership of these Greenbelt rural areas to the municipalities of Vaughan and Markham. Without this Official Plan amendment they would have been obliged to provide open space for recreational use on the land they are actually developing.
The developers who pushed for this amendment to the York Region Official Plan - and succeeded – stand to make millions.
And Tom, the developers' friend, will agree with that assessment.
But, if not, he will tell Newmarket Council tomorrow where I've got things wrong.
This email address is being protected from spambots. You need JavaScript enabled to view it.
Update on 1 November 2021: Tom Vegh did not include any reference to the Greenbelt controversy in his Regional report back. And neither did the Mayor.
Letter from the Greenbelt Foundation dated 27 October 2021, put before York Regional Council on 28 October 2021. And one from the York Federation of Agriculture.
The Greenbelt fingers are shown in red in the map below. And see related map here.